In December, Jonathan Thompson, the roving contributor and former editor for 'High Country News,'  offered his latest musings on the Bears Ears controversy from his home in Bulgaria.  Responding to an op ed  in 'The Deseret News' by Utah's Governor Gary Herbert, Thompson concluded that:
"(the governor's) talking points probably originated with Jim Stiles, of the 'Canyon Country Zephyr,' who has been railing against the monument for some time."
Thompson writes:
"(Stiles') implication is that monument designation is meaningless when it comes to actual preservation, and is really no more than a marketing trick intended to attract industrial-grade recreation and boost the tourism and amenities economies of nearby towns. It protects nothing on the ground, and only draws more people — maybe even paved roads, parking lots and visitor centers — and therefore more damage."
Though he condenses almost 30,000 words of research and fact into a few lines, ignores the most important information produced, and dismisses all of it as "railing," Thompson even concedes, "These points are valid." But then he adds, "…they are also flawed."
The rest of his article is an attempt to marginalize and degrade those "valid" points without ever mentioning what they are. And to find the flaws, he explains, one "must travel about 145 miles southeast of Bears Ears monument, to the San Juan Basin of northwestern New Mexico."
It's a straw man argument that diverts the discussion away from the Bears Ears issue. But okay, for a few moments, let's take the 145 mile journey.
* * *
Thompson describes conditions on one of the most energy-rich pieces of federal land in the Lower 48. For over a century, the San Juan Basin has been a major producer of oil, is home to the largest coal-bed methane field in the world and ranks second globally in total gas reserves.
But energy wealth has come at a price—health and safety issues have plagued the area"s residents for decades and energy infrastructure has disrupted homes and communities. In 2014, NASA researchers identified a 2500 square mile "methane cloud" over the San Juan Basin and attributes it primarily to "established gas, coal, and coal-bed methane mining and processing."
Despite the health risks and socio-cultural disruptions, the issue is not as black and white as Thompson spins it. While the area has indeed been a toxic nightmare for many, the Four Corners has also suffered economically for decades. And the hard fact is, the jobs created by the energy industry generate some of the highest wages in the Navajo Nation.  In addition, many Navajos have benefited from leasing their lands for oil exploration.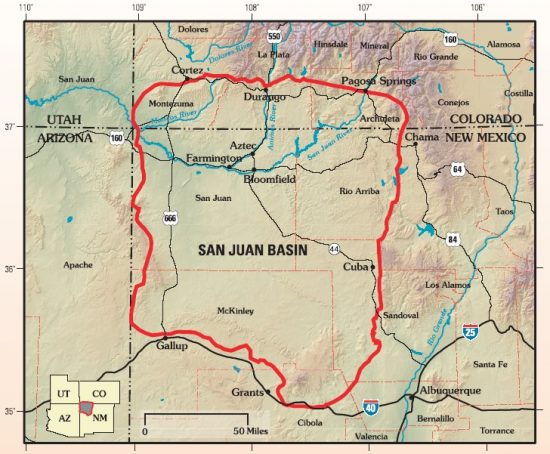 As the web site "NM InDepth"  recently reported, a Counselor Chapter House meeting, "provided a glimpse into tensions in several small Navajo communities near Chaco Canyon over an uptick in fracking in recent years…The conflict between Navajo Nation residents who've leased their land and those who haven't was evident throughout the meeting"
In nearby Page, Arizona, where market forces are about to shut down the 40 year old, coal-fired  Navajo Generating Station, both the Navajo and Hopi nations face an unprecedented financial crisis. According to an NBC News report, the shutdown will directly or indirectly terminate more than 3000 jobs, many with salaries exceeding $100,000 a year, and it will end coal royalties in the millions of dollars. Almost 87% of the Hopi general budget comes from coal.
Now, for the first time, even Hopis are pursuing the gambling/casino option as a way to make up lost revenues.
The painful choices that Native Americans face in the Four Corners area reflect the difficult options many Americans confront. Men and women will endure hardship and even future health issues to provide for their families, and will certainly prefer a $75,000 annual salary over a job as a clerk at McDonald's or the local casino. While environmental activists would like the general public to believe that Native Americans unanimously oppose any kind of fossil fuel extraction, it's just not true.
* * *
But—finally— back to the Bears Ears and Thompson's search for "flaws."  He finally acknowledges:
"Of course, Bears Ears is not the oil and gas hotspot that surrounds Chaco. At least not yet."
Except for his politically-driven "not yet" caveat, he's right. Geologists don't believe there are commercially recoverable quantities of oil and gas under the Monument Upwarp that underlies the vast heart of the Bears Ears region. Federal land managers agree. The Grand Canyon Trust agrees. Even most San Juan County locals and the State of Utah Geologic Survey share that opinion.
(AND NOTE: While there is broad consensus that oil and gas potential is low under the vast heart of the monument at Cedar Mesa/Grand Gulch, there is still a vocal minority in San Juan County that believes every square inch of public land should remain open to the possibility of energy extraction, no matter how low the potential. While issuing leases will not change the fact that profitable oil development is unrealistic, leaving those lands technically vulnerable to exploration would give credence–justified or not–to environmentalists' concerns.  Ultimately, such actions by the locals could be counterproductive to their own cause.)

And at one time, even Jonathan Thompson agreed. On the day after President Obama proclaimed the monument, Thompson wrote in HCN:
"With the exception of the Aneth oil field and the Daneros uranium mine — neither of which are in the monument — the extraction industries in San Juan County were long ago wiped out by market forces."
Exactly. At the time, Monument supporters like Thompson believed that local opposition would rebel against such pessimistic energy assessments. None expected the State of Utah and most of the local population to mostly agree with them. Now, Thompson and others have no choice but to revise their own comments. Instead of standing by the facts, they're trying to re-invent the very energy extraction risks that they said were unrealistic and even absurd, just eleven months ago. More straw man arguments.
In further search of flaws, Thompson continues:
"Besides, a monument does far more than just keep looters or drillers at bay. It gives federal land managers more leverage to limit visitation, to steer people away from the most sensitive sites…"
Here Thompson all but dismisses the effectiveness of the 1979 law, enacted by Congress, called the Archaeological Resources Protection Act (ARPA). His most recent article doesn't mention ARPA at all. Here are the facts…
* National Monuments are created via the Antiquities Act of 1906. The laws contained within that act to protect archaeological resources were so weak that in 1979,  Congress passed ARPA, finally giving federal land managers the authority to provide severe penalties for antiquities violations.
* ARPA covers ALL federal lands, including ALL the lands that were included in the original designation,' and all 100,000 sites within the area,  "not just major sites," as Thompson infers. In short, monument status did nothing to "keep looters at bay."  When monument proponents scream that the monument reductions "removed protections," it's not true.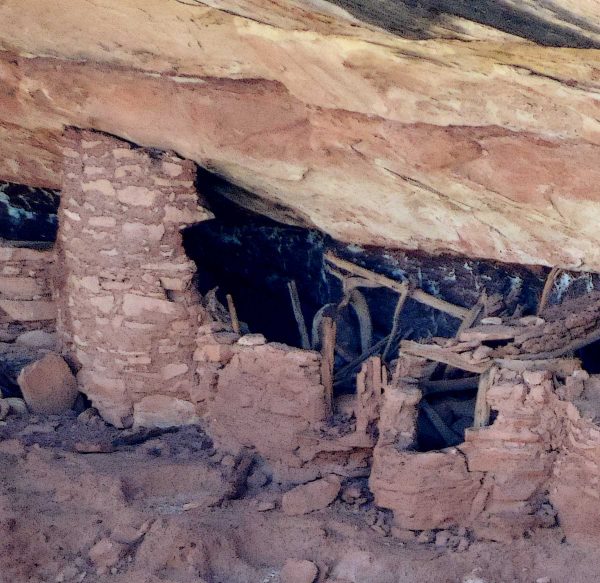 Once, in a previous HCN article, Thompson mentions a remote archaeological site on Cedar Mesa and inexplicably argued that ARPA was ineffective in part because "someone could dig up the (site) in broad daylight and cart away backpacks full of artifacts, possibly with impunity, since BLM rangers, stretched so thin out here, probably never venture down this little, old road. "  But he never explains why monument status would improve the situation. What he fails to mention is that in 2018, the major sites are just as vulnerable today because BLM protection has declined significantly.
What sensitive areas like the Bears Ears region needs is "boots on the ground" protection, rangers in the field with the authority to enforce the ARPA law. Both Democratic and Republican administrations have allowed funding for the area to shrink to almost nothing. Forty years ago, there were more rangers protecting these resources than there are now. Why? Why haven't Thompson or HCN asked the question?
*  As for Thompson's notion that monument status will "provide leverage to limit visitation, to steer people away from the most sensitive sites," he needs to visit Moab or any of the other national parks across the west that are being overwhelmed by record numbers of tourists, where the resources are being hammered and vandalism is at a record high.
To counter the overwhelming tourist visitation, the National Park Service is proposing $70 entrance fees and required reservations at Arches National Park and other Western parks. Is this kind of "leverage to limit crowds" that Thompson had in mind?
He and others in the mainstream media have, to a great degree, steered clear of the Industrial Recreation aspect of this debate. With out-of-control tourism reaching crisis levels, they may squirm uncomfortably with "solutions" like $70 entrance fees, but where were these writers and activists 20 years ago when the issue could have been addressed before it was too late? And where are they even now?
Anyone coming to Grand County, Utah can see the devastating effects of unleashed marketing campaigns by the outdoor industry. National parks and monuments have become little more than marketing brands to the detriment of the very places these outdoor industry enviropreneurs claim they want to protect.
In 2017, trying to distinguish between mainstream environmentalists and the industrial recreation economy is virtually impossible. Lucrative alliances over the past two decades have seen to that. Those same industrial recreation corporations are in the process, as I write this, of effectively buying the heart and soul of the recently incorporated town of Bluff, Utah.
Just recently, The Zephyr received a leaked memo, written by a board member of the pro-Bears Ears environmental group Friends of Cedar Mesa in Bluff. The draft memo referred to a proposal to sell "secret hikes" to sensitive archaeological sites in the area for $10,000, as FCM tries to raise money in Bluff for an "education center."  The board member complained, "I am totally repulsed (first word choice), disappointed, maddened, angered."
He noted that, "This is the marketing strategy of Backpacker Magazine – '10 best secret hikes in Utah!' and worse. I am NOT willing to have FCM be seen as an organization willing to sell secret sites to $10,000 donors."
Friends of Cedar Mesa has depended heavily on donations from outdoor industry giants like Patagonia and North Face; the memo-writing board member questioned  FCM's executive director's relationship with Patagonia and even suggested he'd "gone rogue."
While The 'Deseret News' reported the memo, neither Thompson nor 'High Country News' even gave the story paragraph of coverage.
What many San Juan County residents fear is what I fear—I wrote about it almost five years ago in an article called: "Moab is Assimilated—Bike Borg Moves South (Is Resistance Futile in San Juan County?)."  Moab is gone and the adjacent public lands are being impacted in ways we never could have imagined 25 years ago. Thompson avoids the subject.
* * *
And finally, Jonathan Thompson gets to the heart of this political fiasco and for once, he and I agree. He writes:
"Of course all of that depends upon a strong management plan, which will now be crafted under a Trump administration, for whatever that's worth."
That's right. The debate about Bears Ears raged through the summer and fall of 2016. Everyone assumed Hillary Clinton would win the election and that the monument proclamation and subsequent full funding would follow. Then November 8 happened and there was just as much consensus that a Trump administration would take an entirely different view of public lands management and would almost certainly challenge the validity and size of the new monument.
The environmental/industrial recreation community knew this. They knew rescinding or reducing the monument was a possibility. They knew that fully funding the monument was a virtual impossibility. There was an opportunity for them to set aside their political agenda and put the best interests of the resource itself ahead of their own.
And there were options. I outlined them in an article titled "A Bears Ears Alternative Solution."
So what action did the enviro-industrial recreation community take? With massive advertising and media relations budgets,  they initiated coast-to-coast campaigns to, in effect, make "Bears Ears" a national household word. The Outdoor Alliance and corporations like Patagonia, in cahoots with organizations like SUWA and the Grand Canyon Trust, continue to pump millions into the effort.
And with little information from the media to balance the discussion, uninformed editorial boards from New York to Los Angeles contributed their own bias to their readers. Now millions and millions of Americans believe that these public lands have been "stripped of all protections" and await "imminent destruction" from "Big Oil" and other assorted demons.
The actions by the enviro-industrial recreation machine will, in the long term, bring more damage and disruption to the land they claim to love than anything that preceded them. But they'll never admit it, any more than the mainstream environmental community will. It was after all, Utah environmentalists who expressed alarm at the potential destruction from "Industrial-Strength Recreation" twenty years ago, but who have suppressed their concerns ever since, to satisfy the profit margins of the outdoor industry. In 2018, environmentalists even flee from their own words.
* * *
Thompson meekly concludes, "So monuments do have tangible meaning, they do add another layer of on-the-ground protection against a variety of threats."
And then, he adds, "But they are also symbolic."
Really? All this fire and fury, the threat of lawsuits, the never ending vitriol, the cruel and unfair assertion by environmentalists that anyone who opposes the monument is a racist, the millions and millions of advertising dollars spent by the outdoor industry to promote its self-serving agenda—all of this brutal polarization—  for some nebulous symbolism? Has it really been worth it?
Ultimately, Thompson's piece attempts to be a rebuttal to a handful of the "valid points" he conceded I had made in many Zephyr articles, but then never offers in any detail what those valid ideas are. And never mentions the rest of them.
What about saying them out loud? How about strongly emphasizing for the first time—
* that hundreds of thousands of acres of public land that were included in the original monument proclamation are also designated BLM "wilderness study areas" and, as such, are provided the very highest level of protection. And that the federal lands included in the monument were, and are, and will be protected by a myriad of federal protections that at one point Thompson referred to only as "sundry other laws."
* that the original proclamation did not give Native Americans any legal authority to manage the monument and that their only real designated role is as an advisory panel.
* that one of the most vocal Utah Navajo supporters of the monument, Mark Maryboy, also sits on the board of directors of the Southern Utah Wilderness Alliance. And that his brother, Kenneth Maryboy, has been an enthusiastic booster for Industrial Tourism, including the monstrous and hopefully now defunct "Grand Canyon Escalade."
* that the massive increases in tourism and the effects of "Industrial Recreation" are having a critical impact on the very resources that proponents of the monument allegedly want to save.
* that the environmental community has ignored those tourism impacts for 20 years and have now become so closely aligned with, and indebted to, the powerful outdoor industry lobby that environmentalists have rendered themselves utterly impotent to object to those impacts.
* that, in addition to their incestuous partnerships with the Outdoor Industry, the mainstream environmental community has filled its boards of directors with some of the wealthiest billionaire industrialist/venture capitalist/financier benefactors on the planet–like Hansjorg Wyss, David Bonderman, and Bert Fingerhut—. and in the process, have boosted their coffers and compromised their original values as well.
* that monument designation has become little more than a marketing tool to generate tourism revenue, to re-shape the economies of the Rural West and ultimately to change their demographics.–that urbanizing the West is an ultimate goal for the outdoor industry and for the mainstream environmental community.
* and, finally, that Industrial Recreation depends on the massive consumption of energy to even exist. For it to thrive as most "progressive environmentalists" want it to, the tourism industry's demand for energy is insatiable.
This should be a key point. At the end of the day, Thompson and mainstream environmentalists advocate for the elimination of energy exploration on as much federally managed land as possible, while casting a blind eye to an out-of-control recreation economy that is transforming the West. They refuse to even acknowledge the hypocrisy. Again…here's what the American author Wendell Berry once observed:
"…this is what is wrong with the conservation movement. It has a clear conscience….To the conservation movement, it is only production that causes environmental degradation; the consumption that supports the production is rarely acknowledged to be at fault. The ideal of the run-of-the-mill conservationist is to impose restraints upon production without limiting consumption or burdening the consciences of consumers."
If environmentalists want to push for the shutdown of energy production in the West, they must also accept responsibility for the demand. Like I noted in a Zephyr article last April, if environmentalists and the media want to be taken seriously,  they must acknowledge that "Industrial Strength Recreation" poses a serious and devastating threat to wilderness lands in southeast Utah and elsewhere.  Second, they need to disassociate themselves from the outdoor industry.  Otherwise, their complaints about energy production are laughable.
(And in 2018,  as the cost of a barrel of crude oil climbs upward again, and with predictions that high gasoline prices will severely depress the tourist economy, how will environmentalists deal with that contradiction?)
* * *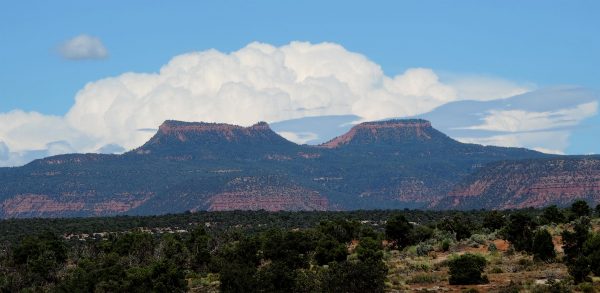 It should be noted that ALL of this information was and is available to Thompson and to 'High Country News' and can hardly be considered new or previously unknown. It simply isn't being reported. And my own efforts to see some of these issues raised in the pages of 'High Country News' have been mainly rejected out of hand.
Thompson's own views on Bears Ears were made clear in one of his blog entries from 2016. In the process of covering the story for HCN,  he concluded that the citizens of San Juan County, Utah were simply selfish. He wrote:
"…it's upsetting, even offensive, to hear the folks from San Juan County, Utah — particularly those opposed to a Bears Ears National Monument — discount the opinions of those who aren't 'local.' According to their reckoning, the only people who have any say over the land that lies within their county are the people who live there or, apparently, in the state of Utah as a whole."
Here are the facts.
Only 8% of San Juan County is privately owned. EIGHT PER CENT.
A quarter of the county is also a part of the Navajo Nation. Almost two-thirds of the county is publicly owned and managed by the federal government. In addition to the national monument being debated here, it includes Canyonlands National Park, Glen Canyon National Recreation Area, Hovenweep National Monument, Natural Bridges NM, Rainbow Bridge NM,  Manti-Lasal National Forest and millions of acres of public lands administered by the BLM. Another percentage is administered as Utah State Trust lands
ALL of these designated lands reside completely or in part, in San Juan County.
It's been like this for decades. How could anyone suggest, given the reality of public lands in San Juan County and across the Rural West, that the "locals" want it all for themselves?  Of course, many of them are angry and weary of the dominance of federal control in their county. Whether their anger is justified or not continues to be debated and has been since I first arrived in Southeast Utah, almost 50 years ago.
In the end, the issue of Bears Ears and national monuments, and public lands, and the wisest and best use of those lands should be debated honestly and fairly, with all facts on the table. In Thompson's 'High Country News' article, as has happened so often before, in so many other publications,  has employed diversions, filtered facts, and most often—omissions— in an attempt to discredit honest reporting.
NOTE: High Country News is welcome to re-print this reply to Thompson's article. They don't even have to pay me…JS
POSTSCRIPT In addition to his duties at High Country News, Thompson has recently written a book about the 2015 Gold King Mine disaster in Colorado. It is published by Torrey House Press, whose founding publisher, Mark Bailey, has been quoted extensively in two other Zephyr articles: "The Unspoken Bears Ears Goal—Creating an Urbanized 'New West'" and "The New West's Big Lie."
Jim Stiles is Founder and Co-Publisher of the Canyon Country Zephyr.