In December, The Zephyr first reported on a leaked email of a draft memo from a Friends of Cedar Mesa board member. Here is an update…JS
A SHORT HISTORY OF THE LEAKED MEMO
The Friends of Cedar Mesa (FCM), a non-profit organization based in Bluff, Utah, has been a vocal and instrumental proponent of Bears Ears National Monument. FCM has expressed concerns about the area's 100,000 archaeological sites that it believes needed immediate protection via President Obama's 2016  1.35 million acre monument designation.
FCM has conceded that the new monument, and the world-wide media attention the issue is generating, is sure to bring dramatically increased visitation to the area. But FCM is also convinced that many of the impacts associated with massive recreational use can be mitigated by the construction of a visitor center in Bluff, Utah, to be called the "Bears Ears Education Center" .
Friends of Cedar Mesa, working in conjunction with an organization called "Duct Tape Then Beer," has already raised over $200,000  for the Center via its Kickstarter Campaign. But in December, one of FCM's board members took issue with the ethics of that marketing effort and accused its executive director, Josh Ewing, of "going rogue."
As we earlier reported on our blog, The Zephyr received a copy of a December 3, 2017 draft internal memo, sent to two FCM board members from a third board member. The draft memo expressed concern about FCM's recent "Kickstarter" fundraising campaign to generate revenues for the proposed  education center.
The board member wrote:
"I have just reviewed the "FCM" Kickstarter Campaign.
I am totally repulsed (first word choice), disappointed, maddened, angered,  by two elements."
…and specifically identified two areas of concern:
"1-    The opening video seems to be all about Josh.   I took a tally.  Duct Tape and Beer mentioned themselves ONCE.  FCM was named TWICE.  Bears Ears was named FOUR x and JOSH was named 9x.  I think this to be wildly out of balance.   I don't like the portrayal of our ED as a self-proclaimed 'total badass.'"
"2-    A $10k price tag for a secret site hike with Josh?  This is the marketing strategy of Backpacker Magazine – "10 best secret hikes in Utah!" and worse..
I am NOT willing to have FCM be seen as an organization willing to sell secret sites to $10,000 donors."
He noted that the Kickstarter campaign—
"…points to the need AGAIN to require some board oversite (sic) of all media productions.  This has been an ongoing PROBLEM.  We had the Josh climbing into a site Patagonia film, the big snafu with the Kane Gulch exhibit which cost FCM $15,000, the current BLM Kane Gulch ranger station video approval, the almost non-use of Celebrate Cedar Mesa as the heading for last year's Celebrate Cedar Mesa event and who knows how many other little things."
…and concluded:
"I can honestly say that I do not trust Josh to make the correct media decisions to put FCM in the best light…Josh seems to have gone roque and is only feeding off of FCM to pursue his own agenda…..which is not totally in FCMs best interest."
Regarding its fundraising campaign, and its special prize for anyone who will contribute $10,000, here's how it read on their Kickstarter page:
"Secret Bears Ears Hike with Josh Ewing
"For a pledge of $10,000, you will receive a guided hike with Josh Ewing—someone who knows the secrets of Bears Ears. Trust us. We have done it. This pledge level is also thanked with your name in Even Bigger Then [sic] XXL size on the Donor's Wall of Honor in the Education Center, a beautiful 24×36 print of an image on canvas, the warm fuzzies of building something real and a shareable digital supporter card."Does not include transportation to or lodging costs in Bluff, UT."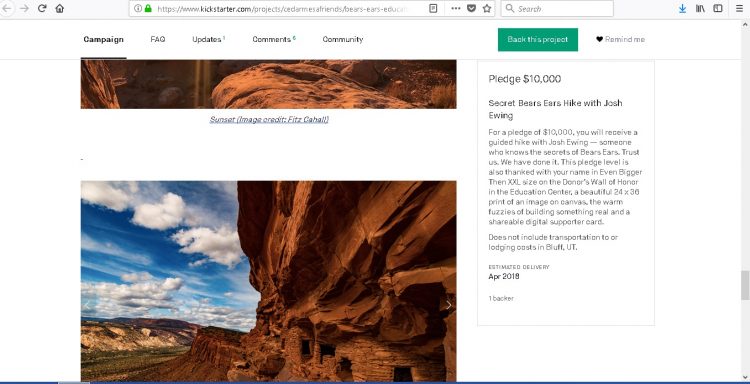 RESPONSE TO THE MEMO
The Zephyr posted the original memo on December 6. The following day, FCM's board of directors issued a statement, saying that the leaked memo had created an "unwarranted controversy." Here is FCM's statement in full:
"An inadvertent and unfortunate error from a private email gone public touched off an unwarranted controversy. The errant email gave the appearance of a lack of support for our Executive Director, Josh Ewing.  This is absolutely false.  The Board of Directors of Friends of Cedar Mesa has full confidence in Josh Ewing as our Executive Director. He is a leader who has and will continue to advance the protection, appreciation, and respect for Cedar Mesa and sacred lands of Bears Ears National Monument.  He is heading our legal efforts in conjunction with key allies to sue the Trump Administration to strike down the President's extreme overreach of authority in revoking the Bears Ears National Monument. Josh continues to lead a talented and hardworking team that is helping visitors understand the extraordinary significance of Cedar Mesa and Bears Ears as a remarkable cultural landscape. These are challenging times and moving past undeserved distractions we stand with Josh Ewing as a board and as an organization."
Friends of Cedar Mesa
Volunteer Board of Directors
December 7, 2017
On December 8, 'The Deseret News's' Amy Joi O'Donohue posted a story about the memo.
O'Donohue wrote:
"Ewing, who says he knows who wrote the memo but declined to identify the author, said he regrets the language used in the campaign crafted by Duct Tape Then Beer, which describes itself as a team of 'creative professionals with roots in the outdoor community.'

Other board members, too, say that Ewing has their 'complete' support and the accidental distribution of what should have been a private discussion was 'unfortunate.'"'It was a regrettable and inadvertent release of private information,' said David Nimkin, who is on Friends of Cedar Mesa's board of directors."
"Regrettable."
Days after the memo leaked, the Kickstarter page noted that the ten thousand dollar "secret hike" was "no longer available," but FCM still apparently managed to attract "one backer" before the deal was discontinued,  with "estimated delivery" of the "reward" by April 2018.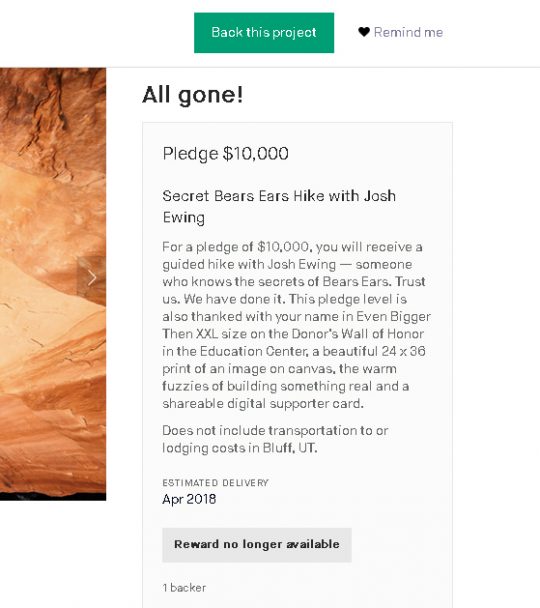 A report that the memo-writing board member resigned on the Wednesday before the board's statement of support for Ewing could not be confirmed. Board member Vaughan Hadenfeldt did not respond to Zephyr inquiries and Executive Director Ewing said he could not speak about board matters.
However, a comparison of FCM's board of directors in late January revealed that one name listed as a board member in December, Bruce Hucko, has been removed and the position of Vice Chair that he held is vacant. Hucko would neither confirm nor deny his current status at FCM to The Zephyr.
"DUCT TAPE THEN BEER"—THE FUNDING POWER BEHIND FCM
Figuring prominently in FCM's remarkable ability to raise money is the aforementioned "Duct Tape Then Beer (DTTB)."
According to the "what we do" section of its web site, DTTB is composed of:
"…emotionally and creatively wealthy humans who happen to be pretty damn good at negotiating the economics of creativity. Some might call it a constraint. We just call it magic…We collaborate with brands and not-for-profits that believe we will all be better off when more people explore the outdoors and develop a personal connection to wild places."
"We collaboratively help you distill and sharpen your group thinking into something poignant that resonates internally and externally. When the North Star for your brand is clear, content strategy naturally stems from that strategic foundation."
While that might sound a tad esoteric, DTTB is unquestionably good at what it does. Though their funding goal for the Bears Ears visitor center was $100,000, by the end of 2017 they'd more than doubled that amount, and "in a show of overwhelming positivity and grit" raised $217,243.
In addition to its "grassroots" efforts, DTTB noted that, "Additionally, companies in the outdoor industry took notice of your grassroots efforts and came to the table in a big way, donating directly to Friends of Cedar Mesa. Thank you."

DTTB boasts of partnerships with "folks that have come to trust us,"  including some of the most powerful corporations in the outdoor industry. They include: Patagonia, North Face, Outside Magazine, Osprey Packs, the Outdoor Alliance, National Geographic and many others.

And it hopes to extend its influence even further, urging other like-minded corporations: "Let's make some awesome together." DTTB has worked with outdoor corporate powerhouse Patagonia on projects to specifically promote Bears Ears National Monument. It writes that:
"…we can use our smarts, our passion and our talent to tell meaningful stories that spur action. With virtual reality, you are an active participant in story, directing your experience. Climb a desert splitter with Patagonia ambassador Kitty Calhoun — even if you aren't a climber, you can feel the power of the exposure and take in the view."
In 2016, DTTB's co-founder Fitz Cahall produced a film with Patagonia on Bears Ears, which prominently features Friends of Cedar Mesa's Josh Ewing.
In an accompanying interview with 'Climbing' magazine, Cahall gave full credit to Ewing for the original monument. He explained that:
"(Ewing)came up with this idea of wanting permanent protection for Cedar Mesa…. Originally the proposal was to save 200,000 acres, and it was just Cedar Mesa. Now, because of the coalition Josh has built, it has 1.9 million acres."
And he added, "There are four or five Native American tribes involved."
News of the FCM "secret memo" did nothing to raise concerns at DTTB or among its followers. When a commenter posted the 'Deseret News' story on DTTB's facebook page, only one person responded, "Much ado about nothing," he wrote. "How stupid."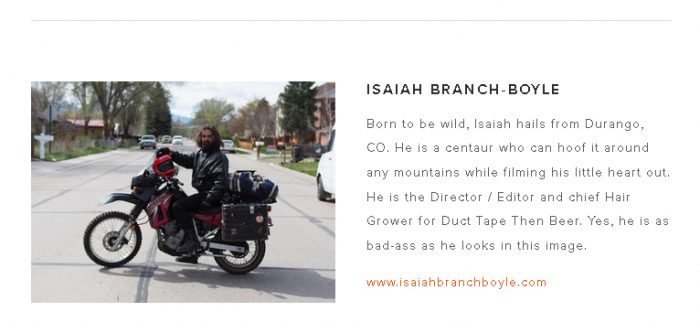 And when DTTB's "story editor," Isaiah Branch-Boyle was challenged to comment about the ethics of selling "secret hikes for $10,000, he wrote on Instagram, "I think respectful visitation for a good cause is different than genocide, mining, and grave robbing."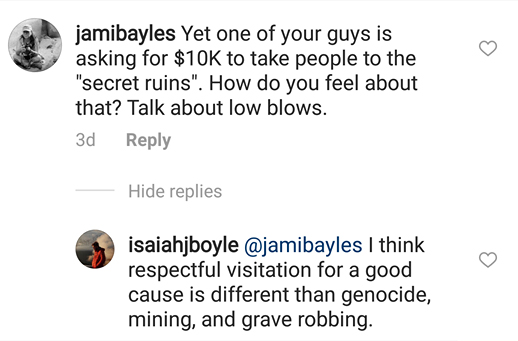 THE BOTTOM LINE…
Searching for the real essence of Bears Ears National Monument,  DTTB's co-founder Fitz Cahall  told
Climbing magazine
, "if you're into adventure climbing and new-routing, I mean, this whole area of Cedar Mesa is so ripe…"
Translation?  As we've noted in previous Zephyr articles, what we are seeing  is an entirely new kind of "environmentalism." In fact, it  feels like an unkind abuse of the word itself.  Perhaps we need something more accurate to explain this 21st century phenomenon—
"Industrial Recreational Environmentalism?" "Enviropreneuralism?"  "Green Greed?" "Wilderne$$ Activism?"
All of the above?
The unspoken goal of Bluff, Utah, where Friends of Cedar Mesa is based, is to become the "Next Moab." And with no regrets. No one is "going rogue" in Bluff. Its leaders and its followers are carefully and deliberately following the same blueprint that Moab's environpreneurs embraced 25 years ago. And what they initiated in the 1990s set Moab on a path that would lead that community to the special "New West" status it holds today.
Their strategy was to push for an "amenities/tourism" economy and endlessly market the "product" like you would a car.  Push for a community that rejects other forms of industry, especially the energy industry, and demonize anyone who doesn't embrace a "New Moab." Convince all the new residents and the exponentially increasing numbers of tourists, that they are contributing to the solution, not the problem, and never, ever mention that Industrial Recreation might transform the West in ways they could not not fathom at the time.
Until very recently, few Moabites–even those who had lived in the area for decades–realized the path they were on, and would never have complained (at the time) had it been pointed out to them. In 2018, many are finally having second thoughts.
Today's environmental leaders are lawyers and advertising executives and investment brokers and venture capitalists and developers and bankers. They have little interest in how their embrace of industrial tourism and recreation will gentrify local communities and damage the landscapes they claim to want to protect. They like the changes. And the "mainstream environmental community" that turns to these "environmental" leaders for advice and direction is firstly, and primarily, composed of older affluent progressives who have made Western land issues their "cause." Many have transplanted themselves to the New West; others express their views from a thousand miles away. Regardless, few are armed with the history or context of the issues they are suddenly embracing or protesting.
And the second population that feeds the enviropreneur coffers? A younger generation, drawn to wilderness country like southeast Utah almost exclusively for the recreational opportunities–climbing, base jumping, mountain biking and selfie-taking. This generation has never even heard the impacts of "Industrial Strength Recreation" discussed in any way other than a positive. After all, it's been twenty years since any environmental organization in Utah raised any serious alarm about the effects of a runaway tourist economy.
And ALL of them place the economic value of wilderness protection at the very top of their priority list, along with the quality of their own recreational experiences.
Last November, the residents of Bluff voted overwhelmingly to incorporate their city and to dramatically expand the city boundaries in the process. Bluffites have embraced all this, so far, thinking they're choosing a cleaner, more responsible, more environmentally compatible future for their town. Just like Moabites  twenty five years ago.
And now, Josh Ewing is running for office— to be Bluff's first mayor.
Jim Stiles is Founder and Co-Publisher of the Canyon Country Zephyr.