PART I: A latter-day David and Goliath saga
The home of the Pyramid Lake (Nev.) Paiutes is pristine and spectacular.
The lake is quiet, commercially primitive, other-worldly. It constantly changes color from shades of blue or gray depending upon the skies above and varying angles of seasonal light. It's the only habitat in the world for Cui-ui fish, a species that's been swimming those waters for 2 million years. Its fishery includes world-famous Lahontan cutthroat trout and is home to a large colony of American white pelicans.
About 120 miles upstream another jewel, Lake Tahoe, has been transformed into a playground. Tens of thousands of tourists pondering kitsch and posing for selfies. Flashing lights, bells, whistles and slot-machine hubbub. Mega-mansions behind gates monitored by video cameras and security guards protecting property of absentee owners who split their time between Tahoe and New York City, Singapore, Hong Kong, Paris or Moscow. Hyper-inflated real estate prices. Gargantuan hotel and condominium developments. Burger flippers making $10 per hour and sharing two bedrooms with six others for a memorable summer.
As a result of all of this, the lake is slowly losing its crystalline quality. Millions are being spent on a range of mitigation tactics by nonprofits, universities, local and state governments of two states and the federal government, but it's not enough. When scientists started monitoring water clarity in 1968 they could see a white disk submerged to a depth of 100 feet; now it's around 70 feet. The lake is losing about one foot of clarity per year. At that rate, children of children born today will know Tahoe only as bluish and murky.
Fine sediment – tiny, ground up particles much smaller than the width of a human hair – is the primary source of lake clarity loss. The sediment enters the water from development of infrastructure required to support massive year-round tourism that jams the basin and the lake's 70-mile shoreline. Instead of falling to the bottom of the lake, fine sediment remains suspended.
THE TRUCKEE RIVER CUTS AN ALPINE CANYON from Tahoe to Reno then through the desert to the Pyramid Lake Paiute reservation (Cui-ui Ticutta), where it feeds the lake. The river has been a source of agricultural irrigation and at-home culinary water under unrelenting stress since the heyday of the Gold Rush in northern California and silver mining in nearby Virginia City. Vandals more recently have defaced some of the rock formations along the lake's shoreline.
Yet Pyramid Lake and the Truckee inside the reservation would still be recognizable to Paiute elders across time
The tribe's relative success at defending their land against tourists, miners and farmers is not unique. Taos (N.M.) Pueblo, the Navajo Nation and other tribes also have recognized the downside of tourism and commercial development: overloaded infrastructure, damage to nature and threats to their culture and heritage. Each tribe, given their unique circumstances, found the wherewithal to fend off a bit of the onslaught by using several tactics suggested by Gloria Guevara Manzo, president and CEO of the World Travel and Tourism Council, in the 2017 book "Coping with Success: Managing Overcrowding in Tourism Destinations": namely, limiting or even banning tourism and related commercial activities, regulating the supply of accommodations and preventing infrastructure development.
Pyramid Lake Paiutes closed off much of their lake's shoreline. Taos Pueblo sealed their sacred Blue Lake in the Sangre de Cristo range of northern New Mexico from non-tribal recreationists. The Navajo Nation banned unescorted hiking in Canyon de Chelley National Monument and, most recently, voted down the multimillion dollar Escalade development located above the sacred confluence of the Colorado and Little Colorado rivers that would've shuttled up to 10,000 visitors a day to the bottom of the Grand Canyon.
The tribes acted with undisputed sovereignty over tribal lands. Each invoked spiritual beliefs.
Navajos for and against Bears Ears National Monument, the reduction of which by President Trump is being challenged in federal court, regularly refer to shared spiritual themes to justify their positions on creation of the monument. Pro-monument Navajos, however, have added a powerful secular component. Utah Diné Bikéyah, a nonprofit based in Salt Lake City that's led by Navajo and Ute Mountain Ute tribal members, has aligned itself with companies that promote and profit handsomely from non-motorized outdoor recreation. They include some of the nation's most prominent and politically aggressive: Patagonia, The North Face, REI Co-op, Black Diamond, Arc'teryx, Sage, OR, küat, Osprey, Yakima, Clif Bar and Mountain Hard Wear.
Some of their products and marketing efforts enable what many members of the Navajo Nation might consider desecration of sacred ancestral lands – biking, hiking, camping and rock climbing, all of which are heavily regulated on the reservation a few miles south of the BENM boundary. Rock climbing is even banned.
Navajos who refer derisively to BENM as the "Doodah (No) Monument" are not beneficiaries of a sophisticated multimillion dollar, multiyear national campaign organized and administered by professionals who make a comfortable living off of creating and now litigating Bears Ears. Here's a sampling of the salaries received by executive directors of several nonprofits behind BENM, according to their 2016 IRS Form 990s: Friends of Cedar Mesa, Bluff, Utah, $41,000; UDB, Salt Lake City, $86,000; Round River Conservation Studies, Salt Lake City, $98,000;  Southern Utah Wilderness Alliance, Salt Lake City, Moab, Washington, D.C., $113,000; Conservation Lands Foundation, Durango, Colo., $150,000; and Grand Canyon Trust, Flagstaff, Ariz., Denver, Durango, Moab, $226,000. None of the directors, staff or donors of those organizations is accountable to the people whose livelihoods and lives might be affected by their decisions. Many cannot even vote in Utah.
Those grassroots "Doodah" voices have not been amplified by regional and national news media. They don't stage massive political rallies, cultural and academic seminars, theatrical productions or upscale fund-raisers. Their political surrogates, if any, are not multimillionaire actors lending star power in videos and op-eds. Maybe a few T-shirts here and there. You won't find many Doodah yard signs in Salt Lake City, only SUWA's "Protect Wild Utah" and UDB's "Utah Stands with Bears Ears." Doodah efforts have not been funded by outdoor recreation and tourism corporations, environmental nonprofits and conservation-oriented philanthropic foundations with assets in the billions. One of those foundations, the William and Flora Hewlett Foundation, is worth $9 billion.
Doodahs can count on a few ranchers (one trade group has a cure for "Patagonia shame"), a right-wing blogger ("Pro-Life, Pro-Family, Pro-Manly-Man") or two and some concerned citizens. The Pacific Legal Foundation and Mountain States Legal Foundation have offered assistance, along with Big Game Forever. The influential hunting advocacy group was founded by Don Peay, a prominent campaigner for Donald Trump in Utah.
The president of the United States, Utah's congressional delegation, the governor of Utah, most Utah county commissioners and most members of the Utah Legislature align with the Doodahs. Each is accountable to voters.
Solicited or not, they have on their side the Sutherland Institute and by extension the billionaire Koch brothers. That connection deserves special consideration. Sutherland helped write the resolution approved by the Utah Legislature that called for elimination of BENM. State Rep. Ken Ivory (R-West Jordan): "We get help from a variety of groups and organizations on legislation frequently. That's how legislation is crafted and created."
According to documents provided to E&E News by the Western Values Project, Ivory directed state aides tasked with writing the resolution to contact Sutherland Policy Analyst Matt Anderson "for language."
"I'm drafting your resolution regarding Bears Ears, except I still haven't received the draft language from Matt Anderson," Utah State Legislature Policy Analyst Megan Bolin wrote to Ivory in late January. "I contacted Matt on the 12th and he said he was working on the language and would get it to me soon. I'll try to contact Matt again, and I can come meet you as well, if needed. Let me know." Anderson also testified against Bears Ears at a subcommittee hearing of the Committee on Natural Resources on Jan. 8, 2018, convened by Rep. Rob Bishop (R-Utah).
Utah Diné Bikéyah says 98 percent of Utah Navajos support the monument. The senator says the opposite is true. "After spending the week meeting with Utahns across the state, I am convinced that local support for this proposed monument is practically non-existent. …" said Lee. "Those who support the monument have relied on out-of-state support to create a narrative that there is any level of support for this monument designation."
Game on.
We're watching a post-modern David and Goliath battle royal. This time, Navajos play both parts. So tell me Kwai Chang Caine (aka "Grasshopper"), who is David in this version of the story? Who is Goliath? Who are Philistines? Who are Israelites?
Part II: The power of rhetorical inoculation
MANY IF NOT MOST WORLD RELIGIONS are sustained by legends that reflect a deep sense of place. Christianity, Islam and Judaism took root in the deserts of the Middle East. According to tradition, Brigham Young, the prophet of the Mormon Church who led the Saints into Zion at the close of the Mexican-American War in 1846 and 1847, said of the geographic area now known as Utah, "This is the place." For Navajos, parts of Colorado, New Mexico, Arizona and Utah have been "their place" for much longer. Zuni, Hopi and Ancestral Puebloans claimed it "their place." Spain claimed it "their place," then Euro-Americans.
The distinct Diné oral culture and spirituality that evolved over the past 700 or 800 years after a centuries-long migration from western Canada cannot be separated from the place in which it evolved, writes Utah journalist Tom Harvey in "Rainbow Bridge to Monument Valley: Creating the Modern Old West." The landscape even now sustains the Diné, The People. It's hardly surprising then that Utah Diné Bikéyah would tap that rich heritage for political purposes. However, spokesmen for the organization raise thorny constitutional issues regarding separation of church and state by regularly referring to their personal understanding of the "Creator" to settle the national dispute over control of non-tribal land owned by every American, whether Christian, Jew, Muslim, Buddhist or agnostic.
"We oppose what they're doing today. The monument was already established by the Creator, way before they took action," said Jonah Yellowman, a Utah Diné Bikéyah board member and spiritual adviser, during a Bureau of Land Management meeting in late March to discuss management plans for Shash Jaa and Indian Creek, replacements of Bears Ears unless ongoing litigation is successful. "The confluence of the Colorado and San Juan Rivers — female and male rivers — is where offerings, rituals, and ceremonies were created and to ignore these natural boundaries is basically undoing the work of the Creator."
Abbie Jossie, BLM's assistant state director, said Yellowman's comments would be noted in the federal record but likely not reflected in management planning of the two units.
One of the clearest examples of Utah Diné Bikéyah's use of Navajo spirituality as a political tool was documented by Terry Tempest Williams, a prominent author, doyen of environmentalism and board member of Southern Utah Wilderness Alliance. In a remarkable letter found on Page 290 of her "The Hour of Land," Williams describes two meetings: one with graduate students from the University of Utah who were taking her humanities class and another several weeks later with fellow activists, both at her home in Castle Valley, Utah. (The Zephyr previously reported on contents of the letter.)
Those private meetings toward the end of 2014 coincided roughly with deliberations of at least one big environmentally oriented nonprofit, the Conservation Lands Foundation, to join the tribal campaign and efforts of the San Juan County Public Lands Council, a citizens' group tasked by Rep. Rob Bishop (R-Utah) to come up with a plan to protect the region. The Lands Council's process – a 14-member work group representing a range of interests, county commission meetings and a half dozen open houses along the eastern corridor of the county – was flawed in the same way much of representative democracy is flawed. As Winston Churchill supposedly said, "Democracy is the worst form of government, except for all the others." But it resulted in a practical compromise: a mix of energy-development areas, national conservation areas and designated wilderness and closely resembled President Barack Obama's eventual proclamation. The plan died when Bishop's "grand" Public Lands Initiative died. The group could've formed the nucleus of future collaborative efforts to solve county problems had it stayed together.
Williams wrote the letter to newly appointed Interior Secretary Sally Jewell, former CEO of outdoor recreation giant REI.
"Dearest Sally," she begins. "It is the longest night of the year. There is a clarity to the desert in winter, especially on a starlit night like tonight. I wish you were here to share the light of these candles here in Castle Valley. Forgive my informality, but I view you not just as our secretary of the Interior, but a fellow sister in conservation."
A virtual who's who of Utah environmentalists attended the second meeting. Williams writes, "Jonah Yellowman sat at the head of the table. To his right was Scott Groene from the Southern Utah Wilderness Alliance, to his left was Bill Hedden from the Grand Canyon Trust." Other guests around the table included former Canyonlands National Park Superintendent Walt Dabney, Sue Bellagamba of The Nature Conservancy, Josh Ewing of Friends of Cedar Mesa, Williams and her husband, Brooke, and Gavin Noyes, executive director of UDB.
Yellowman channeled wisdom of the ancients at both meetings. Here's Williams' description of the first one:
"When Jonah arrived, coyotes began howling, a rarity at nine o'clock in the morning. He entered our home with his large presence, the students sat near him, and he began his remarks with a blessing. After the blessing, he spoke about how one learns. He shared stories about how his father taught him as a young boy to bring in wood and water at night, so that in the morning when you awaken, you will have dry wood to make a fire for warmth, and water to boil a cup of tea. These practices ensure you will not be caught short in a blizzard.
"He shared with us how he became a medicine person, how the ashes spoke to him, how if one holds a crystal up to the stars for guidance and then peers back into the ashes, one can see into the soul of the person in need. He went into great detail about these matters of the spirit. One of the students, a bit uncomfortable, asked Jonah why he was sharing this personal knowledge.
" 'It is time,' Jonah said."
Anyone who has made a random discovery of 1,000-year-old artifacts of human habitation in the cranny of a red-rock cliff, trekked up a sandstone bluff inside Canyonlands National Park at sunset or spent a deathly silent, crystalline night staring at the canopy of creation knows exactly what Yellowman and Williams are talking about.
MUCH OF THE LANGUAGE USED BY NATIVE AMERICAN ACTIVISTS surrounding Bears Ears echoes Yellowman's in substance, style and tone. It's probably been an effective way to influence many Euro-American progressives, even those who tend to be skeptical of national policy based on religion – especially in a state whose culture and civic life are permeated, even dominated in certain ways, by one religion, The LDS Church. Yellowman, Utah Diné Bikéyah and others give voice to a historically marginalized group of Americans (Using the word "marginalized" is a monstrous understatement when the topic touches genocide). Whether their narrative is true, littered with unintentional fuzziness or intentionally riddled with half-truths to attain a political goal, the rhetorical line has been drawn between President Donald Trump, Interior Secretary Ryan Zinke and their oil and gas buddies versus Native Americans protecting their sacred ancestral sites. Cross it at your peril.
There's been another, darker rhetorical tone adopted by some pro-monument Native Americans and their allies. They use it to smear political opponents, even other Native Americans. Here's a sampling directed at Democrat Rebecca Benally, who is seeking re-election as San Juan County commissioner:
Virgil Johnson, chairman of the Confederated Tribes of the Goshute and president of the Utah Tribal Leaders Association, referred to Benally as a "token" Navajo at a Jan. 23, 2018, public forum sponsored by the environmental group Utah Valley Earth Forum in Orem, Utah. He repeated a line of personal attack directed at Benally by Shawn Chapoose, co-chairman of the Bears Ears Inter-Tribal Coalition and chairman of the Ute Indian Tribe Business Committee, at a congressional hearing in Washington, D.C., several weeks earlier. At a hearing in Washington, D.C., on Sept. 24, 2016, Rep. Raul Ruiz, D-Calif, also targeted her: "Saying that the Navajo Nation supports this land grab because one Navajo woman acting as a commissioner is like using her as a token spokesperson for her nation." To which then-Rep. Jason Chaffetz, R-Utah, replied: "There is absolutely no excuse for the degrading and disrespectful way in which Congressman Ruiz referenced Commissioner Benally. She in no way deserves to be called a 'token,' nor to have her legitimacy as an elected official questioned." Similarly, in a Facebook post dated Feb. 28, 2017, a commenter identified as Kenneth Maryboy, a UDB board member, the former delegate from Utah to the Navajo Nation Council and former San Juan County commissioner, referred to fellow tribal members who are political opponents as "tame Indians." Maryboy is attempting to re-gain the commissioner seat he lost to Benally a few years ago.
On Jan. 6, 2018, The Salt Lake Tribune published an op-ed by Garon Coriz, a Santo Domingo (N.M) Pueblo and physician living in Richfield, Utah, with a headline likely written by a Tribune editor that referred to anti-monument Navajos, including Benally, as "window dressing" in service of Trump's agenda. "Ultimately, Benally and her clique are the hammer and chisel in the state's efforts to chip away at tribal sovereignty. … In Indian Country, with the history of individual tribal members sometimes betraying their tribes for a handout or payoff, she has become a pariah." Coriz resurrected "Uncle Tom." Among African Americans, there's probably no insult more inflammatory.
Then there's this: Last year, Dave Skinner, a columnist for Range, published a sidebar about a 2014 email from Dennis Sizemore, executive director of Round River Conservation Studies, a key UDB ally, to an article titled "Monumental Megabucks: White billionaires, brown Astroturf, green monuments. Any questions?" It was an account of events at a meeting of Utah Diné Bikéyah. According to Skinner, the private message was sent to outsiders by UDB board member Mark Maryboy. Arch foe Phil Lyman, San Juan County commissioner, got hold of it and passed it along. The intended recipients comprise a "who's who in white environmental leadership," according to Skinner. They included Packard Foundation's Sam Tucker, Hewlett Foundation's Michael Scott, Pew Charitable Trusts' Mike Matz, Conservation Lands Foundation's Brian O'Donnell and others. "Sizemore's email is clearly intended as internal damage control and paycheck protection," Skinner wrote, "a communication among friends where everyone is on a first-name basis needing no further clarification: '[Mark Maryboy] called me a racist and I pointed out that his head has been up a white man's ass his whole career. It was downhill from there.'"
NATIVE AMERICAN ACTIVISTS HAVE BRILLIANTLY LEVERAGED their cultural identities to inoculate themselves against critics. Really good political communicators are always looking for that Holy Grail of sorts. Take a sacred cow, credibly associate it with your cause and spread it around. Then presto chang-o alakazam, the cause is won, a parcel of land becomes a monument. Mothers Against Drunk Drivers did it in 1980. High schoolers currently protesting mass killings are doing it. Non-Native American pro-monument activists have not done badly either.
One clever twist in the campaign to create BENM and preserve other parcels of public land as well was to hire a cute little 9-year-old actor. He's now 10.
Although Robbie Bond has no readily apparent connection to Utah or the desert Southwest, he's emerged as a spokesperson (or more accurately, a mascot). Untouchable in the way Smokey Bear is untouchable. Inoculated rhetorically. I would challenge anyone reading these words to find one news media source that has identified Bond as an actor or asked why he shouldn't be in school instead of going on hikes in southern Utah. Where are his parents?
Since the middle of July 2017, Robbie and his Kids Speak for Parks campaign have been tireless. He has a website, a Facebook page and a Gofundme site. He's been criss-crossing the country producing videos. His stops have included Washington, D.C., Washington state, California, Hawaii, Utah, Colorado, Idaho, Nevada and Wyoming. He has a "sponsorship" from Patagonia, according to Nonprofit Quarterly. He's appeared at Patagonia outlet stores in Salt Lake City and Reno, Nev. He pals around with many of the key players involved in the effort to keep Trump and Zinke from what they might believe is their date with destiny.
The young actor has gotten extensive media coverage across the West, including KUTV and Fox13 in the Utah market. Perhaps most notably, he was named "Thursday Hero of the Week" in a Nov. 2, 2017 piece written by Utah-based freelance writer Cathy Free and published in the online version of People magazine.
Robbie was a featured speaker at an extraordinarily well-choreographed rally in December to protest Trump's expected announcement to shrink Bears Ears National Monument and Grand Staircase-Escalante National Monument. He needed a boost to reach the microphone. So cute. Utah Highway Patrol estimated 5,000 people showed up at the Capitol.
Activist? He's probably just having fun hangin' with cool people.
Robbie is represented by Melissa Berger Brennan of CESD Talent out of Los Angeles. He helped promote 3D Orbeez Fidget SPINNERS a while back. Will Bears Ears be Robbie's big break?
His campaign is at least partially coordinated by Feldman Strategies, a Washington, D.C.-based firm that specializes in public relations for politically progressive clients. Here's what Feldman has to say on its website: "With just the right amount of fuel from President Trump's controversial executive order threatening the future of 27 national parks and monuments, Feldman Strategies signed on with gifted 10-year-old Robbie Bond, to lead the PR and launch his progressive nonprofit organization, Kids Speak for Parks, to push the importance of keeping the parks undisturbed.
"Our media strategy brought Robbie and Kids Speak for Parks to the national stage as a telling narrative of children standing up to the Trump administration's dangerous agenda against our national parks and monuments. Through the success of our media relations effort, Robbie's mission is quickly gaining traction across the country and the world, with notable support and potential sponsorship opportunities. When kids speak public listen.
(Ka-ching!)
"Feldman Strategies is proud to stand alongside Robbie and Kids Speak for Parks during a critical time for educating kids and preserving the longevity of our national parks and monuments."
OVER THE YEARS ENVIRONMENTAL GROUPS – SUWA, the Wasatch Mountain Club, the Sierra Club, the Natural Resources Defense Council and more than 200 other national and regional conservation organizations associated with the Utah Wilderness Coalition – tried to get their massive America's Red Rock Wilderness off the ground. Various iterations of it have been introduced into Congress every year since 1989. Tens of thousands of dollars down the drain. In 2012, a 1.4 million-acre Greater Canyonlands National Monument was proposed. It would've encircled Canyonlands National Park. Same result. A bold idea couldn't overcome Republican opposition and, this time, the caution of Obama's Interior secretary, Ken Salazar, who expected consensus among ever-feuding factions before going forward.
Native American spiritual and cultural sensibilities never figured prominently in any of those proposals. Then in 2010, a few Navajos mustered after a call from former U.S. Sen. Bob Bennett (R-Utah) and launched their own initiative with "fiscal sponsor" and technical adviser, Round River Conservation Studies, based in Salt Lake City. The group morphed into Utah Diné Bikéyah and took an assertive, high-profile lead: Leonard Lee, vice chairman of the group, remarked, "We don't consider ourselves as stakeholders. … We're the landlord." Early on UDB tapped philanthropic foundations, including the David and Lucile Packard Foundation. Philanthropy News Digest puts the foundation's worth at $7 billion.
Many of the groups behind America's Red Rock Wilderness and Greater Canyonlands National Monument played supporting roles this time around.
Utah Diné Bikéyah formally proposed the Diné Bikéyah National Conservation Area in 2013 and submitted its monument proposal, Bears Ears, two years later. Preservation of American Indian culture along with its spiritual underpinnings proved to be a rhetorical winner – at least until Hillary Clinton lost. See you in court, Donald.
Nothing the earlier campaigns did came close to what this one has done, however inadvertently, to stress the fragile landscape of southeastern Utah, accelerate potential damage to archeological sites and boost tourism.
(Ka-ching!)
Part III: Come on down. Bring the kids
TOURISM WILL CONTINUE TO GROW because the world is getting richer and travel more accessible.  One billion more people will be in the global middle class by 2030.
Utah's population is projected to be 5 million by 2050, up from its current 3 million. More places will be threatened – environmentally, socially and aesthetically –  by their own popularity. But it's a problem now, and no relief is in sight. Park City ski resort is the largest ski resort in the United States. At 7,300 acres, there's a lot to ski. Yet it has to regularly open satellite parking lots to handle weekend skiers. The slopes are crammed. Picture a slalom course, but the gates are people who zig-zag back and forth across the slope at varying speeds and levels of competence. Collisions with skiers or boarders are real and present hazards nowadays. Avalanches? Not so much. Many skiers just stay home during Park City's annual Sundance Film Festival. They've been displaced by hordes of Hollywood hipsters and wannabes.
A group of governments and civic leaders recently launched "Wasatch Choice 2050" to coordinate a response to population growth along Utah's urban corridor. That initiative follows a more modest project of nonprofit treadlightly! and the BLM called "Respect and Protect." The goal is to safeguard culturally and environmentally sensitive places outside the cities. Some, in southeastern Utah, are already seeing alarming increases in visitation in part because of publicity surrounding Bears Ears. BLM reported a 35 percent increase, mostly in the Indian Creek area frequented by rock climbers and visitors to Canyonlands National Park. The estimated number of visitors to the area covered by the Monticello Field Office jumped from 297,643 in 2016 to 403,178 in 2017.
A couple dozen state and federal agencies, nonprofits, educational institutions and private sector companies – mainly companies that sell motorized recreation vehicles and related paraphernalia – are participants. Conspicuously missing, at least from this initiative, are the tribal groups, environmental nonprofits, conservation-oriented philanthropic foundations and tourism and outdoor recreation companies that currently are spending millions to create and litigate BENM. One of the smallest nonprofits in the group, Friends of Cedar Mesa, at least recognizes the problem and is taking action.
The executive director of Friends, Josh Ewing, is a rock climber and longtime advocate for the area's protection. He and Fitz Cahall, also a rock climber, helped produce many of the still images and videos Patagonia is using to promote Bears Ears. Cahall is the go-to image guy for many other prominent outdoor companies. His Seattle-based public relations company, Duct Tape Then Beer, helped raise a couple hundred thousand dollars for Ewing's organization to buy an old fixer-upper of a bar in Bluff, Utah, and now a network of friends is turning it into an educational center as a way to mitigate damage caused partly by the success of their promotional efforts. However, the former bar is about 100 miles south of Indian Creek.
Here's Ewing's response:
Every new article, including the one you're writing, will likely bring even more people to see what all the controversy is about.
The outdoor industry has been very supportive of our efforts to step in and do what the government cannot or will not. We need to move forward with real visitor information to mitigate the damage from increased visitation. More than a dozen companies, including The North Face and Patagonia, have made significant contributions to our Bears Ears Education Center project.
A real visitor management strategy is needed to send people to places that are visited already. Right now, the agencies have no strategy to address the problem. It's also likely we need permit and fee systems to cap visitation.
Utah Diné Bikéyah, while not acknowledging the role its pro-monument publicity might've played in the recent upsurge of visits to the Bears Ears area, appealed to the United Nations Human Rights Council in April, specifically the United Nations Permanent Forum on Indigenous Issues and Special Rapporteur Victoria Tauli-Corpuz, to "direct" the United States to respond to what it says are human rights violations regarding "ongoing" grave robbing and looting and "halt" preliminary steps to write a management plan for BENM replacements, Shash Jaa and Indian Creek.
"It (Bears Ears) is a place known for healing by all tribes and its (monument's) creation was a recognition of tribal sovereignty, indigenous self-determination, and acknowledgement of the American Indian Religious Freedom Act, the U.N. Declaration on the Rights of Indigenous Peoples (UNDRIP), and indigenous human rights," according to a statement from Honor Keeler, assistant director at UDB. Nowhere does Obama's monument proclamation express "recognition of tribal sovereignty" and "indigenous self-determination." Nowhere does it specifically mention the U.N. Declaration on the Rights of Indigenous Peoples. Nowhere does it grant privileged status to Native Americans or specifically the five tribes associated with the Bears Ears Inter-Tribal Coalition.
The proclamation is an eloquent statement on multiple-use management of public lands. It's got something for everything and everybody: Native Americans and archeologists with an abiding sense of the area's cultural significance; ancestors of Europeans who explored the area during the 18th century and Mormon settlers of the San Juan Mission who followed years later to establish what is now Bluff, Utah; geologists passionate about preventing destruction of the area's unique rock formations; paleontologists who care deeply about preserving some of the most scientifically significant sites in the United States; plant life that supports a wide diversity of wildlife; and human communities that depend on the area's watershed, forests, grasslands and a bit of an economic boost tourists provide.
What's interesting is that the activists are calling for the U.N. to usurp the sovereignty of the United States as a way to expand tribal sovereignty beyond a reservation. Even more interesting is that they're doing it in a part of the country where it would affect more than a few residents who are obsessively suspicious of intrusion by the U.N. into U.S. affairs. UDB's trip to the Big Apple might excite a certain strain of conservative paranoia that, for example, believes "Agenda 21" merits extreme vigilance, maybe even a call to arms.
Agenda 21, you say?
Here it is in a nutshell: The United Nations seeks to create a one-world government using the rationale of ensuring the planet's sustainability. The U.N. resolution passed at the Earth Summit in Rio de Janeiro in 1992 was the linchpin in a clandestine plot to deny property rights, undermine U.S. sovereignty and subjugate humanity under an eco-totalitarian regime. Pundit, right-wing flamethrower and author Glenn Beck made a mint on his 2012 book "Agenda 21," an Orwellian tale of a futuristic America in which a U.N.-led program spawns an authoritarian state where individuals are stripped of all personal rights and freedoms. The Republican National Convention adopted a platform resolution the same year that said, "We strongly reject the U.N. Agenda 21 as erosive of American sovereignty."
The whole scenario is hokum, but a conspiracy-inclined, anti-environmentalist mind could interpret it as consistent with what Natasha Hale, a staffer at Grand Canyon Trust, said in May 2015. "If the tribes are successful in the (monument) proposal with the coalition of conservancy groups, it will set the platform for other protection issues outside of reservation land." And in a help-wanted ad UDB said, "We are seeking talented candidates who can help advance conservation and Native American sovereignty in the years ahead. Connect the dots: UDB and U.N. … U.N. and Agenda 21 … Agenda 21, UDB and Hale … Hale, UDB, Robert Redford, Leonardo Di Caprio and the cabal of environmental globalists. Who will stand up against encroaching tyranny?
The activist group is calling for "free, prior and informed consent with indigenous people." Yet its own specific proposal, unveiled in Oct. 2015, was never publicly vetted but written behind closed doors in consultation with Charles Wilkinson, a board member of Grand Canyon Trust and law professor at the University of Colorado. Wilkinson was on the team that helped create President Bill Clinton's still-controversial Grand Staircase-Escalante Monument in 1996.
UDB and the Bears Ears Inter-Tribal Coalition pushed hard for a precedent-setting but legally dubious tribal-government-to-federal-government co-management arrangement. Even Obama, a champion of Native American rights throughout his eight years in office, wouldn't go along with it. Pretty much the only things tribal activists got out of the Bears Ears National Monument proclamation after six years of intensive lobbying were elegantly crafted words and a commission with members chosen by tribal governments "established to provide guidance and recommendations on the development and implementation of management plans and on management of the monument."
Editor: Gavin Noyes, executive director of Utah Diné Bikéyah, declined to be interviewed regarding issues raised in this report. He cited the organization's on-going litigation with the federal government over Bears Ears National Monument.
UTAH'S OFFICE OF TOURISM AND OFFICE OF OUTDOOR RECREATION, both housed within the Governor's Office of Economic Development and intimately involved in tourism promotion, also were not listed as participants of treadlightly!'s and BLM's "Respect and Protect." That raises the question, "Does the program's mission conflict with the state's marketing juggernaut?"
The Office of Tourism spent $21 million to promote tourism and outdoor recreation within the state last year – a hefty subsidy for the very businesses that decamped in a huff from Salt Lake City and took their $40 million trade show, Outdoor Retailer, to Denver.
In an op-ed published last year in The Salt Lake Tribune, Peter Metcalf, whose Salt Lake City business, Black Diamond, manufactures and sells rock-climbing equipment, wrote, "They (Utah legislators) neglect the critical role public lands play in boosting Utah's economy." Despite Metcalf's apparent misunderstanding of the state's peculiar politics, driven sometimes by vacuous ideological messages, and the Legislature's actual appropriations, the tourism office has a firm grip on the connection between economic development and Utah's public landscape.
Val Hale, executive director of the Governor's Office of Economic Development, gushes about tourism and the person he believes is responsible for exploiting its economic potential,  Vicki Varela, managing director of Tourism, Film and Global Branding: "Utah's unprecedented growth and success in tourism is due to (Varela's) leadership. She has done a remarkable job of rallying the tourism industry and inviting the world to experience Utah." Tourism has grown into an $8 billion economic driver for the state.
(Ka-ching!)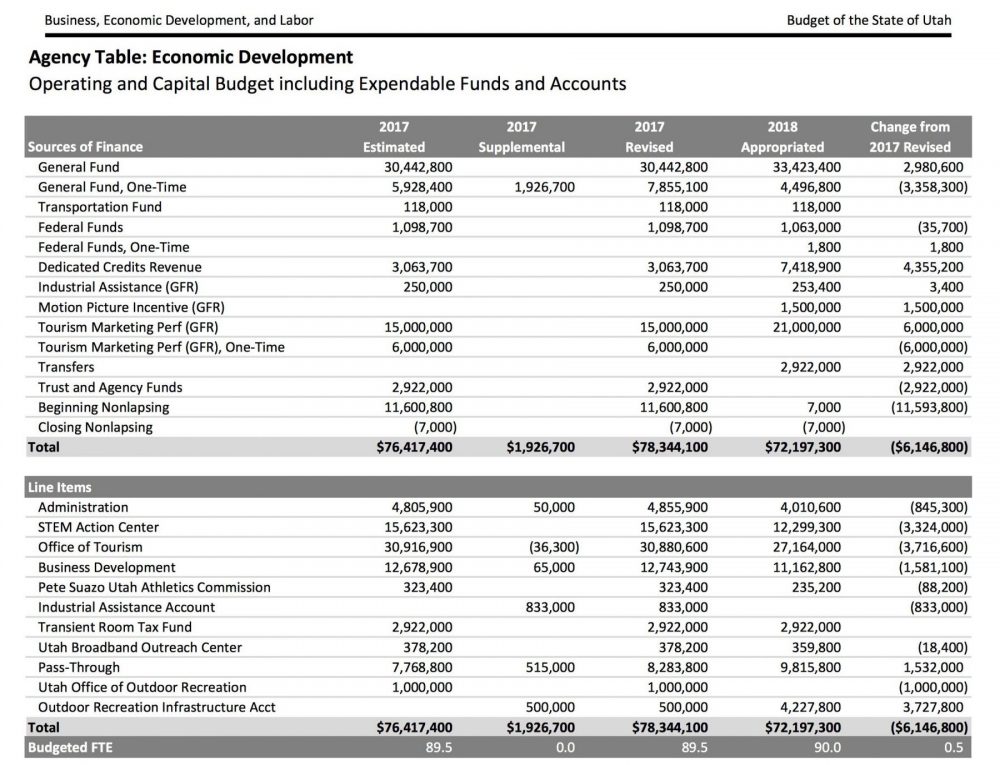 The Office of Outdoor Recreation's budget was $1 million, and the state appropriated $4.2 million for grants to develop recreation infrastructure and support local businesses whose customers might buy equipment made by Metcalf's Black Diamond.
(Ka-ching!)
None of this money was spent to place limits on tourism. The philosophy is, "Come on down. Bring the kids."
(Ka-ching!)
SOME GOVERNMENTS ACROSS THE GLOBE, however, are taking the problem of tourism overcrowding seriously. Unlike in Utah, there's a growing perception that it can threaten what they hold dear. From Manzo, president and CEO of the World Travel and Tourism Council:
In Barcelona, one of the first cities to elect a mayor who ran on a platform of managing overcrowding, residents complain of rising rents and rowdy tourists taking over the city center.
In Iceland, the government has limited access to some fragile natural resources because of concerns about environmental damage. The number of visitors to that country nearly quadrupled from 2010 to 2016.
In Thailand, the government banned public access to three popular islands: Koh Khai Naiin, Koh Khai Nok and Koh Khai Nui, citing the effects of too many people.
In France, Lascaux Cave, whose walls feature hundreds of prehistoric paintings, was closed to the public due to the damage caused by visitors' exhalation of carbon dioxide, among other elements introduced by humans' contact with the cave.
In Peru, the government established a limit of 2,500 visitors per day at Machu Picchu in part because of UNESCO concerns about landslides, erosion and pollution. But the Inca city is still attracting more than half a million people a year, exceeding the government's limit.  A new master plan, launched in 2015, aims to improve crowd control through facility improvements, use of certified guards, time limits and set routes.
In Rome, drinking in the streets between midnight and 7 a.m. has been banned or restricted in response to tourist rowdiness.
In Amsterdam, the opening of additional tourist-focused shops has been banned, including souvenir stores, bicycle rental companies, attractions, and fast-food restaurants in its city center.
Don't expect to pedal a "beer bike" through Amsterdam while sipping a chilly Heineken with your buddies this summer. The bars on wheels have been banned.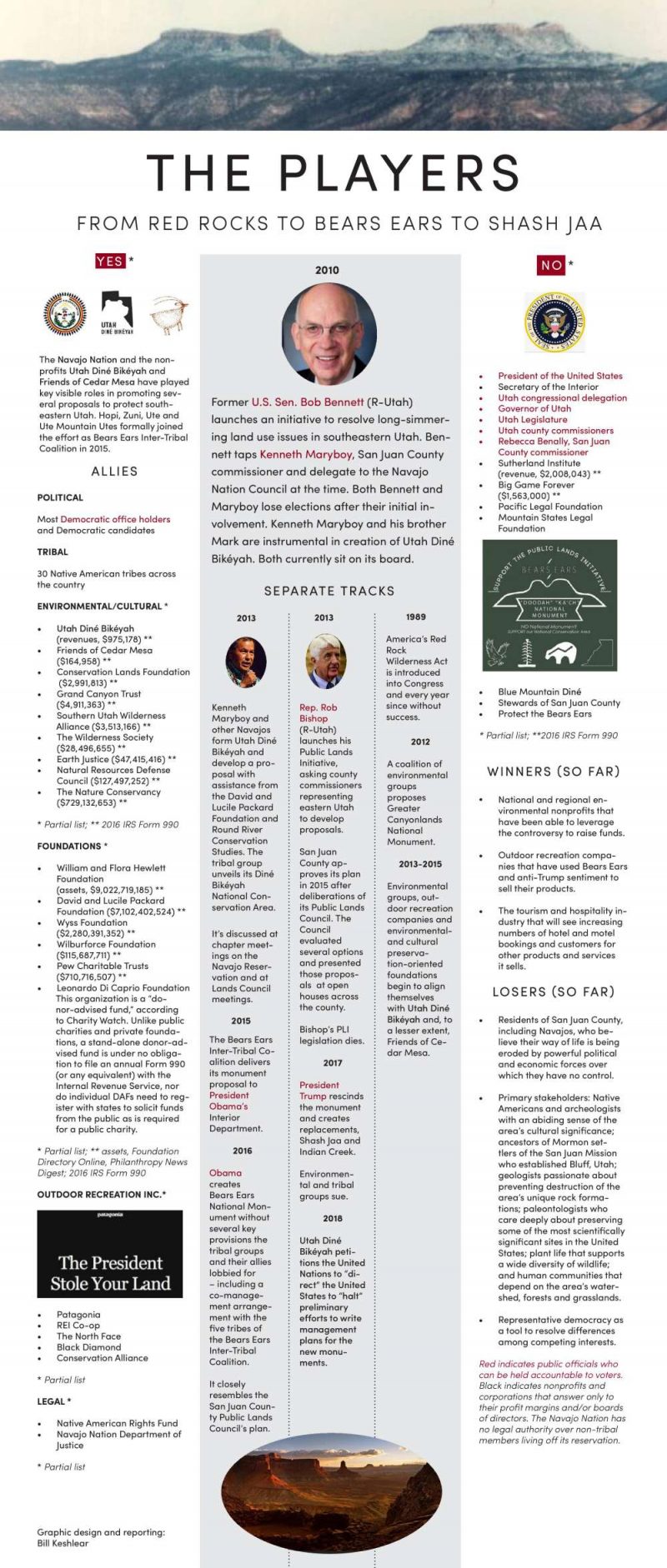 (As a journalism and sociology student at the University of Montana, part of Bill Keshlear's focus was Native American culture and heritage. He also was managing editor for a Salt Lake City-based adventure travel company that organized treks to Tibet, northern India and Nepal. Guided treks went to Everest Base Camp, which now more closely resembles a garbage dump than the jumping-off point for high-altitude mountaineering, and Lhasa, formerly home of Buddhist lamas transported on magic carpets. It's been "liberated" of its mythical identity by the Chinese government and transformed into a Disneyesque tourist trap. Tenzin Gyatso, His Holiness the 14th Dalai Lama, a monk who lives in exile in northern India, could be the last in a line that began about the time Navajos migrated into what is now the American Southwest. Gyatso's Gelug or "Yellow Hat" school of Tibetan Buddhism played a monumental role in Asian art, literary, philosophical and religious history. That role for that sect is no longer possible.)
To comment, scroll to the bottom of the page.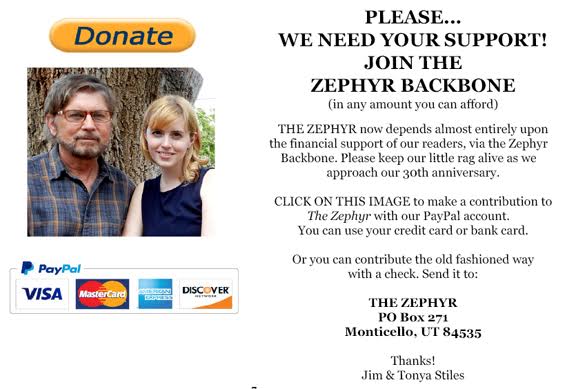 Don't forget the Zephyr ads! All links are hot!