Long-time Zephyr readers will certainly recognize the name De Puy. We have featured John De Puy's artwork a number of times in this publication, as well as stories about his incredible life and his close friendship with Edward Abbey. But our readers may not know that John's wife, Isabel Ferreira-De Puy, is also an accomplished and respected artist. Much of her work draws on the desert landscape, like John's, but Isabel's style is her own–passionate and distinctive. We are big fans of Isabel's work here at the Z, and now we're pleased to share it with our readers along with Isabel's own words about her artwork, her history, artistic influences and the unique, off-the-grid life she lives with her family in the desert of New Mexico…TS
ZEPHYR: CAN YOU TELL US ABOUT YOUR EARLY LIFE IN PORTUGAL?
Isabel: I was born in Lisbon Portugal in 1969. My parents were born and raised in small rural villages surrounding the historic town of Viseu in North Central Portugal. My grandparents, on both sides, were small agricultural landowners who grew and raised most of what they ate and drank, made much of their own clothing and had minimal to no formal schooling. Due to financial hardships and difficult times under an authoritarian regime (Salazar, who served as Prime Minister from 1932-1970), my parents decided to immigrate to the United States shortly after I was born in 1972. I was fortunate to have escaped those troubled earlier times and, therefore, my memories of Portugal are all very positive. After moving to the US, my parents were, through hard work (mom was a factory seamstress and dad did construction), able to set aside enough money to take us back to Portugal every few years for month long visits. Those trips were spent reconnecting with family and friends, enjoying deliciously long meals and reminiscing, walking the rural countryside and visiting many nearby villages on foot.
ZEPHYR: DID YOU HAVE AN EARLY INTEREST IN ART AND HOW DID YOU BEGIN TO PAINT?
Isabel: I think that like most people that are artistic, my interest in art appeared early on. My first recollection of drawing was on brown paper grocery bags. My mom would put the groceries away and I would ask either her or my dad to cut the grocery bags down the center so that I would have a nice larger horizontal surface to draw on. My favorite thing to draw back then when I was probably 5 or 6 years old was dinosaurs (I must have really enjoyed the Flintstones!) and other television cartoon characters. While not traditionally artistic, both my parents were creative in their own way. My mother was/is a seamstress and left home at 16 to do an apprenticeship, while my dad knows how to build homes and is handy with tools.
ZEPHYR: WERE YOU MOSTLY SELF-TAUGHT? CAN YOU DESCRIBE ANY EARLY INFLUENCES OR IMPORTANT TEACHERS?
Isabel: I was mostly self-taught. I spent 12 years at a coed parochial Catholic school in New Jersey. It was situated is a poorer working class neighborhood. Most families barely made ends meet and low school tuition allowed for minimal funding for the arts. I don't recall any specific arts or music programs. Teachers were aware of my artistic ability and I was often chosen to decorate and draw up seasonal bulletin boards and posters for various school events. I was always being asked to submit work to various local youth art contests. I guess my most influential early teacher was my high school English/drama teacher. I was involved in all our high school productions, both on stage acting and back stage as a set designer. It was very exciting and wonderful fun!
ZEPHYR: HOW DID YOU END UP IN NEW MEXICO?
Isabel: I moved to New York City when I turned 18. All through high school, my friends and I would hop on a train from New Jersey and in 25 short minutes be walking out of Penn Station at Madison Square Garden. The city was so alive and vibrant; I always knew I wanted to go to college in the NYC. I lived in a studio apartment in the village while attending the Parsons School of Design, majoring in Environmental Design. I worked my way through a degree by doing a myriad of odd jobs such as waitressing, temp work and graphic designing.
I had a marvelous time in the city. I took full advantage of everything the city had to offer. Museums and galleries galore, loads of off Broadway theater productions, free Metropolitan Opera performances in Central Park and meeting so many interesting people from various places. After graduating, I worked at various jobs in drafting and interior design. After a while I became rather disillusioned with what I was doing. Creating designs for high-end clients with lots of money provided a good salary, but left me feeling empty and as if I was wasting my time. So, I started thinking about moving and doing something different.
I seriously considered moving overseas to Barcelona, Spain. The Spanish artist/architect Antoni Gaudi was a big favorite of mine and I relished the thought of living near so many of his famous buildings. But, I also had a good friend who was working as a park ranger in Utah at the time and he encouraged me to visit the Southwest before moving overseas. So, I decided, why not. He sent me a whole list of reading material that would help me prepare for my visit to the desert …Such authors as Edward Abbey, Terry Tempest Williams, Leslie Marmon Silko, Charles Bowden, Joe S. Sando and many others. I did a lot of reading and while feeling bit overwhelmed at traveling across country into such a different environment, I was also very excited to experience something new. So, I moved out of my apartment back East, had a farewell celebration with family and friends, packed my car with all my belongings (which I had shipped out) and flew into Albuquerque, New Mexico. I chose NM because I spoke Spanish and the culture and architecture reminded me of Portugal.
ZEPHYR: TELL US ABOUT THE FIRST TIME YOU MET JOHN DE PUY…
Isabel: I met John in the summer of 1996 while on an outing to Taos, New Mexico. We both happened to be staying at the iconic Laughing Horse Inn and were introduced by the innkeepers, at the time friends of John. He came up to me one morning, shortly after I arrived, and in a very proper and old-fashioned manor asked if I would care to join him for dinner. We had said dinner, took several hikes and over the next few days, spent hours talking about everything and anything. He regaled me with stories about his adventures with Ed Abbey (which due to all the reading I had done, I was quite familiar with by this point!) and talking at length about his artwork. In the end he we exchanged telephone numbers realizing we were living quite close to each other, he in the East mountains outside Albuquerque and I in Albuquerque proper. After that we continued to meet and continued our long conversations and the rest is history. We were married a year later and I never did end up making it to Barcelona. We have a lovely daughter named Noelle who is 13 years old. She has a wonderful extended family consisting of two half brothers, two half sisters and three nieces and a nephew.
ZEPHYR: WHAT IS YOUR CREATIVE PROCESS LIKE? HOW DOES THE SOUTHWEST INSPIRE YOUR ARTWORK?
Isabel: Painting is always a pleasure for me. Like reading a good book or taking a hike, it's something I find relaxing and look forward to doing. When I go into my studio I have dozens of ideas of images swirling in my head and my only challenge is figuring out which to paint first. I paint primarily in oils, both on canvas and paper. When painting, time stops for me and I can feel myself getting immersed in a different zone. This often happens when I'm reading or hiking too. Like a mini- vacation, it's wonderful to get away sometimes. Yes, I am inspired by the Southwestern landscape…. It happens to be where I live. I think I would be equally inspired whether I lived in a city, by the ocean, in a forest or jungle. Inspiration comes from within for me and doesn't necessarily rely on a particular location. I'm equally inspired by the color of a beautiful sunset as I am about a blade of grass or the shade of a juniper berry. Inspiration comes from many sources.
ZEPHYR: DO YOU SEE ANY PARALLELS BETWEEN THE LANDSCAPE OF PORTUGAL AND THE LANDSCAPE OF NEW MEXICO?
Isabel: There are many parallels between the landscape of Portugal and New Mexico. Both have dry climates, mountains and valleys, red cliffs and sandy soil. The architecture feels similar too… earthy sand colors and deep red tones (there's a reason many terracotta pots are made in Portugal!) and of course wonderful tile work. The most obvious similarity is the cultures of the people, both Spanish and Pueblo. As in Portugal, the slower pace of life if familiar to me and it's one that I feel comfortable living in. Learning how to listen, to people, to the land, to our bodies is much easier living at a slower pace. I feel like living in New Mexico has somehow giving me an opportunity to reconnect with a way of life experienced by my own ancestors.
ZEPHYR: HOW ARE YOU INSPIRED BY THE COMMUNITY OF PEOPLE AROUND YOU IN NEW MEXICO?
Isabel: New Mexico is a land of creative and spiritual people…. there are potters and weavers and builders and poets and writers and sculptors and musicians and many others devoted to a creative existence ….one can't help but be inspired by all that creative and spiritual energy. Attending Pueblo dances and attending mass at our local little church is equally inspiring to me. Connecting with those old traditions and rituals have become somehow essential to my well being…as essential as the landscape or breathing.
ZEPHYR: I'M SURE YOU AND JOHN INFLUENCE EACH OTHER AS ARTISTS AND YOU'RE BOTH INFLUENCED ARTISTICALLY BY THE LIFE THAT YOU LIVE TOGETHER. ARE THERE ANY CONTEMPORARY ARTISTS WHO INFLUENCE YOU?
Isabel: There are no specific contemporary living artists that I would say influence me. There are many local artists whose work I enjoying looking and inspire me to go paint some more. I never tire of looking at works by Vincent Van Gogh, Henri De Toulouse Lautrec or Henri Matisse, all fabulous colorists. In sculpture I favor Camille Claudel and Alberto Giacometti's work. Of course, through John, I've become very familiar with the Taos Modernists and have come to really love their work. My special favorites ( aside from John's work, of course) are Beatrice Mandelman, Michio Takayama, Janet Lippincott and Edward Corbett.
More recently, I've been admiring the work of Canadian painter, Emily Carr and Cuban painter, Rene Portocarrero. There are classical artists that I revere and whose work brings tears to my eyes such as Michelangelo, Bernini, and Da Vinci. I feel those artists were able to bring to their art something that's been lost for the most part in contemporary work…. diversity. Those artists were not only painters, but also builders, sculptors, scientists, historians, craftsmen, poets and writers. If I could go back, I would have pursued a more classical education in art.
Of course, meeting John, I was awed by his dedication to his art and his vibrant use of color. After four years of studying architecture my use of color was all but abandoned in my work. If one dared to use color in an architectual design, one had to essentially have a thesis ready on why we chose a particular color and how the design benefited from it. So, meeting John and seeing how freely he used color was very liberating for me. Color came back into my life.
ZEPHYR: IN ADDITION TO YOUR LIFE AS AN ARTIST, YOU LIVE IN A VERY UNCONVENTIONAL, OFF-THE-GRID LIFESTYLE IN THE HIGH DESERT OF NEW MEXICO. WHAT ARE THE CHALLENGES IN LIVING THAT KIND OF LIFE, RAISING A CHILD, AND ALSO MAINTAINING YOUR TIME FOR PAINTING?
Isabel: Living an off-the grid lifestyle on limited financial means is quite challenging. When something goes wrong (plumbing, electrical, etc) our first means is always trying to fix things ourselves. We can't afford to dig a 600ft well, so we have to have water hauled in 40 miles. This means being water conscious isn't a lifestyle choice but a necessity. Our water haulers have busy schedules too, so there are times we just have to wait and manage without. We have to keep track of our water level as to not burn out our pump (we did that once and had to wait for two weeks for it to be ordered and replaced…a lesson learned and we never did that again).
Our solar batteries need to be checked monthly and topped off with distilled water as needed. The solar batteries, which sit near our rooftop, need to be cleaned weekly in summer months due to dust and wiped clean from snow in the winter for optimal function. We have to be ever diligent with our power usage. We have a small 19' television (a recent upgrade from the 13" we had for 15 years…we were so excited!). All our bulbs are energy efficient and we are careful never to leave a light accidentally on. We heat our home with firewood and that is a daily chore for about five months of the year. There's kindling to gather and firewood to split daily.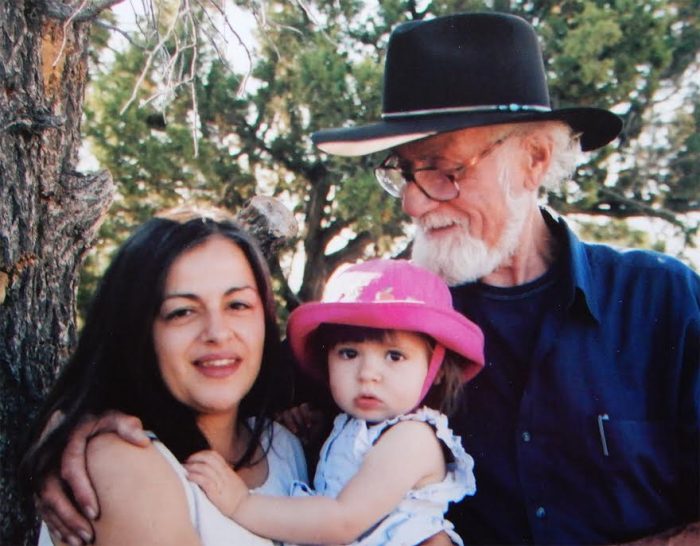 We have a small propane refrigerator that we make do with. Cellular phones…no signal in our area, so I don't even bother owning a 'smart phone'. For many years our only Internet access was through our landline telephone (remember dial-up?). Our daughter, Noelle, moved to a hybrid middle school three years ago and we had to invest in satellite Internet. That too needs to be turned off when not in use. Noelle goes to school 40 miles away and I drive her in the morning and go in the afternoon to pick her up. She has a four-day school week. Due to a Korean War leg injury John gave up driving 12 years ago. For the last 15 years I also spent considerable time cataloguing John's extensive art collection spanning 60+ years…it's still a work in progress. I act as a liaison between John and galleries and museums and collectors. I frame, deliver, pick up and ship artwork as needed. Essentially my time is spent trying to be there for both John and Noelle, as I find that they need me in very different capacities (John is 90 and Noelle 13). Our life is quite full and never dull! And somehow, I do mange to carve out time to paint, read, and hike daily!
ZEPHYR: MOST PEOPLE GO TO VISIT NATURE, BUT YOU TRULY LIVE IN NATURE, AND EXPERIENCE ALL THE CHALLENGES THAT GO ALONG WITH IT- THE RATTLESNAKES AND SPIDERS AND THE DIRECT EFFECTS OF DROUGHT WEATHER. TELL US ABOUT THOSE CHALLENGES…
Isabel: Growing up just outside New York City, I never realized how minimal my contact with nature was. When I moved west, I felt somehow like I was returning to something familiar…some ancestral DNA kicked in. Being surrounded by nature and wide open spaces felt right. Unlike Portugal where growing fruits and vegetables come naturally to the land…I soon realized the desert is a very different sort of land. I soon came to appreciate the small things…. getting excited when my rosebush produces one or two flowers a season, when our tender and fragile fruit trees produce new leaves and the very occasional fruit. Last year our 10 year old cherry tree produced its first cherry and our daughter Noelle spent the morning photographing it from every direction…. the littlest things really matter most.
We live with rattlesnakes and bull snakes, and black widows and tarantulas and scorpions. We've had to rush various pets to the vet after rattlesnake bites. I once stepped on a rusty nail sticking out of a 2×4 as I stepped off a ladder while repairing the tarp over our chicken coop. The nail was long and went through my rubber footwear and nearly through my whole foot. I pulled the board off, hopped home, wrapped my foot in a towel and drove myself 40 miles to the nearest urgent care facility (it was my driving foot too!). As I see it, we are not the first dwellers on this land and those before us had it ten times harder than we do…with our cars, and telephones and medicines and grocery stores…we are blessed with an abundance of things we take for granted. Life is pretty good.
ZEPHYR: HOW DO YOU SEE YOUR RELATIONSHIP TO NATURE? I KNOW YOU ARE MIRACULOUSLY KEEPING SEVERAL FRUIT TREES AND OTHER PLANTS IN YOUR DESERT HOME. DOES THAT RELATIONSHIP TO LAND INFLUENCE YOUR PAINTINGS?

Isabel: I feel a personal connection to everything I grow around the house and am very aware of the landscape surrounding us. I can tell you which trees/plants are flourishing and which are struggling. We experience drought more acutely here. Water not only sustains the plants, but also all the critters and insects near us. The rattlesnakes go to the dog water bowls and hoses, the mice and rats will eat anything remotely green and tender. The birds will go for the fruit and berries (John goes through 120lbs of birdseed a month). Our chicken coop doubles up as a birdfeeder during the day and takes care of mice rabbits at night. Coyotes and rabbits come to our birdbaths at night to drink (much to the dismay of our dog Ophelia). Land and water are so interconnected in the desert. Of course, I draw inspiration from the landscape; I spend so much of my daily life surrounded by it.
ZEPHYR: ARE THERE RECURRING THEMES YOU NOTICE CROPPING UP IN YOUR ART?
Isabel: One recurring theme that keeps up cropping in my work, not intentionally, is a sense of space and distance. Despite living off the grid, in a rather remote spot, our home life can be quite full and sometimes hectic. I use my time to paint, read and hike as a respite from a typical busy modern lifestyle. It affords me an opportunity to create calmness and feel a sense of peacefulness. I find I often have a fascination with trees too, but I feel like that is a subconscious result from growing up in apartment buildings in the East and having a lack of trees nearby. Or maybe I just really like trees.
ZEPHYR: DO YOU HAVE A CURRENT FAVORITE OF YOUR PAINTINGS?
Isabel: I have many favorites…often it is the one I most recently finished. Some I finish quickly while others I go back to months later. As to having to pick a favorite…I would say it's similar to having to chose which child is your favorite…. I'm always a bit nostalgic to see a painting go off.
ZEPHYR: LASTLY, WHERE AND HOW CAN OUR READERS FIND YOUR PAINTINGS?
Isabel: John and I have a website ….depuygallery.com …We welcome your readers to take a look at our work; we enjoy hearing from people…we also enjoy receiving old-fashioned letters too.
Isabel Ferreira De Puy was born in Lisbon, Portugal. She has a Bachelor of Fine Arts degree in Environmental Design from Parsons School of Design in New York City. Isabel's art is contemporary and abstract, and looks to the nature for inspiration. She has been painting for twenty years and lives in Ojo Caliente with her husband, John De Puy and their daughter Noelle.