EDITORS NOTE:
For almost twenty years, the "DOG OF THE MONTH" was one of The Zephyr's most popular regular features. When the print version ended, so did the dogs, but now we've been thinking it's time for a Renaissance of sorts, with one notable change.
Previously, we limited our nominees to canines, but we feel that in 2018 it's time for more species diversity. Also we fear accusations of prejudice and bigotry if it appears we are favoring one species over another. Species discrimination cannot and will not be tolerated here at The Zephyr.
Therefore we open the competition to ALL animals that are "bone" fide pets or masters of the humans with whom they reside. Please send all entries to us here at The Zephyr:
You must include photographs of the nominee (photos of the human are optional) along with a short bio and the reasons why you think your animal deserves recognition.
However, please note that the winning entry will still be awarded "DOG OF THE MONTH" status for historical and sentimental reasons…
This month…Arnold and Chuckie!
Arnold!
Life in the Slow Lane
From John & Karilyn Brodell
Arnold is a 28 year old turtle with an attitude. Ornate box turtles are notoriously pugnacious and Arnold is no exception. He doesn't like people much and it appears he only tolerates us for access to his favorite blueberries, earthworms and a variety of other foods. In the summertime we take him for a visit to a small plot of earth in the backyard dubbed the worm farm.  Since he lives indoors he doesn't really hibernate in winter but he does eat less often.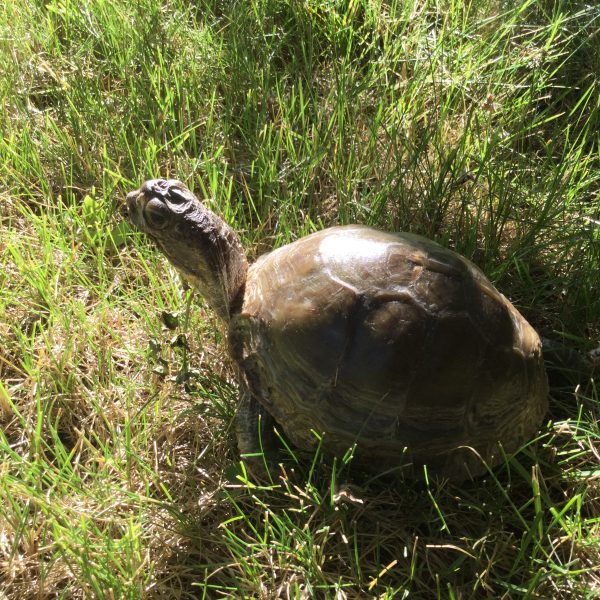 Arnold spends most of his time perfecting his lounging skills – sitting in a spot of sunlight, sleeping near the warmth of the pilot light under our heating stove, or going for an hours long soak in his pool before retiring to one of his small wooden houses to catch some more zzz's. Although his activity is slow and measured he's a fascinating creature full of personality.  After nearly three decades he still makes us laugh as he navigates "Arnold's world" from a four inch high perspective.  When threatened he can pull his head, legs and tail into his shell and effectively become a "box".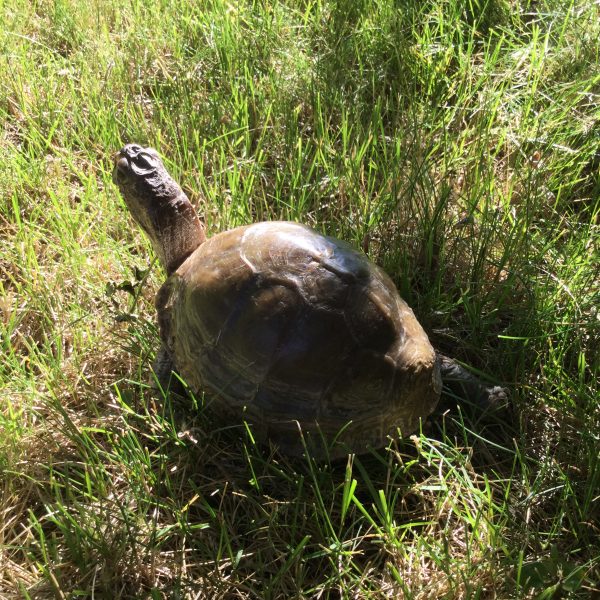 Hatched in a pet store he was only about a year old when he adopted us.  It's possible he could live to be 50 years old. Unlike us it seems he hasn't aged a day!
All photos and text about Arnold courtesy of John and Karilyn Brodell.
CHUCKIE!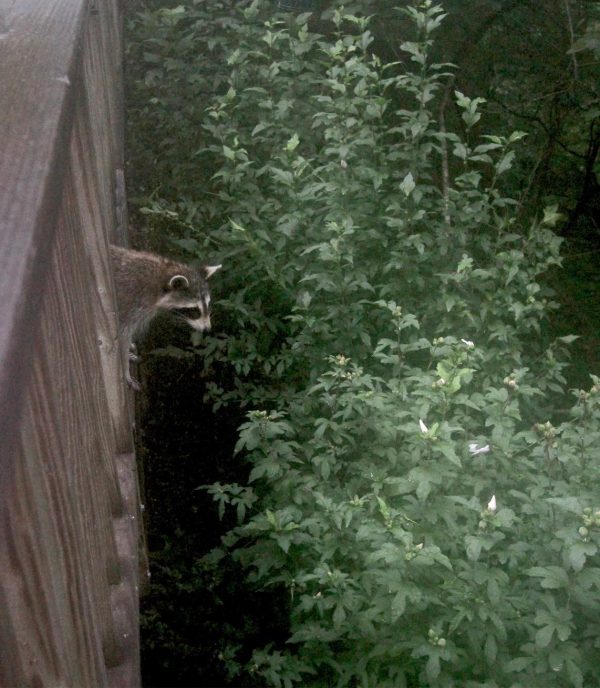 From Ned Mudd
It is, indeed, Chuckie the Raccoon. A fixture at Gar Ranch since she was a mere pup. Her lineage on the Cahaba River reaches back into a time when the Creek Indians freely roamed the waters and lands, fishing, tracking deer, and looking west to the Mound Builders of Tuscaloosa and beyond. Somehow Chuckie's ancestors outwitted both DeSoto and Andrew Jackson and remain Alabama's craftiest critters on four legs. And maybe two, as well.
Photo #1: the young Chuckie
it's impossible to know without DNA analysis, but we suspect that one of these little dudes is Chuckie.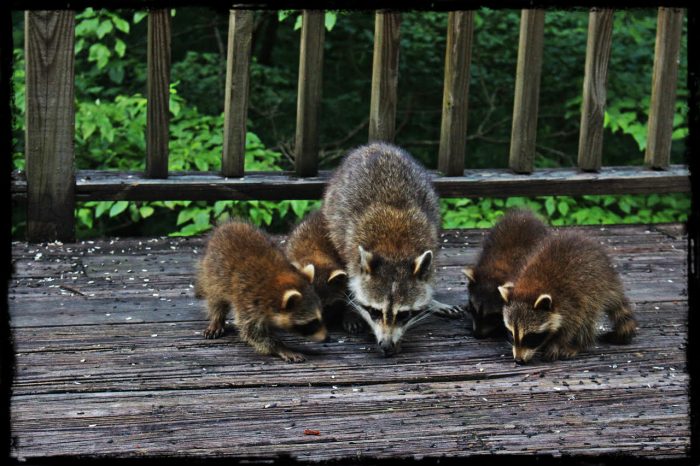 Photo #2: Raccoon super highway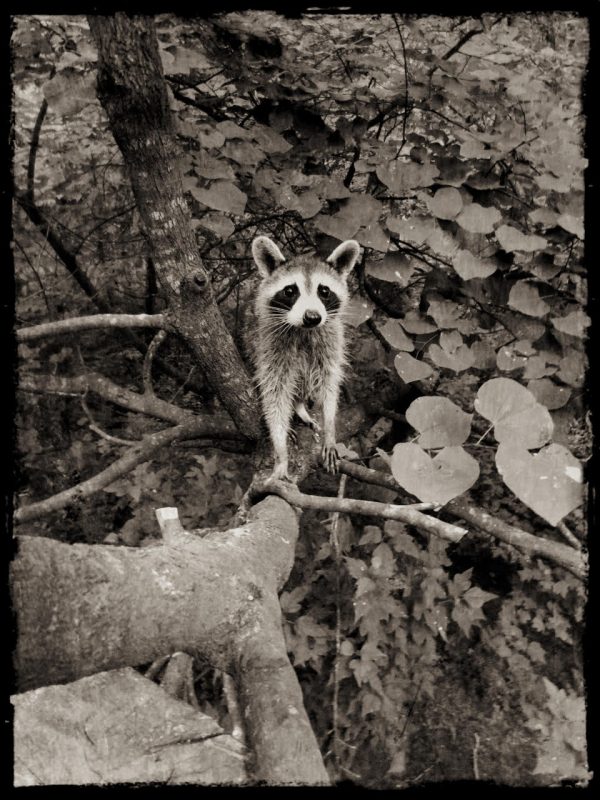 Photo #3: a standing dinner invitation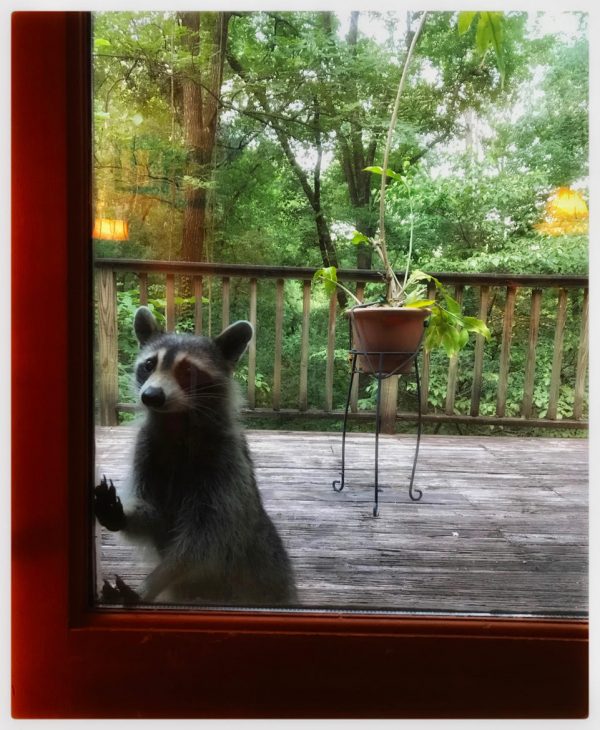 All photos and text about Chuckie courtesy of Ned Mudd.
DOES YOUR DOG…OR CAT…OR TURTLE
OR HAMSTER…OR…HAVE WHAT IT TAKES
TO BE:
'DOG OF THE MONTH?'
Send us your pictures and your stories
to: cczephyr@gmail.com