A long-time Navajo politician and advocate for Bears Ears National Monument and related tourism development won the June 26 Democratic primary for District 3 San Juan County (Utah) commissioner.
Kenneth Maryboy defeated incumbent Rebecca Benally by 39 votes, 705-666, according to a count
certified by the San Juan County Clerk/Auditor's Office. Turnout across the district's three precincts
averaged 68 percent.
Maryboy is a board member of Utah Diné Bikéyah, which he helped create in 2010. The organization has played a key role in creating two ambitious land-use proposals – Diné Bikéyah National Conservation Area in 2013 and Bears Ears National Monument in 2015. Barring a court-ordered redo of the election or divine intervention, he'll become commissioner in November.There's no Republican opposition.
Maryboy's Democratic colleague, Willie Grayeyes, chairman of Utah Diné Bikéyah, was booted from the District 2 ballot after the county clerk determined he was not a resident of Utah. A Davis County, Utah, prosecutor is looking into whether criminal charges of voter fraud are warranted. Grayeyes has filed a federal lawsuit to overturn the decision, claiming it was "the product of a partisan effort to disqualify" him. Democrats have until the end of the month to find a replacement or risk losing a place a place on the ballot – and probably an easy win – if a federal judge fails to rule favorably for Grayeyes.
Kelly Laws, who was a member of the Blanding City Council for 18 years, is the Republican who'll face the eventual Democratic candidate. "We need someone that's going to treat people fair, look out for the interests of the county, and not be swayed by outside influences," he told the San Juan Record.
All three candidates have been civically involved for quite a while. Familiar faces in the county. However, the primary was as much a proxy vote on Bears Ears and President Donald Trump's management of public lands in general as it was a referendum on who would best serve the county. Economic and political forces beyond San Juan County will have a powerful influence on the new commission if both Maryboy and Grayeyes are seated. At least one sympathetic national media outlet weighed in almost instantly, two weeks before official results were even available.
"The most important thing about this election, however, is that it ends the Trump administration narrative about local support for their actions by Native Americans (at least at the government level)," writes Indian Country Today journalist Mark Trahant, a former Salt Lake Tribune reporter and member of the Shoshone-Bannock Tribes of eastern Idaho.
Yet several hundred Republican voters could have crossed over and voted for Benally in the Democratic Party's open primary. She was the conservative-to-moderate candidate who probably best reflected their interests. Benally needed only about 40 or so more strategic crossovers than she got in order to win the Democratic primary and become a shoo-in. Many of those voters, instead, remained loyal Republicans.
They might've believed it was going to be a close race for sheriff between Cal Dean Black and Jason
Torgerson. It wasn't; Torgerson won with 68 percent of the vote, 1,098 – 503.
Benally handily won precincts 3 (Aneth, Montezuma Creek, 373-360) and 8 (part of Blanding and east,
247-205). Maryboy easily won Precinct 10 (Bluff, Txelaki Dezza, 140-46). The racial makeup of District 3
is 79 percent Navajo. However, the racial makeup of Precinct 10, which includes Bluff and is home of one
of Maryboy's Utah Diné Bikéyah allies, Friends of Cedar Mesa, is 68 percent white, according to the 2010
Census. Staff and board of the environmental nonprofit generally reflect the precinct's racial composition
– white Euro-Americans, likely liberal. Had Benally split the vote in that precinct, she would've won the
primary.
It's a quite a leap to conclude there's little Utah Navajo support for Trump's version of BENM. Benally was just out-organized. Given the fantasy rhetoric swirling around everything Bears Ears, meaning of this squeaker will be constructed for partisan gain in the larger struggle, much like Patagonia's memorable bombast, "The President Stole Your Land." Truth be damned.
At least eight nonprofits and six foundations are allied – to varying degrees – with the organization Maryboy and Grayeyes and other members of the Navajo and Ute Mountain Ute tribes lead. These are the "outside influences" Law is talking about. Of those groups, only one, Friends of Cedar Mesa based in Bluff, Utah, has a physical, full-time presence in San Juan County.
The policies of the new pro-Bears Ears county commission will align – to varying degrees – with the goals of a grand alliance: Utah Diné Bikéyah, Round River Conservation Studies, Friends of Cedar Mesa, the Conservation Lands Foundation, the Grand Canyon Trust, Southern Utah Wilderness Alliance, Earth Justice, Natural Resources Defense Council, The Nature Conservancy, William and Flora Hewlett Foundation, David and Lucile Packard Foundation, Wyss Foundation, Wilburforce Foundation, Pew Charitable Trusts, Leonardo Di Caprio Foundation and others. Several of the organizations are worth billions.
Other allies Maryboy's and Grayeyes' organization has counted on include some of the nation's most prominent and politically aggressive outdoor recreation companies, specifically Patagonia, The North Face, REI, Black Diamond, Arc'teryx, Sage, OR, küat, Osprey, Yakima, Clif Bar and Mountain Hard Wear. The Conservation Alliance, whose membership includes 220 companies, also helps fund Utah Diné Bikéyah.
What began as trickle of support in 2010 to resolve public land-use issues in southeastern Utah is now a storm surge. These organizations have poured millions into creation and administration of a long-term national campaign with the precedent-setting goal – at least from a tribal perspective – of extending Indian Country sovereignty into non-tribal areas, the first being southeastern Utah. Natasha Hale, a staffer at Grand Canyon Trust, suggested as much in May 2015. "If the tribes are successful in the (monument) proposal with the coalition of conservancy groups, it will set the platform for other protection issues outside of reservation land."
Staff, board members, donors and handsomely paid lobbyists who cannot even vote in San Juan County – political pros with easy access to the new commissioners – will phone in policy preferences from Salt Lake City, Denver, Flagstaff, Ariz., Durango, Colo., Moab and points beyond.
After seven or eight years of cushy trips to Washington, D.C., Salt Lake City and god knows where else funded directly or indirectly by Utah Diné Bikéyah and its allies, it's hard to imagine Maryboy and Grayeyes declining the goodies to dull the unethical edge of their service to the San Juan County taxpayers, much less refusing their calls. Perhaps they will. Meanwhile, their continuing roles as hyper-partisan activists on the board of UDB at the very least is a bald-faced conflict of interest that should anger every San Juan County voter.
Maryboy's various constituencies, primarily Utah Navajos, might not be particularly concerned with these sticky ethical issues. In 2010, a majority elected Maryboy to seats on both the San Juan County Commission and the Council of the sovereign Navajo Nation, governments with gaping differences in policies, legal mandates and even political and racial culture.
PUBLIC RELATIONS TACTICS OF THE ALLIANCE – even before an activist pro-monument majority on the San Juan County Commission takes control – seem limitless. They've staged massive political rallies, cultural events, academic seminars, theatrical productions and upscale fund-raisers. Their political surrogates range from multimillionaire actors lending star power in videos and op-eds to a 10-year-old actor hired to play an activist.
In a display of chutzpah and sheer tactical firepower, Utah Diné Bikéyah appealed to the United Nations Human Rights Council a couple of months ago, specifically the United Nations Permanent Forum on Indigenous Issues and Special Rapporteur Victoria Tauli-Corpuz, to "direct" the United States to respond to what it says are human rights violations regarding "ongoing" grave robbing and looting and "halt" preliminary steps to write a management plan for BENM replacements, Shash Jaa and Indian Creek.
"It (Bears Ears) is a place known for healing by all tribes and its (monument's) creation was a recognition of tribal sovereignty, indigenous self-determination, and acknowledgement of the American Indian Religious Freedom Act, the U.N. Declaration on the Rights of Indigenous Peoples (UNDRIP), and indigenous human rights," according to a statement from Honor Keeler, assistant director at UDB. Nowhere does Obama's monument proclamation express "recognition of tribal sovereignty" and "indigenous self-determination." Nowhere does it specifically mention the U.N. Declaration on the Rights of Indigenous Peoples. Nowhere does it grant special status, such as co-management, to Native Americans or specifically the five tribes associated with the Bears Ears Inter-Tribal Coalition.
The proclamation is an eloquent statement on multiple-use management of public lands. It's got something for everything and everybody: Native Americans and archeologists with an abiding sense of the area's cultural significance; ancestors of Europeans who explored the area during the 18th century and Mormon settlers of the San Juan Mission who followed years later to establish what is now Bluff, Utah; geologists passionate about preventing destruction of the area's unique rock formations; paleontologists who care deeply about preserving some of the most scientifically significant sites in the United States; plant life that supports a wide diversity of wildlife; and human communities that depend on the area's watershed, forests, grasslands and a bit of an economic boost tourists provide.
What's interesting is that the activists are calling for the U.N. to usurp the sovereignty of the United States as a way to expand tribal sovereignty beyond a reservation. Even more interesting is that they're doing it in a part of the country where it would affect more than a few residents who are obsessively suspicious of intrusion by the U.N. into U.S. affairs. UDB's trip to the Big Apple might excite a certain strain of conservative paranoia that, for example, believes "Agenda 21" merits extreme vigilance, maybe even a call to arms.
Agenda 21, you say?
Here it is in a nutshell: The United Nations seeks to create a one-world government using the rationale of ensuring the planet's sustainability. The U.N. resolution passed at the Earth Summit in Rio de Janeiro in 1992 was the linchpin in a clandestine plot to deny property rights, undermine U.S. sovereignty and subjugate humanity under an eco-totalitarian regime. Pundit, right-wing flamethrower and author Glenn Beck made a mint on his 2012 book "Agenda 21," an Orwellian tale of a futuristic America in which a U.N.-led program spawns an authoritarian state where individuals are stripped of all personal rights and freedoms. The Republican National Convention adopted a platform resolution the same year that said, "We strongly reject the U.N. Agenda 21 as erosive of American sovereignty."
The whole scenario is hokum, but a conspiracy-inclined, anti-environmentalist mind could interpret it as consistent with what Hale, the staffer at Grand Canyon Trust, said about Bears Ears setting a precedent for expansion of tribal sovereignty. And in a help-wanted ad UDB said, "We are seeking talented candidates who can help advance conservation and Native American sovereignty in the years ahead. Connect the dots: UDB and U.N. … UDB, U.N. and Agenda 21 … Agenda 21, U.N., UDB and Hale … Hale, UDB, Robert Redford, Leonardo Di Caprio and the cabal of environmental globalists. Who will stand up against encroaching tyranny?
You guessed it. Phil Lyman.
Lyman, friend of freedom-lovin' ranchers who don't pay their grazing fees but foe of Bill and Hillary Clinton's "Deep State" and the clique of bogeymen that run the Bureau of Land Management, gave up his District 2 seat on the San Juan County Commission partly because court-ordered redistricting changed the odds of his keeping the job: before, 29 percent Navajo; after, 65.6 percent Navajo. Lyman is not Navajo.
Lyman filed for Republican Mike Noel's Utah House District 73 seat after the long-time southern Utah firebrand decided to step down. I'm sure the timing of Noel's resignation was purely coincidental (wink, wink, nudge, nudge), but it opened up a spot tailor-made for someone of Lyman's political pedigree when the alternative for him might've been political oblivion. No Democrat will challenge Lyman, and he has support among Utah legislators in the currently stalled movement to "take back" federal public land. The district not only includes what's left of Bears Ears National Monument but also remnants of Grand Staircase-Escalante National Monument.
With apologies to Charlton Heston and the National Rifle Association, the rich and powerful business, environmental and cultural alliance trying to save Obama's and Bill Clinton's Utah monuments will have to pry them from Lyman's cold, dead hands.
LYMAN AND MARYBOY HAVE POLAR-OPPOSITE ideological tendencies though they're alike in other ways. Maryboy, like Lyman, has been vocal in his activism, uncompromising, intensely critical of political opponents. Lyman and Utah lawmakers, Gov. Gary Herbert, members of Utah's congressional delegation, plus the president of the United States and his tribal administrators at the Interior Department currently top that list.
That's a shame. Recent examples from outside Utah suggest representatives of the federal government, even Trump's federal government, can, given the right circumstances, work with Native Americans on sensitive issues.
On March 28, Zinke, demonized among tribal activists and liberal Democrats in Salt Lake City, Park City and Moab, visited the Spokane (Washington) Indian Reservation, where he pledged to support compensation for Grand Coulee Dam's impact on the tribe's lands and traditional livelihood. If not a love feast, it seemed civil.
The massive dam was built without fish ladders more than 75 years ago, cutting off critical salmon runs to the Spokane and upper Columbia rivers. Tribal lands were flooded, forcing families to leave homes and farms. "I like the challenge of some of these older wrongs that need to be righted," Zinke said at a press conference following a 90-minute meeting with the Spokane Tribe's council.
On June 12, leaders of the Blackfeet Nation in northwestern Montana and the Interior Department, under Zinke, put into effect a $471 million settlement of water rights claims for the northwestern Montana tribe.
Blackfeet and Spokane tribes chose long-term negotiation to resolve deep-seated differences. Utah environmentalists, Utah Diné Bikéyah, the Bears Ears Inter-Tribal Coalition and Maryboy personally have chosen confrontation. It's been a uniformly unsuccessful political strategy for years. For Maryboy, that approach transcends race and tribal sovereignty.
In 2009, Maryboy testified at a U.S. Senate Committee on Indian Affairs hearing. He wanted the Utah Navajo Trust Fund, which was set up by Congress in 1933 so Utah Navajos would benefit from Aneth oil and gas royalties, to be administered by Utah Dineh Corporation instead of the Navajo Nation. He believed that given the Navajo Nation's history of "neglect, unaccountability and malfeasance," it lacked the capacity to administer the fund.
"San Juan County believes that the Navajo Nation government, which is located in Window Rock, Arizona, and provides few if any government services to Utah Navajos, does not have the best interest of Utah Navajos at heart when it asserts a vague argument of tribal sovereignty to wrestle away control of the Utah Navajo Trust Fund from Utah Navajos. …"
"San Juan County believes the Utah Dineh Corporation is best situated to benefit Utah Navajos as the new trustee of the Utah Navajo Trust Fund because it is a not for profit organization who cannot hide behind the shield of tribal sovereignty."
Maryboy was not a dispassionate advocate but a board member of Utah Dineh Corporation lobbying Congress for control of millions of dollars controlled by the trust fund. He got nowhere. The state of Utah currently runs it, reluctantly.
More recently, Maryboy was a supporter of the Grand Canyon Escalade, a proposed mega-tourist development on the East Rim at the confluence of the Colorado and Little Colorado rivers, a site many Navajos consider sacred. The Navajo Nation Council voted down the project.
Utah Diné Bikéyah's current ideas on economic development in one of the poorest regions in the country seem compatible with Maryboy's long-term support of tourism, the nonprofit's for-profit recreation-oriented benefactors and nonprofit environmental groups funding the campaign to restore Bears Ears National Monument to its former size.
The larger version of BENM would enhance prosperity for southeastern Utah, according to Gavin Noyes, executive director of UDB, in comments to the BLM regarding its management plan for the smaller version of BENM. Currently, Native American culture is not sufficiently "monetized."
Noyes suggests BLM consider what seems to be some sort of government jobs program. Cultural affirmative action.
"The BLM is a significant employer in San Juan County. UDB would like to see a process of community engagement to determine whether the Bears Ears visitor center should be located in Bluff, White Mesa, Mexican Hat, Blanding or other community. We also recommend that a great majority of new jobs that may arise if funding is adequately increased go to citizens who have the Native American cultural background to engage tourists and carry out law enforcement, monitoring, restoration, planning, as well as the highest level administrative positions."
In the unlikely event the idea becomes policy, it could be unconstitutional but certainly politically explosive. In a region with some of the nation's highest unemployment rates regardless of race, Noyes prioritizes just one.
MARYBOY HAS BEEN AN INSIDE PLAYER in a political culture of corruption and conflict that seems endemic to recent governance of the Navajo Nation. He offered testimony to the Senate committee about that in 2009. Those broad outlines are easily confirmed by a glance at audit reports of the Navajo Nation Office of the Auditor General.
In 2010, about the time former U.S. Sen. Bob Bennett (R-Utah) tapped him to help resolve land-use issues in San Juan County, Maryboy was swept up in a controversial slush-fund probe along with more than 70 other Council delegates, then-Navajo Nation Vice President Ben Shelly and current vice president, Johnathan Nez. It was conducted by Navajo Nation Special Prosecutor Alan Balaran.
The probe accused delegates of applying for discretionary payouts then using lawmaking power to approve their own requests – essentially giving away the government's money to themselves and family members. The funds were intended help out elderly Navajos on fixed incomes, college students, organizations in need or Navajos looking for emergency funding.
At least 19 tribal staff and elected officials eventually were convicted. Maryboy was charged with conspiracy, forgery, fraud and theft involving $33,249 in discretionary funds. The charges were dismissed in 2015.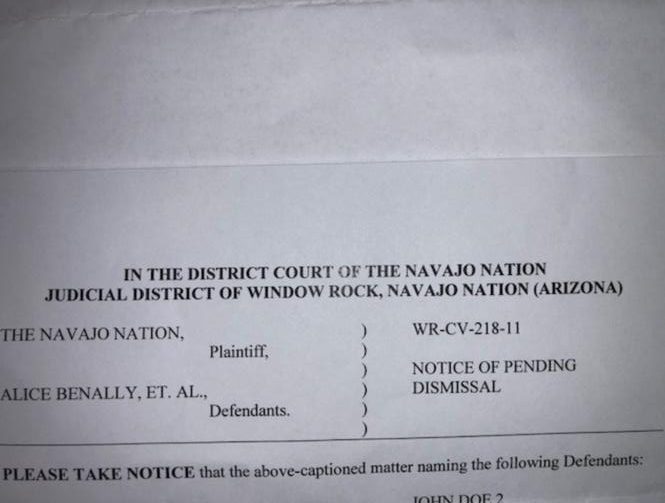 Shelly was charged a few weeks before the 2010 Navajo Nation presidential election but, amazingly, went on to win. Then in 2014 Shelly continued on as president despite placing seventh in the primary, winning only about 5 percent of the vote. He wasn't even a candidate in the general election. He stayed in office thanks to an intense disagreement over a requirement that the president speak fluent Navajo. The tribal Council had recently passed a bill eliminating that stipulation, allowing popular candidate Chris Deschene to run. Shelly vetoed the bill, throwing Deschene off the ballot. The Council passed a bill postponing the election because only one candidate, former two-term president Joe Shirley, would've been on the ballot (Shirley was also caught up in the slush-fund brouhaha and charges likewise were dismissed. See photo). Shelly signed it, allowing him to keep his job a bit longer. The whole episode sparked outrage among his many opponents and legal challenges.
Charges against Shelly were dismissed a few months later, but he had to pay back funds appropriated to him.
To add fuel to the flames, Shelly allowed himself to be photographed several weeks before that election sitting next to Dan Snyder, the owner of the Washington Redskins professional football team, during a game against the Arizona Cardinals in Glendale, Ariz. He was wearing a hat with the team's logo on it. The image went viral. However, according to polling two years later, Shelly reflected opinion of an overwhelming majority of Native Americans: What's the big deal? He had recently signed a lucrative deal to sell reservation-made Navajo souvenirs at the Redskins' home field.
During this period, Maryboy, as delegate to the Navajo Nation Council and de facto shareholder and board member of the Navajo Nation Oil and Gas Company, was embroiled in a messy dispute that ended up in the tribe's Supreme Court. It involved appointments of board members to NNOGC, a federally chartered corporation owned by the tribe. All of the company's profits go to the Navajo Nation to fund essential services.
According to an account published in Indian Country Today, the trouble erupted in 2013 as several NNOGC board members' terms were about to expire. Remaining members had nominated new candidates in line with a stated goal of assembling leadership with more professional experience in the oil and gas industry. Charles Damon, Mel R. Begay, Russell Begaye and Maryboy ousted two and suspended three of eight sitting board members at a December 21, 2014, meeting.
Court documents filed by ousted board members said they were in effect disciplined because they questioned the qualifications and behavior of the company's CEO, Robert Joe.
"Joe had refused to subject himself to NNOGC's customary background check which would have revealed numerous State and federal tax liens and court cases," wrote attorneys for the five board members, in a document filed with the U.S. District Court. "One Board member actively promoting Joe was Wafaie Zaaza. Soon after Joe was selected as CEO, Zaaza resigned his Board position and was promptly rewarded with a lucrative consulting agreement by Joe, without Board approval. The Majority Board also learned of a $31,000 wire transfer to an account of shareholder representative Kenneth Maryboy that was not approved by the Board."
Maryboy and Begaye had been running for president of the Navajo Nation. Begaye ended up on top after the postponed election was finally held in April 2015. He is currently seeking re-election. Maryboy had placed fifth in the primary held the previous year. Civil charges against Damon, also related to the slush-fund scandal, were dismissed in 2012.
In May 2016 Begay was sentenced to three years in jail in connection with the same scandal that ensnared Maryboy and most everyone else on the Council. A six-member jury found Begay guilty of 10 counts — one count of conspiracy to commit fraud and nine counts of making or permitting false tribal vouchers. He was sentenced to three years in jail and fined $4,500. He also had to immediately pay $33,400 in restitution.
MARYBOY BRINGS ALL THIS BAGGAGE to the San Juan County Commission. He's been knee deep in muck for much of his political career, and now he's deeply rooted in an alliance with multimillionaire "outsiders" whose multitiered goals might not align with the day-in, day-out needs of a cash-strapped, rural county.
Bill Keshlear is a frequent contributor to Canyon Country Zephyr.
To comment, scroll to the bottom of the page.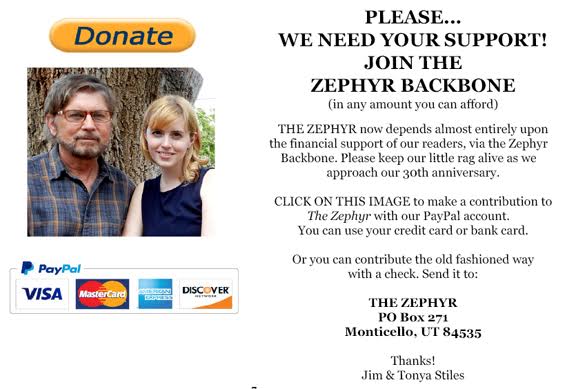 Don't forget the Zephyr ads! All links are hot!