As we approached our 30th anniversary, we asked some of our readers how long they've been reading The Zephyr and how they first found us. Here are some of the responses.
We'd like to add your memories to our list. If you remember your first Zephyr..where…when…what you thought of it…feel free to scribble something in the comments section below, or, when we post on facebook, your recollections there. We'll add your remarks to this story and keep it preserved in our Zephyr Archives…JS
BRUCE DISSEL (Moab UT):
I vaguely remember in the mid 80's ,when I would return to Moab after of various Park Service and Forest Service jobs, seeing The Stinking Desert Gazette. Nik Hougan, Dudek and yourself IIRC.
Then apparently in about 89 after I had, thankfully, bought a house here I began following The Zephyr.
One memory from that time is clear: you did a bit on the small New Mexico town "that time forgot". Being a North Central New Mexico fan I was quite intrigued. You refused to name the town but fortunately gave a heck of a clue. Several pleasant visits ensued in my old clunker land yacht as I enjoyed my busman's holidays in the 4 corners region. (I just gave away my last new Viva Vera's postcard from that era)
Cheers…
K. HANCOCK (Grand Jct CO):
I arrived in Moab on December 19, 1972—with a wife AND an infant daughter—born just five weeks prior to her first "road trip"—from Columbia, Missouri to Moab, Utah—via 24′, U-Haul truck. She was a bit the worse for wear, at the conclusion of 1,500 miles of continuous snow fall, plus the unease of two VERY anxious parents. However, by Christmas eve we were ready, with a Sand Flats pinon tree in full yule regalia standing in the living room, our baby's stocking hung by the chimney with care and our "library" of ("G-rated") environmental books/literature) unpacked from inside the refrigerator.
Thus, by April of 1989, I greeted the Zephyr's appearance—in the FREE RACK at the Westerner Grill—as just one more of the several local "alternative periodicals" that had appeared (and disappeared) in my (by then) "home town" during the previous (almost) two decades. As an example of one of those, which I recall mostly due to its name, was the"Stinkin' Desert Gazette." The SDG was memorable for its nonchalance concerning the role of facts in journalism and some of its PG-rated illustrations and photos appearing in a G-rated community.
So far as any "early first impressions" concerning The Zephyr?—it anticipated a need, and filled it.** It was ABOUT something—a theme from which it has never departed. And that "theme" was/is—the plight of the planet, and how it wasn't improving much, with those charged with—"having dominion over it"— being largely to blame. After just a few follow-up Zephyr issues found their way to print, it became apparent that there was a sizable cadre of like-minded folks waiting to be heard, and most of them weren't bashful about letting their beliefs be known. All they needed was the "vehicle."
What began as a few comments to:—"whoever this guy is"—soon became a "volunteer platoon" of contributors, many of whom have since become "famous"—if only to other readers of the "Z". Those last few sentences pretty much sum up my "character sketch" of the "Z" during its 30-year run—except to add—J. Stiles has remained the paper's guiding hand and a leader in the creation of a SE Utah "community conscience," with a shared membership that has now become a nationwide phenomenon, unimaginable in 1989.
As for those who CONTINUE—Morphing Moab (and any other untrammeled and/or salable landscapes in sight) at the Speed of Greed, the Z has played an increasingly important role in creating a local need to look over one's shoulder BEFORE submitting those "planning documents" for city or country approval.
Not to shine too bright a light on the "genius" behind the Zephyr's continuing contribution to the cause of:—keeping the opposition on guard and a bit more honest then its knee-jerk, exploitive responses almost always guarantee —but, SE Utah in particular and The Intermountain West in general, owe a great debt to the Z's "inventor", as well as to those those who have supported the Z's efforts and A FEW of its fiscal needs, all these years. (I.E.—"Clinging hopelessly to he past, since 1989.)
In welcome contrast to the voices of so many whose sympathies are becoming rooted in the 21st Century, with resulting notions about the increasing the "modernization" of the Earth, the Z's GROWING affinity for HOW THINGS WERE is not misplaced. After all, where did this marvelous orb we still call "home" originate? It's present state was a long time in the making, with processes "refined" beyond our ability to understand. Thus, we alter its character and "metabolism" at our peril.
In a slightly different context, but on the same subject—I.E.—mankind's insistence that Homo sap is the final and best arbiter of how to put the Earth to use—T. Roosevelt observed––"Leave it as it is. You cannot improve on it. The ages have been at work on it, and man can only mar it."
Thus, if our nation's future conversations on that subject can be inspired and/or tempered by honestly held and/or scientifically valid perspectives made available for public discourse via the pages of the Z, what is there not to like, about ONE MORE— three decade winning streak?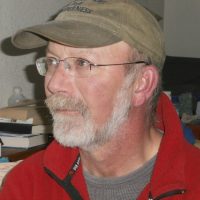 WARREN MUSSELMAN:
I was on my way back from a Grand Gulch backpacking trip in late March of 1989 and stopped at Back of Beyond in Moab and there it was in a rack by the door. I picked it up on whim. Still have that copy somewhere. Thanks Stiles.
DAVE YARBROUGH (Waddy KY):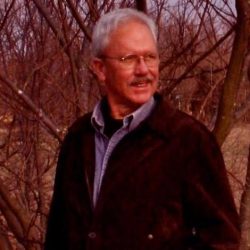 I think I've been reading the Zephyr since 2008. I know it was still in print form at that time. That is, I'd download it and print it from the computer. The first impact was that it opened me to the world of Edward Abbey, Herb Ringer and other odd, interesting and vital people. I began to understand more about the struggle to enjoy the west without ruining it. The lessons of Moab. I look forward to the stories dealing with historical personalities. The Goat Man for one. I found it fascinating the way Tonya Stiles blended into an existing institution while infusing it with a touch of new energy and perspective. Sowing Clover is another section I look forward to. I find the Zephyr fills a void in the media that would otherwise stand empty. For many of us it has become our paper. It's still very timely. In this day and age almost every publication is extreme left or right. I've never felt that from the Zephyr. It's like an old friend I can sit down with and enjoy without getting preached at. Thanks Jim and Tonya.
LYNN CURT:
Aloha Jim and Tonya!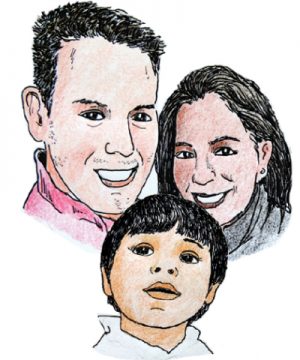 I used to work for Salt Lake City and we would usually get the coffee and snacks out of the way first thing as a form of break. My favorite regular thing to do was go over to the original Roasting Company on the North Side of 400 South and about 251 East. I think it must have been some of the early editions (1989 ish) that I so enjoyed and always looked forward to. This has kept me a regular reader and I truly appreciate the articles and Southern Utah nostalgia.
I am hooked, thank you for your hard work and commitment!
MATT ROBERTS :
2008 during my year long sabbatical. Picking up a copy in downtown Moab, possibly in the barber shop. Quite possibly Norm's.
Thank you for what you do.
MARALEE FRANCIS (Moab UT):
Hi Jim,Well no specific memory, except you and Zeke talking about the idea of the publication back in the beginning. Some good memories come back to those days years ago in Moab and our friendship. I hope all is well with you and Tonya. Best wishes in this 30th year!!!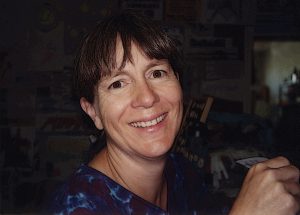 IZZY NELSON (Moab UT):
Jim
I am pretty sure I have been reading the Z since its inception.
An early recollection is I was criticized for advertising in the Zephyr. My reply was I advertised to solicit customers, not to support the Zephyr. People read the Zephyr and they are potential customers. I hope to attract some of them as customers. If they are supporters of the Zephyr, so be it. I too like the publication, but that is not why I advertise there.
I read it far less since it is no longer in print.
KARLA BROWN (Telluride CO):
Hello Zephyr,
Back in the 1980's we'd pick up a copy of The Stinkin' Desert Gazette when we'd visit Moab. Then, one spring, instead of the Gazette, there was a new paper called the Zephyr. The drawing on the front page drew us in. And it was the cartooning of the ads that hooked us. They were SO FUNNY!!! Ads would even talk to each other. We soon started subscribing so we wouldn't miss an issue.
So glad you're still out there.
EVAN CANTOR (Boulder CO):
"Recollections of the Z"
My first trip to Moab pre-dated the Zephyr, in the Fall of 1981. New roomies in Boulder, Colorado, recommended Arches and I included the park in a circle tour of western Colorado. Boulder was a town of 70,000, still basking in a funky counter-culture vibe leftover from the 70s. We hadn't yet infected the West with hordes of extreme adventure adrenaline junkies. I had never heard of Edward Abbey, but as I sat alone, watching an October sunset from Double Arch, I was hooked. I experienced at first-hand iconic Abbey revelations and kept coming back to canyon country, feeding a red-rock obsession.

A few years later, I had what I thought was a revolutionary idea. Why go to all the trouble to pay National Park fees and camp amidst what had become a crowd at the campground? Why not go down a dirt road somewhere and camp wherever I pleased?
I discovered that my idea was not new. My first campsite of this sort was only an eighth-of-a-mile down the Dubinky Wells road, but it seemed a hundred miles from anywhere. A pullout already existed where years before somebody had established a casual campsite. The view included the red glowing sun-lit top of Tombstone Rock over a slickrock ridge in the distance and the tall red cliffs of the Bartlett massif looming above. Seven Mile Canyon, below to the southeast, had already been colonized by RVs. By the mid-90s, that old campsite had become a BLM re-vegetation site. It is now a mountain-bike-network trailhead. You can still have a picnic there in the shade of the old juniper to which I once tied my tent in a windstorm.
I expanded my horizon over the years, exploring dirt roads in several directions around Moab. When I found it too crowded at Behind The Rocks, I moved on. The Colorado River corridor hadn't yet been designated, but it was a paved road, too close to speeding vehicles and civilization. I went elsewhere and discovered campsites dating to the early 20th century, commemorated by old time cowboys and sheepherders like Perfecto Martinez and wayward locals like the Oliver boys.
Then in 1989 appeared the Canyon Country Zephyr. By this time, of course, I had been inculcated into the Edward Abbey mythology and the Zephyr appeared to have grown directly from that seed. Little did I know that the publisher and Abbey were pals. Now when I buzzed into town to fill the tank and buy a bag of ice, beer and something to throw on the barbecue, I made sure to visit Back Of Beyond to pick up a free Zephyr.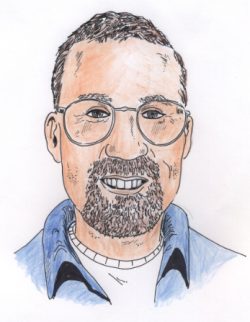 Is there anything like reading a Zephyr in a lawn chair at a southern Utah campsite with sunflowers, balsamroot and globemallows waving lightly in the breeze, a cold one by your side and alpenglow on the rocks? Finally there was an editorial voice with whom I could wholeheartedly agree, whose self-righteous indignation expressed or even exceeded my own. And, like me, the dude could draw. His cartoons were better than mine. I think he practiced more.
Who can forget Eddie McStiff and Flocko smiling out of the pages of the Z? I remember when Stiles finally learned how to draw women and make them look good. I did my admittedly crappy best to support the institutions advertising in the Zephyr when I breezed into Moab: the Eklectica Café, the Slickrock, Back of Beyond. Eventually I couldn't stand it anymore and I actually subscribed, sending checks off to Moab. For a while I thought if I could possibly write enough Pointblank pieces I might get a free lifetime subscription, but, by then, I could afford to pay. And I wanted to see the Zephyr live on.
Thirty years of the Zephyr didn't stop the transformation of Moab, not even close. The "Old" Moab was a place and time to which many of us will always cling nostalgically. Moab got pumped up like Trump on steroids and became "Bloab". The invention of the mountain bike brought the Scene. Riots broke out on Sand Flats. Huge armies of motorheads gathered their vehicles. Extreme Sport followed. Eventually one guy even cut off an arm to escape entrapment by an errant boulder to become the 21st Century standard-bearer for canyon country. Abbey might have asked why didn't he just cut off both? To preserve the illusion of the "Old Moab", one had to avoid events, festivals, celebrations and holidays. Even the farthest reaches of back-road connected back to the front, full circle. Sometimes a thirty mile drive dead-ended in an RV city where televisions blared and kids buzzed around on ATVs like pesky yellowjackets. Lost Spring Canyon was found. I asked one member of Fruita's self-anointed "A-Team" how they managed to get those huge trailers over the slickrock jeep trail. "Very carefully," was the gentleman's answer.
The Zephyr railed against all this and took complacent environmentalists to task for their complicity in creating the industrial tourism and recreation juggernaut that Edward Abbey lamented. He saw it taking root years before I ever showed up, predicted it like an Old Testament prophet. I lament the same thing even though I am a part of what he condemned.
I have found a way to deal with my own self-loathing and that is a sense of perspective.
Yes, I use gasoline in my vehicle and I "descend" upon Moab periodically, but don't live there. I photograph the marvelous red-rock country, publish drawings and do paintings of it and occasionally I check into a motel and eat at Eddie McStiffs for the gluten-free pizza and gluten-reduced beer. Yeah, maybe I'm a new-age tree-hugging Boulder elitist. I try not to be. But I didn't buy a bigger car or a trailer, a mighty truck, a dirt-bike, a speedboat, a jeep, an SUV or off-road vehicle. I bought a tent tall enough within for me to stand up. If there's music at my camp, it's just me playing the baroque recorder, the harmonica or strumming on a guitar. I don't gather together huge crowds. I do see them sometimes, how can you not? I don't proselytize and bring all my friends to Utah from around the country. Hell, they come and go where they like. I've met a few kindred spirits out on a dirt road and I'm sure that'll happen again.
It chaps my rosy-red Colorado ass to even identify what I don't like, because out there, somewhere, somebody is complaining about me and my role in ruining canyon country. I don't go far enough into the way-back. I am far too dependent on the trappings of civilization for my "wilderness" experience. I don't know the real desert because I don't drink out of froggy tadpole holes and sleep under the stars with only a wool blanket and a rock for a pillow. Some folks miss the wild parties amongst the tamarisk thickets along the river, others miss the solitude they once found there. Okay, fine. Isn't there a way we can all get along without ruining the place in the process? I wonder if I could find a way to accept the industrial tourism infestation. I'm not sure. I'm probably a hypocrite. I want my Utah, the Utah that I remember and the one that the Zephyr continues to celebrate, not the real thing.
Thank you, Jim (and Tonya) for this thirty-year labor of love. The "Old Moab" wouldn't have been the same without the Zephyr. Although we've never met, I know you as a kindred spirit. There's still a cold one waiting for you somewhere out on a red dusty desert road.
To comment, scroll to the bottom of the page.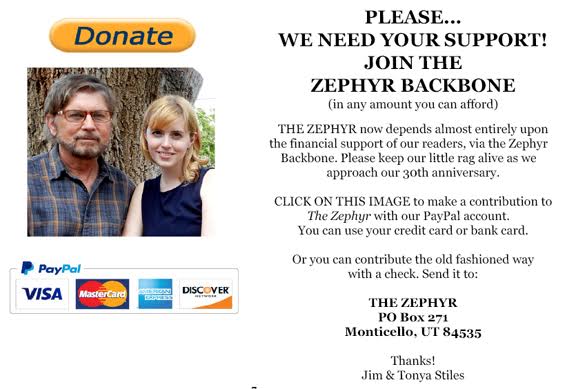 Don't forget the Zephyr ads! All links are hot!