I first visited Moab in the brutally cold January of 1973. I returned the following summer, then again and again. And in the fall of 1975 I moved there to stay. It was an early seminal moment…Moab, I proclaimed, would be my home. Though I was nearly broke, I spent the money to register my 1965 VW microbus and took the Utah drivers test to change my license. Putting those plates on my bus…LDK 916…was one of the joyous moments of my life. It was a statement of commitment. I lived in Moab or at nearby Arches National Park for the next 30 years. I moved away officially in 2007.
Just in the nick of time.
I have followed the town's transformation…transmogrification?…with my own two eyes, via my Moab friends' sad accounts, the local news, and recently, via the numerous web cameras that dot the area now. What a show. But almost three years had passed since I'd physically placed boots on the ground in my old home town.
Tonya and I last visited Moab on February 14, 2017. Valentine's Day. It was the day of the Seventh District Court hearing for the defamation lawsuit that former Moab City Manager, Rebecca Berner Davidson and her partner Tara Jae Smelt filed against me, The Zephyr, and four others the previous September. Many of my oldest and dearest friends came to the courthouse to offer their support. It was like a last homecoming. And it was my first opportunity to introduce Tonya to them. After two long hours, the presiding judge, Lyle Anderson, summarily dismissed the suit, we breathed a sigh of relief and headed for the door.
(In fact, the nightmare would linger for another two years as the plaintiffs pursued the suit via the appeals process—they lost there as well)
We said our goodbyes to our friends, raced to the car and left town that afternoon. We didn't stop until we got to Shiprock. And we didn't go back. Putting a lot of miles between us and that nightmare seemed like a good idea.
Until last month.
In October, Tonya and I took off for three weeks, on a road trip to Nevada. We followed the trail of my old friend Herb Ringer. Herb's story and photos have been on display here for 30 years and our plan was to return to the site of Herb's haunts and re-shoot some of those amazing images from 75 years ago.
But on the return drive, our route inevitably brought us close to Moab. We started to divert and take the long way around, via Hanksville and Blanding. But then we thought...what the hell…maybe a sobering moment was just what we needed. And so…we returned to Moab.
COMING HOME?
For those of us lucky enough to have ever found a place to truly call home, the word is particularly meaningful and can evoke all kinds of emotion when we are away from it. A year and a half after I settled in Moab in the mid-70s, I went back east for part of the winter to visit family and friends, and for the first time in my life truly understood what it meant to be homesick. I still recall the excitement and anticipation I felt as I made the long 1500 mile drive across the Plains and through the Colorado Rockies.
In the West you can see your destination hours before you reach it. As I crossed into Utah and the high tablelands at Harley Dome, sunset was approaching and the Book Cliffs were ablaze in the late light. Then I caught a glimpse of the La Sal Mountains and Tukunikivats on the southwest horizon. Beneath the alpenglow, in the shadows of canyons and ramparts lay my little town.
Interstate 70 was still under construction and its intersection with (then) US 163 and the last 30 miles to Moab was still just a T-intersection. There would be no "limited access" interchange for another year. Those last miles were always the best. The road was empty, the moon bathed the Wingate canyon walls in an eerie silver light, and finally, as I descended the last miles of Moab Canyon, I saw the twinkling lights of Moab. It was still there, just as I'd left it. It would stay that way, basically unchanged for most of a couple decades.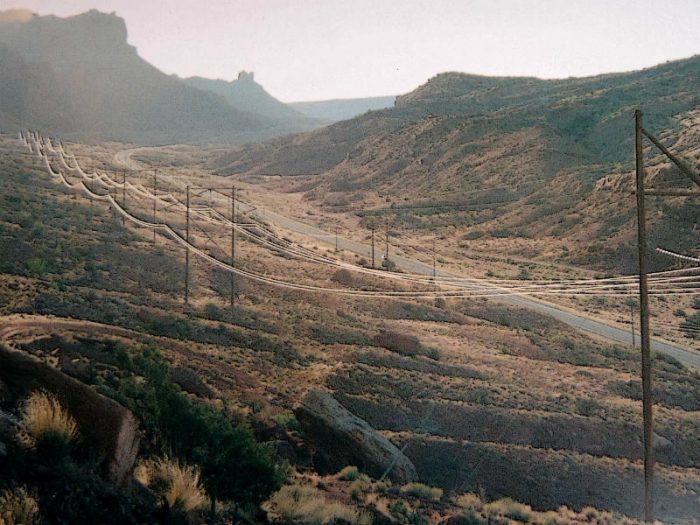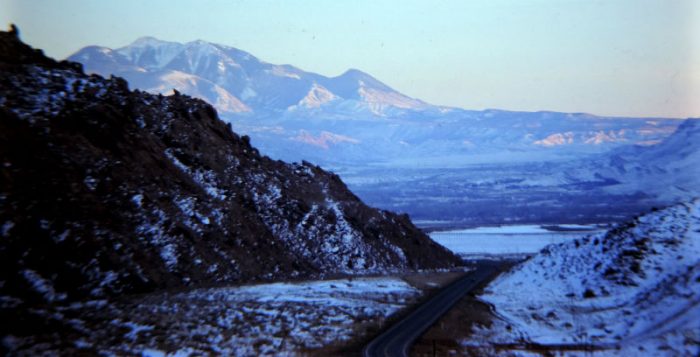 AND THEN…'REALITY' SET IN...
Just as I'd left it. And then…varoooooooom.
When was the last time anyone simply left something alone? For sure, no one has "left Moab alone" since the mid-1990s when the "Madness that is Moab" began. My daydreams of years past faded quickly as we passed the turnoff to Arches and the remnants of the old Atlas tailings pile. What we saw next left me speechless. Really.
In fact, what follows here is not another verbose diatribe about New Moab, or a rant about the insanity that drives this kind of cancerous growth. Words fail. Our purpose here is to simply show you, mostly in photographs, what is happening. We read reports of the changes in Moab, but the other media rarely offers anything visual or explicit regarding those changes.
So we'll mostly let the pictures do the talking.
We rode into town in the early afternoon of October 29, a Tuesday. There were no holidays to deal with, no weekend traffic, so at least we didn't have to confront complete traffic gridlock, such as the mess revealed in these photos from last Spring (and their counterpoint from years past).
But from the moment we crossed the Colorado River, we knew we were entering Brave New Moabland.
The traffic wasn't at a standstill, but it was heavy. Non-stop. Loud and frenetic. In what was once a cattle pasture, we saw the ongoing construction of the new Wyndam Resort that The Zephyr first reported last summer.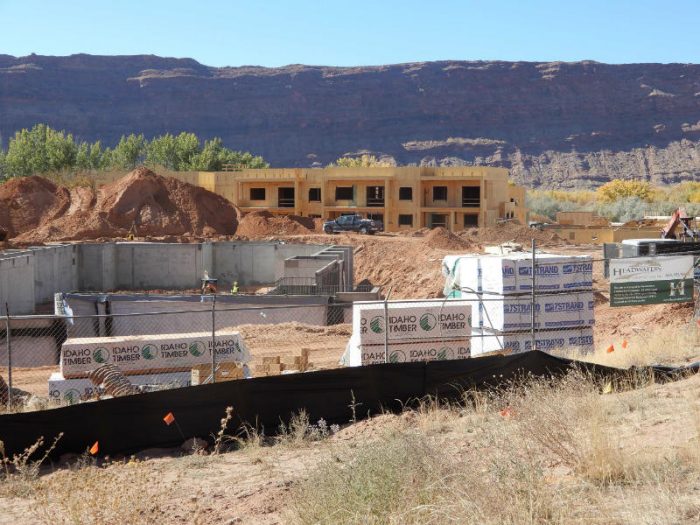 We included a press release from the developer that publicized the new project:

"Wyndham Destinations (NYSE: WYND), the world's largest vacation ownership and vacation exchange company, today announced the proposed development of a new timeshare resort in Moab, Utah, working with developer Gardiner Properties… the new Moab property is expected to feature more than 150 well-appointed condo-style units including one-, two- and three-bedroom suites for WorldMark by Wyndham owners and guests visiting the beautiful destination of Moab, Utah, gateway to two of America's most stunning national parks."
And from the June/July 2019 Zephyr:
The developer promised that even larger suites with "enhanced amenities" would be added to the Moab site, which caused undue and perhaps inappropriate speculation on my part. In fact, they claimed, "the new resort will be the largest development project in Moab history and will be designed to complement the natural features of the region. The main entrance will include a glass entry allowing guests to enjoy the breathtaking beauty surrounding the resort."
I had just been thinking how Moab needed a world-class resort with big windows and enhanced amenities and a $300/night price tag to "complement the natural features of the region."
Here is a roughly stitched together panorama of the Wyndam construction...
And a Google aerial of the once empty lot that it now fills…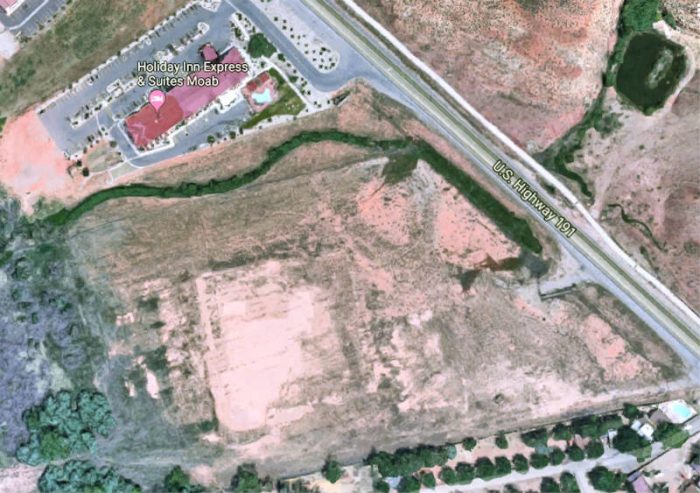 Just south of the Wyndam Extravaganza is— incredibly — an empty field, across from what I still call "The Ranch House" (now Moab Springs Resort) . In the 1970s, especially in the winter and early spring, the meadow across the road from the Ranch House was a gathering place for thousands of Canada Geese. From late November until mid-March the cacophony of honking water fowl was amazing. They'd come right up to the road and if I recall correctly, the area just west of the highway was wet and marshy back then. It was a sight to behold. Many of the honkers could be seen circling the north end of town during the day and then in the late afternoon, they'd return to the meadow. The noise from the geese at night was a deafening but delightful kind of dissonant music.
But those days are long gone. The land's future development is almost a done deal, as the owner waits for the city's "moratorium" to expire. Take a long and loving look at it, each time you pass by…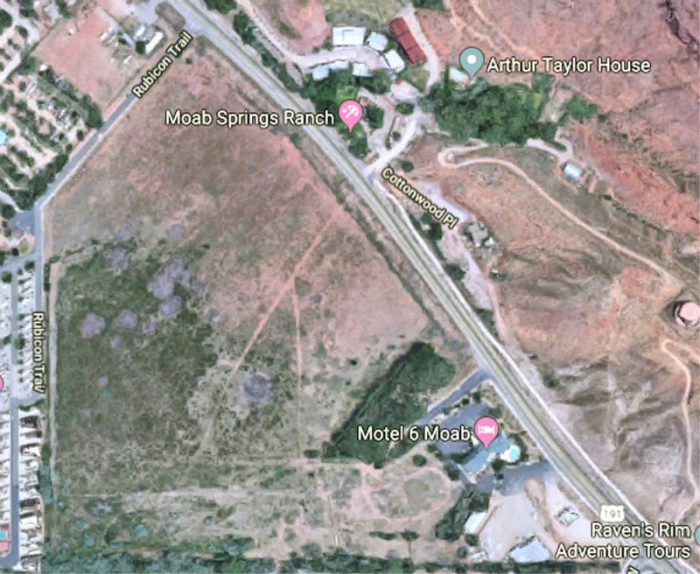 We passed the Denny's. I had heard that some effort to widen the highway into Moab was underway, but we saw little evidence of it. The road was still mostly two-lane and busy. Beneath the ridgeline home of the legendary "Uranium King," Charlie Steen (and for years a restaurant), we encountered another addition to Moab Row.
The Hyatt Place is complete and open for business. I checked rates online. In December "deals" can be found (sort of). Prices for a single started at $139. But by mid-March, the lowest rate I could find started at $359.

As we paused to take photos of the Hyatt, semi-trucks and recreational vehicles and cars of all stripes raced by, everyone seemingly in a hurry. We couldn't help note the irony of a prominent sign just across the street from the Hyatt, that welcomes incoming traffic to Moab.
MOAB, UTAH
A GREEN POWER COMMUNITY
First in the Nation
Moab City officials have been boasting for years that their town is an environmentally friendly community–that its leaders care about the Future and Mother Earth. And many of its newer constituents have drunk that Kool-Aid for almost as long. I wonder if any of them take the time to look around and see what their leadership and their "vision" has really brought to the Moab Valley. Economic development? You bet. But at what cost?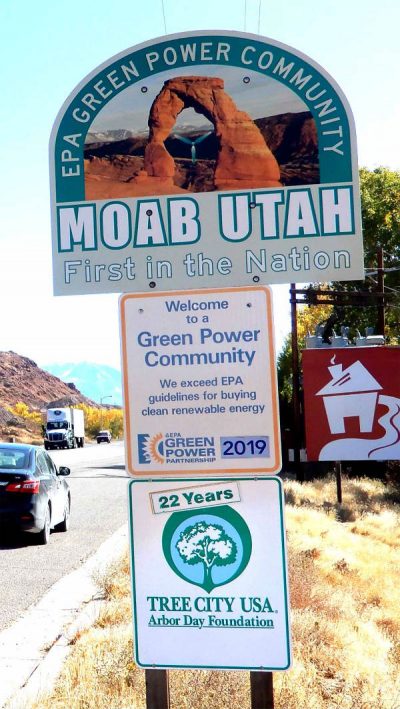 ONWARD…
We drove into Moab, down Main Street and were gratified to see that the Eklectica Cafe, was still holding on. But how long can a small cafe' survive?
We turned off Main to 100 West. I'd be forewarned. I was told, 'When you see the Hoodoo, you won't even know where you are anymore.' And they were right… For decades I was used to seeing this: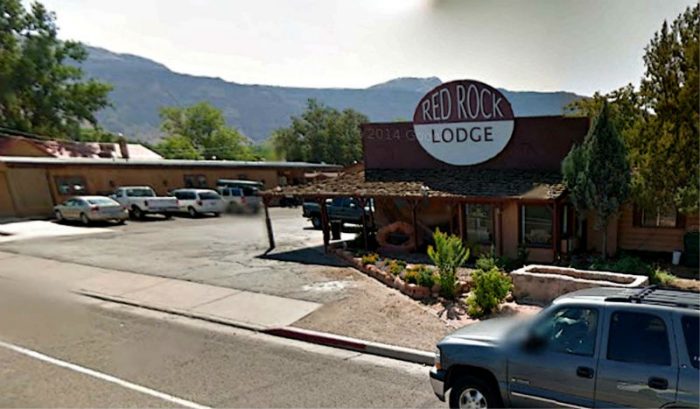 The Redrock Lodge. It was quiet, off Main, offered clean comfortable rooms at a decent price, and I remember hearing they even took in the homeless during the winter when space allowed. It was a nice place. Familiar.
There is no trace of the Redrock Lodge. You would never know it existed. It's been replaced by this…
The HooDoo Hotel, Moab's most expensive, most opulent, most extravagant overnight accommodations. It's like nothing that most of us who ever lived in Moab could have even remotely considered seeing with their own eyes, on the corner of Williams Way and 100 West. In a basket full of lifetimes.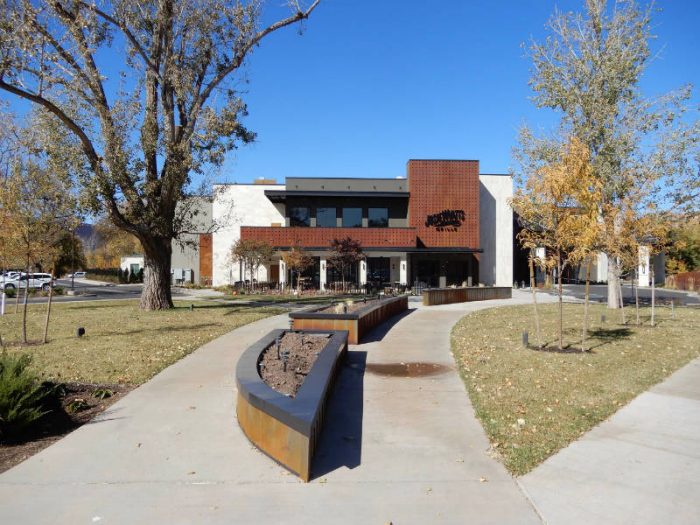 The edifice itself is so disorienting, so out of place as to leave one feeling lost. I tried to take a photograph that could give our readers some context, or provide some familiar landmark that they might be able to use to compare this reality to their Moab memories of years past. It was impossible. Finally I resorted to stepping back far enough to include the road sign. If you know where Williams Way is and where it meets 100 West, this is what it looks like now…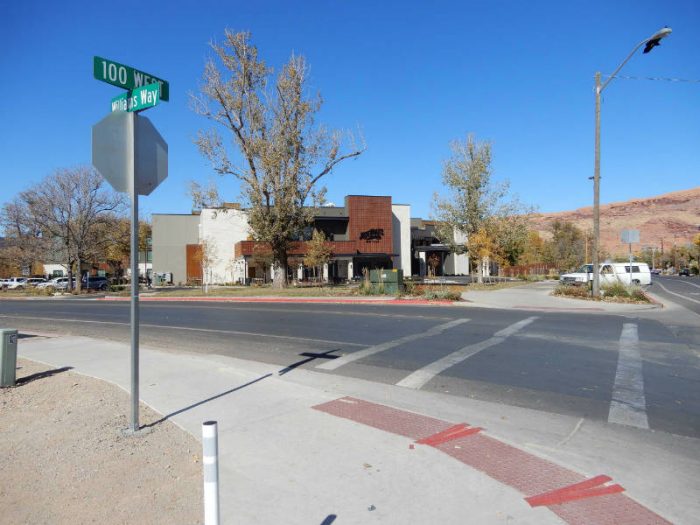 I checked prices. In the winter, a room could be had for $187. For most of the year, prices varied from about $330 to $440 a night. I don't think Tonya and I will be staying there any time soon.
One landmark that survives…the old Atomic Hair salon across the street…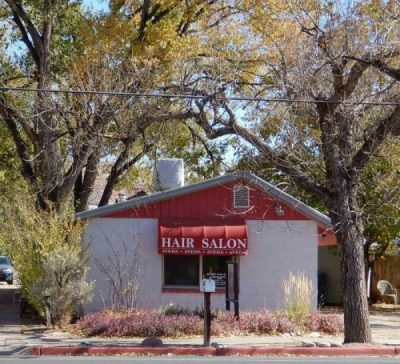 And here is a Google aerial. 100 West is at the far right. Williams Way runs across the bottom of the image. HooDoo is labeled on the aerial but the overview photo has not been updated.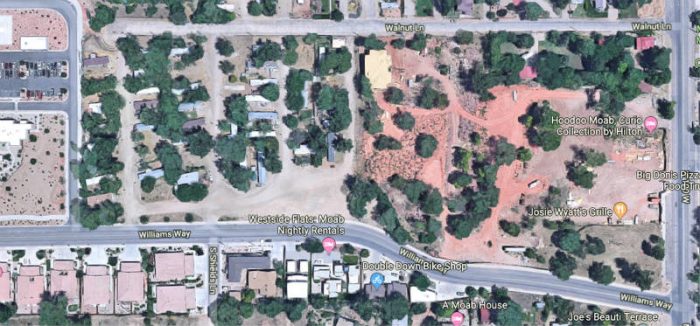 In fact, what we came to realize is that construction in Moab is far outpacing Google's ability to record it. We found this Google aerial image of Main Street and the old Big A Auto Parts store that was a familiar scene on Main Street for decades. Google has new labels but the view of Big A, from the air at least, survives.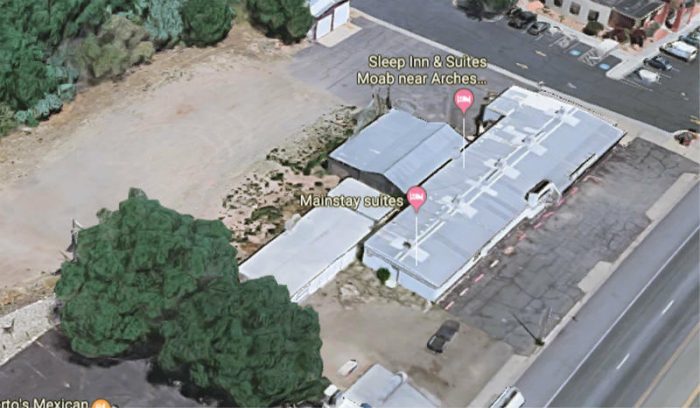 Here is what we saw on the ground, however. And what a bargain. Right now a room can be secured for $70 a night. Downright reasonable. Once the season starts, look for prices to dance between $125 and $200 a night.

As we passed one new construction after another, (and note we're only showing the highlights here–we don't have enough bandwidth to show it all), I couldn't help but recall the recent observations of Grand County's Democratic Party chairman regarding Moab's transformation. Kevin Walker, after the recent election, noted that Moabites had re-elected their incumbent councilpersons and Walker proclaimed:
"I think the election was a referendum on smarter and stricter regulation of hotels, and the smart-growth candidates won decisively."
The incumbents he is talking about oversaw ALL the projects you're observing in this article and many more beyond the photos. If this is "smart-growth," I wonder what 'stupid" looks like.
---
Where Main Street meets 400 East, we took another hard look. There's still an open pasture there, behind the Maverik convenience store. For years that junction looked like this:
The Maverik store was built over a decade ago, maybe longer…
Here's an aerial from Google. How long will that little green oasis survive?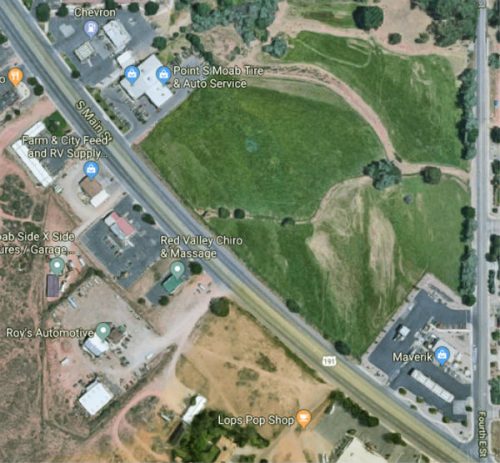 The heavy traffic on Main Street in Moab. Tuesday afternoon. October 29…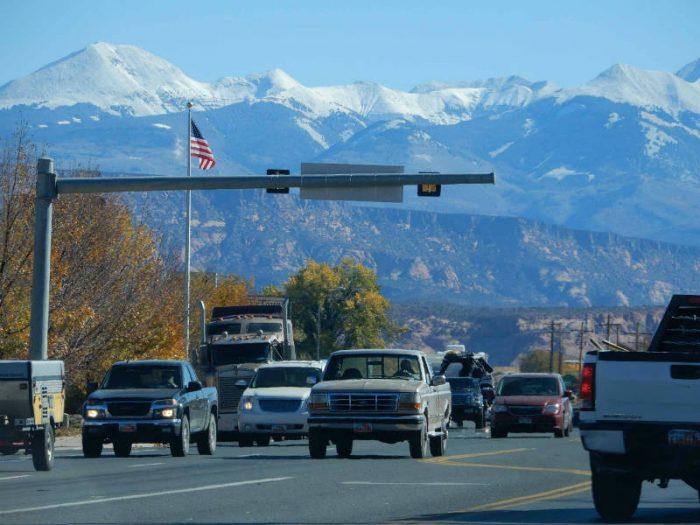 As we waited for the light to change at the 400 East junction, we couldn't help notice the irony as trucks and cars and RVs raced about like frenzied ants in the hot sun. The "Solitude" sign in the background beckoned the traveler to go south—to San Juan County–to escape the madness. Yet the same forces who have turned Moab into whatever it is, hope and scheme and spend to make that once quiet county the "next Moab."
We passed the expanding developments in Spanish Valley. I remembered when Rim Village was just a sign on Spanish Valley Drive. None of us knew what to expect…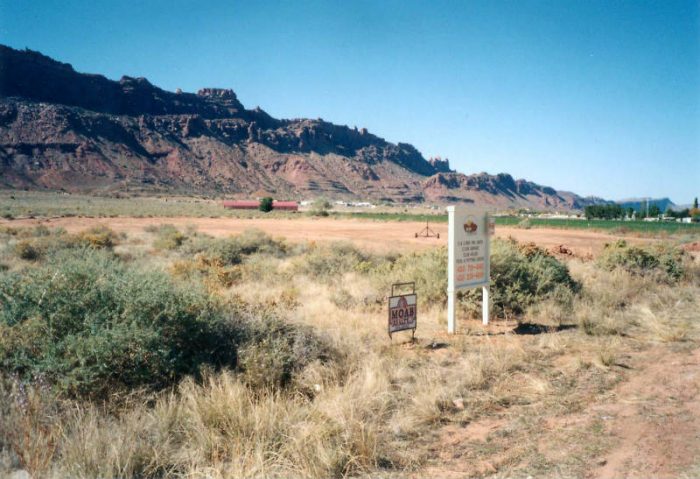 But Rim Village grew and kept growing…
Aerial view of Rim Village in 2008…
Now Rim Village reaches the highway.

And smaller projects like this seem to be filling in all the empty lots and vacant small fields. In 2019, Moab real estate has become too valuable to be a grave yard for old cars and junk refrigerators…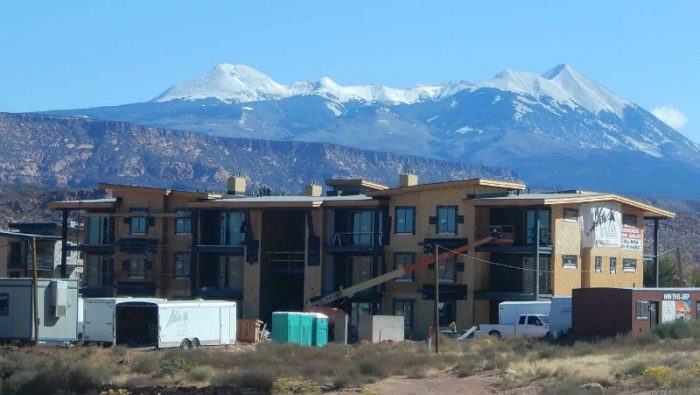 ESCAPING MOAB? NOT SO FAST...
We wanted to check out the old neighborhood on the east side of town, to see what Locust Lane looks like now, and more importantly, to ride out Spanish Valley Drive, where so much of the new residential growth is happening. But after 17 minutes, we were done. We decided to head south on 191 as fast as our little car would allow us.
But the traffic was heavy, and what we saw coming at us suggested that major construction delays awaited us. It's been like this for months. During the summer, when I was in Monticello, I'd see mile long bumper to bumper traffic coming into town from the north. Long road construction delays were a constant annoyance throughout the summer months.
Supposedly, that summer project was finished, but we checked the UDOT website and sure enough, a massive project was still underway, south of Hole "n" the Rock. Just below the Nipple Hill grade, the highway has always been something of a bottleneck. And it was difficult to improve the road because the highway at that point squeezes between sandstone cliffs on the wast side of the alignment and a steep canyon on the other. The only way to widen the road was to literally blast away massive amounts of rock.
So that's what they're doing. The project has been going non-stop since August and they expect the blasting to continue until December. According to the UDOT site, the road is completely shut down for an hour and a half each day, but we arrived hours after the scheduled closure and traffic was still being stopped.
Note: According to the UT Department of Transportation, full closures from 9 to 10 a.m. will continue Monday through Thursday in the month of December, with single lane alternating traffic the rest of the time. They provide weekly updates at this page: www.udot.utah.gov/go/191Blasting
When this phase of the project is completed, what next? What massive delays can visitors to the Moab area expect in the years to come as traffic continues to increase and more construction projects are initiated to "relieve" the congestion? The mind boggles.
FINALLY…?
Somewhere between La Sal Junction and Church Rock, the drive started to feel like something closer to 'normal.' But not really. I had to remind myself that this was late October. The road delays created gaps in the traffic flow, but cars were still outgunning each other, sprinting all the way up Peter's Hill, racing toward a destination that would probably be as crowded as the place from which they were trying to escape.
If it feels like I'm picking on Moab and SE Utah, you're right, but only because it's the part of the once rural west that I'm most familiar with. I'm well aware that what's happening in Moab is happening everywhere, and especially in those parts of the Rocky Mountain region that have been hung with the "New West" label. Industrial Tourism is indeed the last "extractive industry" and it is, once and for all, ripping and removing the remnants of the West's heart and soul.
Utah Philips once wrote:
I'll sing about an emptiness the East has never known,
Where coyotes don't pay taxes
And a man can live alone.
And you gotta walk forever just to find a telephone.
It's sad but the tellin' takes me home.
The West is singing a different tune in 2020…
Here's just outside of Cortez, on a drive West last summer…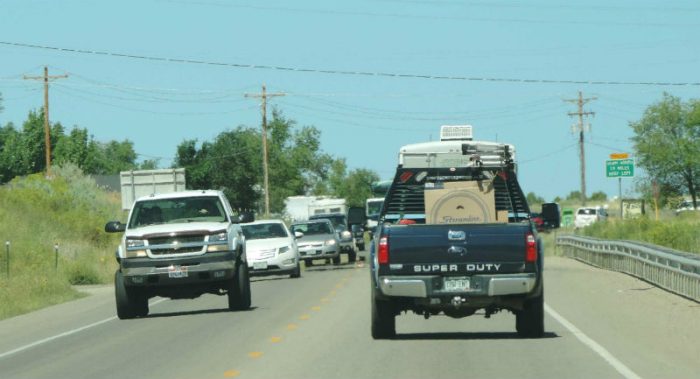 The truck traffic has increased substantially in the last few years. This next shot is Dove Creek. A booming "New West" population means the need to for goods and services. Another fact–the fastest route between Seattle and Dallas follows US 6 from I-15 to I-70 to US 191…and as the West's driest states continue to be the nation's fastest growing, the traffic will only get worse.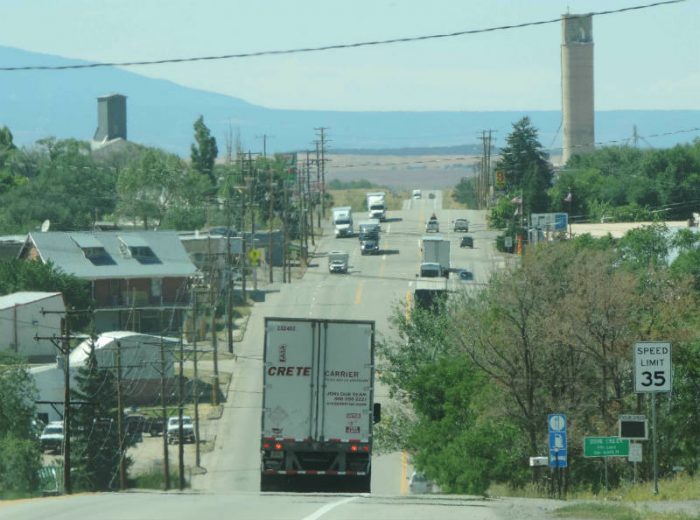 Never ending construction projects keep the roads out of Durango looking like this a lot of the time…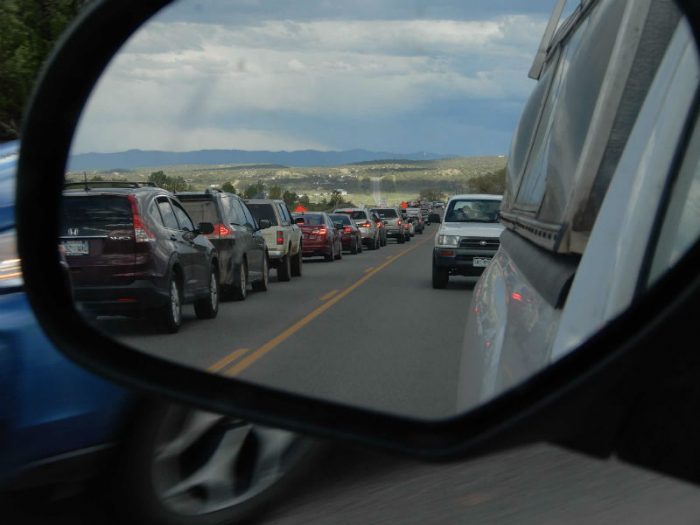 Here's I-25 between Santa Fe and Albuquerque…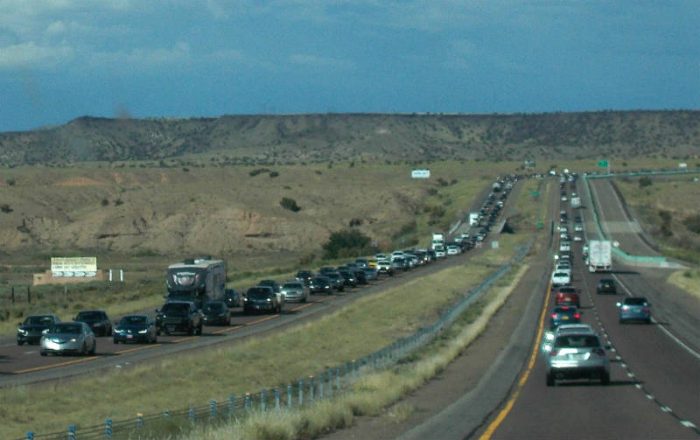 Coming into Bernalillo, New Mexico…
The traffic isn't always this bad, of course, but the simple truth is, much of the West that was empty and quiet is not the sanctuary from madness and chaos that it once was.
But name a New West community, anywhere in the Intermountain West, and the story will be the same—Flagstaff, Durango, Sedona, Telluride, Jackson, Kellogg… As I post stories about Moab, we hear from our readers.
Here are some of their recent comments…
* "This is happening many places. I finally left Bend OR, because it is no longer the town I raised my family in. It was obvious back in the mid 90's what was happening. Moab is not alone here."
* "Same for Springdale-Hurricane corridor outside Zion."
* "Cultural and natural resources in the Verde Valley of Arizona are suffering the same fate, industrial tourism. Attracting land development to the area and vast numbers of people."
* "It's pushing to Vernal, too."
* " I wanted to retire in my hometown… it's not Moab any more and it's cost prohibitive for many native Moabites."
* "It has happened in Tusayan at the south rim of Grand Canyon. Which is pushing for new controversial development to accommodate now 6.2+ million visitors a year. Double that of 15 years ago and climbing rapidly. And hardly any increase in accommodations in the last 20 years. We can't reverse the visitation trends now, but we all must responsibly address the needs while protecting our precious underfunded public lands."
* " And look at the Bears Ears. Visitation near half million annually, maybe more. Time to monetize everything under the sun!"
* "An open invitation! You got magazines, billboards and commercials on TV… The radio, Facebook and big mouths! Famous is as Famous does..."
They're all painfully correct. And things will only get worse. Last night a friend sent me a link, just to remind me how utterly futile it is to think these trends can ever be reversed. It's from the "Discover Moab" website, another promotion to keep the masses coming.
Titled "Pedal, Hike and Eat Your way Through Moab's Winter Season," the story's anonymous author hopes to lure more of you to the magic that is Moab. She writes:
"Moab, Utah is one of my favorite travel destinations–a scenic and wickedly fun adventure hub. While it lures visitors throughout the year, wintertime is a magical season to visit. I always wanted to see the red rock country in the winter, and I was delighted with what else I experienced during my December trip to Moab.
"If you're like me, you've probably found yourself in Moab on more than one occasion, racing for a campsite and hoping to snap iconic photos without other people in the shot. In the winter, though, Moab transforms into a peaceful paradise, sans traffic in town and loads of people driving into the parks. Furthermore, don't be surprised if you're the only one on the trail, and get ready to rub elbows with the locals. It's a wonderful time of year to visit!"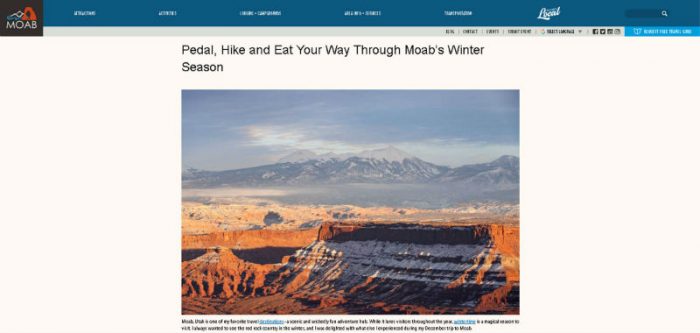 This comes from the same people who created the "Do it like a local" theme, as a way to allegedly reduce tourist impacts…

Of course, the irony isn't lost. IF the promotion is as successful as its creators want it to be, you WON'T be the "only one on the trail." Winter will be just as busy and miserable as the rest of the year. The season "shoulders" are starting to touch. And that's the goal.
And who will care? As each generation defines itself and its priorities, values change as well. Solitude and silence were always precious assets to many of us; today they're becoming a liability. That's why these crowds, these masses of humans overrunning the empty places are only of concern to people like me… And our numbers are dwindling.
For me, I hold my memories close, and consider myself blessed that I saw The West when I did.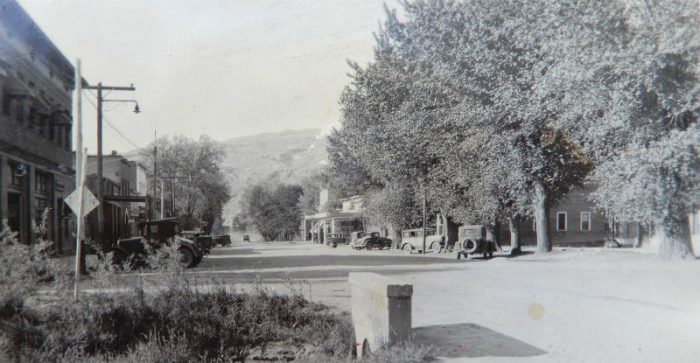 Jim Stiles is Founder and Co-Publisher of the Canyon Country Zephyr.
To comment, scroll to the bottom of the page.
Zephyr policy: REAL NAMES ONLY on Comments!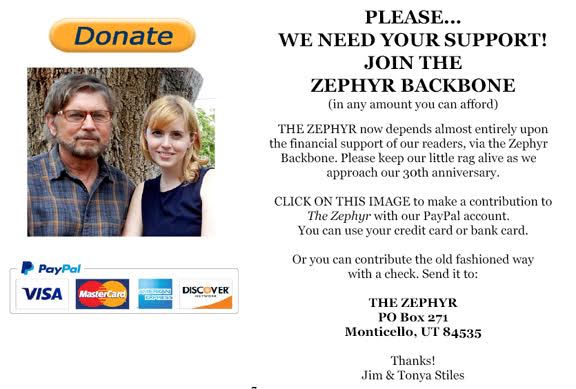 Don't forget the Zephyr ads! All links are hot!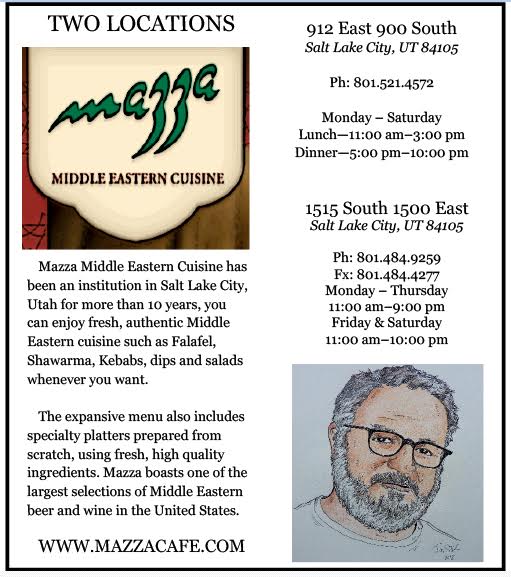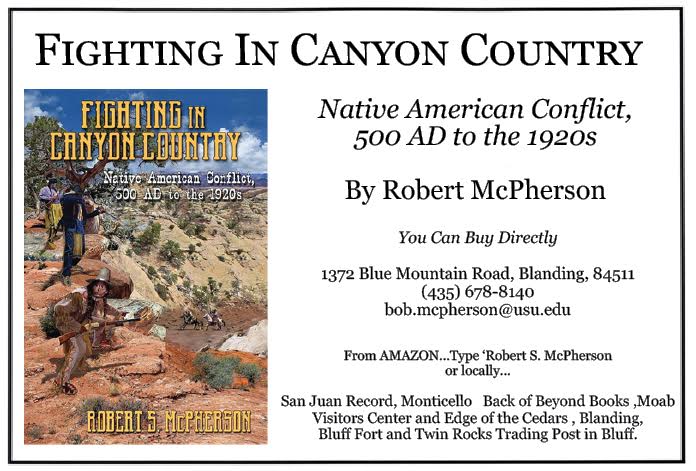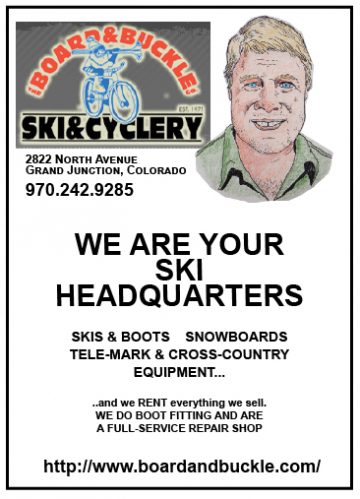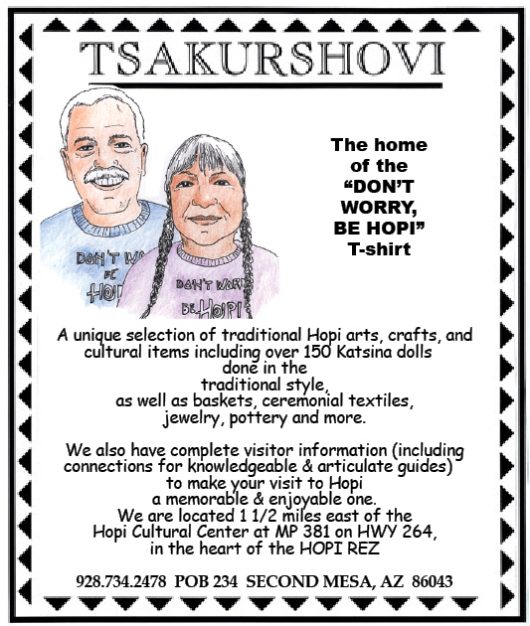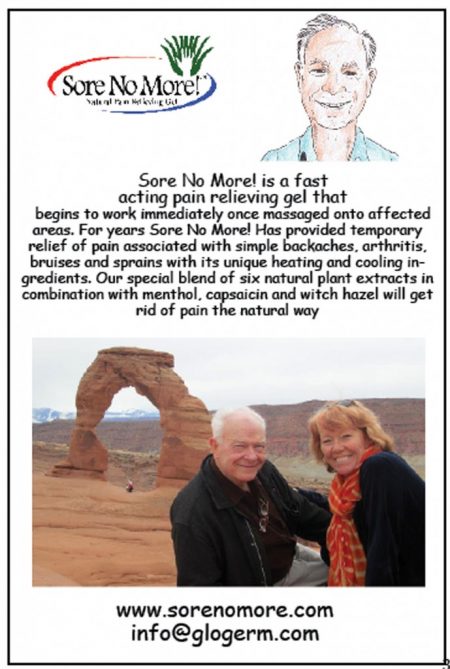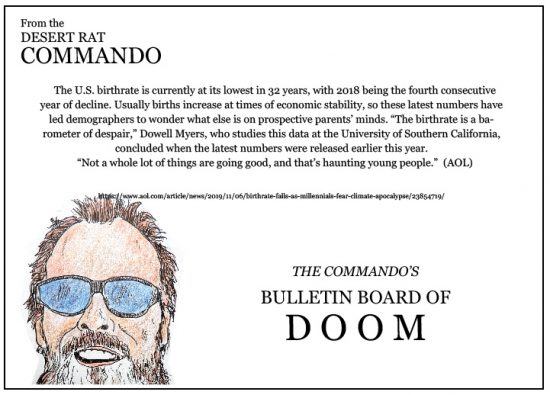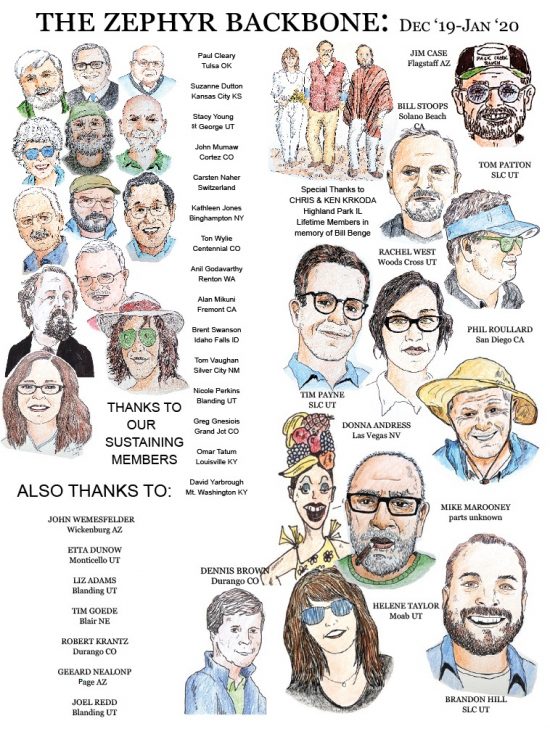 Zephyr Policy: REAL NAMES ONLY on Comments!