A few months ago, Tonya and I were climbing our favorite mountain in one of the (still) most remote parts of southern Utah. It's not a technical climb by any means but a steep hike that rises about 2000 feet over a three and a half mile trail. I'm convinced it's a lot steeper than the first time I walked up there in 1985. A gang of multi-point bucks watched us warily from the ridge above. The wind whipped through the stunted pines and pushed us onward. We had finally reached the summit and settled in to admire the unlimited views, when the goddamn phone rang.
I said to Tonya and to God, "You have got to be kidding me." I'd stuffed my cell phone in my pack and thought I'd turned it off. It didn't occur to me I'd even have a signal. But there it was, vibrating and playing the "Wichita Lineman" ringtone. I stared at the number—it was from somewhere in North Carolina, a telemarketer probably. We're sitting on a pile of igneous scree, on the roof of the world, and I'm being harassed by someone who most likely wants to sell me aluminum siding, or tout some crooked politician. I didn't answer, of course, but it disturbed my mountain reverie just the same.
For better or worse, we stand just past the brink of the third decade of the 21st Century, with all its technological marvels, and instant access to way more information than we ever dreamed of or wanted. (As some of you may have noticed, I still haven't come fully to grips with the 20th.)
And yet, here we are, and here I am, with this bloody cell phone, the tablet, a Facebook page…God help me. We're even connected to Netflix. I can watch old episodes of "Leave it to Beaver" on my phone.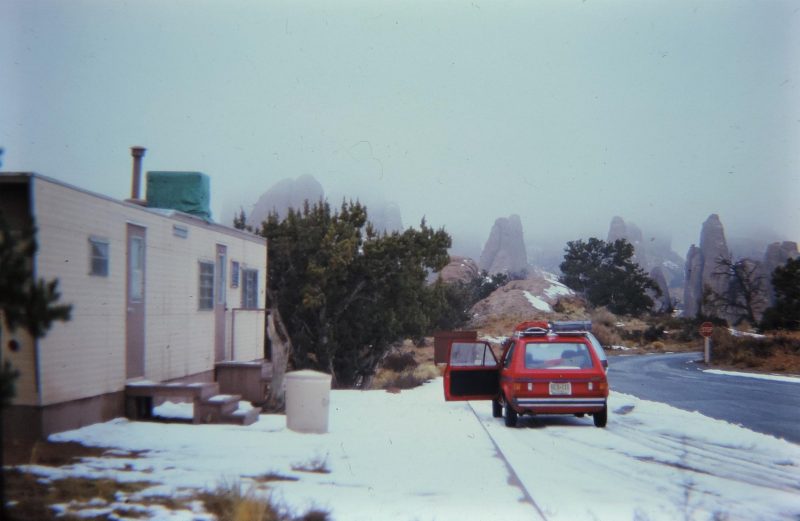 By the late 70s, when I first went to work at Arches, "The Beaver" was in syndication and Jerry Mathers was approaching thirty. Moab was connected to the outside world by landline telephone. And cable TV had recently opened for business as well.
When I took the job as campground ranger at the Devils Garden, I had deluded myself with the notion that I was about to live the "Ed Abbey Experience" and as I've described in previous installments, that dream lasted all of 15 minutes. The campground stayed crazy through Memorial Day (though nothing compared to today's madness), and steady all summer, so I never was lacking for human contact. Those tourists would not leave me alone.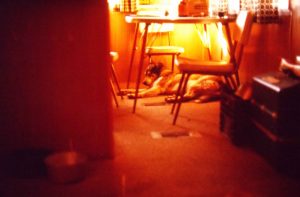 My beloved (and still missed) dog, Muckluk the Magnificent, and I often escaped into the rocks in the morning before I went on duty, and on my lieu days, I left the park altogether. I read and re-read books. I sat on rocks and tried to have deep thoughts; they came occasionally, but not nearly often enough to keep my mind occupied with them. Sometimes I longed for a bit of the pop culture I also wanted to escape. I longed for music. A good film. I ached at times for noises of any kind other than my own, my campground neighbors, and the raven named George who once shat upon the head of Interior Secretary James Watt.
At the Devils Garden, my options were limited. I could keep talking to squirrels, and/or tourists, and to myself, and that was about it. The Information Age was decades away. No Facebook. No Google. No internet. No cell phones. No streaming services. Even VCRs were ten years in the future. We existed in a world blissfully unaware of the future, of things we didn't yet know about, that had not yet been invented and which, upon their creation, we would someday curse for our addiction to them.
I couldn't miss what I'd never experienced, just like the man who used an outhouse his whole life could never yearn for a flush toilet. So I lived and loved what was there for me at the time. But at the Devils Garden, it was even less than I'd expected.
I realized some deprivations were inevitable. but I'd also brought some of the more "modern conveniences" of the time to maintain some kind of connection to the "real world." I'd recently purchased a "combination phonograph record/cassette tape player" and had a limited collection of vinyl and tapes. And an AM radio.
But the campground's power supply came from a Diesel generator located behind a sandstone fin near the trailhead, about a quarter mile away. The electricity that it produced was a tad erratic and the flow of current it produced surged and faded, from minute to minute. Consequently, the music I tried to play on my machine surged and faded as well. Sometimes my favorite performers sounded more like Alvin and the Chipmunks; but within seconds the 33 1/3 record's speed could plummet and the same singer more closely resembled a deep-voiced man near death. Finally the constant power surges burned out my machine completely. I was without tunes.
Then a miracle happened…I found KURA, AM 1450 on my radio dial.
KURA was a small 250 watt AM radio station that transmitted from Moab. It began broadcasting in 1957 and early on promoted itself as "Uranium Radio!" Its signal was boosted by a tower on Ray Elgers' farm along the Colorado River bottoms. KURA was a low wattage station but its signal managed to make its way to the Devils Garden Campground, loud and clear. During the day, in fact, it was the only signal that reached my remote outpost. There were no FM stations in Moab back then. There was static and there was KURA. I could not have been more grateful.
It was my only connection, not just to the music, but to what was really happening in my new hometown, and across the Intermountain West. When I discovered KURA in the late 70s, there were two "voices" that I came to recognize— Rand Taylor and Dee Tranter. My memories may be a bit off here after all these years, but I believe the station had been owned by Dixie Barker since the early 1960s. Then in the late 70s, Dee and Rand bought KURA from her.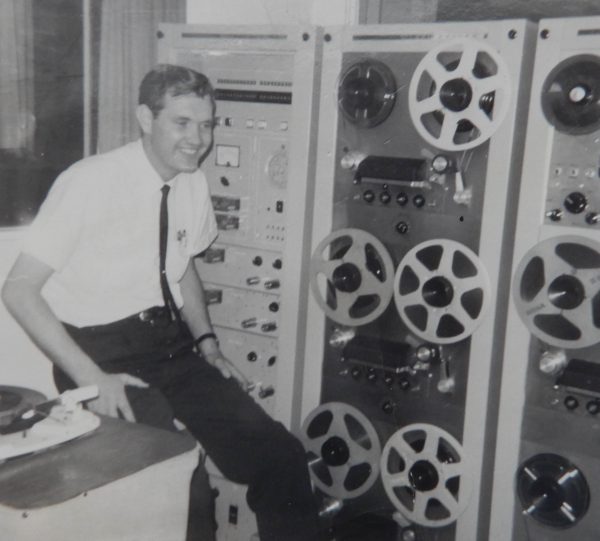 I was a Dee Tranter fan more than Rand, who always sounded a bit too slick for Moab. Dee had a folksy radio presence and a conversational delivery that I enjoyed. He regularly did an ad for the Moab Ford dealership that after a while I memorized. I still remember it 40 years later. He'd ask, "Wanting to buy a used car or truck but afraid of getting somebody' else's problems? Well," he added, "…here's GOOD NEWS!" I wanted to jump in my car, drive down to town and buy a Ford F150.
And it was Dee who once made this on-air observation that I have always remembered but have never been able to emulate. Dee noted that, "An optimist is somebody who comes back from the laundromat and says, 'Hey look! I've got an extra sock!'"
There is a wonderful interview that Dee gave to the Uranium Mining Oral History Project, back in 1970 and he talked extensively about his time at the station. Tranter noted then that he was "copywriter, salesman, announcer, newsman, and even janitor." (sounds a lot like my job for the last 31 years).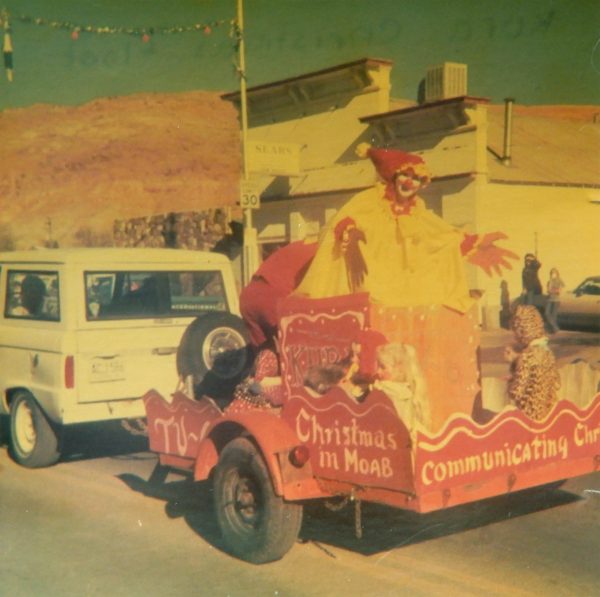 In those days, there was little or no effort to report national issues and according to Tranter's 1970 interview, the station avoided "editorializing or taking a stand." Just reporting the facts was tough enough. The news was all local and KURA covered just about everything that happened. They even used public court records to keep track of recent violations and Seventh District Court rulings. Some people didn't like that kind of thorough coverage and it even cost the station an advertiser or two, but the facts were the facts.
The station ran long news blocks in the morning and afternoon. It was also part of the Intermountain News Network, a news gathering platform that was syndicated on 130 radio stations across the Rocky Mountain states. It was an excellent source for the pure reporting of information about the region, without commentary or bias.
KURA also did live play-by-play broadcasts of all the local high school football and basketball games, and even arranged for someone to call in with updates on track meet results. As Tranter noted in his 1970 interview, "if somebody got elected president of the Rotary Club, that was news."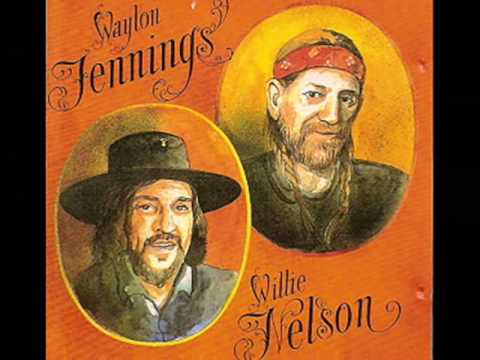 When it came to music, Dee chose to play what he called "countrified pop," and explained that his playlist was "based on what people complained about the least." Thanks to the lack of objections by the locals, I heard for the first time, from my little tin trailer at the Devils Garden, Waylon Jennings and Willie Nelson singing "Luckenback, Texas," and an obscure tune by Eddie Arnold called "Cowboy."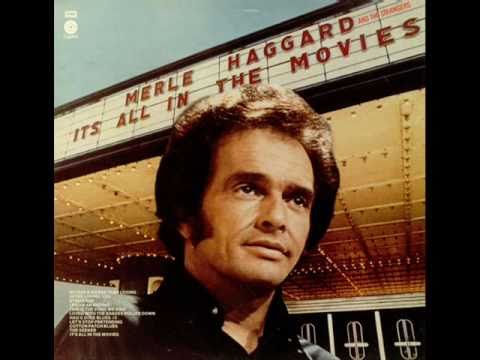 As a then, dyed-in-the-wool liberal, I'd ignored Merle Haggard for years, and refused to forgive him for "Okie from Muskogee." Then KURA played "It's all in the Movies" and "Cherokee Maiden," and "If we make it through December," and all was forgiven. I've loved Merle ever since.
And God help me, but I loved to hear KURA play "Afternoon Delight" by the Starland Vocal Band. Clearly my efforts to avoid 'deep thinking' were wildly successful. My only "afternoon delight" at the Devils Garden was the rare day that the campground didn't fill up and none of the toilets clogged.
And just before lunch, KURA broadcast 'the Trading Post," the call-in buy and sell radio show that (I think) is still alive today on Moab's FM public radio station. At the end of the Trading Post, Dee would take the listeners "out to Bob and Olive's Sundowner to see what's cooking today." Then Dee would chat with Bob Evans for a couple minutes about the lunch specials and the family favorites. There was something about the way Bob described the food that always sounded so appealing. Maybe it was because at the time, I was living on Doritos and salsa.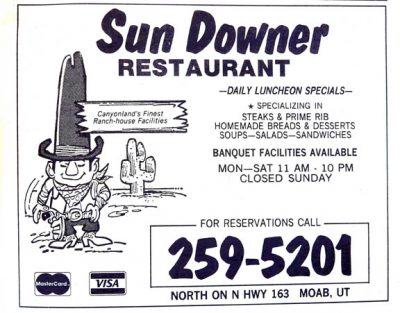 * * *
A third voice filled the airwaves on KURA. Les Erbes came to Moab in the 1950s from Michigan. He'd run a bowling alley up there but a friend of his, Fred Stoye, had moved to Moab years earlier and had convinced Les to move West as well. Les became a huge Moab Booster and was always preaching the advantages of small town life. Les was the news director at KURA for years but had left the station to start his own television production company via the new "Town TV" cable channel in Moab.
(Les also contributed to the Uranium Oral History project.)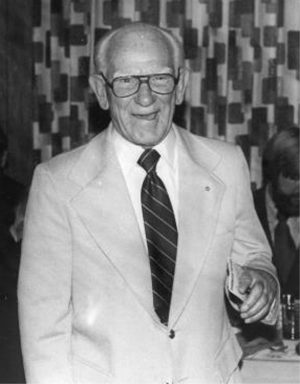 Not long after my arrival in Moab, I met Les at the Grand County Courthouse. One of my early tasks as a park volunteer (before the NPS put me on the payroll) was to research mining records at the county recorder's office and identify possible active claims within the park boundaries.
One day this cherubic little fellow bounced through the recorder's office door, and asked Alice McKinney if there was any news to report. Day after day he made the courthouse rounds, looking for a story tidbit, and day after day, I was there by the door, digging through the old records book. During our first encounter, Les saw me, nodded, smiled and said hello and left. But after a week or so, his curiosity got the better of him and he said, "Who are you anyway?" I explained the situation and told him I was hoping to get hired on as a seasonal at Arches in the Spring?
Over the next couple of months, we became friends and Les promised to put in a good word for me with the Park Service. "I know everybody down there at headquarters," he explained. "I'll see what I can do." In March, when I got word that I had a job, Les was delighted and sure his vote of confidence had put me over the top. Except I'm not sure who the Park Service thought he'd recommended, because when I thanked Les, he said, "No problem Dave! Always glad to help a young feller out. You're going to be a great ranger, Dave!"
I said, "Well…thanks Les. But..uh…my name is Jim. Not Dave." He looked at me blankly, as if my words had not quite registered. "Ok! Well, keep in touch and let me know how you like working at Arches!" (Note: my use of exclamation marks is intended. Les was a very ebullient man.)
I said, "Thanks again Les." He replied, "Any time, Dave!"
Though Les had left KURA, and produced his own program called "The Morning Report" on the fledgling Moab cable TV (Channel 6), the show was simulcast on KURA. His interviews were wonderful, and there was hardly anyone of note that didn't get the Les Erbes treatment. Every week or so, Les talked to someone from the Park Service and was always interested in visitation numbers. As noted, he was a booster and wanted to see the tourism numbers grow. He later discovered I was, in fact, one of those hippie rangers who opposed massive development of the parks, and we once had a spirited discussion on the subject, but ultimately Les laughed and said, "Well, Dave, no matter how wrongheaded you may be, I still like you."
I said, "Thanks Larry," but I don't think he heard me. A couple weeks later, I bumped into Pete Parry, the park superintendent and a friend of Les. He said with a grin, "So Stiles…what's your real first name, or do you know?"
* * *
None of this is to suggest I spent most of my time glued to the radio, waiting for the Moab Report and the Trading Post. But at least KURA gave me an option when I wanted to escape both the noise and madness of the campground and the extraordinary beauty and solitude that lay just beyond it. There were some visitors, I discovered, who had little use for either.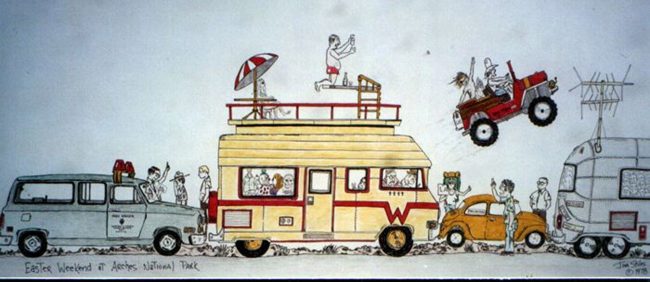 One summer afternoon, a large fifth wheel trailer rolled into the campground. I was outside my own little house trailer/residence, when the driver spotted me and paused. He called me over to his massive GMC pickup truck. From the tip of the truck to the rear bumper of the trailer, it had to be 40 or 50 feet. I was amazed the rig could make the turn. He asked about campsite availability and said, "We're looking for a campsite that's up high, with a real open view out to the north and east."
I told him that sites 19 to 25 were all near the crest of the hill. "You'll love it," I said. "The views are amazing."
"The views?" he replied. "Oh…yes…the views. Of course. Well, okay ranger. Thanks for the information." Later, I saw him drive back down the campground road in his truck and pay in advance at our little homemade pay station. Then he turned his truck around in front of the trailer, and raced back up the hill.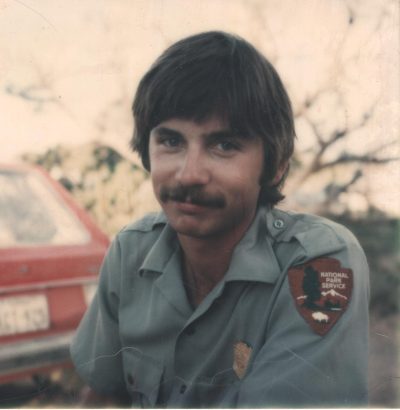 A few minutes later, I got a radio call from Dave Baker, the park's maintenance foreman. "Jim, are you at the trailer?" he asked. I told him I was. "10-4."
"Okay, well you might want to mosey up the campground to around site 21. You gotta see this."
Curious for sure, I hopped in the park cruiser and was almost to the top of the hill when I saw Dave. He said, "Well…you can't go much further. Take a look."
We both watched the same man in the fifth wheel trailer, with the assistance of his enthusiastic wife, as they briskly went about their work. They had pulled a large bundle of aluminum poles from a canvas rucksack and were laying them end-to-end across their campsite and onto the asphalt road. The man looked up, saw us watching the operation and yelled, "This'll only take a minute!"
I nodded uncertainly.
After they'd laid out the poles, they began screwing them together, until the entire apparatus was over 30 feet long. They dragged the end of the pole, with attached guy lines and pulleys, to another device mounted on the end of their trailer. He attached the wires and pole to a crank of some sort and began to turn it. The pole glinted in the afternoon light as it rose majestically above the desert landscape.
It was a television antenna.
The pole slowly reached its apex until it stood vertical in the desert sky. The man tightened and secured the assorted cables that were connected to it, made delicate adjustments to the crank/pulley system, and attached a large piece of cable. They stood there staring at their accomplishment, beaming with pride. We stared too.
I realized the fellow wasn't interested in the view; he was in search of the best line-of-sight opportunity to receive analog television signals emanating from the Grand Junction area's tv transmitters, seventy miles to the northwest. Their quest was over.
Then he lifted another compartment lid, pushed a button, and his gasoline-powered generator roared to life. The couple went inside, closed the door, drew the shades, turned on the air conditioning, and fired up the television. They were never seen or heard from again, though at one point later in the evening, I thought I could hear the theme song to "Charlie's Angels."
For the most part, I have to give the tourists credit. The vast majority of them never seemed put off by the lack of communication to the "outside world." And whoever those people were with the poles and the pulley, they never came back. I guess the reception was awful.
As for me, we never did see television at the Devil Garden trailer, not for the decade I was up there at least. And when it came to staying in touch with the world and the civilization that lay beyond the canyon country, hearing from Dee Tranter and Les Erbes and KURA was good enough for me.
Jim Stiles is Founder and Co-Publisher of the Canyon Country Zephyr.
Click Here to read the previous installments of Ranger Stiles' Wildlife Observation Notes…
To comment, scroll to the bottom of the page.
Zephyr Policy: REAL NAMES ONLY on Comments!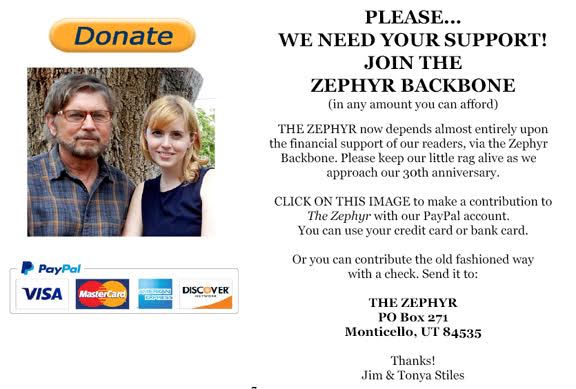 Don't forget the Zephyr ads! All links are hot!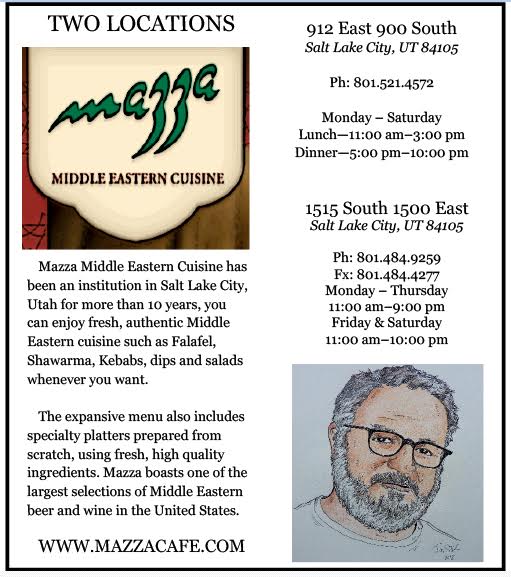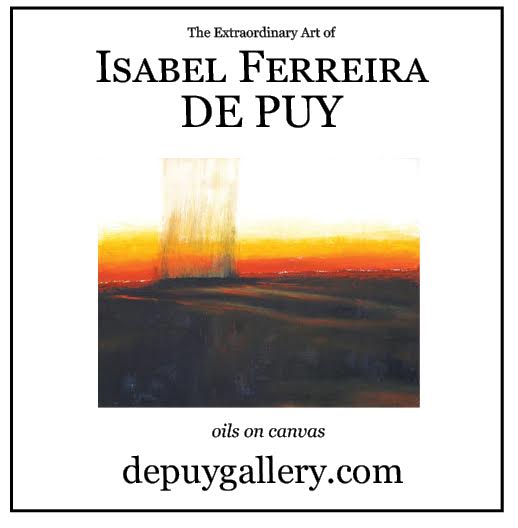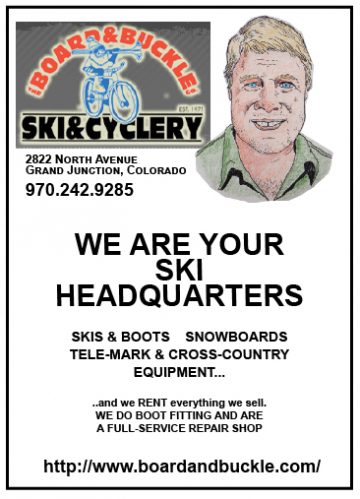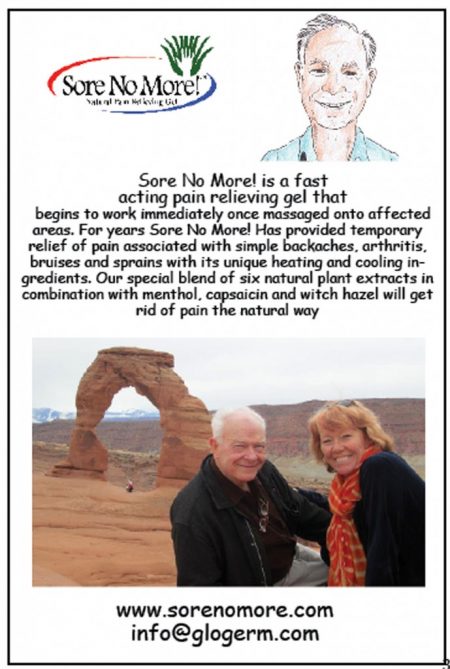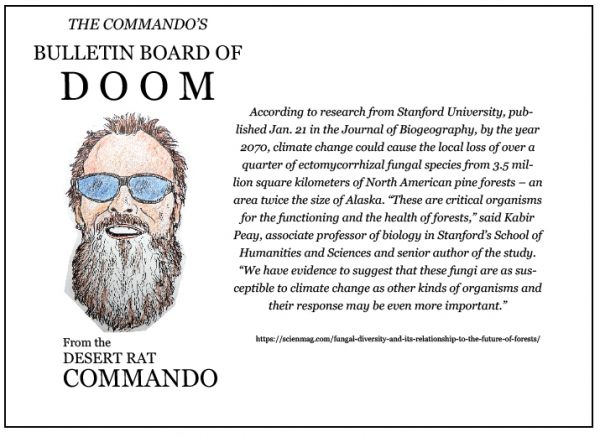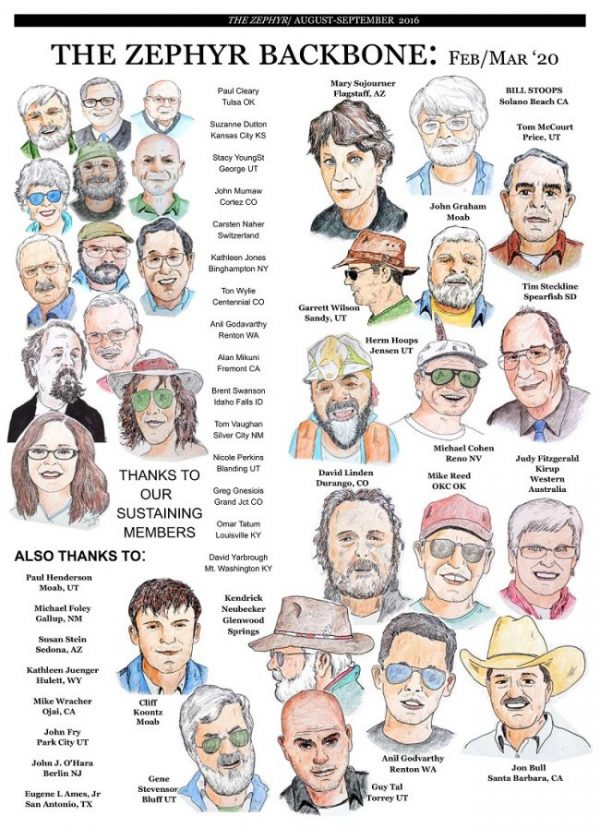 Zephyr Policy: REAL NAMES ONLY on Comments!