Cultural confusion? It's the state I live in. I am a white man living in a red man's land. Never in a million years as a young man growing up on the southern plains of Kansas could I imagine myself living at the edge of a thousand year old Hopi village in the middle of nowhere in northern Arizona.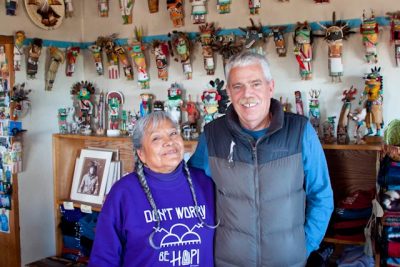 People always ask me how I got here and sometimes I ask myself that very same question. When asked, my standard reply is that I am practicing the old Hopi custom of living at my wife's house. When my wife Janice is asked, she always says, "my brother dragged him home". Both answers are correct but leave out a lot of the story. That story is so interesting that we charge to tell it.
You, dear reader, might ask what the heck am I doing in the Zephyr? That's an easy one. My old pal Stiles has been asking for years, I mean really pestering me, to write about the Rez from my strange perspective as an outsider. Now, with plenty of time on my hands due to the Coronavirus-19 and, after another one of Stiles' bleating pestering appeals this morning, I decided to give it a shot and get him off my back. He may regret it. At the age of 76 if I can't let it all hang out then what's the point of living this long? Also, dear readers, please remember that this ain't literature and it's not even journalism. There's a reason "dispatch" is in the title.
Let's start with THE current event. Coronavirus-19 is all over the news not only where you live but on the Rez as well, particularly on the Navajo Rez which is the size of the state of West Virginia with a population approaching 300,000. The Navajos have at this writing almost three thousand cases and eighty deaths. If the Navajo Rez was a state it would have a rate of infection per 1,000 people that would be second or third in the country, right up there behind New York and New Jersey.
The Navajos are battling CV with social distancing, stay at home orders, quarantines, curfews, and by closing their borders to off-Rez travel from five pm Friday to five am Monday. There are some problems due to lack of enough medical facilities to cover the small settlements dotting the vast reservation, many people who live without running water or electricity, there is not enough testing, and the usual neglect of Indian reservations by our government seeming to not remember that part of treaties that outline the responsibilities of said government. I'll leave the details and any egregious mistakes I've made here to be updated or corrected by any Navajo commenter who would like to comment below.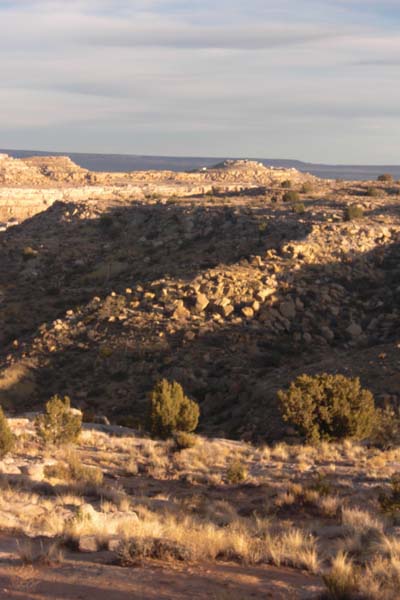 Here, at home on the much smaller Hopi Rez surrounded by the Navajo Rez, we are having our own battles with CV-19. There are twelve Hopi villages, ten of which are located on the top of three mesa with the other two located in the valleys below. These villages vary in size from as few as a couple of hundred to around two thousand in size and are home to about 10,000 residents. As of this writing we have thirty-five cases and six deaths so far.
As soon as the the first Navajo CV-19 case north of us at Chilchinbito was discovered in early march the Hopi Tribal Government and the village governments were all over CV like cheap black suits on Mormon missionaries, who are ubiquitous on the Rez.
A stay at home order was issued except for necessary travel for supplies or work. Everything was closed down, even at "Trouble Hall", which is the name locals use for Tribal Hall, the seat of the Hopi Tribal Government. With few exceptions, most of the tribal government employees are working from home. One old Hopi man slyly commented that, "all those bureaucrats do at Trouble Hall is drink coffee anyway so they might as well be comfortable and do that at home". Hopi humor prevails.
All of the villages put up signs that said they were closed to nonresidents, and everything really is closed down except for the Hopi Health care Center, the three small grocery stores, one at each mesa, and the two associated gas stations.
One of those grocery store/gas stations owned by the village of Kykotsmovi is selling gas for $1.77 a gallon. We've all reversed our usual practice of gassing up with cheap gas in the closest border towns of Flagstaff and Winslow when we make periodic town runs for groceries and supplies at the larger stores where prices are lower. We hope that gas lasts on the Rez until we make another town run. Now we go to town, come home and gas up, since the last time we were in Flagstaff gas was $2.40 a gallon.
Not to mention that, as soon as the CV word went out, all the little old Hopi ladies who sew or make quilts went stone cold beehive and rapidly produced more than enough masks for everyone on the Rez with enough to send to their off-Rez urban families in places as far away as Phoenix, Flagstaff, El Lay, Fanta se, Albuturkey and other far flung destinations.
I think the real danger that most people on both the Navajo Rez and the Hopi Rez fear the most is the danger this disease presents to the old folks. The elderly are those who hold and keep the deep knowledge of the language and culture alive. More importantly they are the ones who pass this knowledge on to the next generation. If the elderly are lost to this disease then what happens to Hopi and Navajo culture in the 21st century?
As far as Janice and me personally, we're both doing fine. We closed our little shop right after the night time Katsina ceremonies in the kivas were over in early March and have been self-isolating in our little house on the edge of the mesa with a canyon for a back "yard". The sign on the door used to say that we'd reopen on May first. That date on our sign has now been changed to read June first. Janice says we are practicing our retirement.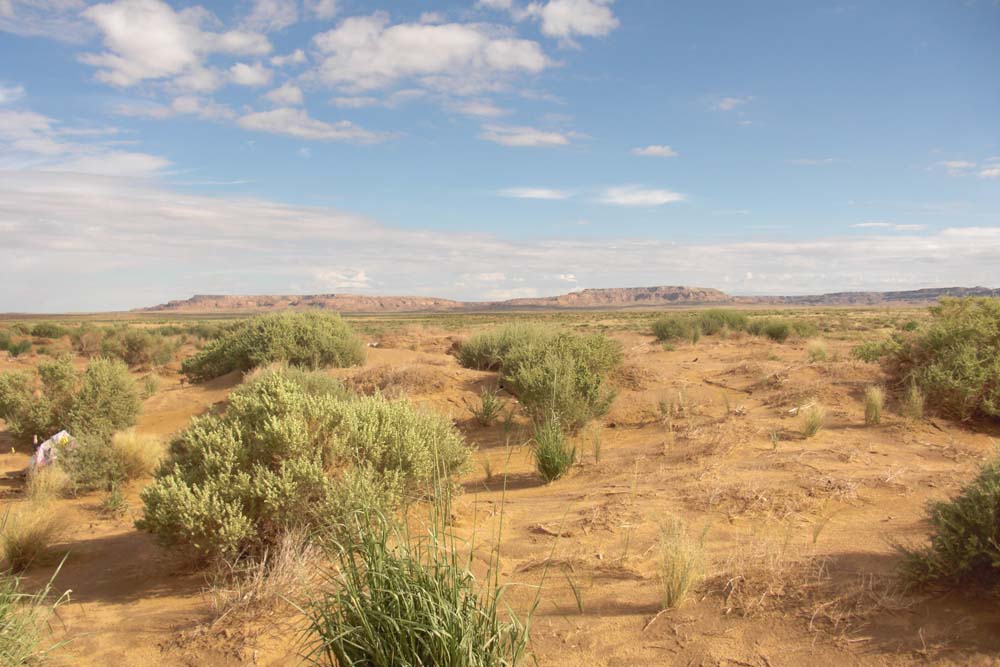 We, like most Rez folks, shop in bulk on our sporadic trips to "civilization" so we have a freezer full of food and have only made a couple of trips to town for fresh produce and vegetables since we shut down. Janice, bless her thoughtful heart, depleted the stock of hand sanitizer in a couple of pharmacies and grocery stores on a trip to Flagstaff before this whole thing started and we kept two and gave the rest away to family on the Rez who didn't have any when it did start. Luckily, I discovered a case of 50 bottles of hand sanitizer online from an auto polish company in Denver that had switched from auto polish to hand sanitizer and we ordered a case. This time we kept four and gave the rest away.
The other day a big semi of produce drove into the village from somewhere and gave it all away. We had no idea it even happened until, on that same afternoon, one of Janice's young clan sisters drove up in her pickup truck with a huge plastic basket of fresh produce, squash, potatoes, red yellow and green bell peppers, carrots, and tomatoes for us. Being members in good standing of the geezer generation is still worth something on the Rez. We unloaded it and kept some but since there are only two of us we took the rest to her sister in another village.
Every Hopi family and clan has stories and memories of how they survived disease and famine in the old days through cooperation and sharing. I think that is the reason they've survived in this place for a thousand years and that is the reason I think they will survive this strange new disease.
I am sure Navajos have similar stories as well.
Joseph Day was raised on the plains of Kansas, but he's lived for decades on Second Mesa in Arizona's Hopi Reservation. He and his wife Janice run the Tsakurshovi store on Second Mesa.
To comment, scroll to the bottom of the page.
Zephyr Policy: REAL NAMES ONLY on Comments!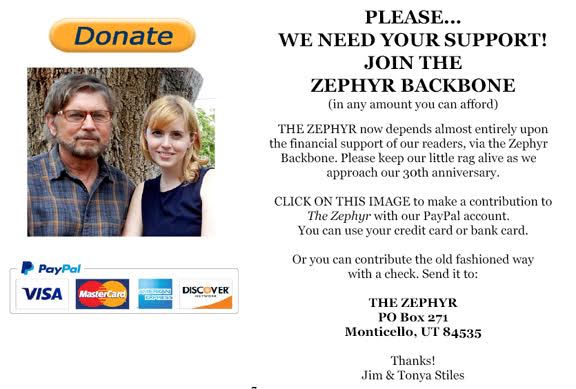 Don't forget the Zephyr ads! All links are hot!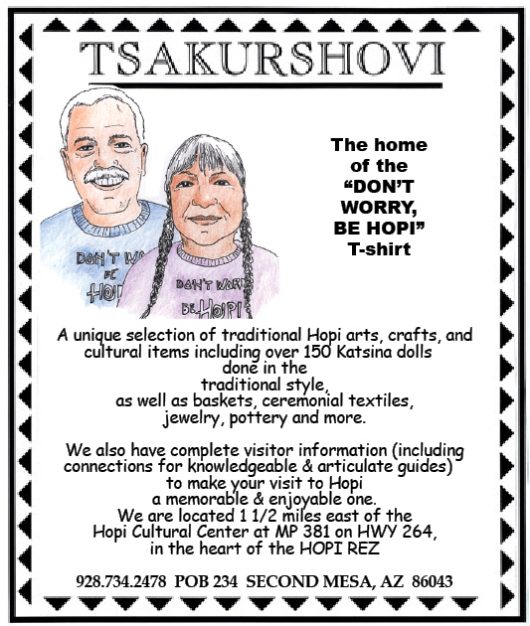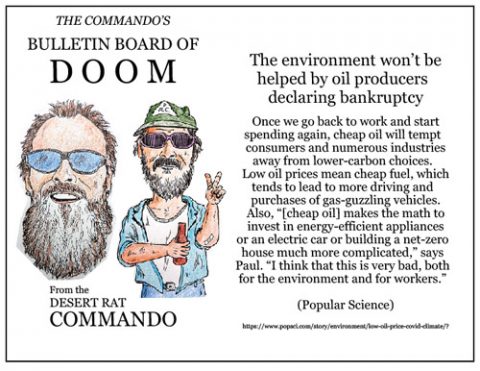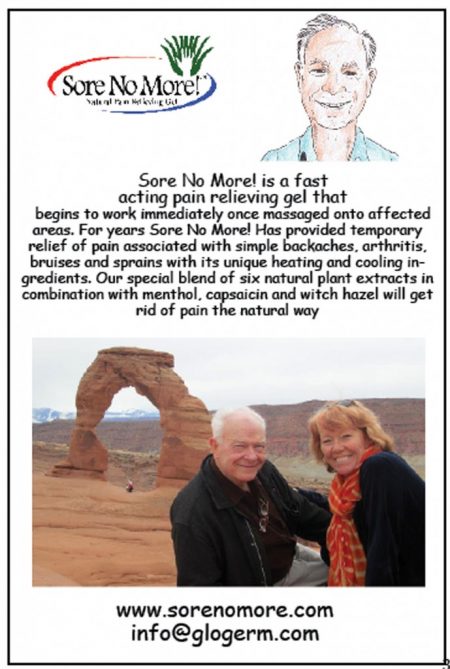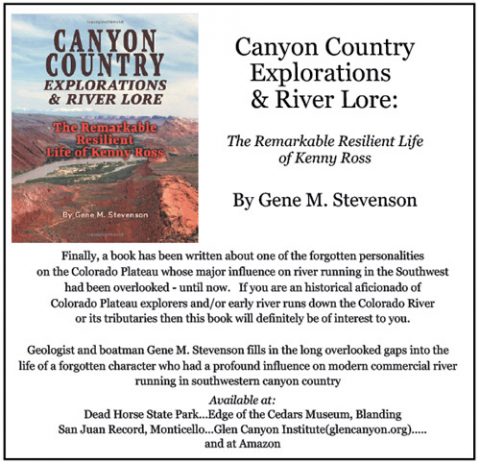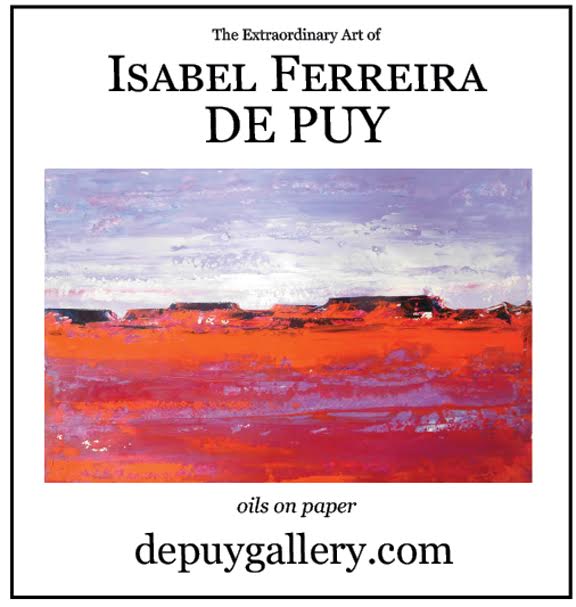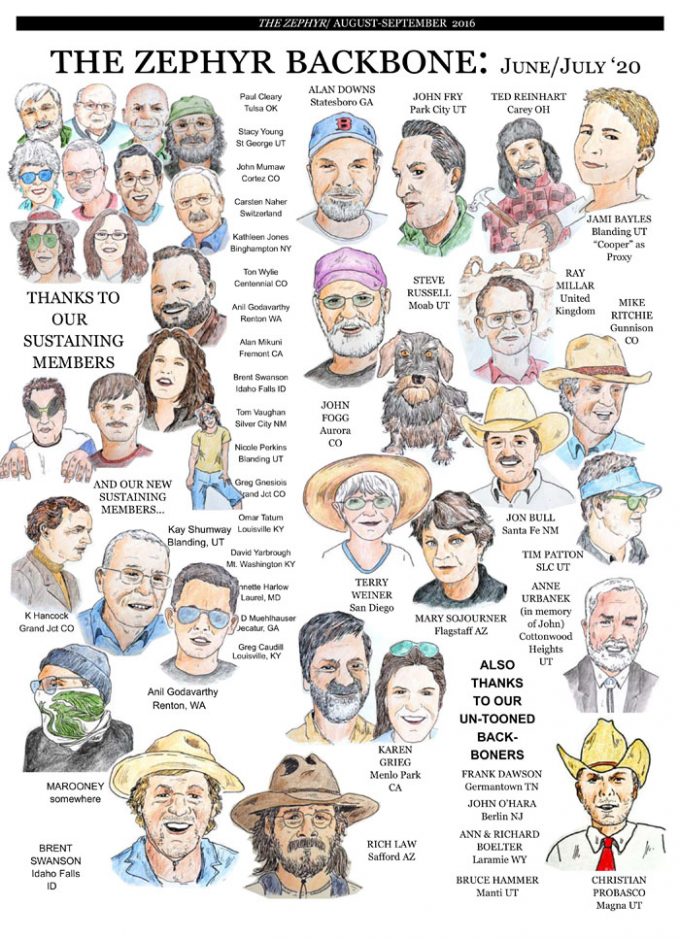 Zephyr Policy: REAL NAMES ONLY on Comments!