Herb Ringer discovered his love for the West in 1939. He had traveled from his home in Ringoes, New Jersey to Reno, Nevada to procure a quick divorce, and spent that winter working in a local market, occupying a cramped room in a downtown boarding house. Over the course of those months, he discovered that the town, and the vast spaces around it, had lit a match to a desire he'd never known before in himself. To be a Westerner. To travel the country, and document what he saw.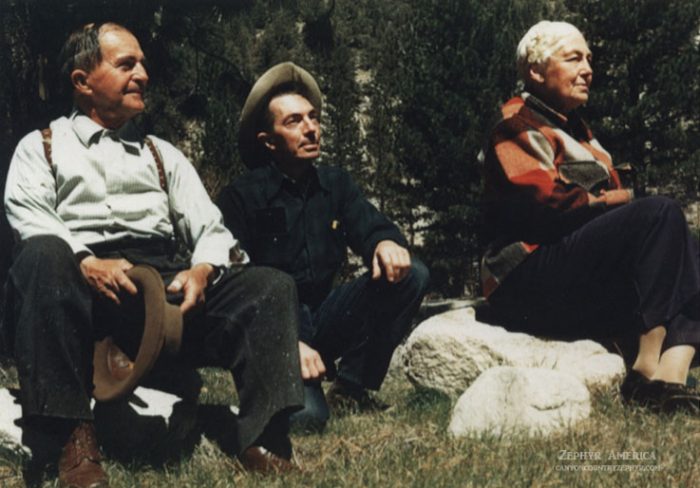 But his dedication to his mother and father was foremost in his mind. Knowing Joseph and Sadie were back in New Jersey, living meagerly through the Great Depression on the Ringer family's farm, he devised a plan to bring them to Reno. By 1942, all three lived together in Nevada and found work together at the Washoe Market in downtown Reno.
And whenever they could find the time, Joseph and Sadie accompanied their son Herb in pursuing this new fascination–exploring and photographing their Western home. The took day drives into the High Sierras; they discovered Lake Tahoe, and the old gold mining towns of of the California foothills. Eventually, in 1945, they discovered Hope Valley.
Joseph Ringer wrote in his journal:
"June 9, 1945. Herb took us up to Hope Valley Calif to camp out there for the 1st time. It was cold so we all sleeped in the car & when we got up in the morning there was ice in one of are pots of water. It was 22 degrees. We had a dinner and supper there went up as far as the lake in the mtns. Where we sleeped it was over 7000 feet. Made 146 miles on this trip. It was a fine day in the afternoon it got up to 82 degrees."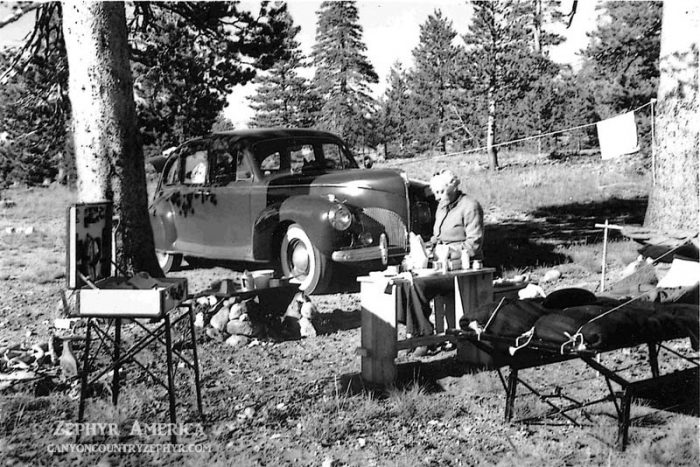 Nestled in the Sierras south of Lake Tahoe, the Valley held an immediate appeal for the Ringers. It quickly became their favorite escape from the heat of Nevada summers. They returned June 17th of 1945, and again in late July. Three separate weekends in August. On Saturday afternoons, his mother Sadie would prepare the family car with food and camp supplies, and as soon as they closed the store, they'd head for their beloved valley in the Mountains.
By Herb's recollection, they drove the road to Hope Valley 259 times. They went there in all seasons and in a variety of vehicles–from their 1941 Lincoln Zephyr, to the 1949 Ford Woody, to a Ford Truck camper—they rarely missed a season, until 1962.
In the summer of 1962, Joseph's health declined suddenly and trips to Hope Valley became less frequent. In October 1962, Herb's father saw Hope Valley for the last time. He'd been diagnosed with cancer and Herb spent more than $30,000 for doctor and hospital bills. It wiped out the family savings. A year later, the newly passed Medicare program would have covered their costs, but the program arrived too late for Joseph Ringer.
Herb and his mother found it difficult to return to Hope Valley. Their trips became infrequent. Then Sadie died in 1972, and Herb didn't return to the spot.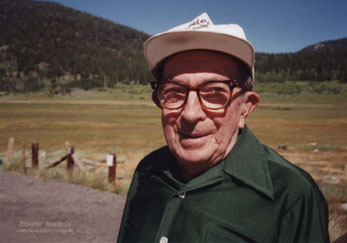 In the summer of 1997, Jim Stiles and Herb returned once more to the Valley; for Herb it was his 260th visit, for Jim, his first.
As the two men walked the meadow where the Ringers often camped, Herb looked around and said, "I can still see everything."
---
For quite a while, Jim and I have wanted to return to Herb's beloved Hope Valley, and other places in the West that he captured on film. We wanted to take his photographs and memories with us, firstly to pay tribute to him, but also to see what has changed–and what has survived–from the time Herb first arrived in Reno, in the fall of 1939.
More specifically, we wanted to use his images as a guide to find the precise location where he first took aim with his camera and recreate the scene, standing in his shoes as it were.
---
We arrived in Hope Valley on a warm afternoon last October. For reference, we carried a stack of Herb's photos, a map, and Jim's memories of that day the two spent in the Valley in 1997.
As we pulled off the highway into a stand of trees, the resemblance to so many of Herb's campsite photos was evident.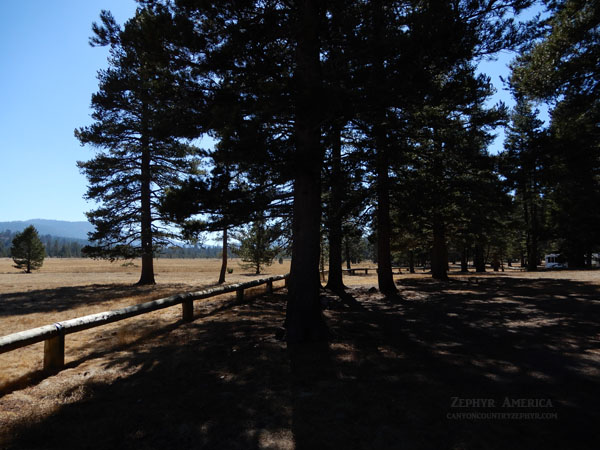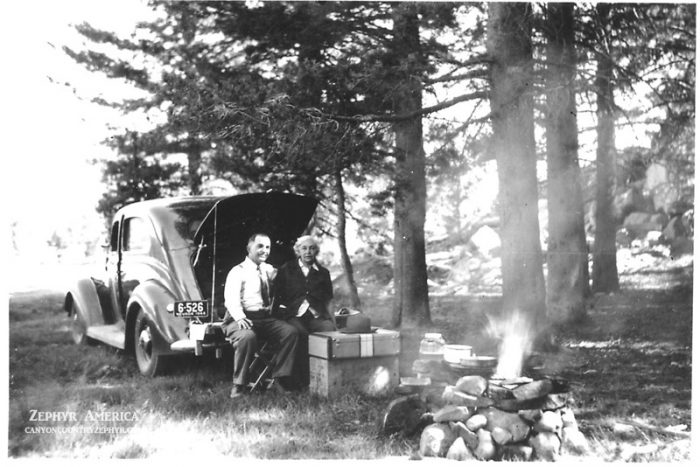 So many of Herb's camping photos were tightly shot, though. It was difficult to place them in the valley. Only a few had enough background to orient them against the mountains.
This shot is one favorite, of the Ringers with a group of fellow campers.
Thanks to the bridge in the far right of the photo, and the hills across the valley, we were able to find the old campsite down a dirt road that had long been gated off and closed to traffic.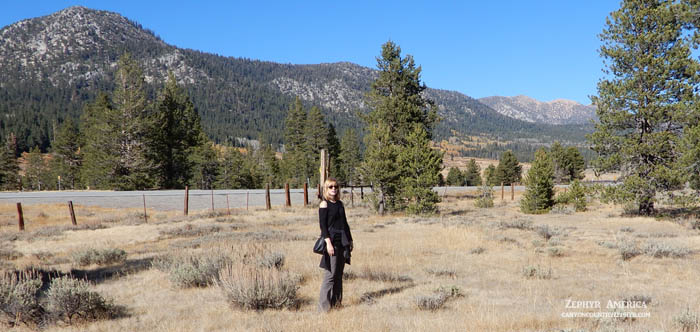 Nearby, we discovered a stone fire pit, and other signs of long-ago campsites down the barricaded and deteriorating dirt path. It seemed increasingly likely that many of the close camping shots Herb took in the Valley were from this area.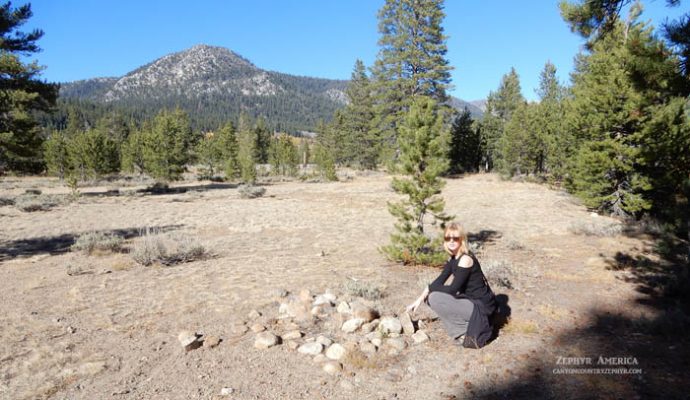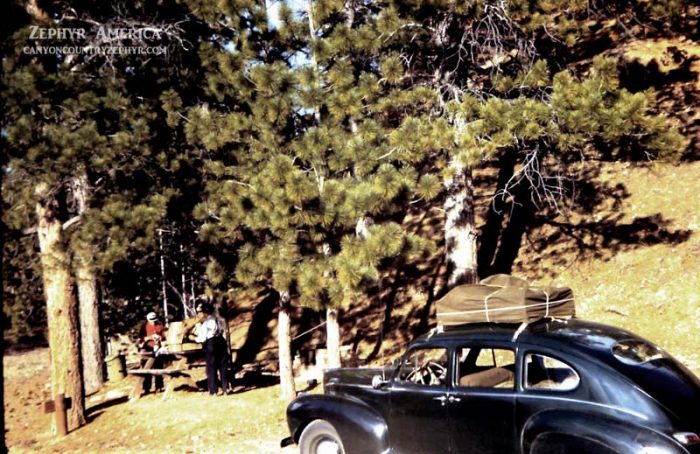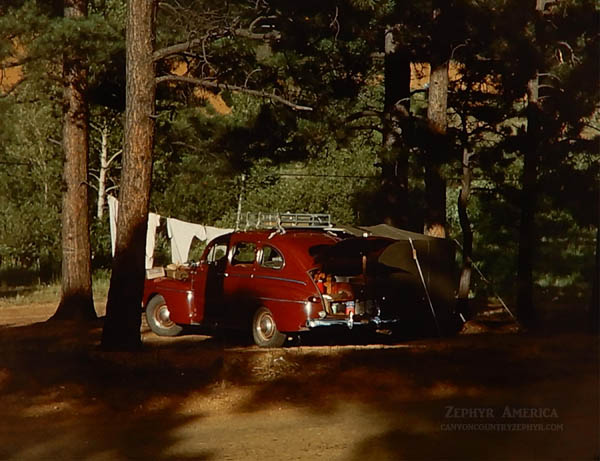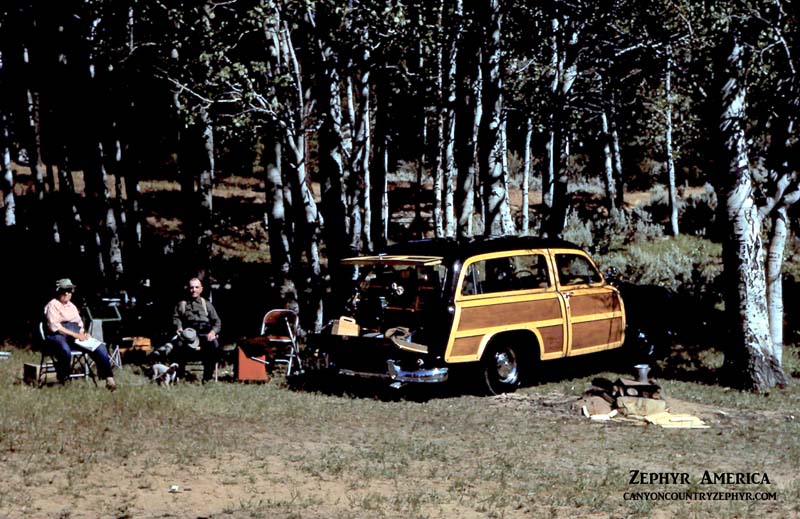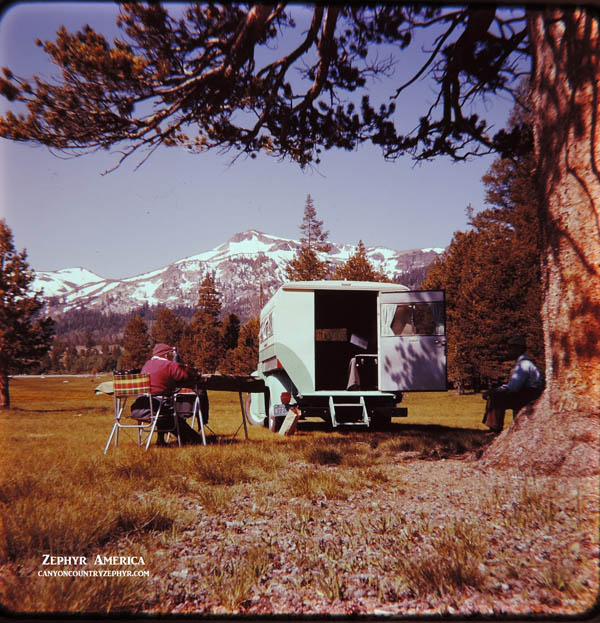 Other shots were clearly taken elsewhere in the valley. We traipsed around in the grass for a while, comparing photos with the hills in the distance…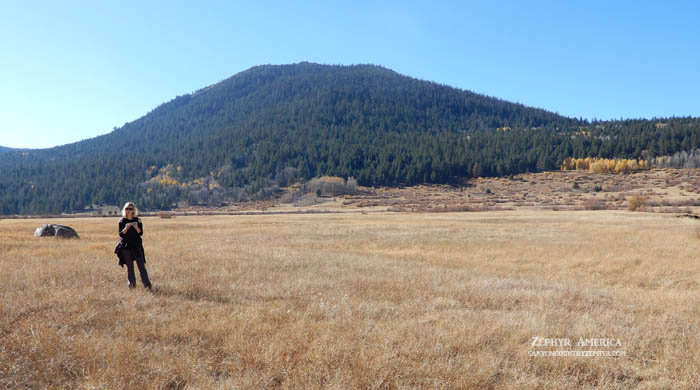 Eventually we discovered a couple more locations. First, this shot of Sadie Ringer in 1966…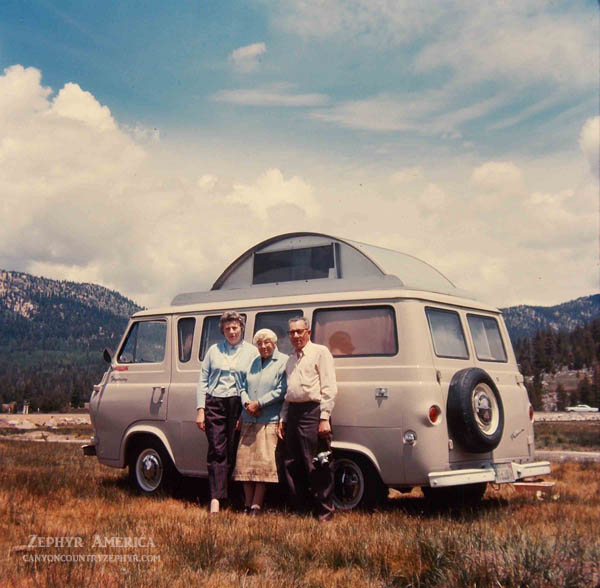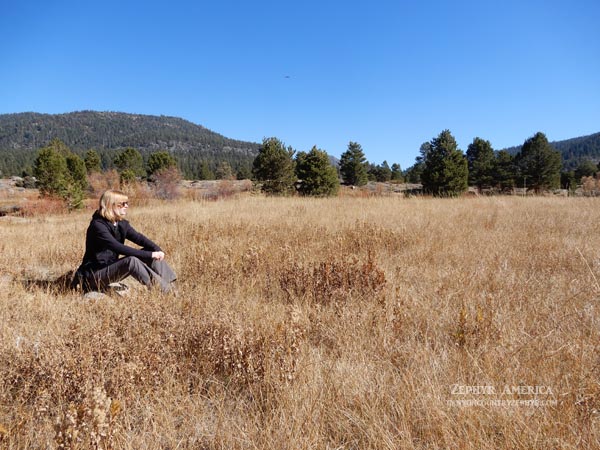 The North-south road, Highway 89, had changed its orientation since the Ringers' last visits, and so we spent a while walking back and forth, comparing the photos to a stretch of the old highway. This spot was just north of the old junction between that north-south road and highway 88 headed East.
And then, with some more effort, we successfully located one of our favorite of Herb's shots, with Joseph and Sadie out in the grass. It was taken that first summer that the family discovered the Valley. Herb was still using black and white film in 1945, and he captured in his parents' faces the peace they felt at this spot they would love for the rest of their lives…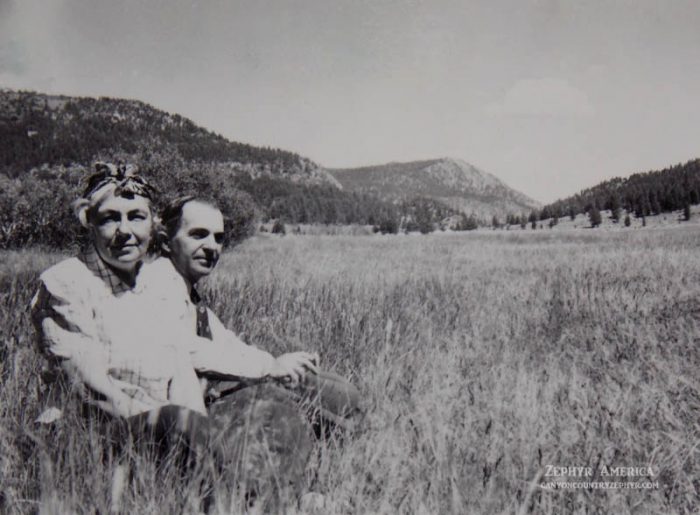 Just as we were growing truly exhausted from walking back and forth through the grasses, we looked up and realized we'd found the location for that photo. A perfect spot, just next to the creek that meanders through the Valley.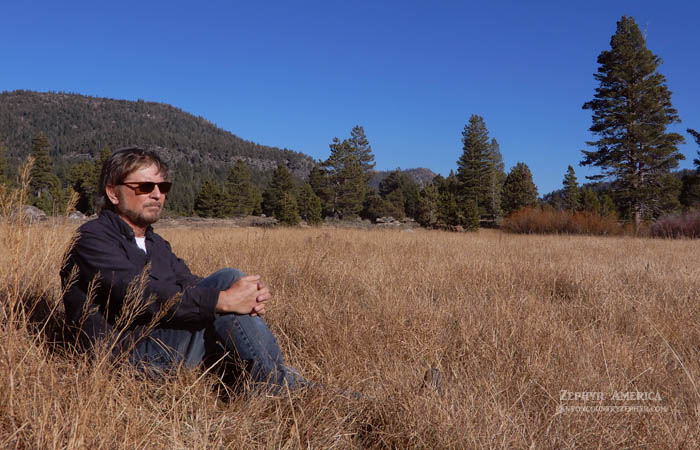 Relieved, we spent a while just sitting, looking at the grasses and the trees around us. There were so many more trees now than there were 75 years earlier. The sun was beginning to set, and we found ourselves wishing we had thought to prepare for camping in the Valley that night. It was apparent what made this place so special to the Ringers…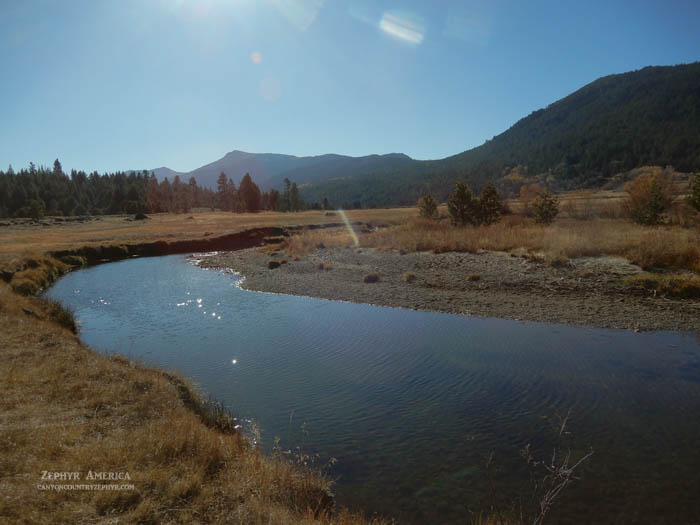 Next time: Death Valley…
Tonya Audyn Stiles is Publisher and Managing Editor of the Canyon Country Zephyr.
Read the previous installments of "On Herb Ringer's Trail" at these links:
To comment, scroll to the bottom of the page.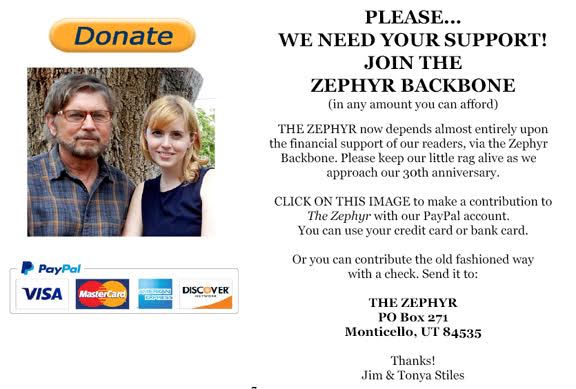 Don't forget the Zephyr ads! All links are hot!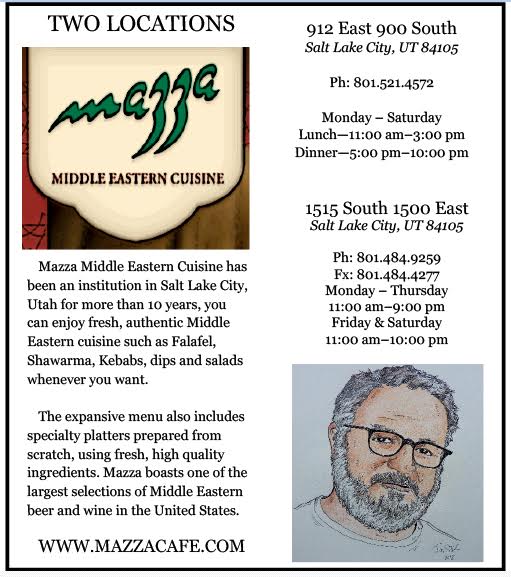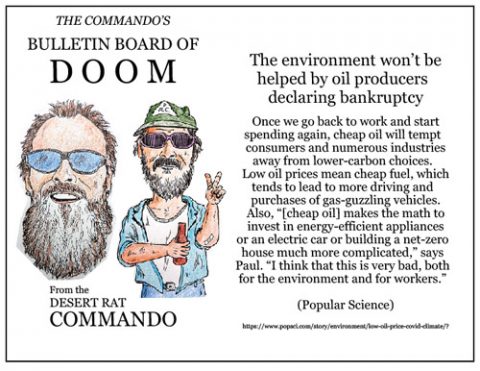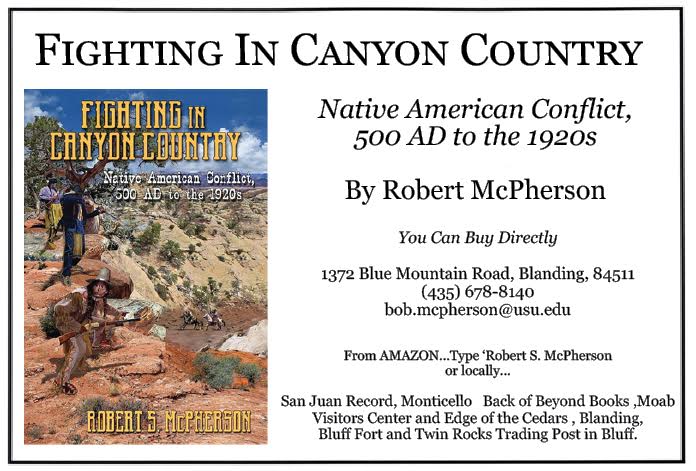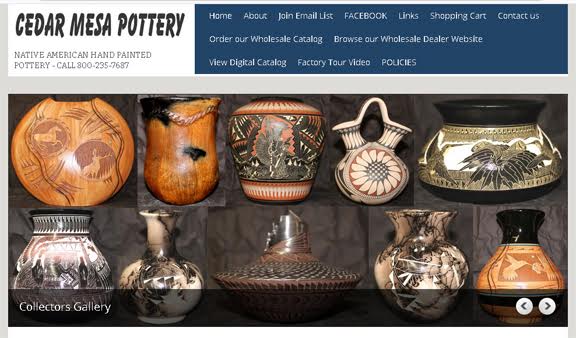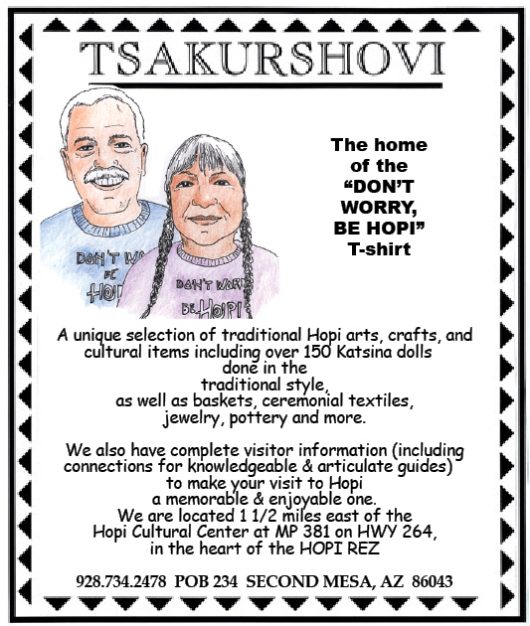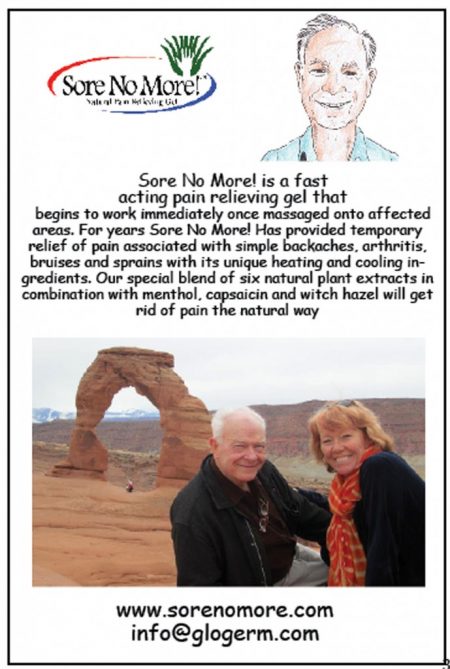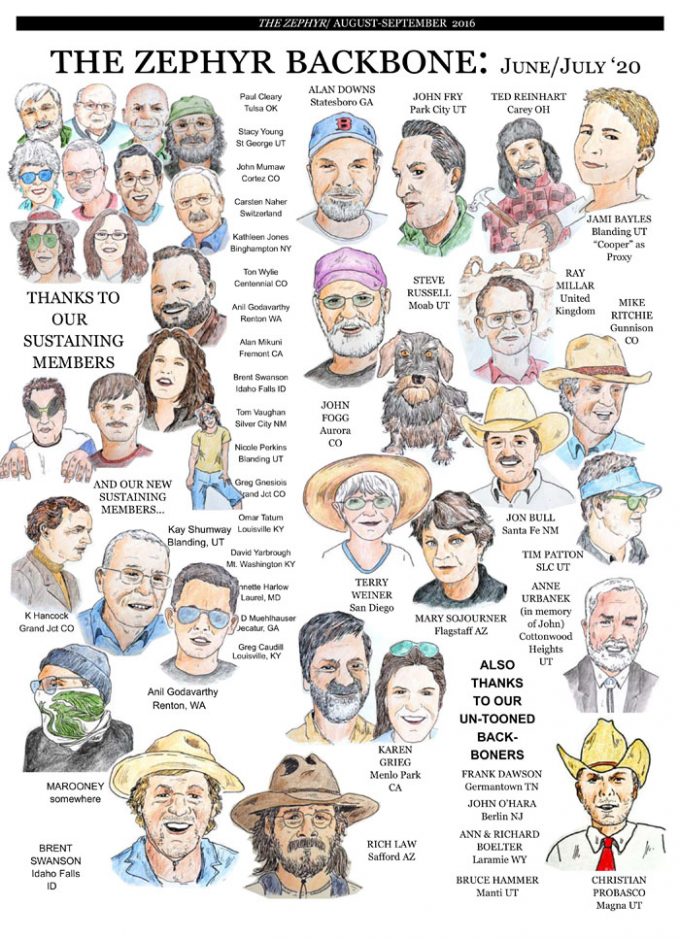 Zephyr Policy: REAL NAMES ONLY on Comments!