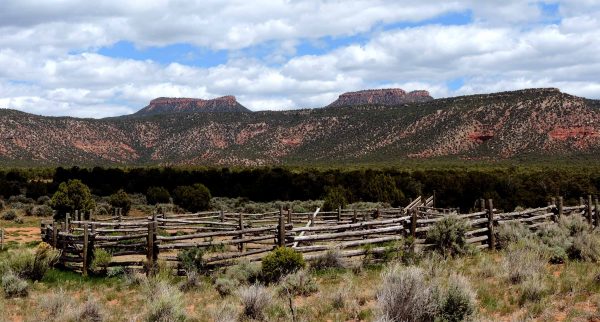 Note: Yesterday, the Deseret News ran a shorter version of this summary. This 1400 word essay provides a more detailed analysis of the Monument debate, which is sure to continue after yesterday's announcement by President Trump that the Monument will be drastically reduced in size.
I have been reporting on this issue in The Canyon Country Zephyr for almost two years, trying to present FACTS and honest information. I've penned as many as 30,000 words on the subject. And yet, much of the mainstream media continues to publish stories like this one from the LA Times. The article, like scores of other poorly researched, agenda-driven media pieces like it, manages to ignore basic facts and information available to ALL of them. And week after week, I've come to expect more of the same.
For example, the LA Times piece reports:
"The proclamation, made under the presidential authority of the Antiquities Act to protect public lands, conserves over 100,000 Native American archaeological and cultural sites within the newly established 1.35-million-acre Bears Ears National Monument."
The story is repeated ad nauseum  in newspaper after newspaper and on social media—That thousands of antiquities are subject to destruction without monument status.
And it is false. National monuments are created via the 1906 Antiquities Act, but the law was hopelessly weak. In 1979, Congress passed the  "Archaeological Resources Protection Act" to specifically address those shortcomings. ARPA protects ALL federal lands, including every acre that is now called Bears Ears NM. The ONLY way monument status could offer more protection is if the designation generated massive amounts of funding to cover the entire 1.35 million acres. Even before Trump, the government under President Obama had a backlog of  $11 billion in badly needed projects in parks and monuments. There's no money.
There isn't even a remote the possibility that full funding will become available any time soon.Meanwhile the mainstream environmental community and their lucrative allies in the industrial recreation/outdoor industry are spending millions of dollars to promote the area…already the region is seeing a significant uptick in visitation. And even some of the monument's most fervent supporters are expressing alarm.
You can even go back to 2005 and consider former BLM Grand Gulch ranger Lynnell Schalk's observations in "Archaeology" magazine. According to Schalk, the Antiquities Act  "was a slap on the wrist."
Here is an excerpt from that article:
"Aside from the perils of the job, the biggest obstacle the rangers had to contend with when apprehending pothunters was that under the 1906 Antiquities Act the looting of archaeological sites was only a petty offense, less than a misdemeanor. 'You didn't have to serve time or be fined. It was a slap on the wrist,' Schalk says. 'With the passage of the Archaeological Resources Protection Act in 1979, the looting and trafficking of archaeological resources was given a felony provision."'Before ARPA, the prevailing attitude was that it was acceptable to take artifacts from sites on public lands."
This is PRECISELY the point The Zephyr has tried to make.  The provisions of the Antiquities Act offered little protection and insignificant penalties for violators. It was ARPA that finally gave the federal government the power to impose severe fines and even imprisonment for looting. And ARPA protects ALL federal lands, with or without monument designation.
In 1976—forty years ago— the BLM at Grand Gulch had a staff to patrol Grand Gulch that was much more significant than the coverage the BLM provides in 2017. Why is that? Republican and Democratic Interior departments for decades have failed to provide the needed law enforcement presence to protect these resources.
But the BLM in 1976  lacked the legal authority to impose appropriate penalties to deliver the kind of justice that was needed. Now they have the law, but no one to enforce it. Facing the realities of the current administration and its reluctance to fully fund a 1.35 million acre Bears Ears NM, doesn't it make sense to concentrate resources in the places where they will be most effective?
Second, these articles repeat the same claim that without monument status, Bears Ears will be decimated by energy extraction.
Again, false. Speaking specifically of Bears Ears NM, while environmentalists like SUWA board member Terry Tempest Williams insist that monument opposition is a "Big Oil conspiracy," the facts indicate otherwise. While energy potential exists near the monument, federal land managers, geologists, and most local residents agree that opportunities for commercially recoverable oil are low inside it. Even the Grand Canyon Trust admits that "the uranium mining boom in southeast Utah has long since passed, and oil and gas are not resources that exist in high quality or great quantity in Bears Ears."
Likewise, there are still a few Monument opponents who believe there are profitable resources to be extracted from it.  I believe they're also mistaken.

Articles like this also claim that Bears Ears NM honors Native Americans by giving them "active co-management" of the monument.
False. Bears Ears will be managed by the federal government. The proclamation provides only for an advisory commission of the tribes to offer advice, but that's as far as their authority extends.
Specifically it reads:
"The lands administered by the USFS shall be managed as part of the Manti-La Sal National Forest. The lands administered by the BLM shall be managed as a unit of the National Landscape Conservation System, pursuant to applicable legal authorities."
And from an accompanying BLM press release…
"Honoring tribal expertise and traditional and historical knowledge, a Bears Ears Commission has been created that will enable tribes to share information and advice with federal land managers. While tribal input will be carefully and fully considered during such planning and management, the BLM and USFS retain ultimate authority over the monument."
And finally, this article, and scores just like it, repeats the never ending insinuation that almost everyone who opposes the monument is a racist.
There certainly is racism in San Juan County. It exists in Grand County too, and just about anywhere you can throw a dart at a map. It is an issue that always deserves attention and concern from all of us. But it doesn't manifest itself via opposition to this monument.
If anything, affluent, white, urban environmentalists have made racism a part of their marketing strategy and created their own Native American stereotypes, insisting that all tribal members share the same values and views.
The fact is, there is as much diversity of opinion among the tribes as there is anywhere else.
If there's a need to categorize, then separate those who truly support wilderness for its intrinsic values, like solitude, habitat protection and archaeological preservation, versus those who want to exploit the monument's economic recreation/tourism potential.
For example, the pro-monument Inter-Tribal Coalition supports commercial rock climbing in the monument, insisting that climbers "will be committed and effective advocates for good land-use policies." And yet, for decades other tribes have fought vainly to protect sacred sites from persistently reckless and insensitive rock climbers.
Navajo vice president Jonathan Nez wrote, "Tribes have united to stand their ground against recreation, industry and development. The Bears Ears are sacred to our people."
Yet Navajo Ken Maryboy, the most vocal monument supporter from Utah told the Navajo Times, "if Navajo could…co-manage this area, we will have money coming in from hunting, tourism, sightseeing." And Maryboy even supported the now defunct "Grand Canyon Escalade," a massive tourist development that was to be built on the canyon rim, complete with trams and hotels.
Both are Navajo. But with starkly different views.
And many monument proponents continue to cast dark shadows and spew hateful rhetoric at anyone who opposes it. I've been called a racist just for providing information like this.

* * *

Monument supporters need to be honest about their intentions. If they support the monument because they think it will be a boon to the tourist economy and that the sheer numbers it will bring to the area will transform it in ways no one might have imagined just twenty years ago,  if they think the rural West is better served by creating more Moabs, then by all means, they should support the Monument.
But I think most monument proponents, don't want that. And so they need more hard facts. I believe that if more people had a grasp of these kinds of facts, we'd see many more questions being asked, by Native Americans and Anglos alike. But the information is not getting out there.
Meanwhile for everyone who says, well tourism is still better than oil wells, consider that tourism by definition demands the massive consumption of energy just to get the teeming millions to their destinations. And recall what the Grand Canyon Trust's Bill Hedden said almost twenty years ago:
"Everywhere we looked, natural resource professionals agreed that industrial-strength recreation holds more potential to disrupt natural processes on a broad scale than just about anything else. It's a very tough problem affecting all of us."
It would be gratifying if everyone, including the Grand Canyon Trust, remembered those words.

Jim Stiles is Founder and Co-Publisher of the Canyon Country Zephyr.
To comment, scroll to the bottom of the page.
Don't forget the Zephyr ads! All links are hot!