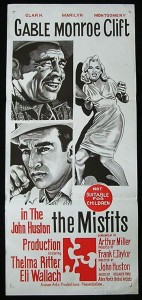 THE MISFITS (1961)
Clark Gable(Gaylord Langlan) Marilyn Monroe (Roslyn Tabor) Montgomery Clift (Pearce Howland ) Thelma Ritter (Isabelle Stears)
Screenplay by Arthur Miller
For Gable, Monroe and Clift, this was their last film of note. They would all be dead within three years of the release of "The Misfits." Montgomery Clift was always a brilliant actor, so there's no surprise here that his performance is so memorable. But Gable usually played Gable and Marilyn played herself.. When you see these performances, you've got to think they both knew this was their last chance to get it right. And they did. The screenplay was by Arthur Miller, one of MM's ex-husbands. He actually wrote the short story upon which the screenplay was based, in Reno, while waiting for his divorce. That of course is the theme upon which the film is constructed. But for me, it's the first film that acknowledges how rapidly the West was changing. It had seen a long period of rest, through the first half of the 20th Century. Now all that was changing.
"I can smell a cowboy…I can smell the look in your face. But I love every miserable one of you…'Course you're all good for nuthin'.
"That may be but it's better than wages."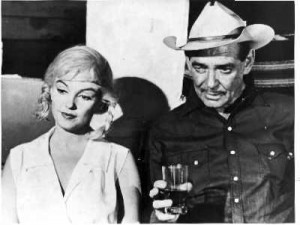 Gay on Educated Women…
"Oh..I like educated women alright. But they're always tryin' to figure out what we're thinkin'….Did you ever get to know a man better by askin' him questions?"
Roslyn asks Gay…
"What do you do with yourself?
"Just live."
"How do you just live?"
"Well…you start by goin' to sleep. You get up when you feel like it. You scratch yourself. You fry yourself some eggs. You see what kind of day it is. You throw stones at a can. You whistle."
Isabelle tells Rosalyn,
"Cowboys are the last real men left in the world. And they're about as reliable as jack rabbits."
"Is anybody any different? Maybe you're not supposed to believe what people say…Maybe it's not even fair to them."
Isabelle on Nevada…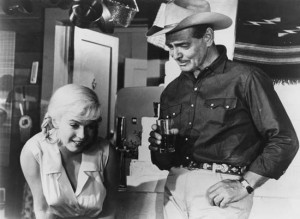 "Welcome to Nevada…the Leave it State…You got money you want to gamble? Leave it here. You got a wife you wanna get rid of? Get rid of her here. Extra atom bombs you don't need? Blow it up here. Nobody's going to mind in the slightest. The slogan of Nevada is: Anything goes. But don't complain if it went."
"You know, sometimes when a person don't know what to do, the best thing to do is just stand still."…..Gay
"Ever hear the story about the city man out in the country? And he sees this feler sitting on his porch and he says, 'Mister, can you tell me how to get back to town?' And the feller says, 'Nope.' So he says, "Can you tell me how to find the post office?' And the feller says, 'Nope.' 'Well can you tell me how to find the railroad station?' And he says, 'No.' So the city man says, 'Boy, you don't know much do you?' And the feller says, 'Nope…but I'm not lost.'"…Gay
Guido to Roslyn on Life…
"Knowin' things don't matter much. What you got Roslyn is a lot more important…You care. What happens to anybody happens to you. You're really hooked in to the whole thing, Roslyn…It's a gift."
"People say I'm just nervous."
"If it weren't for nervous people in the world, we'd still be eating each other."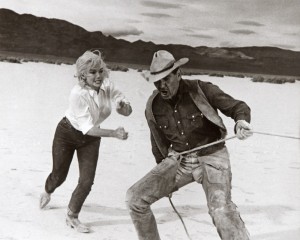 Gay on Mustanging…
"Nothing can live unless something dies. I herd these horses so I can keep myself free. So I'm a free man. That's why you like me, isn't it? If it's bad, then maybe you have to take a little of the bad with the good. Or else you'll be running for the rest of your life."
"Don't want nobody makin' up my mind for me, that's all. Damn 'em all. Changed it. They changed it all around. Smeared it all over with blood. I'm finished with it. It's like ropin' a dream now. I jus' got to find another way to be alive, that's all…if there is one anymore…"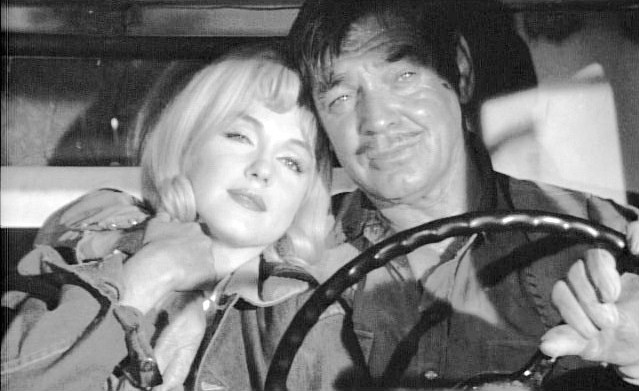 Here is a link to installment #1:  "THE SHOOTIST" (CLICK THE IMAGES)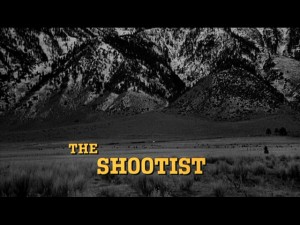 AND TO #2: "ONE-EYED JACKS"