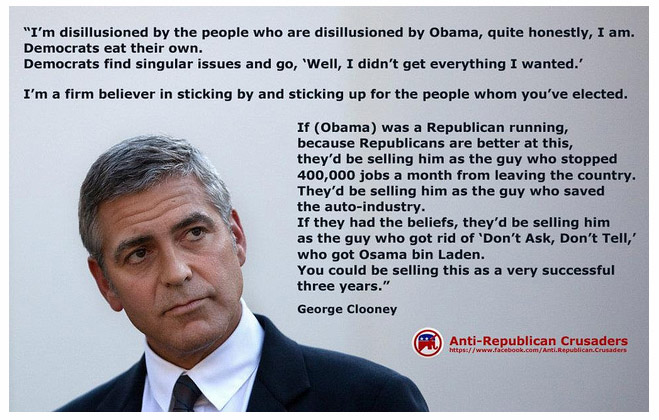 Recently a quotation from George Clooney made the rounds on facebook. Every Democrat worth his liberal-leaning salt was running this admonition from the popular actor. In part he said:
"I'm disillusioned with the people who are disillusioned with Obama, quite honestly, I am. Democrats eat their own.  Democrats find singular issues and go, 'Well I didn't get everything I wanted.'  I'm a firm believer in sticking by and sticking up for, the people whom you've elected."
It sounds a lot like the old right wing slogan, 'My Country…Love it or leave it." It implies that to disagree with your own party and to question its commitment to basic ideas and beliefs is not only disloyal and inappropriate but tantamount to treason.
Progressives love to mock Rush Limbaugh's followers and took special glee, years ago, when Limbaugh was revealed to have a serious addiction to drugs. His followers, who call themselves "dittoheads," dutifully found forgiveness for their flawed radio guru, a concession they would not have likely been able to bestow on a Democrat.
Conversely, liberals were downright joyous. To them, the blind allegiance to the talk show host exposed a serious flaw in the listeners' conservative idealism. It revealed a partisan intractability that went far beyond anything resembling an ideological dedication.
Now the tables are turned. President Obama came to the office with a boast to "change the world." It was his promise,
not a declaration that was forced upon him.  Our expectations were grounded in his assurances. Consequently, the disappointment has been profound and the negative commentary entirely justified.
The president's most faithful followers–those who give new meaning to "blind allegiance"—lashed out at his critics, especially when objections came from the Left.  Some questioned their loyalty to the President or the Democratic Party. At other times, the critics were simply moved to the margins and ignored.
But the fact is, the knee-jerk supporters are the ones who do the president the greatest disservice of all. They're defending him for all the wrong reasons.
None of us has any idea what kinds of pressures fall upon a president, once he assumes the office. Surely they are staggering and there will always be efforts from other powerful men and women, with agendas of their own, to alter the course a president has set for himself and the country.
I'd like to believe that this is what happened to President Obama–that he assumed the office with every intention of "changing the world," but hit a wall of opposition from the same old tired men and women, and perennial government agencies, and greedy Wall Street influences that ultimately caused him to back away from the Dream we all thought he would pursue.
So…to everyone who wanted him to chase that Dream, you tell me—is it better to shrug and fall back on the same old excuses that we (and they) always embrace when our leaders disappoint us? Is it better to say:
1) "Well, he's better than Bush."
2) "It's the Republicans' fault."
3) "He's not perfect, but at least he's a Democrat."
4) "He IS a good speaker though."
5) "I like his family."
6) "He's still better than Bush (encore)."
How will that kind of equivocation ever inspire President Obama to pursue the courage of his convictions? How will letting him off the hook possibly send the message that we are disappointed and that we want him to take the country in a different direction?  Why isn't holding his feet to the fire not only preferable but downright imperative?
The office of the president has got to be a lonely place, and very isolated. When you are virtually surrounded by an administration hell-bent on protecting the president from bad news, it's all the more reason for the country to speak loudly and clearly.

President Obama can take it. I like President Obama. I think he is a decent man. He's brilliant and witty and surely the guy can imitate Al Green better than anybody I know. I want him to succeed.  And I think deep down, he still sees the Big Picture. I think he's wise enough to separate hysterical and loathsome attacks from constructive criticism. John Kennedy, during his short 1000 Days in office, was known to seek a different opinion before he made a decision, and he had to make some tough ones.
President Obama deserves to hear from us, no matter how much we disagree with him. As long as he understands that our voices only reflect what we hope is best for the country and for his presidency, we should not be afraid, nor should any of us be stifled, to express those objections.
To read Jim's other "Take it or Leave it" articles from this issue, follow these links:
The 99% (We Don\'t Like Each Other Very Much…)
Overpopulation…the Windex/Easy Off Solution
Moab U, Tar Sands, and Sustainability
Don't forget the Zephyr ads! All links are hot!