Paul Vlachos is a New Yorker who understands The West. And he is a New Yorker who understands New York. Wherever Paul goes, he finds signs of life…
Jefferson Parish, City of Westwego, just south of New Orleans. This place was being demolished, but the sign on the back of the building was still there. I ponder why "Town" and only "Town" is in quotes. Probably no deep meaning. Either way, it saddens me. Lots of things went down here, from the mundane to the deep. Conversations were had, jokes were exchanged, moments were stolen, bread was bought. This went on for at least a couple of generations, if not more. Then, one day,  they closed down, and a few people were probably put out. It's been a while now, from the look of it, but nothing has gone up in its place yet. Yellow construction tape  blocks off the parking lot. Life goes on.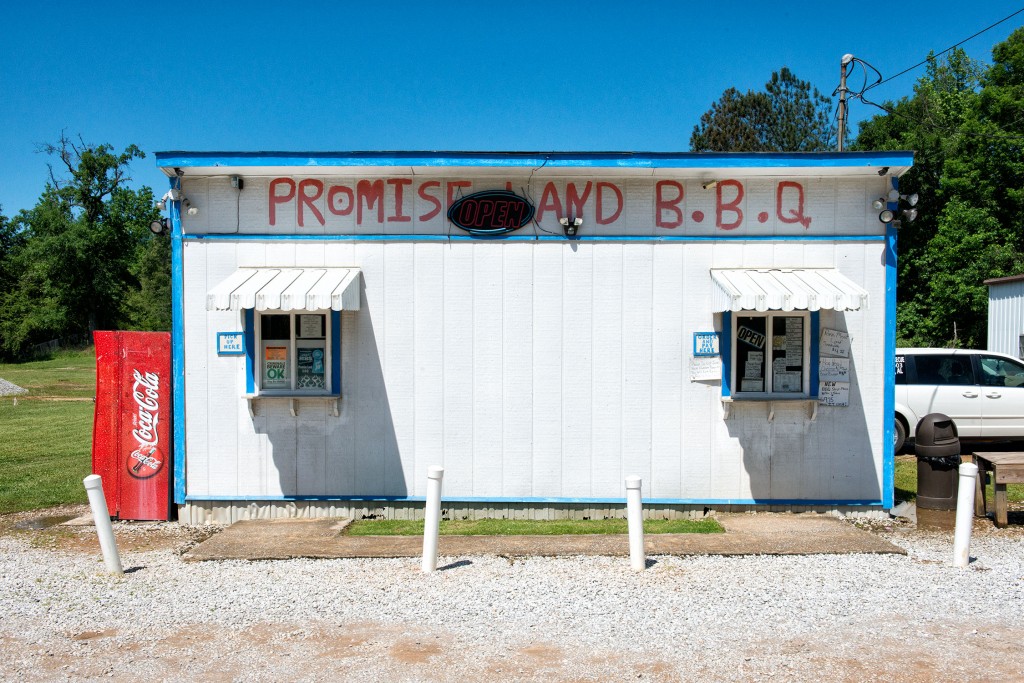 Southern Alabama – "Promise Land B.B.Q."
What you don't see here are the 5 cars parked to the side on a Saturday at noon, all lining up to chow down. The place was smoking, so to speak. I love and fear the south as much as I used to fear Nevada. Something in Nevada – a state I dearly love now – used to freak me out, those wide valleys that seemed to never end. Those spooky mountains. The south is different. I fear the feelings that may only be in me, but which I attribute to the bloody land here. I love the little juke joints and places that people put up by the side of the road. There's a middle ground in between those terrors of mine and the small-time, down-home commerce. I'm not sure what that middle ground is and I'm not sure how I feel about it, but it's something to keep searching for on those  back roads, the ones that have been around for a hundred years or more.
So much happening here, just a mile or two off of the interstate in Tennessee. This one comes from a time that I can remember, and the rocket flames, thunderbolts and flying saucers are something that were very real to me as a kid. Some kids somewhere used to say, not "let's go play miniature golf," but "LET'S GO TO PUTT 'N' STUFF!!!" Young potheads in the 70's probably said "Let's meet at Fantasy Land."
 What a name. What art. What a sight it must have been when the lightbulbs around the sign were lit. What a proud moment when the original owner stepped back and looked upon his sign for the first time. Was there a problem that prompted the plywood with the "Open, please pay inside" sign? Why was that window boarded up? And what is that little creature on top of the golf tee? Were the Pac-Men added later on? I could study this sign for a while and never tire. What always draws me into it are the washed out blue cinder blocks. Funny how that works.
Southern Louisiana, Cajun country. Lots of buildings in this town with remnants of former lives on them, but most of them were not currently being used.
 The whole area where I took this had the permanent feel of a hot, lazy Sunday afternoon in a commercial district.
 "We Save You Money." Best to spell it out, clear and simple.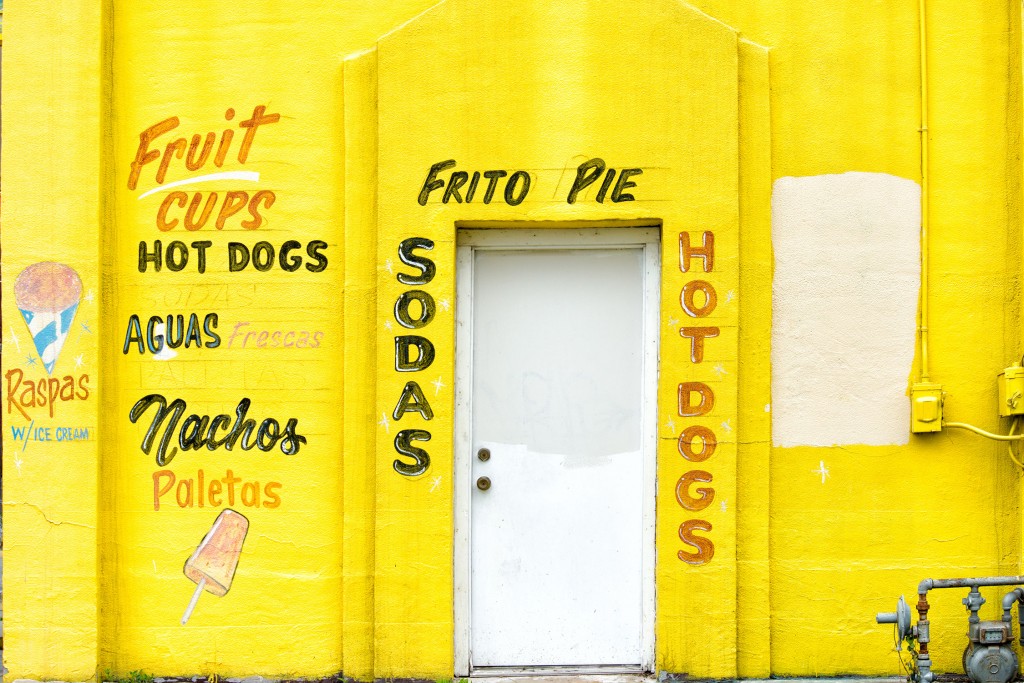 San Antonio, TX
 I believe that this place is still in business. It's one where I wonder whether an ancient storefront just gets refreshed occasionally or it's not that old and the glorious art of home-grown wall signage is still very much alive and well. Either scenario is a happy one, so I don't think about it too much. Just a bit. Just a little bit. I wish they had been open. Reading their signs made me hungry.
Uvalde, Texas. Listen to the bricks, wherever you go.
Good Lord, but I have an inordinate love for this particular arrow. I'm not even sure how old it is. The accent on the "e" makes me suspicious. Either way, the Texas sun has done its work and, even if it's not old, it looks good. Good to me, that is. And, perhaps it really is old.
Either way, it reminds me of arrows I used to make at the bottom of homework assignments as a kid. I guess I was bored or had too much time on my hands. Or perhaps it was just a way to procrastinate, but I would make arrows like this to let the teacher know that he or she had to turn the page. They got more elaborate as time went on, but the teachers never said anything. Until one day, one of them said "what is this?" and I said "an arrow." He just stared at me and, after that, I never did it again.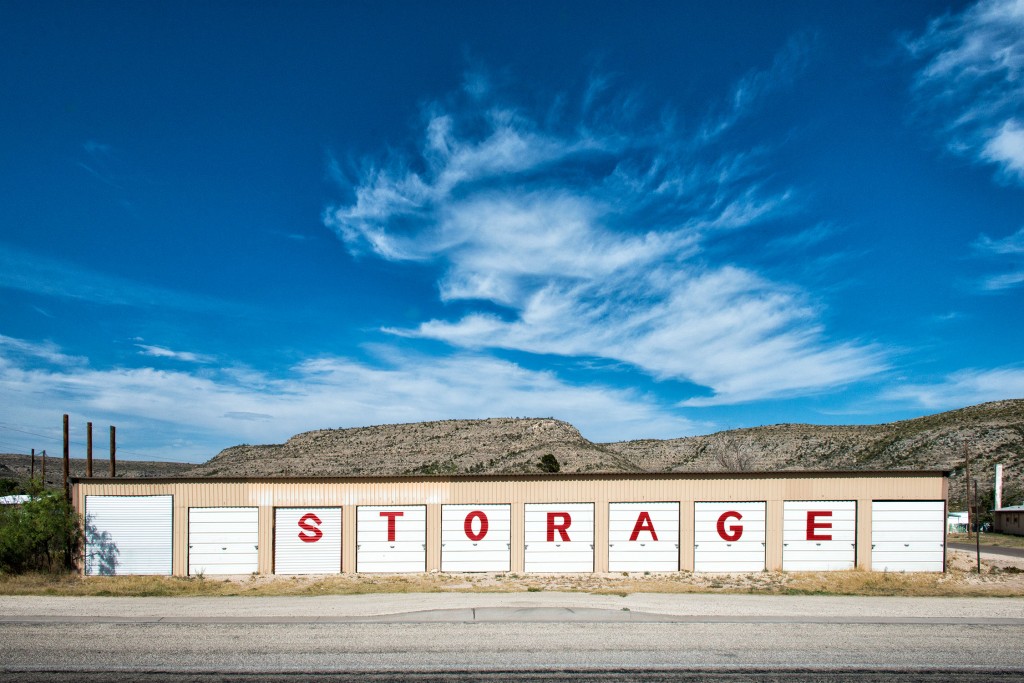 Sanderson, Texas – Today. U.S. Route 90, a glorious old Federal Highway that runs across south Texas, passes through a string of small towns that just feel like they are on the edge of blowing away for good, but they persist, for the most part. There's not a lot of fat or excess to a life down here. You are close to nature and never far from that dry wind and the dust that's always blowing in the air. There's a lot of self-storage in these towns. That says something about the lifestyle here, but I'm too tired to elaborate. This photo and all the others in this issue, by the way, are from a road trip that I'm currently on.
Blythe, California. I love laundromats at night, especially in the desert.
This one just loomed up. I was slowing down to shoot something across the road. When I stopped the van and turned to get my camera, this sign locked itself into my field of vision. I had to get this first. The other shot turned out to be nothing. I like the palm trees.
Lompoc, Calfornia. Come around a bend, end of the day, trying to get to a camping spot. Boom! There's the biggest drive-in screen I've ever seen. From the rear, of course. You can almost never see them from the screen-side anymore. They're usually closed up and fenced off. This one, for instance, is now the local "Drive-In Recycling Center." A noble cause, perhaps, but a sad fall from glory. Anyway, this is the rear of the screen. I have other shots that show the whole shebang – the screen and the surrounding fence. Oddly enough, the wide angle shots of the whole thing only serve to make it smaller. I tried to show scale, but I failed miserably, so I'm just showing the majesty of the faded paint and leaving the scale to your imagination. It looked, easily, to be the height of a 10-story building to me, but I was so in awe that it might as well have been the Empire State Building. People once sat in the mist coming off the nearby Pacific and watched films with Robert Mitchum and Robert Ryan before driving home on the darkened Pacific Coast Highway to their homes and their beds.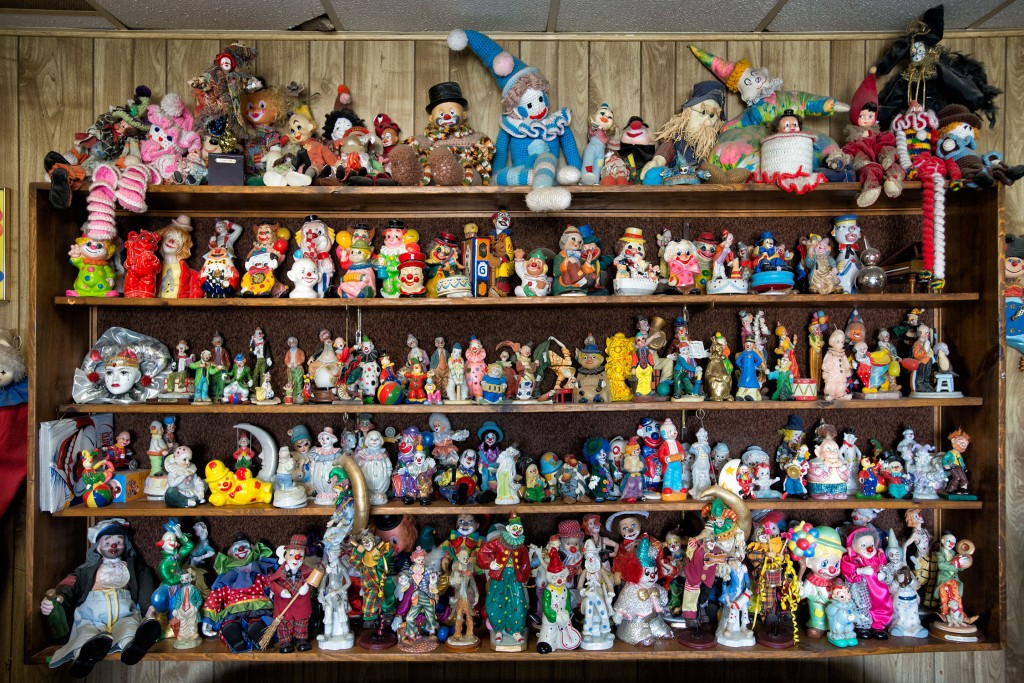 This is a collection of clowns – only a small part of this man's collection – "I just don't have enough room for them all."
It's in the lobby of the motel that he runs in Tonopah, Nevada.
I'm not going to say much more here. There certainly is more to say, but I'm not ready to say anything yet. In fact, I'm invoking my 5th Amendment rights. Or was it some other amendment?
Oh yeah, it's at the Clown Motel. I'll post more photos eventually, but the story involves redemption, mercy and apocalypse.
 Deming, New Mexico
Who danced here? Was it cowboys or farmers? Workers or truckers?
Somebody knows, I'm not that person. Does anyone still dance here? I have only passed through Deming a couple of times, and I never linger, so I don't know. Perhaps next time I'll stop and ask somebody. When was the "Disco" sign painted on the building? So many questions.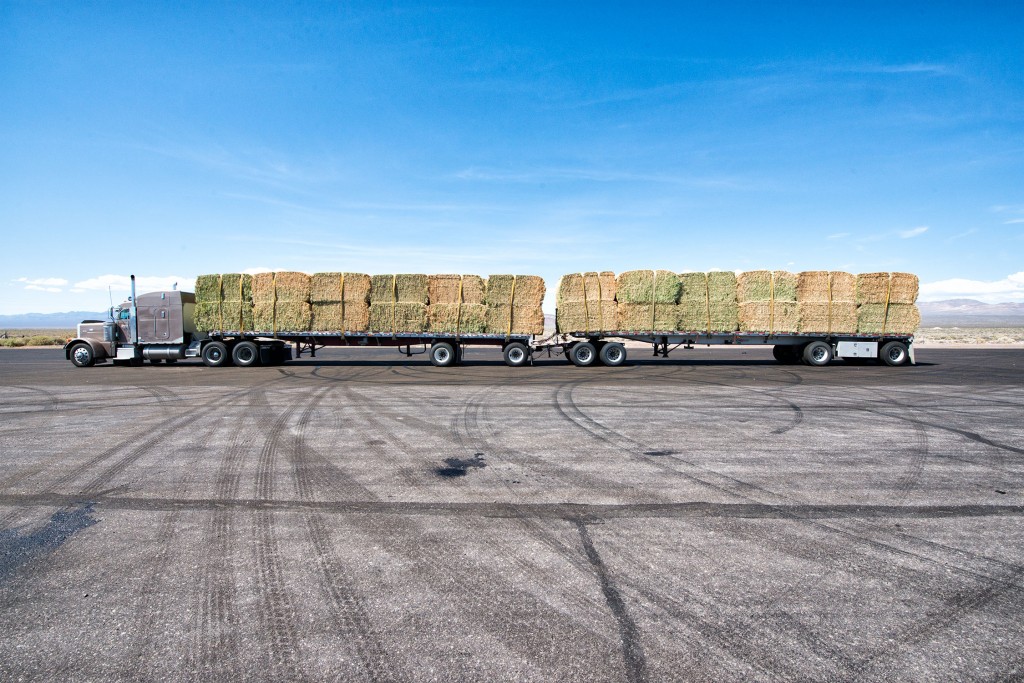 US Route 95 in Nevada. I have a thing for hay trucks.
 They're not easy to shoot. They are long and low. They must, by virtue of their shape, appear tiny in a photo. So, how does one make the image carry as much majesty as the actual object? There is no way. One can only appeal to the imagination of the viewer, possibly place the truck in perspective, and hope that there's some good light. A super wide lens doesn't hurt, either.
Over and out from my secret location for the night, in Fallon, Nevada.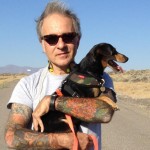 Copyright © Paul Vlachos 2013
To read the PDF version of this article, click here.
Don't forget the Zephyr ads! All links are hot!