Many Moab citizens continue to ask questions about an IT security company called Tayo, Inc, its majority owner Tara Smelt, and that company's relationship—personal and professional— to the City of Moab and its city manager Rebecca Davidson. Almost ALL this information is already available and has been for four months, via the Zephyr article, "What's Past Is Prologue—Three Small Towns and Their Common Bond, Rebecca Davidson."
However, I've put together a shorter, more precise timeline of related events, going back to 2014, when Davidson was the controversial city manager in Kemmerer, Wyoming and Tara Smelt had just moved from Rochester, NY to seek employment with the city. Every word in this article is documented, with links to web sites and images of those referenced documents…JS

Here is the timeline…
MARCH 2014
Kemmerer City Manager Davidson hired Tara Smelt and gave Smelt the title 'South Lincoln Training and Event Center Director.' According to the Kemmerer Gazette, Smelt, from Rochester, NY, found the job announcement online and applied for the job.
AUGUST 2014
Six months later, Davidson promoted Smelt to be the Director of Communications and Events.
NOVEMBER-FEBRUARY 2014-15
The City of Kemmerer faced a massive computer meltdown. Even its phones stopped for a  time. The City claimed that all of its email correspondence was lost. Later the city blamed the events on Chinese hackers. On November 14, 2014, according to statements by Tara Smelt to the Wyoming DCI, the City of Kemmerer brought in a new IT consultant, Erika Goodman, who looked over the computers, "plugged some holes and changed firewall rules." According to Smelt, the "assessment was completed and everything was running normal."
But on November 15th,  IT consultant Niyo Pearson came to Kemmerer to address further concerns about the safety of the network.
On November 17th, Pearson "advised Goodman to let the City of Kemmerer administrators know they had a current or prior insider threat intrusion along with a foreign country intrusion. He advised [them] that they need a full network rework. He also advised them to contact the FBI immediately…" The DCI report doesn't explain why Pearson thought there was a "foreign country intrusion" or why he felt they should involve the FBI.
Davidson accused one of the city's IT staff of illegally accessing the city computers. Darwin Parker had been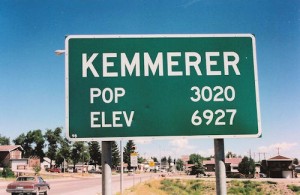 hired by Lincoln County, Wyoming as an IT Support Technician in August, 2012. In March, 2014, he signed a contract with the city of Kemmerer to oversee their IT needs as well. Though there is nothing in the reports to suggest Parker was ever blamed for the alleged "foreign country intrusion," Davidson summoned the Wyoming Division of Criminal Investigation (DCI) to investigate. Parker was interviewed by DCI and was even read his Miranda rights.
But after several interviews, DCI  found no evidence of criminal activity. The report concludes, "Case Closed. DA declined Prosecution." Davidson terminated the city's agreement with Parker but he continues to provide IT services for Lincoln County as an IT support technician.
Meanwhile, Niyo Pearson became a familiar figure at Kemmerer City Hall and the city paid Pearson thousands of dollars for IT upgrades.
NOTE:  A year after Davidson moved to Moab and initiated efforts to beef up that city's IT security, City Recorder Stenta referred to the incident in Kemmerer twice in city emails and recalled that Davidson "recommended an IT consultant that she had utilized previously to help with a government system that had been hacked into by China." There was no reference whatsoever to an "internal threat."  Also, according to Kemmerer City Recorder Glenda Young, "Niyo's (Pearson) services were terminated on June 16, 2015, and we have not used nor talked to him since.")
FEBRUARY, 2015
In Moab, Utah, the City Council was seriously considering Davidson to become the city's new manager. Though the city was aware of Davidson's problems in Timnath, Colorado, that history did not seem to deter them from moving forward. Councilwoman Peterson wrote:
"Sounds like there was quite the mess over there though nothing says there  was any wrongdoing on Rebecca's part. I haven't been able to track down  anyone to speak with yet from this area but I have gotten some good  feedback on (redacted). Cheers, Kirstin
Other city officials were enthusiastic. On February 24, 2015, Stenta referred to a "supplemental audit." re: the alleged "mess" in Timnath. Though  Stenta claims that Davidson, "was cleared of any allegations or wrong doing," the report that Stenta references was not included among the GRAMA documents sent to The Zephyr. And, in fact, Davidson could not have been "cleared" of anything, because the non-disparagement agreement banned anyone involved in the litigation from expressing any opinion at all.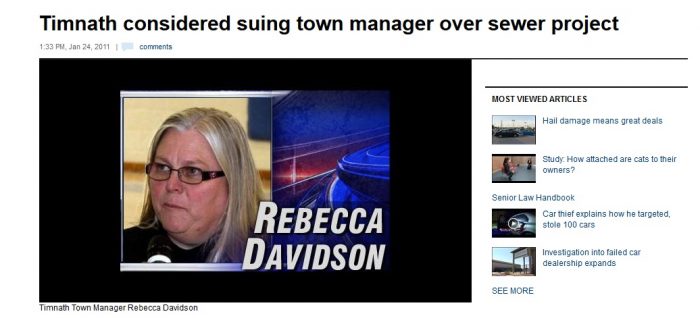 MARCH 18, 2015
Davidson makes her last personnel change in Kemmerer, firing the city's parks and recreation director, April Corwin. Subsequently,  the Kemmerer City Council "voted 4-2 to restrict Davidson's ability to hire and fire employees during her final weeks." A majority of Kemmerer's governing body apparently feared Davidson would fire or replace even more staff in her remaining time there.
MARCH 20, 2015
Records obtained from the GRAMA search indicate that in the first two weeks of March, Davidson was already the council's first choice; all that remained to be resolved was the salary/benefit package. Eventually the council agreed to pay Davidson an annual salary of $110,000 plus the cost of moving her to Moab.
Only Councilman Doug McElhaney offered any resistance. In a March 5, 2015 email, he wrote, "We
should not pay 20% more than we were paying our last city manager. We are forgetting we are offering employment, not begging for help. I don't think $9583.00 a month with insurance and retirement is a slap in the face."
On March 7, he added, "When did we agree on a 10% raise after the first year almost automatic?" And on March 18, he protested, "I still think a 3 year employment contract where at the end our city manager will be receiving $130,000 is wrong."
But McElhaney's concerns were effectively after the fact. On March 6, the offer was made public. Davidson notified the city recorder on March 12 that she had turned over the contract to her attorney.  And on March 20, a contract to hire Davidson was signed by Mayor Dave Sakrison. Davidson signed the following day
MARCH 24, 2015
From a FOIA request in January, The Zephyr received a package of documents. It included an email to Kemmerer City Recorder Glenda Young  from the Director of Communications and Events, Tara Smelt. In this March 24, 2015 email, Smelt refers to her comments as a followup to a letter she sent to Davidson in November 2014, "regarding things that were happening with a fellow department head." (NOTE: there was no record of this original email in the Zephyr's FOIA request) And now Smelt wanted "to follow up on some recent events.'
Smelt now claimed she was being harassed by a Kemmerer City police officer, Bill Thek. She wrote in part, "he started following me around in the late part of the summer," and claimed "he was inappropriate with the stuff he was saying." And further, "I noticed that Bill would follow me even more and that he was constantly around my house." Smelt said there had been no followup, that the chief had done nothing, and now, citing "a hostile work environment and race discrimination," and "with my car and safety being questioned," Smelt informed the city recorder, "it has been determined that it would be best for me to work remotely." It was not stated just who "determined" the change in work venue.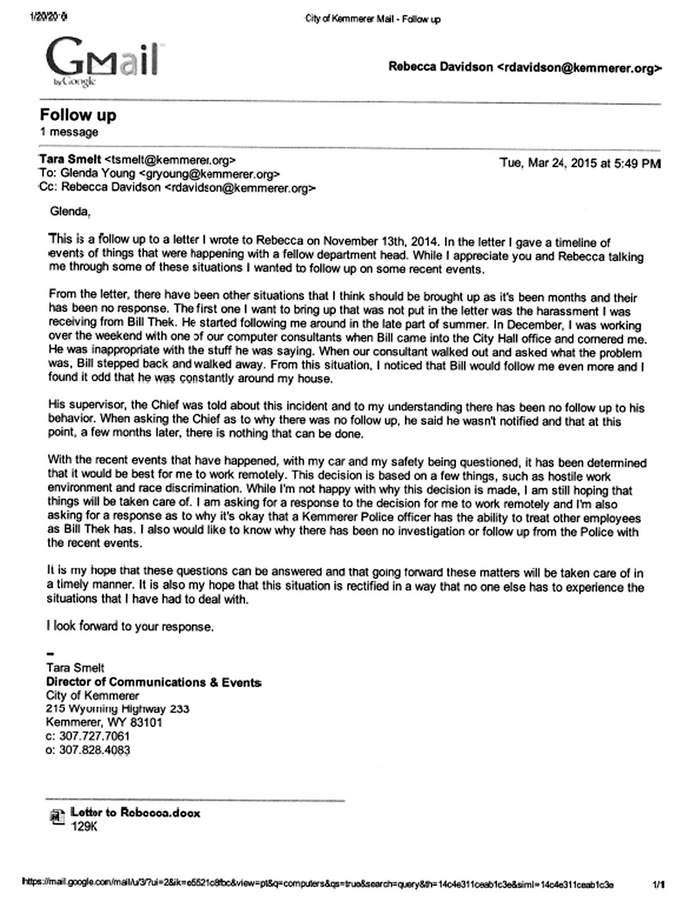 In The Zephyr's own followup, we contacted Officer Thek. On January 22, 2016, Thek told The Zephyr, "I was never questioned about any such accusations or even made aware of them until Tara was gone." I then contacted the Kemmerer City Police Chief Stacy Buck and the City Recorder, Glenda Young. Buck wrote, "This is a personnel matter and as such I cannot comment on it."
Recorder Young was more outspoken:

"As you know, neither the City, nor City Department Heads are free to provide information concerning personnel issues, even confirming or denying if discipline,  conversations concerning complaints, or other private interaction involving personnel issues took place.  You know we can not comment.  You know such information is outside any FOIA request.  You know it would be improper for the City to even suggest the rightness or wrongness of your understanding of such issues."
But note the only 'personnel' still employed in Kemmerer is Officer Thek and he was willing to discuss the matter. In such a case, just whose privacy are Young and Buck attempting to protect?
APRIL 10, 2015
After Davidson fired April Corwin, and by the time she prepared to leave Kemmerer, tensions between her and many in the community had reached a fevered pitch. From a second FOIA request from the Kemmerer PD chief, Stacy Buck, The Zephyr obtained a copy of a KPD incident report, filed on April 11, 2015 by Kemmerer police officers. It described an incident that occurred the previous evening.  Two officers, Fred Kahre and Nicole Stetzenbach, were dispatched to a parking lot where they encountered Rebecca Davidson, Tara Smelt and Niyo Pearson, standing by a Penske moving truck.
According to the report, "(Davidson) was very upset and wanted some people removed from the city parking lot." The officer spoke to the people in question and urged them  to move along. He returned to Davidson and company and informed them the people in question had been asked to leave. There was apparently some bad blood between Davidson, Smelt and the people in the other vehicle. Davidson stated, "It was a good thing I showed up as she wanted to punch them in the face." and Smelt later added that, "she was tired of this 'fucking town' and couldn't wait to leave."

Davidson wanted the occupants of the other vehicle charged with harassment.  The officer informed her he did not think the actions "constituted harassment." Kahre wrote, "(Davidson) did not seem happy with my decision and again told me it was harassment."
Eventually the matter was resolved and Davidson  and Smelt left Kemmerer in the Penske truck for Moab—Davidson moving to take her new job and Smelt, to continue working for the City of Kemmerer "remotely" from Moab.
One addendum. The next day Officer Stetzenbach was in a conversation with a friend of Smelt who told the officer of a previously undisclosed allegation. In Stenzenbach's report, Tara's friend told the officer that "Tara indicated she had to leave town because she was threatened and that the events the night before included a gun. I asked for clarification and Shauna told me that Tara said she was threatened and that the people had a gun. I told her that I was never informed of a gun and Tara never mentioned a gun while I was around." In his report he added, "I later called Sgt Kahre and told him of the allegations and asked him if he was informed of a gun and he stated he was not. That had there been mention of one we would have investigated hat issue as well."

APRIL 11, 2015
Smelt and Davidson, after the previous night's incident with other Kemmerer residents, initiate the move to Moab. It's not known if Niyo Pearson accompanied them to assist further with the move.
MAY 04, 2015
Rebecca Davidson's first day on the job was supposed to be May 11, but according to a story in the Times-Independent, she came to work a week early. "We have a great staff here, and I'm also looking forward to getting to know the business owners and people in the community," she said. "I'm really enjoying being here." She told the T-I that, " infrastructure issues — particularly wastewater, sewer piping and a water tank project," would be 2015 priorities. She also wanted,  "to develop an outreach program to keep city residents well informed about city activities and projects," by "stepping up use of social media such as Facebook, Twitter and the city's website." There was no mention of re-structuring.
JUNE 4, 2015
Less than a month after the new city administrator officially assumed her duties, the City of Moab moved quickly to employ the IT security services of a company called Tayo, Inc., "a corporation of Wyoming." A draft agreement between the City of Moab and Tayo, dated June 4, 2015, appears in the GRAMA files.
But according to City Recorder Stenta, the contract was not signed by the city. In an email to Tayo, Inc, Stenta explained that the city had, "a purchasing limit of $6,999 before we have to go through a competitive process."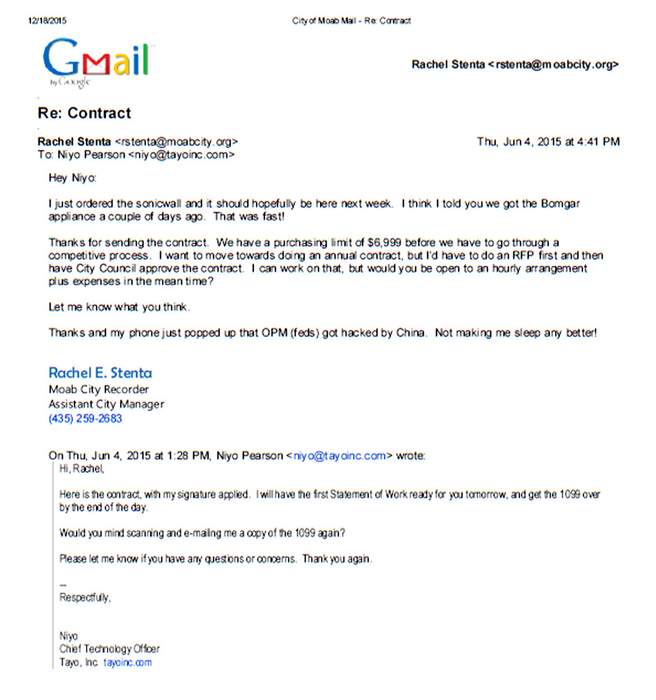 JUNE 30, 2015
A website called Bizipedia.com identified Tayo, Inc. as a Utah corporation, with a filing date of June 30, 2015, and with Tara Smelt as the "registered agent." It identifies the company's 'principle address' as 471 Hale St., Moab, Utah.
JULY 27, 2015
Smelt eventually left her job in Kemmerer and ultimately received two final payments from the City of Kemmerer for $55,661.20 and $3217.76 on July 27, 2015. A non-disclosure document prohibited the Kemmerer City Council from commenting on the payments.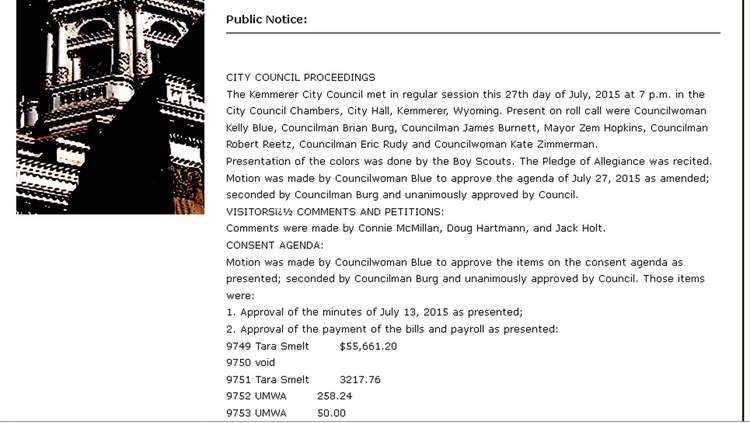 As for Tayo, Inc, the company's contact details are obscure. In the June 4, 2015 draft contract with Moab City, Tayo, Inc is referred to as a "Wyoming Corporation," though it's not listed among 'business entities' on the Wyoming Secretary of State web site. And in another email recovered by the GRAMA search, Stenta states that, "Tayo Incorporated's business address is 560 South Sandusky Ave., Tulsa, Oklahoma."
But on the company's web site, Tayo, Inc. offers virtually no information on its physical location; only a phone number with a '970' area code suggests that the company might be in Colorado. And as we noted, Tayo, Inc is also registered as a Utah corporation, with a June 30, 2015 filing date and with Smelt as its registered agent.
The Zephyr later tried to acquire just the basic details of the company. Via an email address for Niyo Pearson, again acquired through the GRAMA request, I contacted Mr. Pearson and tried to get a better handle on just who and where Tayo, Inc is. Noting the conflicting contact details listed in this story, I asked, "Is Tayo, Inc. in Moab a branch of your main office in Tulsa, do you have another office in Colorado, and how long has Tayo, Inc in Tulsa been in business?"
The next day, I received a letter from his attorney, Andrea Welter, who informed me the company was not obligated to provide 'non-public information.' Even an address. And a prolonged internet search for information about Niyo Pearson proved fruitless.
I wonder what would happen if a citizen went to the city offices and asked for a list of Tayo, Inc.'s references?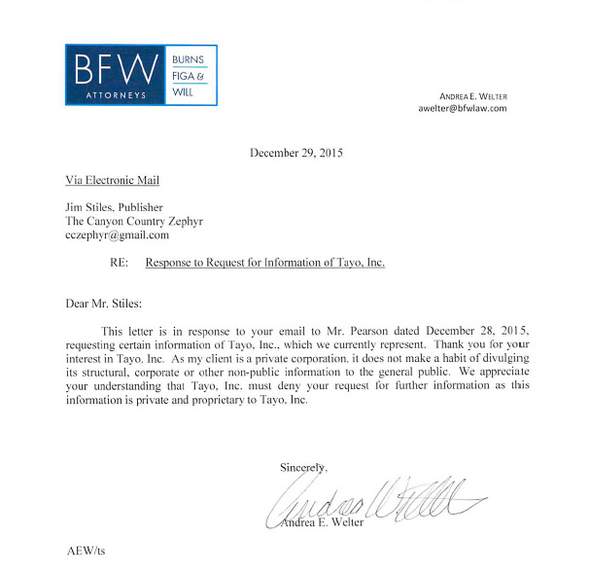 * * *
Much of the concern over IT security issues came from Recorder Stenta who blamed the previous city manager Donna Metzler, for the concerns. She wrote to Councilwoman Ershadi,
"An issue that we had for many years with our consultant, was that Computerwise utilized and installed software on city computers that was not legally licensed. Each time I brought it up as an issue that could negatively affect our organization, I was told by our City Manager that our budget could not accommodate the purchase of licensed software to bring us into compliance and that it was not a budgetary priority. City Manager Metzler also told me that she would really prefer not to know about the issue."
"When our new City Manager started this past April, I brought this issue to her attention, because as IT Manager it has been a stressful and awkward situation that I previously had no support in resolving. She asked that I resolve the situation immediately, as we are government and using pirated software was completely unacceptable."
AUGUST 25, 2015
Subsequent to Davidson's admonition that she "resolve" the issue, on August 25, Stenta sent Davidson an email titled, "Emergency purchase."
Stenta wrote,
"Given that the above system was maintained and developed by our independent consultant, In order to inventory and assess our overall system, it was necessary to hire a different consultant to give us an accurate accounting of system design, vulnerabilities and access control. During this inventory process, critical issues were discovered."
"In my opinion, as per Moab Municipal Code Section 2.28.045(D), the security situation that existed constituted an 'emergency situation involving a threat to public health, welfare or safety'. Once the issues were identified, I could not go through a competitive process to procure consulting without further exposing the vulnerabilities of our critical systems and jeopardizing the safety of our water and law enforcement systems. I did ensure that the services and hardware were competitive and as favorable to the City as possible by utilizing the State Contract for hardware purchases."
But the company that determined there were "critical issues" was the same company, Tayo, Inc, that then benefited directly from the "emergency" declaration  Subsequently, Tayo was able to receive payments far beyond what is legally allowed by the city without submitting the work project for public bidding.
In other words, Tayo Inc warned the city that it was in grave danger from unknown hackers ("ISIS, Anonymous, nation state hackers'). Then, without any effort to obtain a second opinion, the city awarded the same company that had proclaimed the threat by paying it—Tayo Inc, ie Tara Smelt and Niyo Pearson—a sum far exceeding the legal limit.
And finally, in Stenta's emergency email, she insisted that, "After the  upgrades are completed, the RFP will be advertised and an IT consulting contract will go before City Council." That was last August—when will the job be opened to competitive bidding?
(RFP—"Request for Proposals"— is a type of bidding solicitation in which a company or organization announces that funding is available for a particular project or program, and companies can place bids for the project's completion.)
* * *
Since the City of Moab acquired the services of Tara Smelt, Niyo Pearson and their company Tayo, Inc, here is the payment breakdown, according to the web site, TransparentUtah.gov:
For Fiscal Year 2015:
RECORDER PROFESSIONAL AND TECH SERVICES
June 30, 2015
$6,529.93

For Fiscal Year 2016
RECORDER PROFESSIONAL AND TECH SERVICES
& INFO TECH & PROFESSIONAL AND TECH SERVICES
There are 53 payments listed, on: 8/3/2015, 9/3/2015, 9/8/2015, 10/7/2015, 11/6/2015, 12/2,2015, 12/30/2015, & 2/1/2016

These FY16 payments total: $37,389.47
The combined payments to Tayo, Inc since June 30, 2015 are: $43, 919.40
All of this information is available to the public at the Utah Public Finance Website.

FISCAL YEAR 2016-2017
The City of Moab released its proposed its budget for 2016-2017. In the document, it breaks down expenditures of "Professional & Tech Services" into two separate budgets:
ADMINISTRATION/PROFESSIONAL & TECH SERVICES…$96,915
RECORDER/PROFESSIONAL & TECH SERVICES…$56,302
The combined proposed costs total: $153,217
By comparison, "professional & tech services" in 2014 and 2015, before the services of the previous IT security provider CompuerWise were terminated, amounted to $7,592 and $7,245 respectively. Recorder Stenta and others have suggested that the services of that company were less than adequate and that upgrades were badly needed. Still these comparative numbers do raise questions of their own.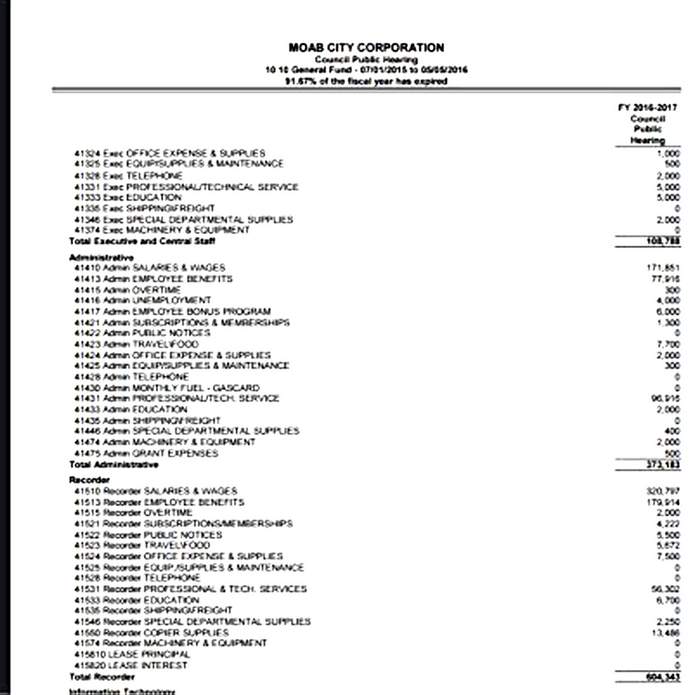 MAY 23, 2016
Recently a facebook page was created to allow for a public discussion of these issues. Numerous posts have raised the issue of "nepotism," and whether the public-personal relationship between City Manager Davidson and Tayo, Inc owner Tara Smelt constitutes a conflict of interest. Most vocal among the concerned citizens has been County Counciman, Chris Baird. This publication quoted Baird in the "What's Past Is Prologue" article, citing an email he sent to City Councilwoman Ershadi last October.
He wrote, in part, "when a local loses out, and a friend of Rebecca's moves in, it doesn't help alieve (sic) that concern. I'm sure you realize that Tara's (Smelt) involvement can't be played off as a mere coincidence."
On the public 'Moab Transparency' page, Baird elaborated and on May 23, he wrote, "After I brought to light that Rebecca and Rachel had paid Rebecca's partner to take over IT without going through the typical procurement process Rebecca's partner Tara Smelt sought out an attorney to investigate a defamation claim against me. The first attempt didn't work and a few months later Tara hired a firm from Denver to again investigate me for defamation."

Carrie Bailey, the wife of Kyle Bailey, the councilman who voted to hire Davidson, defended the council's (and her husband's) actions and suggested the huge increases in "professional and tech services" were necessary. She wrote, "The servers needed to be replaced. I think it was necessary that the whole software system be replaced. The questions about the IT money spent last year do have a connection to the previous manager's time at the city."
But Baird replied, "You're missing the whole point, which is one of conflict of interest and intentional deception. Regardless of any necessary expenditure, never in a thousand years should Tara's company have been hired without some kind of disclosure…. It's flat-out wrong to hire a company, registered at the City Manager's house, and whose principle agent is the Manager's partner, without disclosing that information. I'm willing to bet that if this went out to bid, and everyone knew who Tayo was, that they would have side stepped the conflict of interest and hired a different company. Hence the need for an 'emergency'???"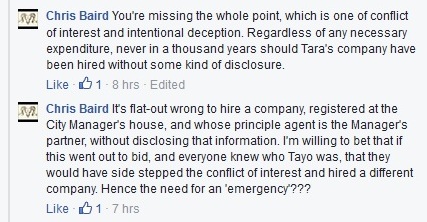 MAY 24, 2016
The City of Moab held its annual budget hearing, The next day Carrie Bailey was able to report, with just a hint of glee: "No one from the Public attended the Moab City Public Budget Hearing."
And she complained "that the treatment of elected Moab council people is bordering on out and out bullying."
For all the debate and discussion and for all the outrage and heartbreak and pain and suffering that the Moab City Council and its City Manager's decisions have generated, not one concerned citizen of Moab was there.
In fact, on each and every city council meeting agenda is an entry called, "Citizens to be Heard." In the eight and a half months that have passed since Ken Davey and David Olsen were dismissed by the city manager and the sordid history and details of this sad story have been revealed, I'm not aware of a single Moab citizen who ever took the time to face the council, to ask questions, to insist on answers, and to demand some accountability. Not one.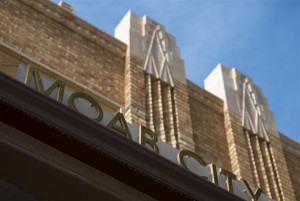 MAY 31, 2016..a personal observation.
We post this article and the June/July issue in a few hours and I find myself reflecting on the past several months, and my sincere efforts to shed light on all that's happened at Moab City Hall and to its citizens. I don't know how much more honestly and thoroughly I could have written that 14,000 word article. I did my best.
Since its publication, the 'Prologue' story has been read almost 10,000 times (though I have no idea how many managed to read the entire article).  But not  once has a single word been challenged for its accuracy. And yet, I continue to hear of people who refuse to even read the article because they simply don't like me, or The Zephyr. It's personal, I guess…never let the facts get in the way of a long-held prejudice. Others tell me privately that they support the Zephyr and are horrified by events at City Hall, but are afraid to share that support publicly. They may fear retribution by City officials, or of being ostracized by their friends who don't like this publication. Others avoid standing up for city workers or expressing an opinion because it's "too stressful." But, without their voices, any efforts to achieve transparency and integrity in city government will likely fail.
Some, incredibly, have complained that because it was posted online and not in print, it lacks credibility. I believe it was Mayor Sakrison who dismissed all criticism as "social media crap." Sena Taylor Hauer, whose family has a century old connection to journalism via the Times-Independent wrote on facebook, "It's very easy to bully from behind the digital, Oz-like curtain of the computer." I'm sorry she feels that way; if the Times-Independent would like to print my article, perhaps in several installments, I'd be more than happy to comply and at no charge. (For the record, neither weekly paper has reported any of the facts presented by the Zephyr since Ken Davey and David Olsen were dismissed last September. It's almost as if those publications and The Zephyr are reporting on two entirely different Moab, Utahs…Bizarro World). As for "bullying," it's unfathomable that some have tried to portray the city council as victims in this shameful saga.
And there is the sad realization that in Moab, extreme  partisanship often trumps the facts. For those who know the community's local politics, imagine if County Councilman Lynn Jackson had made these city hall decisions instead of City Councilpersons Bailey and Ershadi. There would be sustained outrage from the same people now ducking for cover…What a difference a name makes.
Finally, my thoughts go back back to that February morning when we originally posted the "Prologue" story. In that issue, I also included some "personal thoughts." I concluded those remarks with this:
'I admit to being frustrated by any entity—government, corporate, or personal— that takes actions or makes decisions that affect the public without even a hint of transparency. When instead of providing full disclosure for their actions, they hide behind "non-disparagement clauses" and "non-disclosure agreements," and threats of litigation and intimidation. Or bland gutless "public statements." Or "executive sessions." Or most often, when they resort to the most loathsome of lies, that cold dead silence, where he/she/they try to outlast the inquiries and the questions, and ultimately the truth, until eventually, finally, everybody either forgets or gives up……Ultimately, the reason I wrote this story, like so many others I've produced over the past 27 years, is because I'm trying to do my job. Thomas Jefferson once said, "The people cannot be safe without information. Where the press is free… all is safe."
What the people do with this information, in this case the citizens of Moab, Utah, is entirely up to them…'
There's nothing more I can add…Good luck, Moab.
Jim Stiles is Founder and Co-Publisher of the Canyon Country Zephyr.
CLICK HERE TO READ THE FULL "WHAT'S PAST IS PROLOGUE:Three Small Towns & Their Common Bond–City Manager Rebecca Davidson…by Jim Stiles"
To Comment, Scroll to the Bottom of the Page