The story of Bates and Robin Wilson is as much a story of community as it is of their love of the red rock of southeastern Utah. While their "lasting contributions" were accomplished separately, they both endeavored to introduce and educate others about this fragile desert landscape, and thus protect it into perpetuity. Their motivations, however, were no more saintly than anyone else's: they were in the midst of the land they loved, engaged in doing what they loved.
Both Bates and Robin had a unique ability to bring together diverse types of people in support of common goals. Easy warmth, wide smiles, sharp wit, ready laughter, gracious hospitality. I am not the first to say that these engaging traits were keys that enabled them to achieve their purposes successfully. They seemed to attract people like bees to honey, and each one might feel that he or she was the most important, though ten might be present. In the words of an old friend, "(Bates) walked easily with giants, and not differently with lesser lights." Robin, I am told, "might be surrounded by people and have much on her mind, but when you were engaged in conversation with her, she focused completely and totally on you."
Bates' lasting gift to us all was his hard work and determination to establish what is now Canyonlands National Park. The park was designated and the image of Bates as the "Father of Canyonlands" was established by the time my sister, Lynn, and I came into the picture. We grew up hearing stories of the numerous trips he and a host of others would make into the canyons in order to explore, enjoy and map its magnificence, but also to achieve their dream: the classification of this area as a national park. There is little opportunity for such frontier experiences today. One can only imagine the thrill and privilege of exploring thousands upon thousands of acres of "wastelands," going where few but the Anasazi had ever tred. How many people can say, as can my stepbrother Tug, that they discovered an arch?
Bates was born in Silver City, New Mexico in 1912. The baby of the family, with two adoring older sisters, "Batesy" was gregarious and engaging from the start. As a young teenager, he was shipped East for prep school in Lawrenceville, New Jersey. This undoubtedly must have been a daunting prospect to a boy small for his age, comfortable in cowboy boots and used to the relaxed manner of the West. Upon his arrival in Philadelphia, his uncle, Alan Wilson, wrote to Bates' father Wayne, "Now as to Bates himself: it was a pretty lonely undertaking for a kid of his age to face this Eastern trip and you ought to be very proud of him for he could not have pulled it off better…He impressed every one of us as just one of the nicest kids we had ever seen, was friendly, willing to take advice and properly independent when non was given. All in all, my guess would be that he is an awfully good prospect to turn into a fine citizen…". True to Bates' nature, he was soon charming his schoolmates at Lawrenceville with rope tricks and his easy western ways.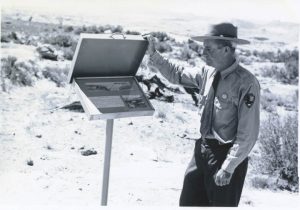 His permanent career began with the National Park Service as acting superintendent of Organ Pipe Cactus National Monument, in Arizona. Interrupted by World War II, he served in the Navy Seabees and then returned to the Park Service at El Morro National Monument, in New Mexico. In 1949, Bates and Edie, his first wife, and their family were transferred to what was then Arches National Monument. This event certainly marked a turning point in his life.
Bates immediately fell in love with the "standing rock country" and upon seeing what would later become Canyonlands for the first time, he remarked, "I found myself looking down on the most fantastic colored jumble of natural wonders I had ever seen. There were arches, spires, rugged canyons, crevasses and fins, stitched together with little green grabens. A large number of prehistoric Indian ruins were visible as I looked down upon this rainbow-hued land. To a park service official, it was the proverbial pot of gold…"
Fascinated by the land, he tried to interest the Park Service in making an investigation of the area for potential national park status. At the time, it was thought that there were enough red rocks designated. Bates began his decade of exploration, enticing archaeologists, photographers, writers, Boy Scouts, and various "bureaucrats" out into the canyons to help document and promote this unique wonderland. If they weren't supportive of the idea of the area as a park before they embarked on their trip, there were few who weren't convinced of its rightful designation by the time they returned.
In Bates' words, "I was probably responsible for suggesting it (Canyonlands National Park,) but there were many, many people involved." That he could not have achieved this dream single-handedly is true; that he is probably one of the few people who could engage so many to work together towards such an accomplishment is also true.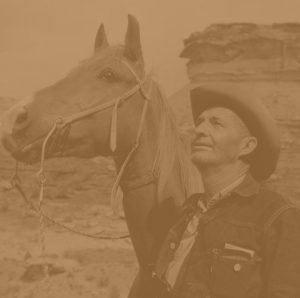 Bates was known for his easy-going ways and somewhat unorthodox approach to the administrative aspects of his job. His "uniform" consisted of faded jeans and scuffed boots, a work shirt and cowboy hat that had seen (much) better days. He put on a regulation uniform only when superiors might be on the scene and spent as little time as possible in the office. The late Frank Kowski, former Southwest Regional Director for the National Park Service, said, "(Bates)…didn't bother to read frequent memos sent his way…(but) always got the job done, moving ahead with horse sense and coming out smelling like a rose."
Canyonlands National Park was established on September 12, 1964 by President Lyndon B. Johnson and Bates served as its first superintendent until his retirement in 1972.
Robin was an Eastern transplant. Born in Riverdale, New York in 1934, she was sent to camp in Wyoming as a teenager. She promptly fell in love with the landscape and its vast open skies. This enthrallment was only magnified when, during a western "tour" with her parents following her graduation from prep school, they stopped at Arches National Monument. The purpose of the trip was not only to continue her "education," but to visit their old friend Bates Wilson. Her migration was fait accompli after being introduced to the canyons and she migrated to Colorado as soon as she graduated from Smith College. Among various other activities, Robin and her first husband Jim owned and operated an apple orchard in Durango, Colorado and began raising my sister and me. Robin later worked for the Museum of Northern Arizona in Flagstaff.
Following divorces and separated by a span of 22 years, Bates and Robin fell in love and married in May of 1971. As Stan Welsh, a botanist and friend, wrote in his tribute following Bates' death, "…the symbiosis of Bates and Robin…proved to be greater again than the sum of the parts." True to their nature and love the land, Bates and Robin's honeymoon trip involved taking a group from National Geographic into Canyonlands. The trip, having nothing to do with their honeymoon, was featured in the magazine and as a television special.
Looking towards Bates' retirement from the Park Service, they sought their own piece of canyon country and a new focus for life. The ranch in Professor Valley, a green oasis nestled in the valley at the foot of the La Sal Mountains and ringed by red rock mesas, seemed too good to be true. The story of its purchase goes something like this: Bates, Moab realtor Ed Kirby, and rancher Jim McPherson met at the ranch near sunset and watched the light flame Fisher Mesa. Silence. Jim, a man of few words, finally spoke. "You interested in this ranch?"
To which Bates replied, "I'm very much interested in this ranch."
Jim's next query was, "Going to make a park out of it?"
When Jim was satisfied that this favorite piece of property would remain a working ranch, they closed the deal with a handshake.
Bates and Robin lived and loved at Professor Valley Ranch. As dedicated stewards, they worked the ground together…with somewhat knowledgeable hands. They certainly learned from it each season as they scratched a living from the arid land. They continued to journey into Canyonlands whenever possible; camping trips that introduced "famous" spots such as Chesler Park, Druid Arch, Paul Bunyan's Potty and Elephant Hill to Lynn and me.
And then, of course, there were the people…one of the predominant images of my childhood is a house full of people. There was a near constant stream of folk to and from Professor Valley. They dropped in from various corners of the globe to enjoy a "muley twist" (bacardi, club soda, ice and a twist of lime,) Robin's cooking, and good company. There were meals in the house, cookouts in the yard, journeys up Mary Jane Canyon for dutch-oven dinners, always accompanied by plenty of laughter and the re-telling of favorite stories. Anyone and everyone was welcome: complete strangers would arrive on the front porch, sent by someone-who-knew-someone-who-knew-someone-else, to be welcomed with open arms, stay for a few days and be added to the ever-lengthening list of friends. These visitors were often happily coerced into helping out with whatever the current farm project might be…from bucking bales to cleaning ditches. At the time of their departure they were bid adieu with, "Thank you so much for my kindness…I'm so glad you met me."
Bates' and Robin's days were occupied with the routine work of ranch life…getting water from here to there, cutting, baling and stacking hay, planting, tending and harvesting a massive vegetable garden, etc…but they always retained enthusiasm for additional projects. There was never any dearth of things to do or items of interest. They explored the possibilities of cultivating native grasses hardy enough to re-vegetate strip mines, producing adobe block, and establishing an educational retreat or agricultural research center, to name a few. There was no time to realize any of these dreams before Bates' death in the early spring of 1983.
During that year, Robin began to spend more time thinking about the possibility of creating an organization/facility that would educate and provide skills to those who might journey to the delicate desert lacking knowledge of its natural and physical history, its geography and ecology. It was the beginning of the time period in which came the realization that the land was being "loved to death," as more and more tourists began to flock to the area. She became determined to establish such an organization and began to pursue ideas and ways to fulfill this dream. She and Karla VanderZanden, then a BLM Westwater river ranger, were introduced by a mutual friend. At sunrise on a fine spring morning, they met on the front porch of the ranch house in Professor Valley and realized that they shared a common vision. This realization led to friendship and the two began to brainstorm about a non-profit educational organization. Within the year, they had founded Canyonlands Field Institute (CFI,) and Robin became the first executive director upon its incorporation in 1984.

As a not-for-profit outdoor educational organization, CFI sought to increase awareness of the natural and cultural heritage of the Colorado Plateau through hands-on courses in photography, writing, archeology, anthropology, desert biology and ecology, geography, and others. A strong believer in letting the land speak for itself, Robin, through CFI, endeavored to strengthen and enhance its lessons by involving those with an intimate connection to the land. Also believing that education promoted informed decision-making, Robin remarked, in an interview with the Grand Junction Daily Sentinel in 1988, "The Colorado Plateau is just now really being discovered. It's perceived in many different ways by developers, energy companies, and environmentalists. CFI would like to be playing a role in the education process."
Robin saw CFI through its infancy and can be considered greatly responsible for its success. During her tenure at the helm, she used her empathy, grace, and warmth to interest people in its cause and to bring them together in support of its mission. As Terry Tempest Williams wrote, "Through her magnetism and integrity, she has galvanized an extraordinary community of individuals which makes up the Canyonlands Field Institute." In honor of Robin's "pioneering efforts in environmental awareness and education," she was named Moab Chamber of Commerce Citizen of the Year in 1989. Robin served as executive director of CFI until just prior to her death in the spring of 1991. She continued to operate Professor Valley Ranch during that time.
It is difficult to convey a true understanding of Robin and Bates' sincere and unaffected character, enjoyment of life, and embrace of others to those who did not know them. These qualities, combined with their introduction to a region they called home, directed the course of their lives extensively. Without aspiring to greatness, they succeeded in making a lasting impact to the land they were devoted to, and on all those they touched during their lifetimes.
Those of us who have been personally and profoundly touched by canyon country, and have found a sense of place within it, owe thanks to the many people who have quietly, and not so quietly, worked in various ways to ensure its lasting preservation.
Raised all her "remembering" life in Moab, Anne Wilson received a B.A. from Smith College in Anthropology/Sociology. She eventually returned to the red rocks and works as Community Outreach Coordinator for the Moab Project Office of the Nature Conservancy. She and her husband live at Professor Valley Ranch.
A Couple of Bates Anecdotes
Jim Stiles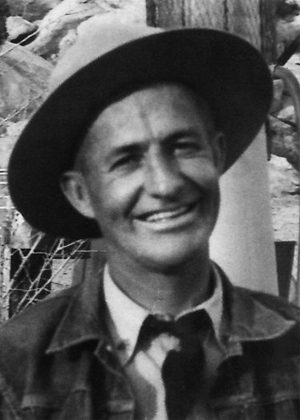 I came to Moab and became a seasonal ranger at Arches just a couple years after Bates retired, so I never had the chance to work for him. But stories about Bates lingered for years after he hung up his uniform and took up ranching in Professor Valley.
As a rookie ranger who had no idea what he was doing, the idea of the superintendent coming to pay me a personal visit would have struck terror into my soul. But that is exactly was happened more than once to young seasonals who came to work for Bates.
Typically, one morning at the Needles section of Canyonlands, the district ranger stopped by the quarters of two recently-hired trail maintenance workers to inform them that Superintendent Wilson was on his way down from Moab to see them.
"What did we do wrong?" one of them asked feebly.
The district ranger just shrugged and said, "I guess you'll find out when he gets here."
The two underlings searched vainly for clean uniforms and were determined to convince the superintendent they were good employees, no matter what else he may have heard. They were busy working up a sweat when they saw the pickup truck pull up at the trail head.
It was Bates.
"What are you fellas all dressed up for?" he chuckled. "You're just gonna get dirty again."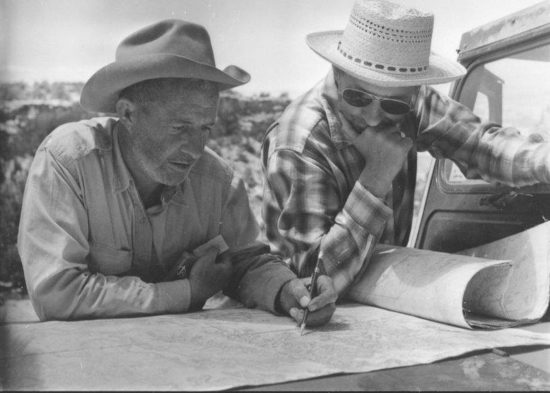 Bates pulled a shovel out of the bed of the truck, pulled his dirty straw stetson over his eyes, and went to work on the trail, shoulder to shoulder with his two young seasonals. He stayed all day on that trail project, and when quitting time came, Bates put away the shovel and pulled out his Dutch ovens. The boys never ate better.
He camped the night with them under the stars and went back to Moab the next morning. "I just like to know the people I'm working with," he explained to these new Friends of Bates.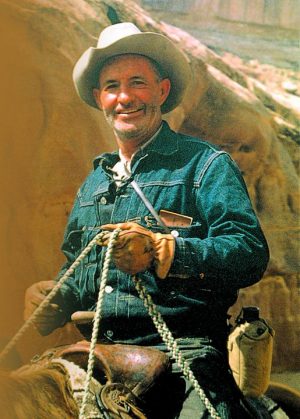 You had to look real hard to find the hierarchy of the Bates Wilson administration at Canyonlands. One of Bates' dearest friends was Dutch Gerhardt, an NPS heavy equipment operator and a man who said what was on his mind. It was a quality Bates admired and respected; it's why they were such good friends.
Not all Park Service managers appreciate candor and an NPS administrator named Bill Briggle was just that type of guy. But Bates could get along with just about anybody…or at least tolerate them…and so, on one of his famous pack trips into the Great Red Unknown, he invited Biggle to join Secretary of the Interior Stuart Udall and himself on a multi-day excursion. Riding with them, as he often did, was Dutch.
They had been riding all day, and as the sun dropped below the canyon rim, they decided to make camp. As Bates unsaddled his horse, he turned to his old friend and said, "Gather up some firewood, Dutch. I'm going to be needing it pretty soon."
Dutch squinted at Bates coldly and said, "Go to hell. I'm off the clock now. You can get the damn wood yourself."
Briggle sprang to his feet, bristling with officious indignation, stepped between the horses and came right at Dutch.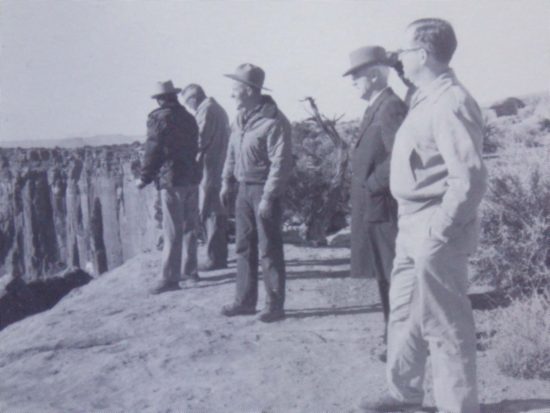 Dutch didn't move. It was almost hard to tell that he noticed this sudden intrusion into his personal space. The truth is, Dutch looked bored.
"Mr. Gerhardt!" Briggle sputtered, "Mr. Wilson is the superintendent of this park and he is your supervisor! When Mr. Wilson tells you to do something, you do it! You don't question his instructions, you don't ignore them, and you certainly don't behave like this! YOU JUST DO IT! Do I make myself clear?"
Briggle's face was the color of the rock. The veins bulged and throbbed at his temple and alongside his neck. Dutch looked into his eyes. Deeply.
"Screw you, Briggle," said Dutch. He turned to his supervisor. "Screw you, Bates." And then he turned to the Secretary of the Interior of the United States of America. "And screw you, Udall…and the mules you rode in on."
Dutch spit softly on the ground, gave Bates a wink and lumbered off to take a nap. Briggle stood there in the sand, shaking violently in the late afternoon light. Bates and Udall were shaking too—they were laughing so hard, they were gasping for breath.
Bates didn't think much of hierarchy.
Jim Stiles is Founder and Co-Publisher of the Canyon Country Zephyr.
Save
Save
Save
Save