In 2001, the Zephyr interviewed John Depuy. Here's how that interview began…
John DePuy: Let me read you something. It says it all. It's all I have to say. "Madman and seer–– Painter of the Apocalyptic Volcano. Campañero, I am with you forever in the glorious fraternity of the damned."
Jim Stiles: That's what Abbey wrote about you…
JD: There's nothing else to say.
JS: But I have to ask you some questions. Chronology and anecdotes… Where did you come from? How did you get into art? When did you come out West?
JD: Oh God.
JS: What's wrong John?
JD: Oh nothing, it's just a very strange question..
JS: Well, John we all want to know where you came from because no one really thinks you came from this planet.
JD: I didn't. I came from a wolf. It was an immaculate conception…
A Sampling of John's Artwork: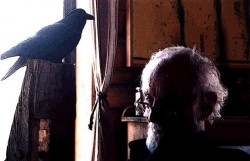 "His work is unique and strongly individualistic, though, at once indigenous to this land. For he has probed, with his cutting mind, beneath the deserts and mountains, into the bare  bone of the rock of this land and has dared to seek the secrets of its womb."
Stan Steiner
His line and ink drawings and oil paintings represent clearly, recognizably, the landscape of the Southwest – mountains, buttes, abysmal gorges. But De Puy's landscape is not he landscape we see, but the one, he claims, is really there.  A world of terror as well as beauty that lies beyond the ordinary limits of human experience, that forms the basis of experience, the ground of being."
Edward Abbey
BIO: "The two greatest influences on my work have been Expressionism and the Southwest. Expressionism has influenced me as a tradition, beginning with Van Gogh and continuing through the German Expressionists. In this tradition, I translate visual experience into an inner expression.  The Southwest landforms and its native people are the immediate source of my work. This land speaks of another time sense than our Western European lineal time. It is the land, its myths and dreams of wholeness, that nourish me." John De Puy
Save
Save
Save
Save
Save
Save
Save
Save