Whoever is president is a symptom, not the disease. If we were able to wave a magic wand and make Trump go away tomorrow, and replace him with Clinton, would it change anything? Would the United States stop interfering in the domestic affairs of other nations? Would we stop using 25% of the world's
resources? Would we stop our petrodollar hegemony that impoverishes the developing world? If Clinton was president, would we place restrictions on Wall Street, or reduce our drone strikes on wedding parties or lessen the number of military personnel we have overseas? Would we clean up Fukushima, or… well you get my point.
If the Dallas Cowboys win the Superbowl, does it change anything? No. And I don't think the president can change that much either. The office serves best as a symbol, an archetype. It is much better, in my opinion, to try and understand the energetic and symbolic issues of the Presidency, place them in the context of human psychology. What does Donald Trump represent? What does he symbolize? The same with Hillary Clinton.
Trump represents the Shadow, suddenly surfacing and taking over, despite the attempts of the ego to suppress it. Trump is our sudden collapse into compulsive behavior. Trump is us watching ourselves do something addictive and self-destructive, and having no power to stop ourselves.
Hillary Clinton represents our Facade; the facile, false, and insincere, the false self that hides the Shadow, that runs away from it, denies it, and in so doing, allows it to grow ever stronger.
How do we get here, to the place where the shadow, our shame, our dark secrets which we have hidden so well, from ourselves, from everyone else, suddenly take over? It's because as a nation, and as individuals, we believe our own bullshit. We think we are better and nicer than we really are. We pretend we are "nice guys" and "good girls", but we're not. Every time we do something and say its for others when its really for ourselves, every time we pretend to be nice when we're really being mean, that is another reason why we have Trump for a president. Trump is US, and that, THAT is why we are so horrified.
It's easy for me. I voted for Trump. I stood up in the Boulder Republican Caucus and only two of us, out of the entire caucus, were for Trump. I stood on my feet and said the Trump was the only chance we had to beat Mrs. Clinton, and I was right.
But being right doesn't mean much. Trump for me symbolizes the person I was in Boulder- sad, lonely, angry, unconscious, pretending to be a thousand things I was not, and without a clue as to who I really was and what my Truth was. Misogynist? For sure! Patriarchal? Privileged? Check. The Sacred Male is as sick as the Sacred Female is marginalized. My life since leaving Boulder has been one of extreme pain and stress. But I wouldn't go back into that sickness and unconsciousness that was my life there for a million dollars, or in a million years.
If you want to blame someone for Trump's presidency, blame me. That is, if blame helps anything, if name calling and more dissension and separation and lack of connection will make things better. As for me, my intention is to be part of the solution, and on the first level that means that I'm not going to be upset with anyone who is a symbol. If I am to do any good at all, I need to understand that symbol, so that I can understand myself, my own Truth. The change I want to see in the world begins with me.
To comment, scroll to the bottom of the page.
Don't forget the Zephyr ads! All links are hot!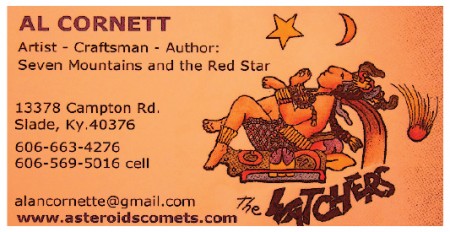 Save