In addition to the thousands of 35 mm Kodachrome transparencies that herb shot over 50 years, another of his prized possessions was his leather-bound 2 1/4 Rolleiflex camera.. He took thousands of pictures with it, from coast to coast over three decades. Here are just a few of them…
And though Herb spent most of his time in the American West, his photographs cover the country. Here are two of them:
HERB RINGER came West from his home in New Jersey in 1939. Camera in hand,
Herb captured the American West, from the Canadian Border to the Rio Grande and
from the Big Sur coast to the High Plains.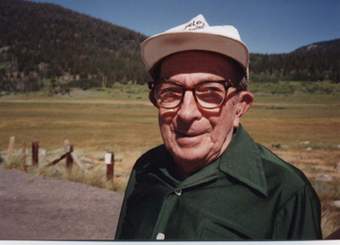 We believe Herb's collection of Life in the West is one of the finest. His work has been
published in The Zephyr for 20 years. I am pleased finally, to offer Herb's photographs
in color. We are also building a new 'album' of his work, elsewhere on this site.
My dear friend died on December 11, 1998…JS