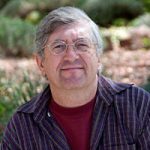 In early December, when Cisco Davey contacted me to say that his dad, Ken Davey, had died, I was, for once, at a loss for words. I guess I still am.
Ken was my next door neighbor in Moab for twenty years. He wrote for The Zephyr, off and on, for over a decade. I nicknamed him, "The Dean of the Moab Press Corps," when he found himself working simultaneously for the local weekly, the radio station and The Zephyr. He was a caring and principled journalist. I was his best man when he and Julie got hitched in 1992.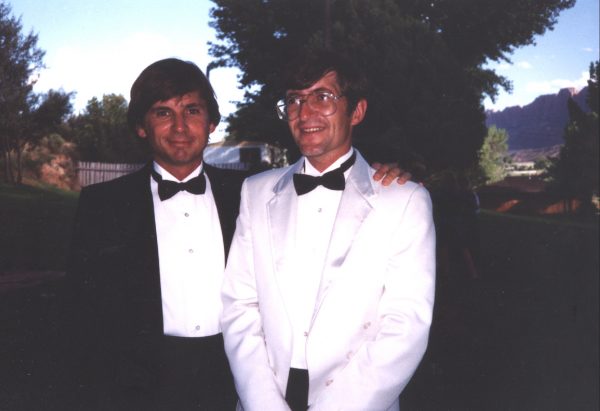 He was also a rascal and an agitator. He could be annoying and infuriating, and relentlessly critical at times. And he could be self-deprecating and humble, generous and kind-hearted. Ken was my friend, though it wasn't easy sometimes, for either of us.
Ken contained multitudes.We didn't see eye-to-eye on many issues and he was more a realist than any other kind of "-ist," including environmentalist. Ken was an FDR liberal, however, in the best sense of the word, and was always a great defender of working class people–those who were just trying to put food on their families' table. He caught a lot of grief for his views from the local environmental community, especially when he defended a more balanced local economy that included energy development, but he never backed down.
After I moved away from Moab, I didn't see Ken much–maybe a couple lunches a year. But he and I continued our mostly affectionate jousting, right up to the last time I saw him in the summer of 2016. He had been dismissed from his City of Moab job the previous autumn and the furor over Moab City Hall was in full swing. But Ken stayed mainly detached. Looking back, I think he was just worn out by it.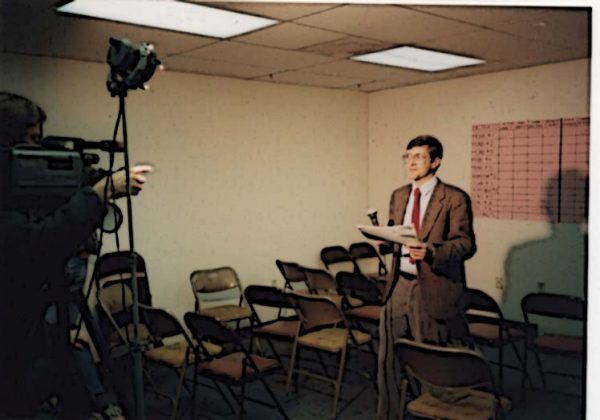 * * *
That's my own short remembrance, but for me, ultimately,  like I wrote in November, "words fail." So let me allow Ken to explain who he was, via some excerpts from his Zephyr contributions. These all came from the early days of The Zephyr, when we published a print newspaper every four weeks, back when Moab still had a heart and soul, and when issues were discussed openly and honestly–even in the newspapers. Like it or not, Ken was as candid and honest as they came.
Here are some entries from Ken in his "Facts and Opinions" columns, from the Moab transition year of 1993…
ED. NOTE: Nobody could get to the facts of an issue like Ken Davey. In 1993, Moab was changing rapidly and tourism and recreation impacts were just beginning to get some notice. I had asked Ken if he'd be interested in writing for The Zephyr. He explained that he didn't want to just write copy, as he was doing at the Moab weekly. Ken proposed a "Facts and Opinion" column, that would allow him to state the basic facts of an issue, and then offer some opinions. Nobody did it better than Ken. Here are a series of excerpts from his  1993 "F & O"  columns…Jim Stiles
FACTS & OPINIONS: a summary of the month's news
by Ken Davey
FACT
The Grand County Travel Council has solicited the opinions of local residents on what the priorities and programs of the council should be.The group sent out hundreds of surveys, asking local businesses questions pertaining to promotion of tourism and ways to improve it.The council is funded by transient room tax [TRT], paid by guests at area motels and other overnight accommodations. By state law, the money is to be spent on tourism promotion and maintenance of visitor facilities.
OPINION
By virtue of the visitor boom in Moab the last few years, the Travel Council is now one of the wealthiest government bodies around, with annual TRT revenues that by next year should approach half a million dollars, though the ability to spend it is subject to county council approval. That's more than the hospital gets from property tax, and it's close to what local landowners pay into the county general fund, so it's not surprising that everyone and their uncle has gone to the travel council with a jim dandy way to spend it.
Lucky Morse is the Travel Council chairman, taking over at the beginning of this year. He came to Moab a few years back to manage the Utah Power and Light office here, a full time job and half itself, trying to fit an explosion of electrical power demand on to a system that lacks even a basic backup system. And Morse also agreed to take on community service as well, seeing and accepting an appointment to the Travel Council Board a year ago. His timing was less than impeccable; his term began just a short time before the county commissioners decided to take the bull by the tail and pick their own Travel Council director, over the unanimous objection of the board. In response, some good and honest board members decided to hand in their resignations. Other good and honest board members, including Morse, decided to hang in there, to see what can be done to ferret some good out of a bad situation. As it turned out, not a lot of good did come out of it, The visitor center staff is demoralized, the office is in shambles, promotion campaigns routinely authorized in recent years went by the boards, and the Travel Council, cast in the light of the enemy before both the Chamber of Commerce and the City of Moab, found itself tossed out of its building, with no place to go.
A recommendation by the council to hire another director is a step toward ending some of those problems, but the best of the board realized even that move, necessary stopgap that it is, doesn't address a gnawing feeling that the work of the council is not quite in sync with where the town is going.
The nature of tourism here has changed. Instead of an area that attracted the odd four-wheel drive enthusiasts and the equally odd fans of the high desert who included Arches and Canyolands in their 12-National-Parks-in-a-day vacation swings, we now attract the totally bizarre urban residents who stream down from the Wasatch Front or Colorado for a chance to pedal up canyons even wild sheep, not the brightest of beasts, realize are no place for those with a sense of energy conservation and relaxing quality time. We have a boom going on, and the effects it will have on the landscape, on the human infrastructure, on the social fabric of the community, have never been seriously looked at by any government body. Instead we get proposals, projects, requests for funds.
The Travel Council decided to step back and look at their own situation. They sent out questionnaires to a list of tourist businesses. What kind of promotion do we need? And the results dribbling back in are surprising.
For much of the sentiment expressed, by people who in the main have a financial stake in attracting more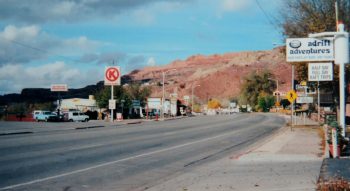 visitors, was not so much how we should spend money to promote, but WHETHER we should, or whether much of that money should go toward education of the visitors we have, rather than trying to attract more.
Ask the organizers of the Jeep Safari and the Fat Tire Festival if they want their events to grow even larger, and you'll be told no, we're big enough, maybe too big, as it is. Ask the Rim Rock Roadrunners if they want to help in doubling the size of the Canyonlands Half Marathon next year, and they'll politely say no thanks. A range of individuals, both longtime residents and newcomers, are questioning the precept that the more people streaming south of 191 the better.
Is that sentiment being driven by environmentalism? Undeniably, some of it is, but not a narrow definition of environmentalism that excludes humans from the equation, but a broader understanding that the economic base of the community, the quality of life we have here, the quality that draws a million visitors a year, can be lost if we don't think and plan ahead.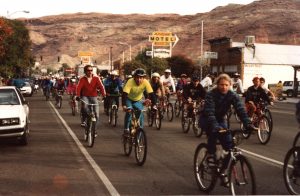 The arguments for further promotion are strong. Las Vegas, Hawaii, Colorado, most tourist areas continue to lure visitors despite record-breaking numbers, because you can never be too memorable to people to people planning on packing the kids into the car or Supersaver coach seats and dollars into their wallet. But there are other possible avenues of promotion beyond passing out brochures and hosting familiarization tours, including projects to preserve and protect the resources.
The council has taken a big step toward finding some of those solutions with the decision to open up the discussion with the questionnaire. Then they took a big step backward at their March 18 meeting. The public was invited to come and give their views to the council. One local restaurant owner, Dick Rose, did so, stating he did not like a $100,000 commitment to the proposed Green River Golf Course. Dick Rose is not an example of a public relations genius. And if you point out to him that it's easier to attract flies with honey that vinegar, he will stare at you for a second or two, then question your intelligence for wanting to attract flies in the first place.
But despite Rose's obvious and self-admitted inability to start a new career as a "bring-us-together" facilitator, he expressed a sentiment that many in town have voiced, at a number of public meetings.
And instead of listening to him, board members reacted defensively, with one board member actually castigating him for daring to raise the question at a meeting where the board encouraged people to raise questions. In one of the more bizarre public meeting occurrences in a county with typically bizarre meetings, that board member criticized Rose for not, months ago, commenting on a golf course feasibility study that has not yet been completed, much less read by the Travel Council.
One step forward, one step back. At least the Travel Council is not moving in the wrong direction.
ED. NOTE: In the first seven years of The Zephyr, we put out a print edition every four weeks. It was a true 'local newspaper,' and we were able to cover the smaller stories as well as the big ones. Ken always there to defend the local businesses. here's a good example...
May 1993
FACT
The Moab City Council voted against granting a beer license and local consent for a state liquor license to the new operators of the Bar-M Chuckwagon.
Council members voted against the request because of questions about the applicability of alcoholic consumption licenses to businesses located in residential areas.
OPINION
Just one meeting earlier, the council discussed another zoning question. It seems that motels are renting out rooms to personnel working on the Columbia Pictures upcoming film, Geronimo. The room contracts call for leasing the rooms for more than a month, which means both transient room tax and city sales tax are not charged.
The problem is, it seems it might be against the law for these motels to rent out on a long-term basis—again, a zoning question. But the council decided, openly, to ignore the entire question. They let the motels and the movie company get away with a violation of the law. But when it comes to a couple of small time local residents who are scuffling to make a living with a few cowboy songs, some corny jokes, a little food and a glass of wine, well, the council can't allow that to go unpublished. After all, they've got to draw the line somewhere.
ED. NOTE: In the following piece, Ken took some heat from the Red Rock Four Wheelers and pointed out the irony of their opposition to the issue discussed…
June 1993
FACT
Members of the Red Rock Four Wheelers went to the county council to voice concerns over a decision by some local landowners to charge fees for passing over their land on the way to a popular recreation area.
Charles and Lucy Nelson own the land at the mouth of Pritchett Canyon, off of Kane Creek Road. Pritchett Canyon is a popular trail for mountain bikers, hikers, and four wheel drive enthusiasts.
The Nelsons have begun charging people for passing over their land to access the canyon. Red Rock Four Wheeler members and county council members agreed that the local government has a responsibility to do what it can to defend public access to public lands.
OPINION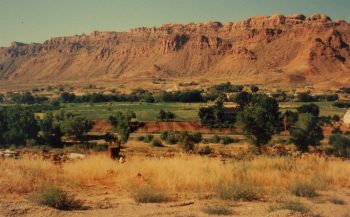 The Nelsons bought the land from the state of Utah, and they bought it unencumbered with rights-of-ways and easements. And after they bought the land they applied for and were given by the county a zone change for the land, from agricultural to commercial. If they want to charge a buck or two to walk across, they should be able to.
That's what "private" means. If the county, or the RRFW, or the Western Association of Land Users want PUBLIC access to land, then fight to keep it PUBLIC land. But instead, everyone and their brother bitch and moan that so much land is owned by the government (meaning that it is owned by all of us,) and what a horrible thing that is. Well, you can't have it both ways. And, in the meantime, don't come down on the Nelsons, who are just trying to make a buck.
ED. NOTE: Here's an issue STILL being debated a quarter century later—just how much promotion does Moab need and who benefits? And should taxes collected from tourism be used to promote the area MORE? Or was it time to use some of that revenue to deal with growing impacts to the community from Industrial recreation? Again…Ken wrote this 25 YEARS AGO…JS
FACT
The Grand County Travel Council is continuing with its long-range discussions of a 1993 Strategic Plan. The council has solicited opinions from residents, and especially from owners of tourist-related businesses, on how the county should be promoting the visitor industry here.
OPINION
At the same time the Travel Council is looking at ways of bringing more vacationers to the area, the Bureau of Land Management is meeting with other land managers to review the tremendous amount of ecosystem damage those visitors have done to the land. Dozens of square miles near the Slick Rock trail along Sand Flats Road have been destroyed, and they will stay that way for generations. On any weekend during the Spring, choking smoke fills the canyon from campfires along the River Road. Portable pit toilets along the river corridor haven't solved the problem of human waste. Arches National Park officials acknowledge they are looking at how much the steadily increasing flow of visitors has degraded the park experience, and down at Canyonlands, the park administration is looking at limitations on back country use in the future.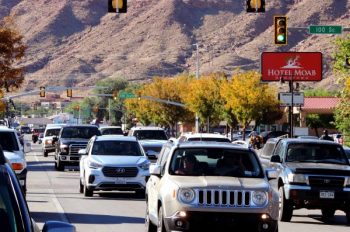 The Travel Council has a mission statement: "Promote and create recreation, tourism and conventions in Grand County." The council has historically seen the tourist businesses in town as its constituency, and in its current long-range planning efforts, it is relying on owners and managers of those businesses for ideas and suggestions.
And that outlook creates a great deal of pressure on the council, to carry out policies that are in the economic interests of the tourist industry. But what's good for motel, restaurant, and gift shop owners may not be so good for the rest of us. And what APPEARS to be in the interest of the tourist industry may not be of much use to actual existing businesses here.
Let's take Restaurant A, a locally owned establishment that right now does a pretty good business 6 months out of the year, and a great business during 3 other months. During the season, they already pack 'em in like sardines during dinner. What do 10 percent more visitors coming to town mean? Not much, because without a major expansion, the restaurant can't serve an appreciable number more of them. The same with Motel B. During the peak times, they are already booked solid, so more people in town during those times doesn't help. But what it does do is make the town more attractive to outside money, which 1) drives up the cost of commercial property, meaning those businesses that lease face increasing rental fees, and possible expulsion when their building is bought by out of town investors, 2) drives up the cost of downtown property, to the point that many of those renting businesses who hoped to eventually purchase their own shops are being priced out of the market, and 3) increases the property tax paid by those business owners lucky enough to own right now.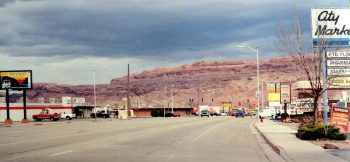 So promoting more tourism is not necessarily in the interests of even existing local tourist businesses, much less the rest of us. And more and more, there is a sentiment that uncontrolled tourism has already diminished the quality of life here. Moab is a tourist town, and will continue as such. But instead of making it a bigger tourist town, let's find a way to make it a better tourist town.
Transient room tax, paid by tourists renting motel rooms and other overnight accommodations, will be bringing in to the county as much as half a million dollars by next year, and that money, by state law, must be spent on tourist promotion and facilities. Among other things, it now pays for visitor center staff, travel council administration, and the repayment of the loan to construct the new downtown visitors center. That money is like a vision of sugarplums in front of some in the tourist industry, who dream of vast promotion campaigns.
But that cash can also go to maintaining visitor facilities, such as the Salt Palace in Salt Lake City. Here in Moab, our attractions are not the buildings, but our "tourist facilities" are a whole lot nicer: the Sand Flats area, the River Corridor, the red rock canyons and cliffs that draw so many people to this region. And we can use some of that money to preserve and maintain those tourist attractions.
For just a small part of that cash, we could hire dozens of high school seniors during the spring and summer as combination clean-up crews/public relations representatives, working to patrol the camping areas, undoing some of the damage, pointing out to the visitors that signs saying no motorized vehicles mean no motorized vehicles, helping educate people to the need to stay off that black stuff called microbiotic soil (or whatever the powers-that-be in microbiology are calling the cryptogamic soil this week) because it takes decades to repair the damage of a tire tread, or even a footprint.
The county would gain in that we take concrete steps to protect what we love. The students will gain in that they get some money for a part-time job that's mostly hiking around the area they love. And the future of the town would gain, because we could take some of that money and use it as additional partial college scholarship funds for the students who stick with the job throughout the season, helping pay for the education of kids who might otherwise have trouble coming up with tuition.
How that money is spent is an issue not just for tourist businesses, but for all of us, because it is our money, not the motels'.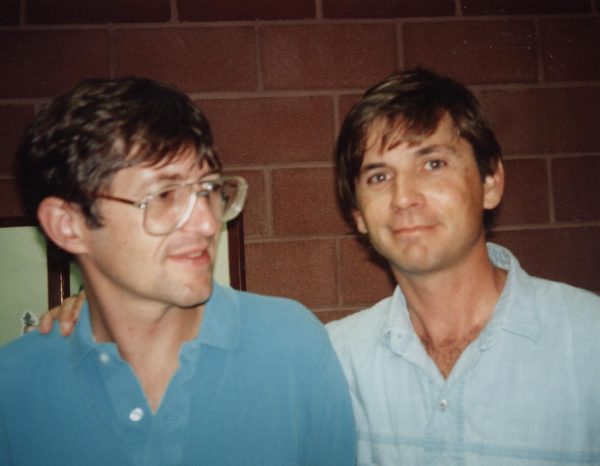 ED. NOTE: Ken's shining a light on the Bar M Chuckwagon made a difference…
FACT
The Moab City Council voted to approve a request from the Bar M Chuckwagon for a beer license, and gave local consent to the restaurant in their effort to obtain a state liquor license, two weeks after they had voted down the same request.
OPINION
The City Council made a good decision in changing their vote. The Bar M was thought to be outside the city limits, and therefore operated in the past under looser county zoning. But the city is getting more precise in its mapping, and discovered that the establishment is indeed inside Moab. The council could have turned down the liquor requests, and for a few weeks it looked like they would do just that; council members were under no legal obligation to approve them.
But the Bar M has been running a summer show for about 5 years, catering heavily to European tourists, that combines a barbecue meal with Cowboy entertainment. It's been a marginal operation at times, and the new operators hope to strengthen their grip on a market segment by offering a glass of wine or beer with dinner. The granting of the license and the local consent gives them a chance to do that.
The council decision allows the Bar M to continue doing what it has done, and done well, for years. And it's good to have city political leaders who can change their votes when the situation calls for it.
ED. NOTE: Ken Davey at his absolute best…
July 1993
FACT
Funeral services were held in Ogden for Utah Highway Patrol trooper Dennis Lund, who died Wednesday evening, June 16, after being shot by runaway teenagers from Indiana during a high speed chase along Interstate 70.Lund, assigned to the Green River office of the UHP, was a 6 year veteran of the patrol. He leaves behind a wife and two children, ages eight and twelve.
Lund was responding to a radio call for help to apprehend a 16 and 18-year old who had allegedly driven off from a Thompson, Utah, convenience store without paying for about $20 worth of gasoline.
OPINION
Violent crime has become commonplace, almost the accepted norm. The mugger who cracks open an elderly woman's head for the ten bucks of change in her purse; the neighborhood squabbles ending in bloodshed that begin with an argument over one neighbor's dog digging up another neighbor's rose bush. And as we read the stories, we say to ourselves, "And someone was killed for that?" as if a larger amount stolen or a "bigger" issue of argument would somehow make the tragedy more understandable, more rational, less of a waste. And it gives us all a chance to shake our heads and cluck and murmur, "things like that didn't used to happen," and we continue on to the next story.
But the murder of Dennis Lund deserves more than passing notice.
What is it that drove the Indiana youngsters to do something that can possibly end up putting them on death row? Initial reports tell a dismally bland and sadly typical tale of family disputes, problems at school, alienation and insecurities. Both youngsters had been in trouble with the law. One of them, the 16-year old, had apparently gotten into a fight two days earlier, and during the fight had pulled out a gun and fired some shots into the air. He was to appear in court the next day to answer to those charges. But, afraid of going to jail, he and the other youth decided to bolt, to get out and far away from the troubles. They stole a parent's car, hocked a few things at a local pawnshop, and started driving west.
Two days later their meager money had run out, and so had the gasoline in their car. They pulled off the Interstate at the Thompson exit, and filled the car up with fuel just after 8pm. A few minutes of standing around, a visit to the restroom, and they jumped back in the car and drove off. And the store clerk called it in.
Grand County Sheriff's deputy Steve Brownell heard the first report of the theft over the radio and spotted the car. He followed the vehicle, and turned his lights on to pull it over. Then the youngsters decided to make a run for it, reaching speeds of close to 100 miles per hour, as Brownell called on the Highway Patrol for help.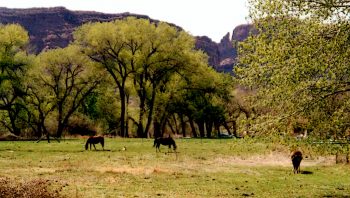 The UHP responded, blocking off the road. But the teenagers kept going, eventually heading across the median and continuing West in the eastbound lane. One report from the UHP indicated Lund's job at that point was to get ahead of the speeding car, to warn oncoming cars and trucks, have them get out of the way. But he never got that far. A shot from the suspects' vehicle sent a bullet through the cruiser's window, striking Lund in the head. Just a minute or so later, another trooper succeeded in stopping the suspects by shooting out a tire. In the meantime, with the help of a passing physician, other officers desperately rushed to get Lund some medical attention. Lund died on the way to the Green River medical clinic. Lund's wife is one of the Green River ambulance EMTs, and she responded to the call. When she arrived, she was escorted away from the scene and into a waiting patrol car. And she knew then, without being told a word, who had been shot.
In just a matter of minutes, two youngsters had gone from troubled teenagers to murderers. They are not in trouble because they had tough times growing up. They are not in jail because they stole some gasoline. They are not going to trial because they tried to outrun the cops. They are facing execution because one of them picked up a loaded gun, aimed it at a man, and pulled the trigger. A wife and two children were robbed of a lifetime companion. And the community of Green River has lost a good neighbor and friend.
The law enforcement officers in Moab who knew Dennis well enough to call him Dee will tell you he was a remarkable man, who threw himself into his job and into the community life of Green River with enthusiasm and joy. The day before his death he spent his off-hours fighting a blaze as a member of the Green River volunteer fire department.
Though troopers have died in recent years in the line of duty, it has been more than a decade since a UHP officer has been murdered in a similar fashion, a remarkable run of luck in a nation that seems more and more prone to senseless violence. There will be more such deaths. It might take ten more years, it could happen in the next ten days. The troopers and the sheriff's deputies who head out on the highway, alone, to patrol miles of dark and lonely road realize that. It can happen if they make a mistake. It can happen, as it did to Lund, if they do everything right and by the book. It can happen because an experienced drug runner calculates it's a good business decision to waste the cop and calmly and coolly drive away. It can happen because scared teenagers panic. It can happen from anger or cunning or stupidity or just plain evil. They troopers and deputies know that. Yet they will turn out for their next shift. They will answer the next radio call for help.
Cops take care of their own. The family of Dennis Lund will not starve. They will receive official and unofficial help from the department in trying to rebuild their lives.
Of course, it won't be enough; nothing could be. The UHP has set up a memorial fund for the family, and contributions can be sent care of the Utah Highway Patrol, 0000 West, 0000 South, Salt Lake City, Utah, 00000. It's a small acknowledgment of a good life.
ED. NOTE: And as 1993 came to a close, some very ironic and poignant 'end of year' thoughts from Ken about compassion and understanding. Who could have guessed how much worse it would become as we look at Moab and the World, a quarter century later? Or that some of the people he defended so passionately would  betray the confidence he showed in them? Here is Ken's honest assessment—I hope it makes a few people squirm, just a little…
THE YEAR IN REVIEW—JANUARY—FEBRUARY 1994
City councilman Sakrison has earned the affectionate nickname Friendly Dave. He was re-elected overwhelmingly four years ago to the Moab City Council. But that was a different era. By the time you read this, Dave will be out of office. And in many ways he's leaving because WE drove him out. You could always show up at this market, as him what was going on, tell him what the council was doing right and wrong, and leave after a cup of coffee with a smile. But things have changed. In 1993, Dave was under attack. It wasn't people just telling him he was wrong, it was people telling him how stupid, or dishonest, or corrupt he was, storming into his store and lambasting him, sometimes not even bothering to explain WHAT issue they hate him for. The very idea of Dave as corrupt is beyond bizarre, but in 1993, there was something in the air.
And is it different with the rest of the city council, or with the mayor? In the world of politics, there are always disagreements, always opposing views and philosophies. But never before have the disputes taken on the personal character, the amount of distrust, we've seen this year. The city council has bent over backwards (in my opinion sometimes going too far) in meeting the requests of various residents, on zone changes and conditional use licenses. And at other times they voted against some requests, believing the needs of the rest of the residents outweighed the benefits of the change. They were doing, rightly or wrongly, what they thought was best. And in exchange they're branded as obstructionists trying to prevent people from making a living, or tools of a rapacious real estate industry.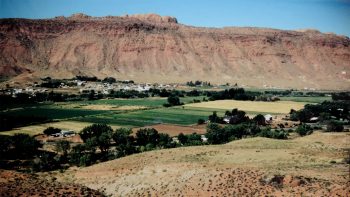 And the discussions we hold among ourselves, they've taken on a sharper edge. Just a short time ago we could argue and come away holding on to our basic mutual respect. But that's breaking down, week by week, month by month. Longtime friendships are cooling, defensiveness is the trend of the day: "This person disagrees with me; what are they REALLY after?"
The physical face of Moab has been changing over the past few years. We all note the new buildings, the bigger crowds, the different faces. But it's only recently, this year, that the heart of Moab began to change, to grow colder and more impersonal. At first, it doesn't seem like much. But the alienation and mistrust and fear is growing.To people from West Valley City or Long Beach, California, or Brooklyn, New York, the differences wouldn't even be noticed. We still know, and are known by, the grocery clerks and the meter readers, and we still call all our elected officials by their first names, and we still stop and talk when we walk down Main Street. But we also don't walk down Main Street as often as we used to.
ED. NOTE: And finally…goodbye for now…
April 1994
FACT:
The March issue of the Zephyr marks the fifth anniversary of the publication. For much of that time, Facts and Opinions has been a regular monthly column.
OPINION:
It might be time for this column, at least as written by me, to, in the words of network television, go on hiatus.There are a number of personal reasons why I would like to remove another deadline from my life. I'd like to spend a few more evenings and Saturdays each month with Julie and Cisco, walking along Mill Creek or taking a drive through Island In the Sky, or just strolling through New City Park and watching my boy master the slippery slide.
But there is another reason as well. Writing about local politics often revolves around issues that arise again and again, and opinion articles focusing on them can become, before the writer notices, stale and hackneyed. But not before others notice. And so, before large numbers of people kindly take me aside and inform me that I'm starting to repeat myself a whole hell of a lot, it might be best to take a break.
ED. NOTE: Ken came back to The Zephyr several times to do special reports and interviews with various Moab and Grand County politicians and public figures. But his "Facts and Opinions" articles always represented to me—and still do—the best and most honest kind of local journalism that any of us can hope for and it was honor for me to give Ken Davey the opportunity to show that unique talent…JS.