EDITORS NOTE:
For almost twenty years, the "DOG OF THE MONTH" was one of The Zephyr's most popular regular features. When the print version ended, so did the dogs, but now we've been thinking it's time for a Renaissance of sorts, with one notable change.
Previously, we limited our nominees to canines, but we feel that in 2018 it's time for more species diversity. Also we fear accusations of prejudice and bigotry if it appears we are favoring one species over another. Species discrimination cannot and will not be tolerated here at The Zephyr.
Therefore we open the competition to ALL animals that are "bone" fide pets or masters of the humans with whom they reside. Please send all entries to us here at The Zephyr:
You must include photographs of the nominee (photos of the human are optional) along with a short bio and the reasons why you think your animal deserves recognition.
However, please note that the winning entry will still be awarded "DOG OF THE MONTH" status for historical and sentimental reasons…
JAMESON!
Jameson is reputed to be a registered Irish Terrier. He also goes by Jamie, Jamieboy, Jamester, and Jamis, but he doesn't answer to any of these names unless he feels like it. He was born in northern Wyoming and was a complete rascal in his early months.
There were only five commands that were instilled in Jameson during his time at finishing school and, after graduation, he quickly forgot most of them.

Irish Terriers are extremely energetic animals. If he wants to go for a walk, he will gather the leash in his mouth and drag it around the house until he prevails upon his codependent owner to set out for a jaunt along the many trails in the area. Often times he will twirl in circles at the front of the door to indicate that it's time to get going.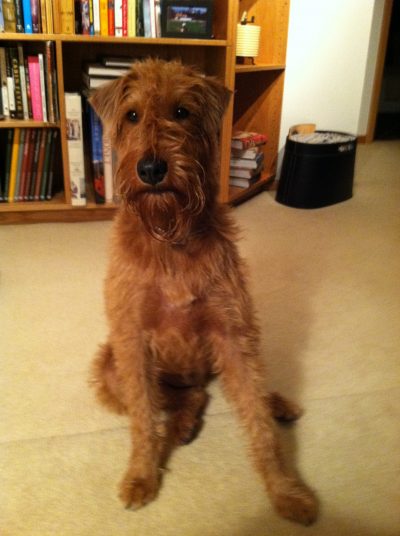 Jamie loves to watch old movies on the television. His favorite movies are John Ford Westerns filmed in Monument Valley and near Moab, because Ford had lots of barking dogs accompanying the cavalry. He's seen "Shane" so many times, that he knows that Shane is never coming back. But, Jamie really shows his love of his Irish fore-bearers, whenever "The Quiet Man " is playing. He will watch his favorite scenes for ten or fifteen minutes at a time, with the avid concentration of a movie buff that has seen a favorite film a dozen or more times and just pays attention during the best scenes.
Jamie sleeps soundly on a dog bed or the end of the couch every night until around three o'clock in the morning, when he demands to be let outdoors to micturate.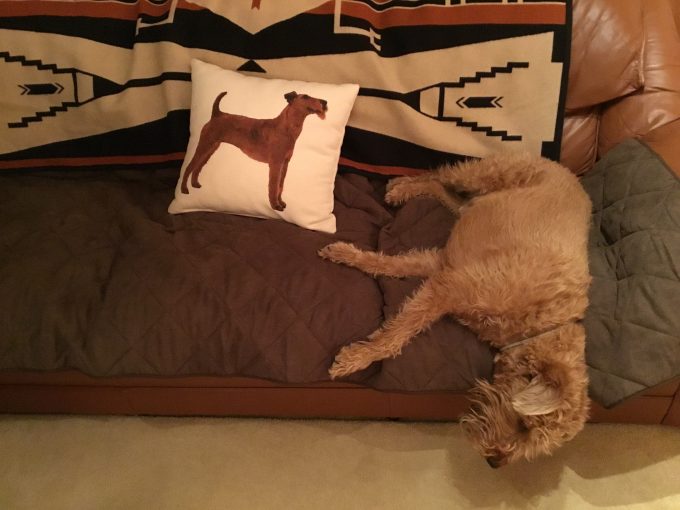 During the daytime, the Jamester chases squirrels and ravens around the yard. He's never caught up with a single one, but his enthusiasm for the chase never flags. At night he is watching for raccoons and skunks. Occasionally, a leaf will fall off a tree a few blocks away, and that is enough to cause the Red Devil to go to barking. Irish dogs are very prone to excessive reactions whenever the moon is out.
Irish Terriers aren't for everybody. You must be patient and have a sense of humor to get through a day with one in your life.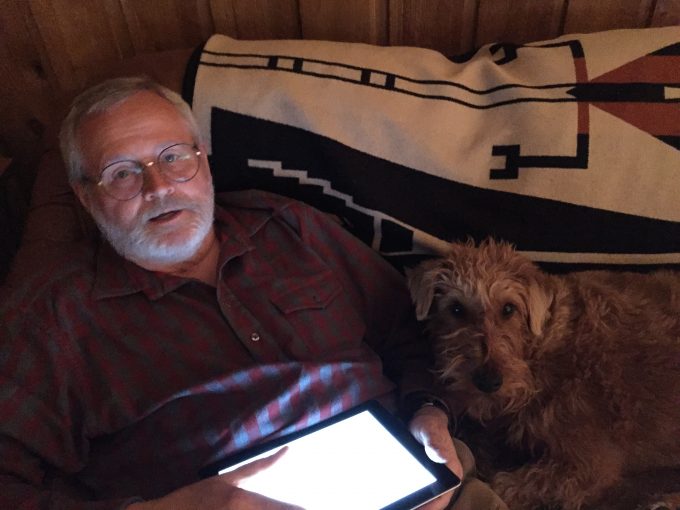 Jameson and Mark Steen live in Colorado. All text and images courtesy of Mark Steen.
DOES YOUR DOG…OR CAT…OR TURTLE
OR HAMSTER…OR…HAVE WHAT IT TAKES
TO BE:
'DOG OF THE MONTH?'
Send us your pictures and your stories
to: cczephyr@gmail.com