"When I was about four my father had an engagement to play the summer season out in Colorado Springs with a local band, the Colorado Midland Band, owned by the Colorado Midland Railroad. So we journeyed by train across the country to Colorado and my father rented a small cabin there. That cabin, by the way, stood until the 1980s when it was torn down for a new apartment complex. We spent a very enjoyable summer there. We loved the outdoors and we hiked every day. I remember they bought me a small red tin wagon which could be hauled quite easily to places like North and South Cheyenne Canyons.
"My father only had to play with the band in the evenings at the park so we had a lot of time to see many things. My mother and I sat on the grassy lawn and listened to the concerts each evening. We were there for most of the summer." – Herb
HERB RINGER came West from his home in New Jersey in 1939. Camera in hand,
Herb captured the American West, from the Canadian Border to the Rio Grande and
from the Big Sur coast to the High Plains.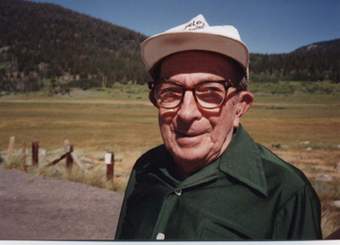 We believe Herb's collection of Life in the West is one of the finest. His work has been
published in The Zephyr for 20 years. I am pleased finally, to offer Herb's photographs
in color. We are also building a new 'album' of his work, elsewhere on this site.
My dear friend died on December 11, 1998…JS