Though none of us realized it at the time, October 1988 would be one of Moab's last quiet Autumns. The colors had already peaked on the La Sal Mountains and hunting season had begun. The magnificent old sycamore tree that grew behind the Canyonlands Cafe' turned a brilliant red, as it had for 75 years, and there was still time to notice it as a smattering of tourists and locals alike drove up and down Main Street.
There were three stop lights, City Market was still on the west side of Main Street next to Walker Drug, the liquor store was on Center Street and–appropriately enough–right next door to the Moab City offices.Just a few blocks north, the Westerner Grill was open 24 hours a day, seven days a week, and was a gathering place for Moabites, new and old alike. The daily special was still $2.50.
Moab had one bike shop, Rim Cyclery, a block off Main, and while some were predicting the mountain bike industry might change Moab in ways most of its residents thought was impossible, few worried seriously about it.
Moab did NOT have a McDonalds, or a Denny's, or a Wendy's or a zip line, or $300 a night motel rooms, or an annual visitation at nearby Arches National Park pushing two million. Though the Slickrock Bike Trail was on the cusp of being "discovered" and the Fat Tire Festival was getting a name for itself, the news spread slowly via magazine articles and newspaper columns in their travel section. There was no internet, no facebook, no Google, no Twitter, no emails…in mid-October 1988, the "real world" seemed far away.
Moab's uranium mill had recently shut down, a quarter of the population had moved away, and those of us who had decided to make a go of it in Moab were trying to find anyway we could think of to put beans on the table. For many, Moab was "a good place to be poor."
I had the germ of an idea to start an "alternative" newspaper that fall. I'd recently gained some experience at Bob Dudek's satire rag, "The Stinking Desert Gazette," and thought I could put together a small, independent paper on a monthly basis. But it was just an idea.
One industry that always brought a few dollars to town, albeit briefly, was a movie production. Ever since the great director John Ford discovered Moab in the 1950s, the canyon country of southeast Utah had become a mecca for Hollywood. From Westerns to SciFi to Chevy commercials, Moab had it all.
Now, rumor had it that Moab was about to host a vampire movie. The Moab Film Commission had put out a casting call for Moabites who might need some work as extras and film crew. The producers were even looking for local talent to fill one of their major speaking parts. When I heard that Vanessa Pierson, the eight year old daughter of my friends Dale and Skeeter had won the part, I was ecstatic. Her grandfather, Lloyd Pierson, had also been a longtime friend. He had been Ed Abbey's boss at Arches, back in 1957 and was one of my favorite Moab grumpy characters. Secretly. I aspired to grow up to be just like Lloyd.
The Piersons explained that the movie's working title was "Sundown: The Vampires in Retreat," and would start filing in the next few weeks. A synopsis of the film later described it like this:
"Under the leadership of their ancient and powerful leader Jozek Mardulak, a colony of vampires seek a peaceful life in the desolate desert town of Purgatory. Key to the transition is the town's artificial-bloodmaking facility and it is just not working. Mardulak summons the human designer of the plant, who brings his wife and two young daughters along for what he thinks will be a pleasant desert vacation. Soon, he and his family are caught up in a civil war as another vampire elder, who abhors the idea of vampires being anything other than predators, organizes a revolution, and a descendant of the Van Helsing family arrives intent on destroying all vampires.
How could it be anything but an Oscar contender? I wanted to be a part of history and Vanessa assured me she'd use her influence to get me a press pass.
* * *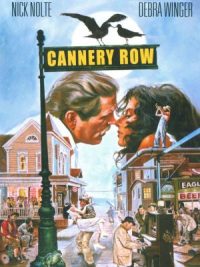 Now…I have to backtrack here a bit, to a seemingly unrelated topic. A few years earlier, I had become a devoted fan of the film, "Cannery Row," based on Steinbeck's novel and starring Nick Nolte and Debra Winger. There was a small but critical  part in the film–The Seer– played by an actor named Sunshine Parker. He portrayed a mentally disturbed but sweet and harmless "bum" who lived on the Row and survived via the generosity and love of his friends, including Doc (the Nolte character). The reasons for the Seer's problems are poignantly revealed in the film and I won't spoil it here, but I fell in love with The Seer and his tender relationship with Doc. I watched the film frequently on tape and, for reasons that escape me, had even memorized much of the dialogue.
Back to 1988. I had recently bought a used 1977 Triumph Spitfire convertible, sort of my nod to my first pre-mid-life crisis; my buddy Bill Benge, even deeper into midlife angst than me, came a long for the ride. We were cruising Main Street, just near the old Sprouse Reitz building, when I spotted a man walking on the sidewalk, headed south. He was tall and thin and sported a magnificent grey beard. There was something familiar about him and his gait as we passed by and I kept craning my neck for a better look.
"Wait a minute,  I said to Bill. "I think I know that guy." We turned right on 100 South, shot around the block to Center and came down Main for a second look. I pulled to the curb and called out to the man, "Hey. Excuse me…but are you Sunshine Parker?"
The man stopped dead in his tracks. He turned, and in that unmistakable voice of The Seer, said, "I am…how in the world do you know that?"
Bill and I climbed out of the car and introduced ourselves. I told him my entire Cannery Row story and he was genuinely shocked that I had remembered his name. He said, "I'm one of those working actors that people recognize, but nobody ever remembers our name. You may be the first!"
Sunshine explained that he was in town for a film production, the vampire movie of course, and I told him about Vanessa. I asked for his autograph, gave Sunshine my phone number, and told him if he ever wanted to get together for lunch to just give me a call. We shook hands and Bill and I drove back to my place. Thirty minutes later, the phone rang. It was Sunshine.
"Say, I was just wondering if you were hungry." Five minutes later, I was eating burgers and fries at the Main Street Broiler with The Seer.
* * *
That night Vanessa was shooting a scene south of town and I drove out to have a look. I pulled up to an empty metal warehouse.  A big, burly security guy stopped me as I climbed out of my car.
"This is a closed set," he advised me.
I explained that I was a reporter, here to "cover" the story, but he was not impressed.  Finally, I lied and told him that I was Vanessa Pierson's uncle…that changed everything.
"Oh?  Vanessa's uncle?  Well, certainly.  Vanessa is right over there in that trailer.  Go right ahead."
I eyed him coldly.  "That kid's going to be a star, and I'm her uncle.  Don't forget that."  I felt like I'd just shown the Gatekeeper of Oz my ruby slippers, and now suddenly it was perfectly alright to see the wizard.  "That's a horse of a different color," he said.  "Come on in.  Come on in."  A minute earlier, I was just another nosey interloper; now I was Vanessa Pierson's uncle, and she was my pair of ruby slippers.
Vanessa was in makeup and hairstyling with her co-star, Morgan Brittany. For those old enough to remember, Brittany played the part of Katherine Wentworth in the soap opera "Dallas,"  the evil vixen who ran over and killed Bobby Ewing (A year later he rose from the dead and returned to the show.).
Vanessa explained that her grandmother, Marian Pierson, had signed her up with the local film commission and the film's producers called her in for a screen test. Years later she explained that, "I read the lines, and talked to them about my life in Moab. One of the questions they asked was, 'What is your favorite movie of all time.'  I told them 'The Vikings' with Kirk Douglas. That sealed the deal, they hired me on the spot."
At 9 p.m., David Carradine arrived. The actor who made "Kung Fu" a household word, now hoped to do the same for contemporary blood suckers.  I remember even now that Carradine moved slowly; he spoke slowly – he didn't walk, he floated.  If you just watched his head you'd think he wasn't moving his feet at all—that he was mounted to some unseen track and was sliding along on oiled rails.
Carradine rolled over to the formerly empty metal warehouse in which an elaborate interior set had been constructed.  In fact, carpenters and painters had put the final touches on it just hours before, and now the place reeked of noxious fumes.  After a few minutes inside, the cast and crew began to get dizzy.  Carradine smiled, inhaled deeply and said to no one in particular, "I believe this is better than Johnny Walker."
In one particular scene, Erin Gourlay who played Vanessa's younger sister, had a long exchange of lines with Carradine.   She had her lines memorized right down to the subtle nuances and delivered them flawlessly.
"Cut," said Tony, the director.  "Let's go again."
Erin did it again.  And again.  Meanwhile, from my viewpoint at least, Morgan was beginning to show the effects of lacquer paint poisoning, and Vanessa who was supposed to be terrified, appeared to be dozing off.
"Cut," said Tony.  This went on for another thirty minutes.  Sherry Griffith, from the film commission, came by and heard someone express concern about the paint fumes.  She saw Carradine and sought his opinion.
"Do you think the fumes are bad," she asked, "or is everything OK?"
Carradine smiled dreamily and replied, "The fumes are really bad.  And everything is OK."
Erin finally did a take that Tony liked.  Vanessa managed to look appropriately frightened, and Morgan didn't get sick.  At midnight, I decided I'd had enough of this fast lane living; I turned the collar down on my leather jacket and prepared to leave.  As I headed out the door, I saw Vanessa sitting in a canvas back chair, her name emblazoned on the back.
"Nice acting tonight, Vanessa," I said.
"Thanks," she answered.
"Hey Jim," she called out.  "Let's do lunch…I'll have my service call your service."
"Beautiful," I replied.  "Beautiful."
* * *
My new pal Sunshine Parker wasn't cast in any of the toxic night scenes, but as I glanced over the script and cast list,  I realized that while this movie was not exactly a high budget production, the number of great character actors in Moab for the film was amazing. It included:
M. Emmet Walsh, who was also in Cannery Row with Sunshine and played the "lead bum" to perfection. But his face resonates with everyone. The film critic Roger Ebert once established the "Stanton-Walsh Rule," insisting that "no movie featuring either Harry Dean Stanton or M. Emmet Walsh in a supporting role can be altogether bad" (Years later, Ebert would offer one exception–Walsh's participation in the film "The Wild, Wild West.")
He has appeared in more than 200 films including "Midnight Cowboy," "Ordinary people," Blade Runner," "The Milagro Beanfield War," and the Coen Brothers' "Blood Simple."
John Ireland was a Canadian actor. He was nominated for an Oscar as Best Supporting Actor for "All the King's Men" with Broderick Crawford in 1949. He appeared in scores of films including "Red River" with John Wayne, "Gunfight at the OK Corral," and "Fort Utah."  And who could forget his role as a sheriff in "Satan's Cheerleaders?"
Dabbs Greer appeared in almost everything for over 60 years. I am an avid fan of vintage tv Westerns and it seems as if he had a guest role almost weekly in one series or another–from "The Rifleman," to "Tombstone Territory," to
"Trackdown," Dabbs played good guys and bad guys and every variety in between. He wandered into the "Twilight Zone," escaped the "Outer Limits," and murdered someone on "Perry Mason." He played Reverend Alden on "Little House on the Prairie." One of his last roles was as the 108 year-old version of the Tom Hanks character in "The Green Mile."
Bert Remsen was a favorite of noted director Robert Altman, appearing in "Brewster McCloud," "McCabe & Mrs. Miller," "Nashville," and "Buffalo Bill and the Indians, or Sitting Bull's History Lesson."  He also appeared in the Oscar winning film, "Places in the Heart."
These are the people that make movies work, but who rarely get the credit they deserve. So while the "stars" of "The Vampires in Retreat" were provided transportation and other amenities, the working actors were left to fend for themselves, which is why Sunshine called me about lunch–he was hungry. Over the next couple of weeks, we shared many a burger and fries at the Main Street Broiler and Sunshine regaled us with a few stories of his life in Glitterville.
We talked about 'Cannery Row,' and his part in that film; he owed that role, he explained, to Nick Nolte, who he'd known for years. "Whenever Nick could," Sunshine explained, "he'd send a part my way. He's a great guy. Always looking out for the likes of me."
There was one scene in the movie, where Nolte, playing the troubled "Doc," seeks advice from his friend "The Seer."  Shot near Monterrey and with a stormy Pacific Ocean as a backdrop, Nolte and Parker ponder the meaning of life.
Doc asks, "What do you think of octupi?"
"Moody," replies The Seer. "Very moody….Doesn't take much to upset them."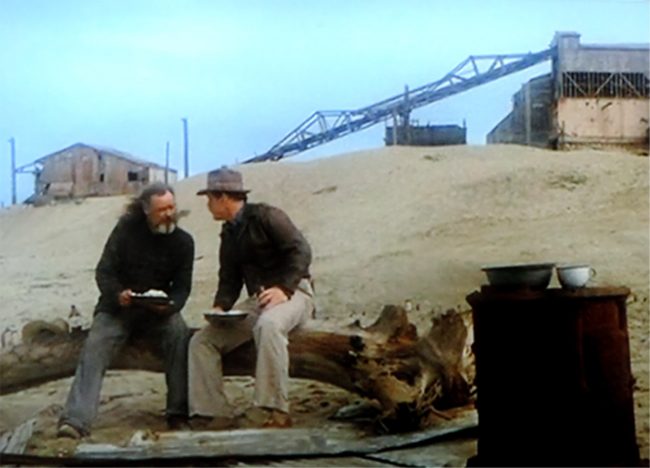 Now, years later, sitting in our booth at the Broiler, I asked Sunshine if we could re-create the scene. "Sure," he said uncertainly. "But…uh…why would you want to do that?" I explained that I had memorized all the dialogue in the film and I'm pretty sure Sunshine thought that was a bit odd. Still he tolerated me and he re-created his role as The Seer with perfection.
A few days later, Benge and I proposed to take some of the "working actors" out to dinner at Pack Creek Ranch. Bert Remsen and and an amazing British actress named Helena Carroll joined Sunshine, Bill and me for the evening. We all piled into Bill's Ford for the fourteen mile drive to what was then the best restaurant in Southeast Utah. This had been their last day on set, their work was done, and the following morning, they were flying back to Los Angeles.
If I recall, Bert had a small bottle of bourbon that he nursed and shared with his backseat companions. And at Pack Creek, the festivities continued over endless bottles of wine. I remember the themes but not the substance of one hilarious Hollywood story after another, of actors they had worked with, the ones they loved and the ones they loathed. The tall tales and the ardent spirits flowed freely. I remember the pride they took in being the real backbone of the industry. They are the men and women who truly create the works of art–the masterpieces–that we hail today.
"WE!" Miss Carroll proclaimed at the end of the evening, "are NOT 'stars.' WE are ACTORS!"
It was one of the most entertaining evenings of my life and the next morning, I awoke with a splitting headache and could not remember a damn thing. I called up Bill and he said, "Was that an amazing evening, or what?"
"Yes!" I said, "but can you remember any of the stories?"
There was a long pause…"I'll be. You're right. My mind is a blank. That must've been really good wine….Or maybe it was the quantity, not the quality?…We should've never tried to keep up with 'working actors.'"
The next day, cast and crew packed up and left Moab, Utah forever. I never heard from Sunshine again, though years later, Moab Film Commission Director Bette Stanton was in Los Angeles and saw him at a convention. He asked her if that "young feller with the little blue car ever started his newspaper."
* * * *
"Sundown: The Vampires in Retreat," premiered in 1989 but was never released theatrically, except for public screenings at film festivals in Palm Springs, Seattle and at Cannes. It was finally released on VHS in the early 1990s and on DVD in 2008. Since then, it has developed its own cult following and the number of recent positive reviews Sundown has received was a pleasant surprise.
For Vanessa Pierson it was a great time in her life. Recently she told me that after the Sundown movie, her mom, "enrolled me at Fox and we made many a trip to LA for auditions. I did do a few commercials including a Bulls-eye BBQ commercial, a bank commercial, and a Fanta soda commercial."
And she remembered that at the time, " Oh I was larger than life, we still talk about it!" She even got a fan post card from Ed Abbey.
"But at that age, being away from my horses, my dad and my friends was too hard. I quickly tired of it and told my mother that it wasn't the life for me. I still feel the same, I like a simple life and freedom."
And she's never seen the movie. " No. I cant stand to see myself or hear my voice. I have only watched it one time and that was on a big screen at the premier in LA. I tried once a few years back but I cringed  too much and I had to stop."
I spent this morning watching "Sundown" again. It had been years but it was like a sweet trip into Moab's past. I especially loved the cafe' scene, shot at the old Silver Reef Cafe' in Thompson Springs. The train depot across the street is gone–bulldozed a couple years ago, but the old brick diner still stands, though it closed a decade ago.
Among the vampires retreating to good cup of coffee that day were a handful of Moabites who earned parts as extras. I spotted Page Holland and Kaki Hunter among the reformed vampires. But also seated at the booths were three of my favorite Moab men, John Keough, Verle Green and Ray Tibbetts. They're all gone now, but the memory of them lingers, as do my memories of that time and place.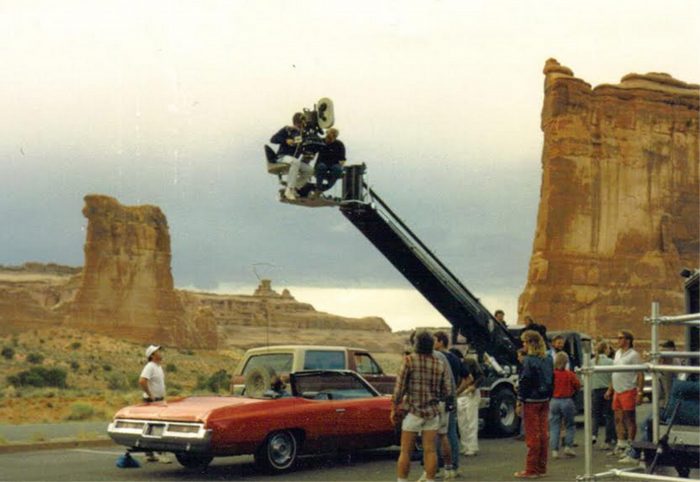 The Moab I remember did in fact "retreat" from the world it used to be a part of. And I suppose a vampire invasion of sorts did occur in the years and decades that were to follow. By 1990, new condo developments began to pop up around the valley. Home prices, after bottoming out in the mid-1980s, started to rise dramatically. Out-of-town investors, from Park City to California, started investing. The Atomic Motel became the Kokopelli Lodge. Budget Family Clothing transformed itself to the Grand Emporium. McDonald's arrived in 1990. Then Wendy's. Then Denny's. After decades of faithful service to the community, the Westerner Grill and the Canyonlands Cafe's went out of business.
Moab was on its way, even then, to what it has become. But I will always remember that last quiet October, when peace-loving vampires came to Moab, just to live a quiet, simple life.
Jim Stiles is Founder and Co-Publisher of the Canyon Country Zephyr.
To comment, scroll to the bottom of the page.
Don't forget the Zephyr ads! All links are hot!