I began my Salt Lake City life the very week of my 16th birthday. My parents never really embraced homeownership and were anxious to leave our rural Midvale and the three bedroom home they had raised 4 children in. My older siblings had left home, I am the caboose. My father had been successful and cashed out to enjoy his retirement years.
Condominium apartments were still novel when my parents bought theirs on the east bench of Salt Lake Valley. We were the 11th people to move in an innovative new mid-century modern 14 story building. At that time it sat nearly alone, a full half mile from the closest house, and well over a mile from a store. The building towers above the mouth of Emigration Canyon, where the Donner Party blazed a trail in 1846, and the Mormons emigrated their way into the valley in 1847. The view looking west towards downtown, the Great Salt Lake, the vast Great Basin valley, and the Oquirrh Mountains is spectacular. Locals have long known that the salt air of the lake combined with toxic smokes from the smelter do something unusual to add colors for exquisite sunsets
It would seem I was a privileged kid, but I was used to the Huck Finn life in the country. I had left behind my friends, and was stranded in an adults only apartment with only 11 other condos being filled with adults. I knew I had to adapt. Bus service to the condo was nonexistent. Even the school district found it implausible to send a school bus up to gather up just me. My father was gracious with shuttle service to and from my Junior year at East High. The steep foothills turned bicycling into a fast thrill ride downhill, and a get-off-and-push it up the mountain. It wasn't too long before the solution to my father's indentured shuttle service and my freedom was a two-year-old Volkswagen bug. A new and exciting chapter in my life was about to begin.
Our apartment was located at the edge of a canyon. With the freedom of a car, I was capable of being in the mountains just a mile away from the apartment up and into Emigration Canyon. One of the first man-made interests in the canyon was a converted railroad passenger car that had been framed in and roofed as Ruth's Diner. I ate there once and was disappointed with the food. Other people were off-put because she would smoke while cooking and her chihuahua was allowed to run free within the confines of the converted rail car. It seemed to me that a vigorous health inspection would've shut her down. But she remained open and pandered to this under-age adolescent by selling quarts of Fisher Beer and Winston cigarettes to go. Fisher Beer was brewed in Salt Lake. It earned a bad reputation. They were proud to use the slogan: "Sparkle brewed to the altitude". At 17 availability was more important than palatability. That looks like my VW Bug in Ruth's parking lot, but it's not. My Volkswagen had a peace sign in the back passenger window.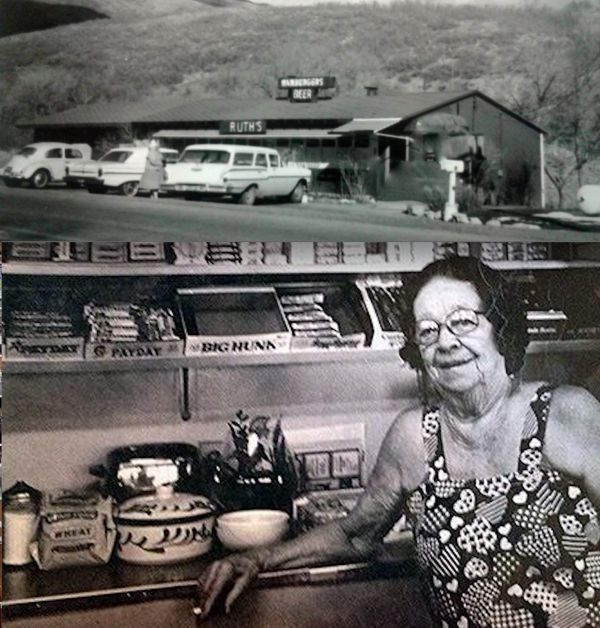 I had a very few expenses; gas, car insurance, upkeep, and a clandestine tobacco and alcohol habit. Lying on a job application about my age, I was quick to find work selling women's shoes at Bakers on Main Street downtown Salt Lake. East High made some considerations that allowed me to take afternoons off for my job as long as I kept my grades up. I did. I was smart enough to get B's without much effort.
I didn't mind working with women's feet. I could look at the sales board and see that at 17 years old, I was making the same kind of money that men with families were making. I lived at home rent-free and had few expenses so most everything I made was discretionary income. Our condo, had little draw for me, so after work I would tramp around downtown, It was a real education for a teenager.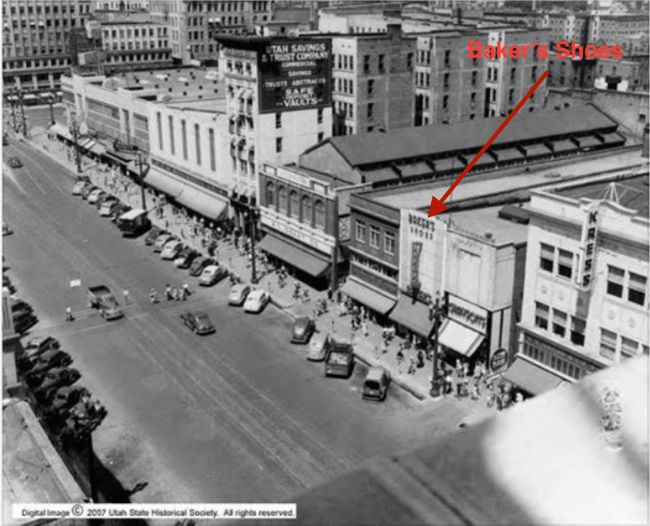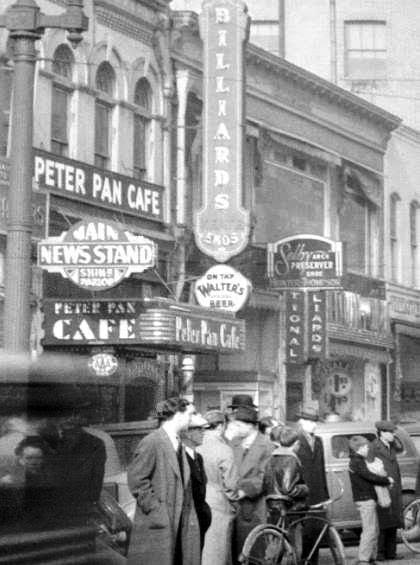 With the VW and plenty of disposable cash, I applied the same Huckleberry Finn exploration skills that I had growing up in the country to downtown Salt Lake. I explored. I made friends with Harry Louie at his King Joy Cafe. I would often have my dinner there, but not always. The Hofbrau proudly displayed a large roast beef in the window under lights and heat lamps. They would slice the beef and pile it high on a french roll to make their roast beef and French dip sandwiches. At 17, I ordered a long neck Budweiser with my sandwich and it was delivered to me with a cold pilsner glass. Occasionally I would enjoy the Utah Broiler with a wonderful chicken dinner on table linens with cloth napkins. I not only felt like an adult I started to grow up .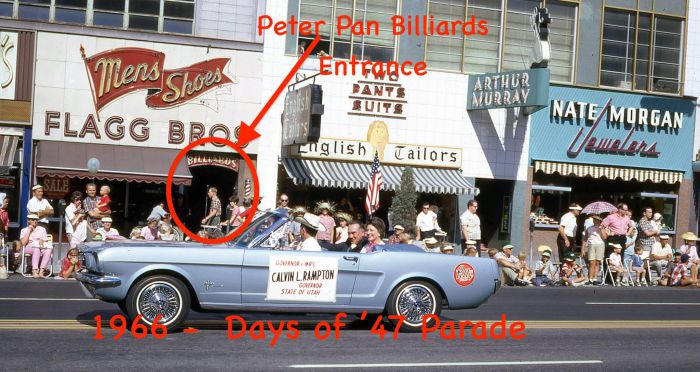 Both the King Joy Café and the Peter Pan billiards were right across the street from where I sold shoes at Bakers. The pool hall was in the basement of a worn out three story building that was built with silver fortunes from the 1890s Rocky Mountain mines. The stairwell acted as a chimney with cigar, cigarette, grilled onions, body odors, and basement swamp gases wafting from the basement upwards into the street. Descending into the stairs, to the right was their sign declaring this was "Peter Pan Billiards". I am saddened that my photograph cuts off the pointy finger directing the customer downstairs. The original sign was a great work of art utilizing etched glass and gold leaf to accentuate the letters. Abalone and mother-of-pearl embellishments proved that the sign artist was a master. Tragically when they sold off the contents in the '80s, they broke the sign removing it from the wall.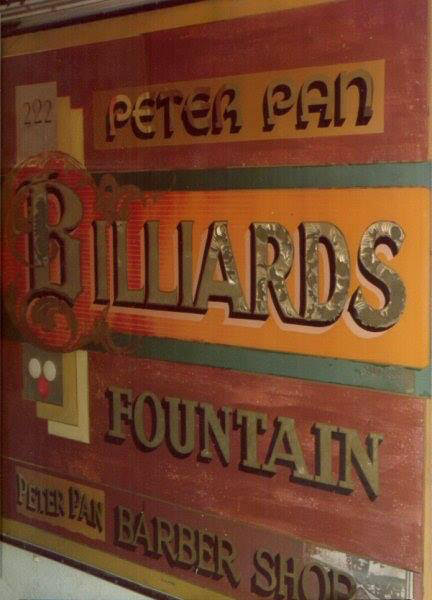 There was only one other reverse glass sign in Salt Lake that was better than this. It is a hand painted sign by Thomas Young for Lamb's Café. The café sign bragged of their: "Quality – Service – Sanitation" in gold-leaf and featured a beautiful hand painted trout in the center. It survives today in the Young Electric Sign archives. Thomas Young started out as a sign painter and later, as a pioneer in neon, lit up Salt Lake and Las Vegas.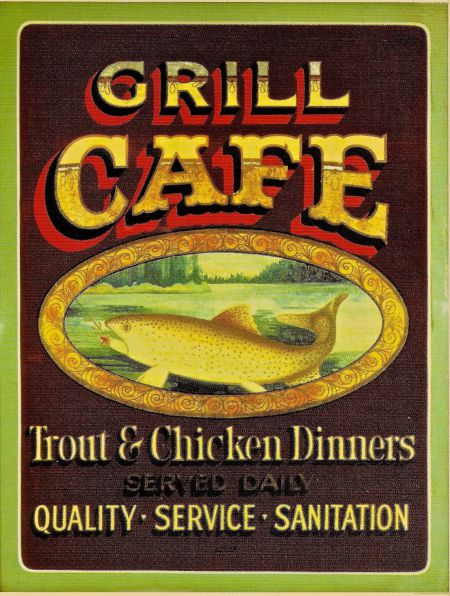 As you descend the worn painted steps to the pool hall and passed by the gold leaf sign on the right, you faced a tired sailfish mount central to a mural on the west wall. The fish was exposed and had suffered a variety of damages. Still, it foretold to the overall deterioration as you took in the smells, sounds and sights of a subterranean unknown. The dilapidated condition of the poor fish was a preemptive warning to the condition of the pool hall.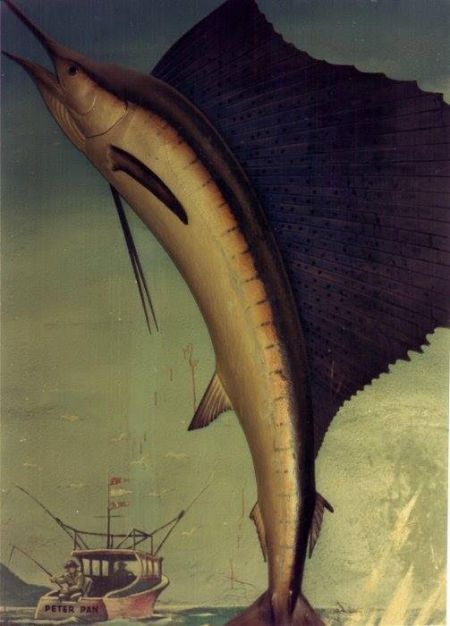 The first time I entered the pool hall, my eyes took a moment to adjust from sunny outdoors to the dank barely lit basement. I had enough sense to pause and try to take it in. I was still confused, but my chutzpah was intact and curiosity was stronger than my fears. I wandered around the perimeter trying to get the bearings of the place. There was an internal glee about being in a place that celebrated the base pleasures of life. High on the basement walls were animal mounts that had lost their freshness dozens of years ago. Like in the mines, I thought a live canary could be useful. If it passed out due to lack of oxygen we would be warned to escape the toxic basement air.  Without staring, I glimpsed at the characters and made up of quick stories about each of them. Of course these first assessments were usually wrong, which is a lesson that I have taken into my later life. The one time I was right is when I spotted the bookie, and indeed, he was.
Because it was the basement of the three story building, the structural pillars were numerous and substantial. They were decorated with 8 x 10 promotional photographs of sports figures. Most of them were local heroes, but I recognized some that had national prominence including Whizzer White in a pose kicking the football. Later he became associate Justice of the Supreme Court Byron White. There was a photo of "Bronko" Nagurski and other football players. A celebrated spot on one of the pillars featured a fists-up Jack Dempsey.
I wasn't much of a pool player, but I had practiced at a bowling alley when I lived in Midvale. Like the pool tables at the Peter Pan, I practiced on old pool tables with leather pockets. We would check out a set of 16 balls at a counter and the old man would hit a timestamp. We paid by the hour, not by the game as coin-op pool tables do. I enjoyed it, I tried to understand it. When I played, I had fun. I thought I was better than the facts bore out. At the Peter Pan, when I played I was dubbed a banger, a derogatory term for a novice or unskilled player who hits the balls harder than necessary and doesn't play for position. I did hit hard without finesse but the moniker of banger felt like a hurtful exaggeration.
I got a hustled for $50 once. It was and will be the last time. An unwashed old man with a sweat stained JC Penneys felt hat made me offer that I knew I couldn't lose. The game was 8-ball. I could break and he would remove six of my seven balls. I only needed to sink one striped ball before I sank the 8-ball to win. I got to shoot first after the break. How could I lose?
After the break, he removed 6 of my striped balls from the table. The only ball he left for me was well protected by his seven solid colored balls. I took one jab-stroke and failed to drop my striped 14-ball. Then, without a hint of mercy, he read the table, waved his pool cue wand and dropped every solid ball, calling each shot in order.  I've been around gambling long enough to know that it's important to pay your bets right away. I did. I lost $50 in frog skins and sacrificed a piece of my pride in three minutes on an inch thick slab of felt covered slate.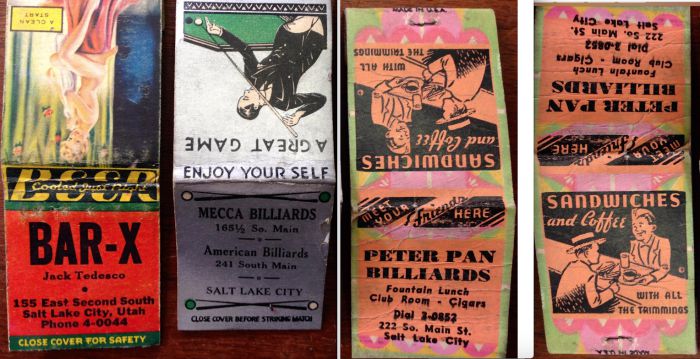 After that experience, I just hung out, I rarely played, I became a railbird, and entertained myself drinking bottled beer and watching the small dramas that were always taking place.
The grill served up simple items, hamburgers, hot dogs, sandwiches, and a Salt Lake local specialty; the Morrison Meat Pie. The Scottish meat pie had a spiced meat patty baked inside a lard laden pastry. It was offered plain, or smothered with brown gravy or chili. The pastie had been a local favorite since 1883. I usually ate elsewhere but I always ordered a beer.
I was able to do business with a man known as Jackrabbit. I bought several choice small antiques from him. I remember buying silver spurs, a railroad detective badge, a small oak humidor among other things. He was bearded, tall, wore old plaid wool coat, and carried his two-piece Balabushka pool cue with him in and out of the Peter Pan and other pool halls nearby. He rarely talked and knew much more than he said. He had an eye for antiques and was able to price them low enough for me to buy. It was not a friendly relationship but it was a little more than just business. He was honorable and a known "A'' player.
In 1985 all the pool tables, fixtures and photographs were sold to Buffalo Billiards in Petaluma California. The stuff has been scattered even wider from there. By then I was 35 years old and at a transitioning period in my life. I had neither the funds nor the ambition to buy the complete contents of the old pool hall.  I did contact them for the sports pictures and the reverse glass sign, but was denied. The tables, although genuine antiques, were well worn and bigger than I wanted to deal with. So, now, in fact, the Peter Pan Billiards became "bygone and an obsolete story".
Clark Phelps lives in Salt Lake City, Utah.
Click Here to Read Clark's Previous Installments of "Bygones & Obsolete Stories…"
To comment, scroll to the bottom of the page.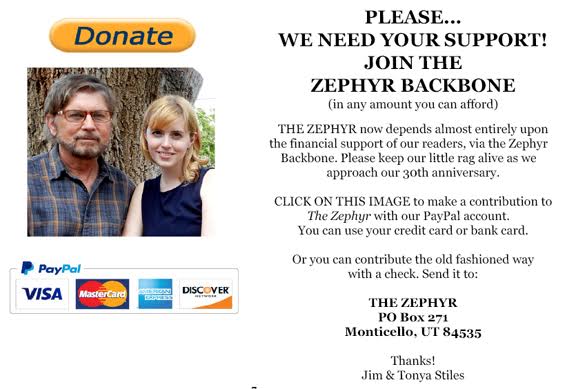 Don't forget the Zephyr ads! All links are hot!