Paul Vlachos is a New Yorker who understands The West. And he is a New Yorker who understands New York. Wherever Paul goes, he finds signs of life…
Let me first say that I was encouraged to do this. I am not just some dissolute human specimen who lives for donuts. Yes, it's clear that I have a great fondness for baked goods. That much is true. I could have lied and said that I simply enjoy shooting photos of donut signs, but I do like the occasional bite of something sweet. Still, I would not impose this column – "Donut Joints Redux – Volume 2 Ad Infinitum," on the world unless I had not been gently encouraged by editorial forces who told me it would be okay.
If I dig deep enough into the depths, I have more donut shop photos, but I'll save them for another day. I already have a growing pile of OTHER food groups and establishments, marinating for use in some future column. As we discussed in "Donuts, Volume 1,"  there is a strong and logical bond between food and the road. In fact, I'm not sure that two subjects could be more intertwined. One could argue the case for a bond between the road and spiritual seeking, but that would quickly lead to a whole lot of airy blather – many words signifying nothing. Talking about the road and food, on the other hand, could not be more significant, relevant or deep. IN FACT, one could make that case that there is very little more spiritual than food on the road. I'm going to pause for a bowl of cold cereal here.
I'm not going to discuss which of these places I actually ate in, whether I partook of the deep fried dough in one or all of them. That doesn't matter. What DOES matter is that they were there and so was I. We co-existed at that moment in time and, if I did happen to have my mouth filled at the time with sugary, deep-fried dough, I still managed to take a photograph to document the scene for posterity. Here are some donut places that you might encounter on the Great American Road.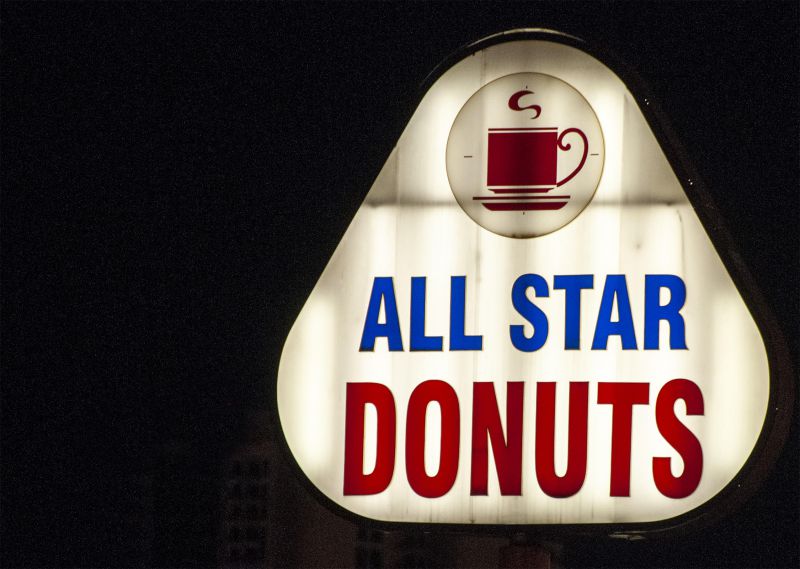 1. Las Vegas, Nevada – 2008
Think about what goes on in any late-night donut place. Now, think about what happens in a late-night donut place in Las Vegas.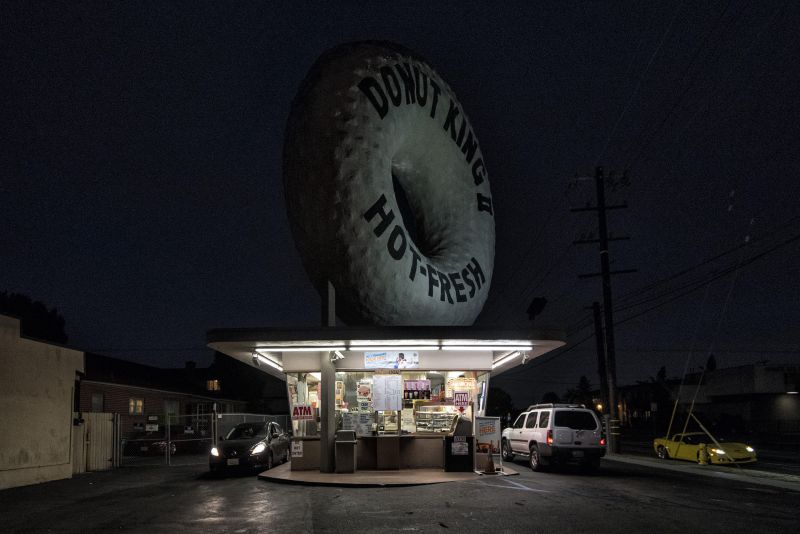 2. Gardena, California – 2017
There are a few other gigantic donuts in California. I documented Randy's in the previous column. There may be more in the future. Or this may be the last one. So much is uncertain in this life.
3. King City, California – 2016
This was a strange remnant from another age. Honestly, this donut king veers between charming and terrifying to me. More often than not, it's scary. I have a soft-serve ice cream sign from Louisiana that I may share here soon. It's one of the only food signs I have that's weirder and scarier than this. I think it has something do do with the age that it's from.
4. Brooklyn, NY – 2014
Brooklyn is home to a rich donut heritage. I should have shot my local place, on 14th Street, which some of my friends swear by, but the sign doesn't do it for me and neither do the donuts.
5. Salinas, California – 2015
This is from the verse that Janis left out of "Me and Bobby McGee." It all went down here. I swear to you. I have seen the original, blood-stained lyric sheet.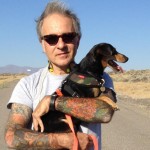 Copyright © Paul Vlachos 2018
.