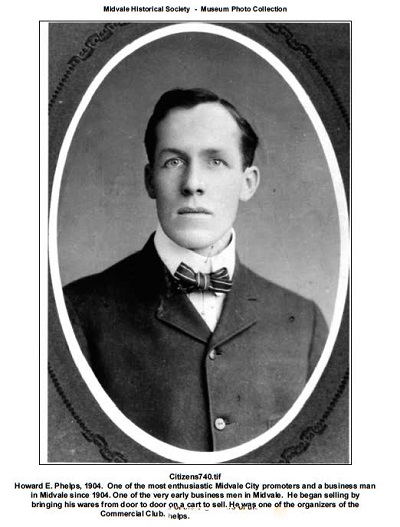 As a young man, Howard E. Phelps lived in the shadows of his father Henry Enon Phelps, a Salt Lake merchant pre-dating the Zion's Cooperative Mercantile Institution (ZCMI,) and grandfather, William W Phelps, an important figure in early Mormonism. Both men were Mormon pioneers who crossed the country to Salt Lake before the transcontinental railroad was completed in 1869. Henry Enon died in the insane asylum in Provo. W.W. Phelps died at home suffering from Alzheimer's.  Forgive my indulgence as I write about my grandfather but his story Is fascinating and should be chronicled. As a youth he saw much of the untamed wild west before settling down and becoming a civic leader.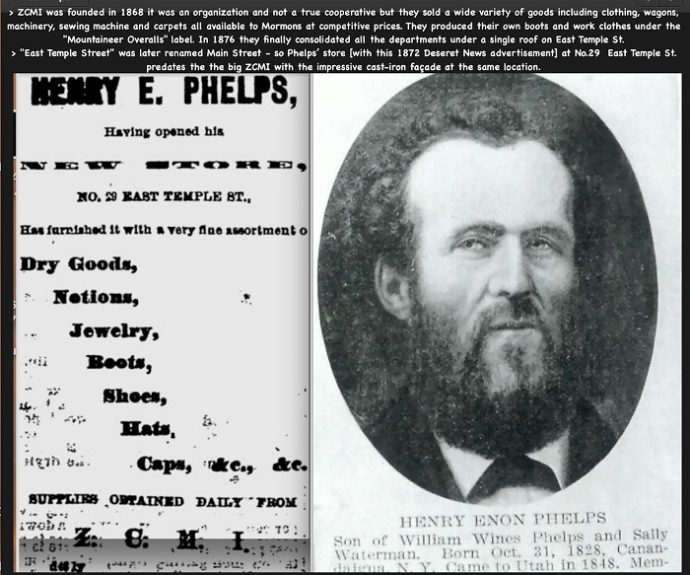 In 1894, at 18 years old, Howard Phelps joined the A.R.U. lodge, The "American Railway Union". It was founded by Eugene Debs in 1893.  Debs was later at the founding convention of the IWW, whose members were known as "the Wobblies," in 1905. Joe Hill, organized for the Industrial Workers of the World in Salt Lake. Debs ran for president on the Socialists Party many times from 1900 to 1920. The A.R.U. was one of the nation's first industrial unions. So admittedly with a few degrees of separation, Howard Phelps was peripherally connected to Joe Hill, Salt Lake ,and Eugene Debs.
Howard kicked around the West trying to find a suitable town and an occupation. In Butte, Montana he sold men's suits. He would send the man's measurements and a 50% deposit to the tailor. When the tailor-made clothes came back he would deliver them to the customer and keep the 50% balance as his commission. He didn't last long though, as there was usually complications with completing the sale. A lot of sales turned into dead ends.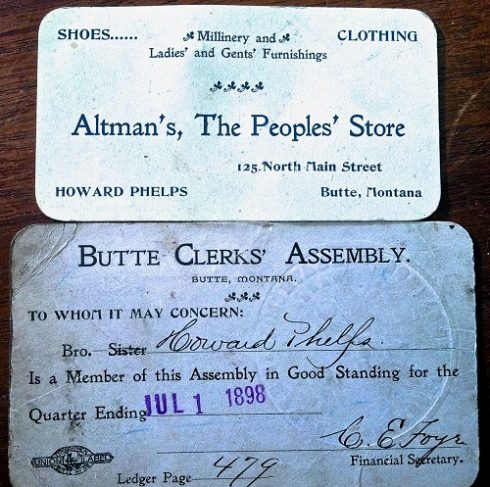 After a while he tired of the established copper boom town of Butte Montana and his wanderlust sent him to the silver camp of Tonopah, Nevada while it was still being called Butler. He didn't take a job but was still looking for a legitimate hustle. Then onto St. George, Utah  where he bought a partnership in a tavern and was named Justice of the Peace when it was an appointed job. His wanderlust moved him again to Bingham Junction, now known as Midvale, Utah.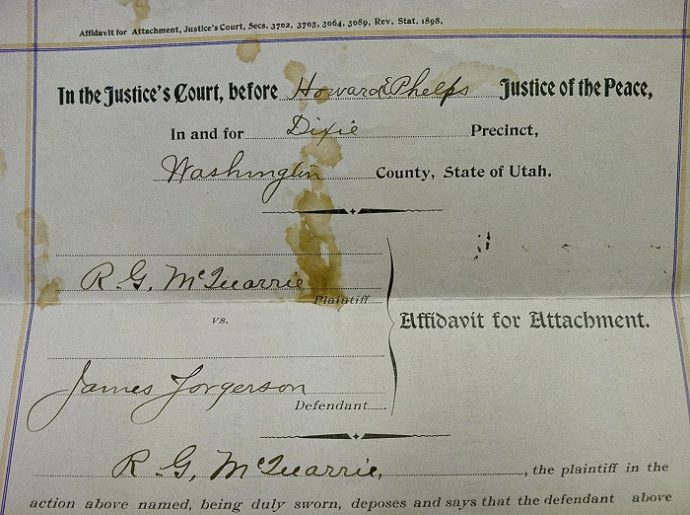 In 1903 he set up a soda shop and confectionery on Main Street of Bingham Junction. The town was just starting to grow in the shadows of a large smelter that brought in silver ores from the Rocky Mountain Cottonwood Canyons to the east and, more importantly, copper ore from the Oquirrh Mountain Bingham Canyon mines to the west. The town was turning into the commercial hub for the south end of the Salt Lake Valley. It had everything you could want in an old West town–saloons, dance halls, boarding houses, ethnic fraternal organizations, outfitters, churches, and the general run of main street businesses catering to the needs of smelter workers, their families and outlying farmers.
When Howard got to Midvale he partnered up with his unreliable and inebriate brother Pharaoh. It was there that they set up shop with a tobacco counter and factory and homemade confections. Though they were on Bingham Junction's  Main Street the mailing address was West Jordan.
In 1904, a fire took down his flimsy wooden business. By then he was married to Marie Stokes from Draper, and rather than drift on like was his habit, he decided to rebuild. Coca-Cola sent him a letter that they would gladly lend him credit in goods and merchandise if he decided to rebuild. He was turning into a civic-minded a family man. He financed and built a two story building at the same location.
At street level he set up his brand-new soda fountain and store.There were also two small store-front doors that opened into small independent businesses.  Upstairs, there was a common foyer that divided two small one bedroom apartments with windows that overlooked the bustling business district. It was in one of those apartments that Howard and Marie raised their two sons, Howard Jr, and my father Eugene. The building held their living quarters, their commercial space for the soda fountain, and had three rentals, two small commercial storefronts, and a small apartment. Grandpa had finally put down roots. The kids didn't have a yard, their playground was the business district, or if they wanted to venture out, there was always the Jordan River and the adventures that could be found there.
There was confusion in what people called the town. The post office was known as West Jordan, the town occasionally was called East Jordan, and the railroad was Bingham Junction. So when you were away from home, you mailed a letter to West Jordan; when you talked of the town, it might be known as East Jordan and when you came home you carried a ticket to Bingham Junction.
Grandpa was civic minded, and started the Bingham Junction Commercial Club, a kind of chamber of commerce. They started to move on incorporating the area into a city. In 1909 Phelps was the judge who picked the winning submission of "Midvale" as the name for the newly incorporated city. With his 1904 fire still fresh on his mind he was quick to start a Volunteer Fire Department.
He never ran for office, but was a booster and small contributor to many of the things the fledgling city required.  Every small berg should have a baseball team. Phelps put together, managed and coached the Bingham Junction baseball team. I am excited to share this photograph of my grandfather as coaching manager of The Bingham Junction team. [notice the BJ on the jerseys]
In 1909, the president of United States, William Howard Taft, stopped at the Midvale Depot, campaigning not only for himself but for Reid Smoot. Taft was good to the Mormons, and the Mormons, with a long history of contentiousness toward the federal government, were quick to return the favor by endorsing Taft for President. This photograph shows President Taft and Senator Reid Smoot on the observation deck at the Midvale Depot with Paul Blinns' saloon in the background, painted with advertisement for Salt Lake's own Fisher Beer.
The Phelps family lived upstairs in what was an imposing two-story brick building in the small town. With a push from Howard Phelps, Midvale city was an early adopter of street lamps.  As with many small businesses he occasionally struggled and was friends with the bank.
The volunteer fire department was his favorite avocation. After he organized the volunteer fire department, he was always interested when new equipment was needed or purchased. Like a 10-year-old boy, he liked fire trucks. One of my favorite pictures shows grandpa with a five cent cigar that he pilfered out of his own store driving an open fire truck. It appears the throw of the clutch is a full 12 inches.
Midvale was still a small autonomous town right into the early '70s. The fire department went Pro in the 60's, but us kids who are 60 or older can still remember the screaming siren on top of city hall, and the volunteer firemen running from their houses or businesses to do their altruistic civic duty of keeping the town from burning down.
The soda fountain also handled small notions. Marie Phelps was an award-winning florist and milliner. The back room was full of silk ribbons, flower stands, copper pots, and the assorted equipment that goes with the very separate occupations of florist, confectioner, and milliner. In later years, when I went to visit grandma in her upstairs apartment, she would tear off 2 feet of white butcher paper and hand me a box of crayons to keeping busy.
The soda fountain was built in 1906 and had become dated. In the vacant lot just south of the Phelps Building, Vincent Drug built a brand-new drugstore with a modern soda fountain. I can't think of anybody that is alive today, but when I was a young man I had several people tell me that Vincent Drug was a better soda fountain than my grandparents'. The competition was just too much, and my grandparents jettisoned the soda fountain and made more room for the more profitable and less competitive floral shop.
The floral business was grandma's more than grandpa's. Marie was a hard worker, and grandpa started taking it easy with regular cigars and an afternoon glass of Canadian whiskey.  For about 15 years they were the largest floral shop in the south end of the valley and enjoyed their near monopoly. For many of the ethnic cultures that the smelter town had, funeral flowers were a big deal. Large expensive flower orders we're common.
As he aged, grandpa enjoyed laying low and receiving friends in the floral shop. Marie didn't drive, so Howard  was required to make the deliveries and the pickups, Mostly he hung out in and around Main Street with the pet parrot who had been with him for decades. Howard and Marie affectionately became known as Ma and Pa Phelps. The flower shop had a vast selection of Art pottery vases including Roseville, Weller, Rookwood, and McCoy.
I've never heard a disparaging word about my grandfather. My grandmother was a hard worker. She played bridge with friends as a diversion. I play and understand the game myself and watched her one afternoon and was impressed at her brilliance at the game. At the game of Bridge she was smarter than me, and I am a contender. She was not warm or affectionate. She did not like my mother and made it known. This of course caused some grief for my father. Time has put all of those problems to bed.
Howard and Marie Phelps were an important part of the early beginnings of Midvale City. Later my father built two buildings and had his business about a block north of the old flower shop. I maintain an antiques warehouse in one of those buildings today. There has been a Phelps-owned small business on Midvale Main Street since 1903–115 years. I'm getting ready to throw in the towel and default on this long Phelps tradition.  Sometimes it appears that Main Street has the same stages of life as a person. There is the awkward birth, followed by precarious steps, a raucous youth without discretion, and an adolescence  where one tries to define oneself, a mature adult hood were are all the gears seem to rotate perfectly, then a wearing out as middle aged turns to old age, and a continued slip into insanity. The Main Street of Midvale started to deteriorate in the 1970s. It was a natural victim of big box stores, an interstate freeway the divided the town, and the rising operating costs of simple sole proprietorships. Later, internet shopping put the final nails in the coffin.
Main Street has been decrepit for years but is starting to show a completely new life with no sense or attachments to its historical origins.
Clark Phelps lives in Salt Lake City, Utah.
Click Here to Read Clark's Previous Installments of "Bygones & Obsolete Stories…"
To comment, scroll to the bottom of the page.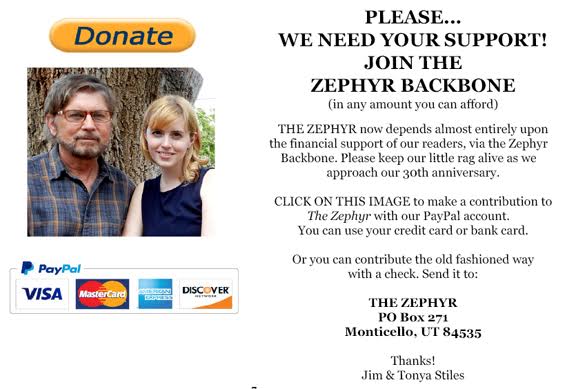 Don't forget the Zephyr ads! All links are hot!