For Ken Davey, 1953-2017
UPDATE ON ZEPHYR LAWSUIT: IT'S NOT OVER YET.
NOTE:  On January 10, the Utah Court of Appeals unanimously affirmed the decision of the Seventh District Court to summarily dismiss the $5 million defamation lawsuit against the Zephyr by former Moab City manager Rebecca Berner Davidson and her partner Tara Jae Smelt. The authoritative and compelling 37 page opinion by Justice Harris seemed, to any reasonable person, to be irrefutable.
But nope. Not irrefutable enough for Davidson/ Smelt. They have now filed a "Writ of Certiorari" with the Utah Supreme Court, asking that court to overturn the ruling of the Appeals Court and the District Court.
So it goes on.
Before I move to the gist of this short piece, Tonya and I would like to offer our undying thanks and gratitude to the attorneys who came forward in our defense. Moab's Steve Russell "had my back" from the very afternoon when we learned of the lawsuit.  He saw us through some hectic months and represented us honorably and effectively at the District Court hearing in February 2017.
When the Court ruled in our favor and the plaintiffs appealed, we knew that Steve did not handle appeals and so I turned to an old friend, Barry Scholl, at the Salt Lake City firm of Richards Brandt Miller Nelson. Barry is one of those guys who can put a worried man at ease and like Steve, made it clear they'd be there for us. Soon I was in touch with the firm's chief litigator, Russell Fericks. Russ represented us at the September presentation of oral arguments. I cannot begin to express how gratifying it was to have Russ as an ally.
With Steve, and Barry and Russ, the fees were capped or waived. We could not have afforded the skills they brought to the case, but all of them thought that a vigorous defense of us was also striking a blow in defense of the First Amendment. We were and will always be honored by their confidence in us and in our cause.
We also want to thank the renowned Southwest artist and my dear friend, the Great John De Puy who donated an original oil painting for us to auction and to help defray our legal costs, and to Doug Sabetti who bought the painting. Salut to you both.
And finally  our gratitude to the many many readers across the country and around the world who came to our defense and supported our efforts. I especially want to thank many of my old friends in Moab—the "Old Moabites"—who may not have always agreed with my views, but who managed to see the importance of this case. It has meant the world to us…JS
…………………
Even those who regularly read this publication may have forgotten that two and a half years ago, The Zephyr and four other individuals were sued for defamation and emotional distress by Moab's ex-city manager Rebecca Davidson and her then-partner Tara Smelt. They wanted over $5 million in damages.
In February 2017, the Seventh District Court's Judge Lyle Anderson rejected their claims and summarily dismissed the case. But Davidson/Smelt appealed (of course). On January 10, 2019, the Utah Court of Appeals issued its decision, unanimously rejecting their claims.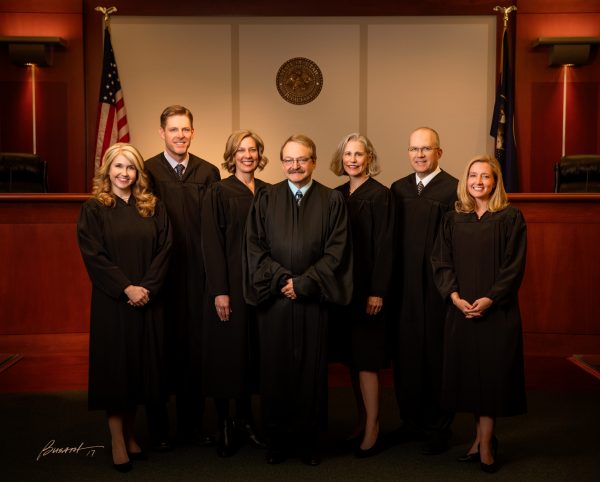 The Honorable Judge Ryan M. Harris wrote the 37 page opinion. Judges Kate Appleby and Diana Hagen concurred. For me, reading Justice Harris's articulate defense of the First Amendment–and by association the defendants–was one of the most gratifying 20 minute reads of the last three years.
All we tried to do was tell the truth, offer the facts as best we could, and express our concerns to the public over an issue that was of great interest and concern to Grand County citizens.
The Utah Courts have supported us 100%. From a careful reading of the opinion, it felt as if the Court itself wondered how the case ever got this far.
There's an answer for that question and it will be forthcoming (eventually) in a future issue of The Zephyr. The article's working title is: "What I Learned from Getting Sued." 
When I write the article, it won't be about the plaintiffs. Instead, the last chapter in this wretched saga of Moab's recent history will address how I believe all this happened to begin with. (and please note, I speak here only for myself, not for any of my co-defendants)
It will ask where the local media was throughout 2016 as the story unfolded. Very few of the facts presented by this publication were ever reported in either Moab weekly. They were virtually ignored by the public radio station. How was that possible? And why?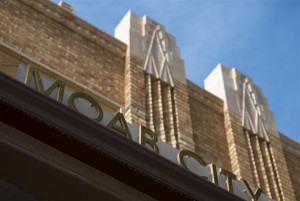 Where was the regional media? Where was the Salt Lake Tribune? Where was KUER? Or even High Country News? The Salt Lake City Weekly's Katharine Biele offered a 78 word report on the lawsuit itself in October 2016. It was never mentioned again. This was a classic First Amendment case with far-reaching implications. The media at-large should have been concerned but they never showed a scintilla of interest in the Moab City Hall fiasco or the legal issues that came out of it. Why?
How did the city's governing body, the most "progressive" elected city council in Moab history lead the community in the direction it chose? Why?

And finally, where were most of those Moab citizens who call themselves "progressives?" Over the years, I have had my differences with many of my old "progressive" environmental buddies, but this should have been different. This was an issue that I thought would bridge gaps and create alliances, based on a need to defend common decency, honesty, and integrity. Whether or not we agreed on the size of a national monument or the impacts of Industrial Tourism, surely we could agree that terrible mistakes had been made at Moab City Hall, that there had been stunning ethical and moral lapses, and that good honest people who worked there were being destroyed. 
AND that the facts needed to be reported.
Instead, we heard nothing. Not a word. The support for all of us who were legally embroiled in this mess came mostly from longtime Moabites who realized something was terribly wrong and wanted to help. And we found support from citizens across the country, of all stripes and political persuasions, who recognized Injustice when they saw it, even from afar.
So even as this case grinds inexplicably forward, we are grateful to all of you who have stood by us and we'll continue to keep you updated.

* * *
But, for the time being, I'd like to offer some excerpts from the Appellate Court's decision, written by Judge Ryan M. Harris. It's the first time I've ever seen a court cite Shakespeare to set the tone. For those of you who will take the time to read the entire document, here is the link:
From Justice Harris: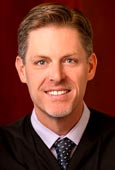 A free democracy is often messy and, in our country, those willing to serve in public positions and who are entrusted with appropriately spending the public's money must be "[individuals] of fortitude, able to thrive in a hardy climate," and willing to put up with robust, even sharp, criticism of their actions by members of the public whom they represent… The First Amendment to the United States Constitution affords a level of protection even for "vehement, caustic, and sometimes unpleasantly sharp attacks on government and public officials."

WILLIAM SHAKESPEARE, Hamlet, act III, sc. 1 (inquiring as to "[w]hether 'tis nobler in the mind to suffer the slings and arrows of outrageous fortune, or to take arms against a sea of troubles, and by opposing end them?").

In this case, we are called upon to consider the legality, under state defamation law, of certain comments—made by a citizen, a reporter, and another public official—expressing criticism of actions taken by Rebecca Davidson while she was employed as the City Manager of Moab, Utah. Faced with the choice of suffering her critics' slings and arrows in silence, or taking action against her sea of troubles, Davidson (and two other related plaintiffs) chose the latter course, and filed a lawsuit accusing her critics of defamation and other torts. The district court dismissed the lawsuit on summary judgment, and Plaintiffs appeal. We affirm.
ISSUES AND STANDARDS OF REVIEW

Plaintiffs appeal, and ask us to consider three issues. First, they contend that the district court erred when it determined that Defendants were entitled to summary judgment with respect to Plaintiffs' defamation claims. Second, Smelt and Tayo contend that the district court erred when it determined that Defendants were entitled to summary judgment on their claims for intentional interference with economic relations. Third, Davidson and Smelt contend that the district court erred when it awarded summary judgment to Defendants with respect to their claims for intentional infliction of emotional distress.
"Summary judgment is appropriate where 'there is no genuine dispute as to any material fact and the moving party is entitled to judgment as a matter of law.'" …In addition, "we may affirm the result reached by the district court if it is sustainable on any legal ground or theory apparent on the record, even though that ground or theory was not identified by the lower court as the basis of its ruling."

A. The Allegedly Defamatory Statements

The first element that Plaintiffs must prove is that Defendants made the statements that Plaintiffs consider defamatory. In this case, there is no controversy about whether it was Defendants—as opposed to someone else—who published the statements in question. Indeed, Defendants concede in their brief that they "do not dispute either that the statements occurred or the specific content of the statements."
The difficulty presented by this first element is that Plaintiffs nowhere provide—not in their complaint, their summary judgment briefing below, or in their briefs on appeal—a comprehensive list of the statements they assert were defamatory. They certainly mention newspaper articles, Facebook postings, and other statements in their briefs, but those articles and postings are lengthy and voluminous, and Plaintiffs acknowledge that not every statement contained in the identified posts and articles is alleged to be defamatory. In order to determine whether Defendants made actionable statements, we of course need to know what those statements are. When questioned about this at oral argument, Plaintiffs' counsel agreed that, if a particular statement was not specifically mentioned in Plaintiffs' opening brief, it was not intended to be among the statements Plaintiffs assert are actionable.
After examination of Plaintiffs' brief, and as near as we can tell, it appears the following statements are the ones that Plaintiffs complain are defamatory:

Statements by McMillan:

•That the residents of Moab had "no idea" what Davidson was capable of;
•That Davidson "destroyed" Kemmerer, Wyoming;
•That Moab should not "let [Davidson] do to Moab what she did to Kemmerer";
•That "approximately 25" or "more than 28" employees left the City of Kemmerer during Davidson's tenure;
•That "the exact same situation" involving a purported security breach resulting in a contract being awarded to Tayo occurred in Kemmerer prior to occurring in Moab, and that McMillan found it "highly unlikely that a foreign [cybersecurity] threat would happen in both Kemmerer and Moab that resulted in the amount of money being spent by both communities to a company partially owned by Tara Smelt."
Statements by Baird:

•That Davidson's suggestion of Consultant for Moab City's IT work, without what he viewed as proper disclosure, was a "serious financial impropriety" and presented a "clear conflict of interest" because the work done by Consultant ultimately enriched Tayo and Smelt; and
•That Davidson and Assistant violated legal and ethical rules by hiring Consultant.
(Footnote 5: In their brief, Plaintiffs assert that Baird stated that Assistant and Davidson had "violated the law and ethics rules by hiring Tayo, Inc. to perform IT services for [Moab]." Plaintiffs then argue that this statement was false because "Davidson did not hire Tayo, Inc. to perform IT services for the City." But the record does not support this characterization of Baird's statements. In fact, the portions of the record to which Plaintiffs refer demonstrate that Baird was aware that Davidson did not hire Tayo directly, and that the hire was made by Assistant for and on behalf of the City of Moab. Instead, Baird argued that Davidson's actions before the formation of Tayo enriched both Tayo and, by extension, Davidson's housemate Smelt, without Davidson disclosing the "clear conflict of interest" that Baird believed this arrangement entailed. )
Statements by Stiles and the Zephyr:

•That Davidson's actions as city administrator in Kemmerer "led to the departure of more than 20" Kemmerer employees "in just three years";
•That Davidson's experiences in city government in Timnath and Kemmerer were "marred by heated controversy, angry public debate, and litigation";
•That Davidson had not been definitively cleared of wrongdoing in Timnath;
•That Tayo was hired without participating in a competitive procurement process and received payments above and beyond what would normally be allowed by the city without that process; and
•That Moab was "watching history repeat itself" in reference to Davidson's actions in Timnath and Kemmerer.
(Footnote 6: Plaintiffs also allege that Stiles stated that Davidson, during her tenure as Kemmerer's City Administrator, "wrongfully terminated a large number of employees and made false allegations against employees who left their employment with that municipality." Plaintiffs do not cite to the record for this proposition, and in fact their characterization appears wholly unsupported. Although Stiles did indicate that Davidson terminated employees at Kemmerer and accused individuals of criminal activity, we are unable to locate any portion of Stiles's comments in which he alleges that the terminations were wrongful or that the accusations were false. Accordingly, we do not consider those claimed statements. )
Thus, there are approximately a dozen specific statements that Plaintiffs assert were defamatory. For the reasons that follow, in our view each of those statements fails to satisfy at least one of the elements of a defamation claim. Our supreme court has noted that there are "countless ways [in which] the law [of defamation] defers to the commanding presence of free expression among our liberties." … Some of the statements at issue here are true or substantially true. Some are pure statements of opinion, which are not actionable in defamation. And none of the statements was published with the necessary degree of fault applicable here, given that the statements were made about a public official and about the expenditure of public funds.

(B. Truth, Falsity, and Opinion)

…Moreover, some of the challenged statements, although not fairly characterized as statements of opinion, appear on this record to be true, or at least substantially true…For instance, McMillan's statements that "approximately 25" or "more than 28" employees left Kemmerer during Davidson's tenure appear to be at least substantially true. Plaintiffs concede that Davidson fired at least two employees during her time in Kemmerer, and that an unspecified number of other employees left Kemmerer's employ for various other reasons, including "seasonal employees" leaving "at various times." But Plaintiffs provide no other evidence that would help us nail down the exact number of employees who ceased working at Kemmerer during Davidson's time there. If, for instance, twenty-four employees left Kemmerer's employ during Davidson's tenure, such that McMillan's statement was only inaccurate by one employee, McMillan's statement would be at least substantially true, and therefore not actionable. See id. Similarly, Stiles's statement that Davidson's experience at Timnath and Kemmerer was "marred by heated controversy [and] angry public debate" appears to be at least substantially true. It is undisputed that Davidson's actions in Timnath were the subject of some controversy, including media scrutiny. And the very existence of McMillan's Facebook postings more or less demonstrates that there was at least some contentious public debate about Davidson's actions in Kemmerer. Because Davidson has not produced any evidence to demonstrate whether, and if so by how far, these statements are false, such statements cannot be considered actionable here.
C. Actual Malice and Fault

Thus, many of the statements to which Plaintiffs point cannot be defamatory because they are not false or cannot be shown to be false. Relatedly, however, even if we were to assume that there were a hint of falsity to at least some of Defendants' statements, Plaintiffs' defamation claims still fail, because Plaintiffs have not demonstrated that Defendants acted with the necessary degree of fault. As we discuss, because Davidson is a public official and the controversy in this case deals with the expenditure of public funds, Plaintiffs must prove more than merely the existence of false statements about them; they must demonstrate that Defendants acted with "actual malice" in making the statements in question. And on the record before us, Plaintiffs fall short of any such showing here.
1. Stiles's Statements

Contrary to Plaintiffs' contentions, none of Stiles's statements is obviously false. For instance, his statement about the number of employees who left Kemmerer during Davidson's tenure was carefully phrased; he stated that "[c]ritics of Davidson argue that more than 20 Kemmerer city employees left their jobs during her three years in Kemmerer," but noted that there is no "official count" of how many employees left, and that it is "impossible to confirm" the reasons for each individual employee's departure. Plaintiffs do not dispute that at least some employees left Kemmerer's employ during Davidson's tenure, but have not offered any evidence as to what the exact number was, or the reasons for the departures. More to the point, Plaintiffs have produced nothing that would indicate that Stiles knew that his description of these events was false, or that he recklessly disregarded the possibility that it might be. Similarly, even if Stiles's statement that Davidson's previous experiences in city government had been "marred by heated controversy, angry public debate, and litigation" is assumed to have some minor inaccuracies…Plaintiffs have not provided evidence to establish exactly what those inaccuracies are or, more importantly, that Stiles was aware of (or acted with reckless disregard toward) any inaccuracies.
Further, Plaintiffs also have not demonstrated that Stiles was off-base when he stated that Davidson had never been"cleared of wrongdoing" in Timnath. Although Stiles acknowledged that Davidson maintained she had been exonerated by an audit, he noted that—despite making a request for the audit—he had never received direct evidence that this was true, and further noted that, according to his sources, Davidson's claim was undermined by a non-disparagement agreement banning Timnath officials from discussing the issue. Further, Stiles claimed to have drawn his version of the facts regarding Timnath from various sources, including other news reports which he attached to his affidavit. Plaintiffs have provided no evidence that the facts in those articles or Stiles's characterization of those facts was incorrect, or that he was otherwise aware of (or acted with reckless disregard toward) any inaccuracies in this account.
It is a similar story with regard to Stiles's statements that Tayo was hired without participating in a competitive procurement process and received payments over and above what would normally be allowed by the city without such a process. Plaintiffs characterize these statements by Stiles as allegations that "Davidson had violated the requirement for a competitive procurement process" when Tayo was hired. Plaintiffs then attempt to rebut these allegations by explaining that Consultant was retained (and Tayo eventually paid for Consultant's work) on an emergency basis by Davidson and Assistant. But the record does not support Plaintiffs' characterization of Stiles's statements. Instead, Stiles indicated—correctly—that no competitive procurement process was followed for the retention of Consultant, and that the eventual payout to Tayo exceeded the amount normally allowed without a competitive procurement process. Stiles did not explicitly assert that the requirement for a competitive procurement process was violated and, indeed, detailed the justification Plaintiffs now offer in the text of his article, albeit in a way that suggests he disagrees with Plaintiffs' reasoning. As with the other statements, Plaintiffs offer no evidence that Stiles made these statements with at least a reckless disregard for the possibility that they might be false.
Part of the reason the record is devoid of any such evidence is that Plaintiffs did not depose—or even request to depose—Stiles or anyone else associated with the Zephyr to determine what they knew at the time they made the allegedly defamatory statements, as other successful defamation plaintiffs have done when bringing suit against news reporters…As a result, other than Stiles's own assertions that he conducted an "exhaustive, thoroughly researched investigation" involving numerous public records requests and interviews, the record contains no indication about the level of diligence Stiles achieved while researching the facts underlying his articles. There is no evidence, on this record, that there exist sources that Stiles should have consulted but did not, or individuals Stiles should have interviewed but did not… There is certainly no indication that Stiles recklessly failed to complete basic research into his stories for the purpose of publishing a deliberately one-sided article.
2. Baird's Statements

Plaintiffs have similarly failed to provide evidence that Baird knew, or recklessly disregarded the possibility, that any of his statements were false. The chief statement attributed to Baird with which Plaintiffs take issue is Baird's viewpoint, expressed publicly in various ways, that Davidson violated legal or ethical rules by suggesting that the city hire Consultant (and Tayo) but not appropriately disclosing her relationship with Smelt and Smelt's involvement with Tayo. Plaintiffs correctly point out that an independent auditor, after a comprehensive review, concluded that Davidson violated neither laws nor city ordinances or policies. But Plaintiffs' arguments with regard to Baird are nevertheless unpersuasive.
First, Plaintiffs point to no evidence, in this record, that any of the facts supporting Baird's publicly-expressed opinions were wrong…Baird based his views on the undisputed facts that (a) an "emergency purchase" was made, in the absence of a competitive bidding process, to a company Smelt partially owned while she was living with Davidson, and (b) Davidson did not formally disclose her relationship with Smelt to the city council prior to the city making payments to Tayo. On this record, there is no indication that these factual assumptions were in any way inaccurate.
Second, although Baird may have misapprehended the legal consequences of Davidson's actions under the rules applicable at the time, there is no indication on this record that Baird was aware (or recklessly disregarded the possibility) that his viewpoint was incorrect. A statement made with a good-faith belief in its accuracy is not a statement made with actual malice…In this case, there is no evidence that Baird held anything other than a good-faith belief in the merits of his position. He indicated in his op-ed that he had discussed his concerns with a number of city officials and conducted research calculated to get to the truth of his claims. As with Stiles, Plaintiffs did not seek to depose Baird, and thus have no evidence that Baird failed to fully research his position before making the statements.
(Footnote 12: While Plaintiffs claimed at oral argument that Baird knew that Davidson had not engaged in any impropriety because he had been made aware at a "council meeting" that Davidson had disclosed her relationship with Smelt, the record does not support that assertion. In fact, the council meeting to which Plaintiffs refer appears to have been the meeting at which the auditor's findings were presented, which occurred after Baird published the statements plaintiffs characterize as defamatory. )
Moreover, each of Baird's public assertions that Davidson violated legal or ethical rules preceded the release of the auditor's contrary conclusion, and there is no indication that Baird was aware of the auditor's conclusion before he made any of the statements at issue here. Indeed, after he reviewed the results of the audit, Baird did not continue to publicly maintain that Davidson had violated the law or existing ethics provisions. While Baird did express displeasure with Davidson even after reviewing the audit results, his focus after that point appeared to change from maintaining that she violated the rules to acknowledging that the rules contained a "loophole" of which he believed Davidson had taken advantage, a conviction he apparently shared with the auditors themselves.
3. McMillan's Statements

Finally, there is no indication on the record before us that McMillan made any of her statements with actual malice. As noted above, most of McMillan's postings were statements of pure opinion that are intended to be understood hyperbolically and which cannot be proven false. To the extent some of McMillan's statements—for instance, her statement that "approximately 25" or "more than 28" employees left Kemmerer's employ during Davidson's tenure at least in part because of Davidson—are grounded in fact rather than expressions of pure opinion, Plaintiffs have not produced evidence that McMillan knew her statements were false, or spoke while recklessly disregarding the possibility that they might have been. As noted above, it is undisputed that some number of employees left Kemmerer during Davidson's time there, but there is no indication of how many or why they left, and certainly no indication that McMillan knew she had her facts wrong when she made the statements at issue.

For all of these reasons, Plaintiffs have failed to demonstrate that Defendants acted with actual malice with respect to any of their statements, and accordingly have not presented evidence sufficient to establish the requisite degree of fault to support their defamation claim. Accordingly, the district court did not err when it awarded summary judgment in favor of Defendants on that claim.
CONCLUSION

Public officials in American society are subject to being criticized, even sharply and potentially falsely, about matters of public concern. The criticism leveled in this case against Plaintiffs regarding Davidson's performance as Moab City Manager, and regarding a public contract awarded to Consultant and Tayo for IT work, concerned public matters about which citizens have the right to express their views. In order for statements about such matters to be defamatory, they must be both false and made with actual malice. Some of the statements at issue here are not false, and there is no evidence, on this record, that any of the statements were made with actual malice. Accordingly, the district court did not err in granting summary judgment to Defendants with respect to any of Plaintiffs' claims.

Affirmed.
***
Postscript: So now, as we move into what we think might be (but who knows?) the final period of this lawsuit, before the Utah Supreme Court, we want to restate our heartfelt thanks to our readers, to everyone who has supported us, to our lawyers, and to the Utah Courts. I hope someday we'll all be able to look back on this on laugh. Til then, stay tuned…JS
Edit: This article was updated to reflect the new legal actions by Rebecca Berner Davidson and Tara Jae Smelt on February 11, 2019.
Jim Stiles is Founder and Co-Publisher of the Canyon Country Zephyr.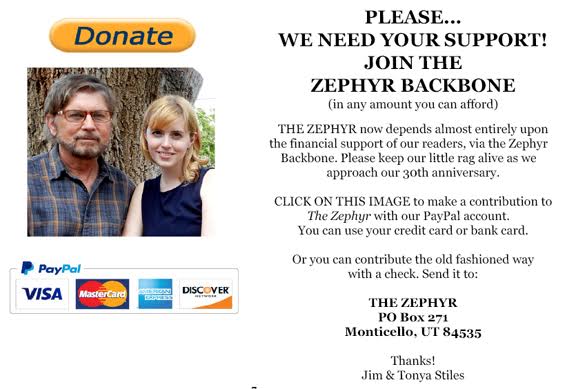 To comment, scroll to the bottom of the page.
Don't forget the Zephyr ads! All links are hot!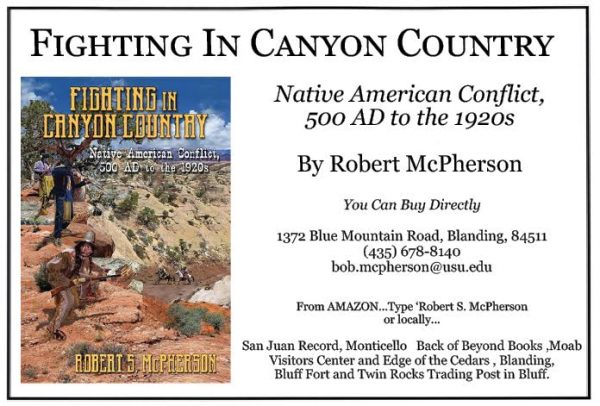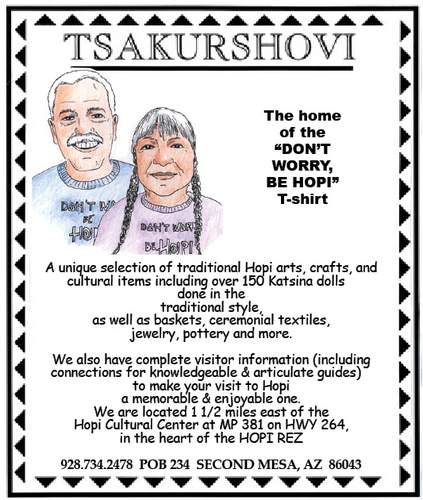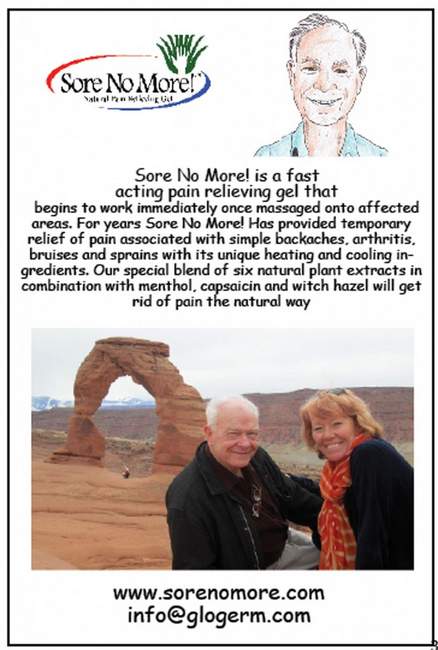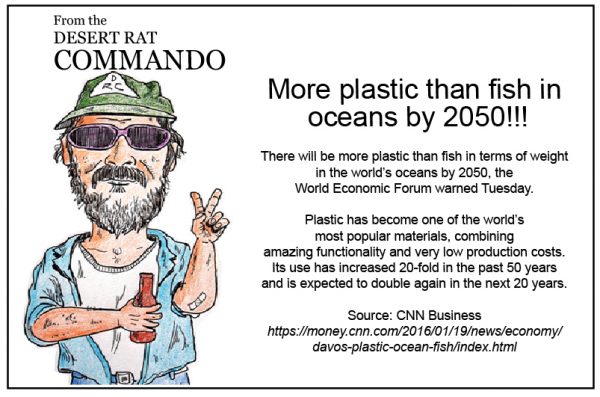 *Note: The Cartoonist screwed up. In a subconscious attempt to escape the world's news, he changed one of our Backbone Member's names from "Michael" to "Richard" Cohen. Sorry, Michael. We know you're a way better guy than that infamous Michael Cohen and we beg your forgiveness.