Author's Introduction, from 1997:
A year or so ago Jim Stiles came by for a visit and in the course of the conversation we talked about Indian ruins and how they were being vandalized. We wondered if, at the present rate of vandalism, there would be any pristine ruins left for archaeologists to study in the future. I mentioned that I had seen a few such ruins in the past. One had been viewed from a helicopter when I was flying with a wildlife biologist from the Division of Wildlife Resources. I viewed another large cliff ruin from a small plane as I flew in a remote area of Canyonlands National Park. I had been flying with a friend of mine by the name of Dick Smith. Jim asked if someday I would write an article about Dick for the Zephyr. I have thought about this article for some time now and I'm really not sure how to approach it. I hadn't known Dick for too many years before his death, but I had known him long enough to feel a friendship and to also feel akin to some of the deep feelings he had for what he liked to call "his canyonlands."
This is my story of Dick, both as a friend and as a person.
I had heard about Dick long before I met him. Dr. Ray T. Matheny, a professor of anthropology at Brigham Young University, had told me stories of flying with Dick in southeastern Utah. Dr. Matheny and Dick shared a love of flying and they had flown over the Four Corners area a number of times.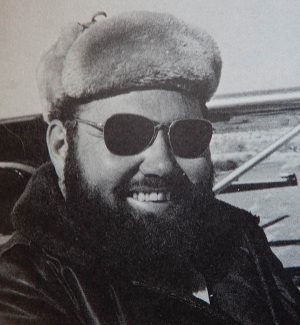 Dick Smith was born in Monticello, Utah. It seemed that he had always loved and enjoyed the outdoors. As a young man, he learned to hunt and trap and live off the land. He worked as a truck driver, cat skinner, deputy sheriff, crop duster, pilot and resort manager. He even tried college for a while, but flying was his first love, followed closely by his passion for the canyon country of southern Utah. He was an ambitious person who seemed to love life and he crammed as much life as possible into each day.
In 1968, during my senior year at the University, I was one of two students chosen to go to the Yucatan Peninsula in Mexico to conduct some archaeological research. Dr. Matheny informed us that we were going to fly down in a small private plane piloted by Dick Smith. After hearing stories about him from Dr. Matheny, I was excited to go. The trip was one that I will long remember.
Dick picked us up in Provo in early April. We were to fly from Provo to Monticello, where Dick was to say his goodbyes to his family. On the way to Monticello from Provo, Dick informed is that he wanted to show us some Indian ruins. We were in the Canyonlands area at the time and had seen a few small storage granaries tucked in small overhangs. He wanted to show us a tower. The tower was of course laid-stone constructed by the Anasazi people probably some eight or nine hundred years ago. I asked Dick where it would be as we flew past it. He replied, with a grin, that it would be above us when we first saw it. We were flying down the Green River, and, as we rounded a bend in the river, sure enough, the tower was directly in front of and above us. Dick pulled back on the controls and we flew right over the tower. We had a very close view of the ruin.
Our flight to Mexico was uneventful. We flew to Campache, Mexico, and did some archaeological field work while we were there. Prior to our leaving on the trip, Dr. Matheny had mentioned to the students that we were also going to take aerial photographs of some of the ruins on the Yucatan Peninsula while we were there. He explained that we would be flying in a small plane and, in order to take the pictures with a hand-held camera, we would take one of the doors off and someone would have to hang partially out of the plane and take the pictures as we flew in a grid pattern at a set altitude. This sounded quite exciting to me until one of the students asked who would be hanging out of the plane taking pictures. Dr. Matheny replied, "That will be Larry's job."
When the time came to take pictures, we removed the door. They tied a nylon rope to my waist (a big nylon rope,) and then Dr. Matheny got a good grip on my belt and the waist of my pants. He would tap me on the shoulder at intervals and I would take the picture. While Dick flew the grid pattern at a set speed, I partially hung out of the plane and took pictures. Dick held the plane as steady as possible. To get a feeling for this experience, go 90-100 mph in a car with the upper half of your body hanging out of the window. (An interesting side-light to the story is that after we returned to the States and developed the film we discovered that the camera had malfunctioned and none of the pictures turned out.)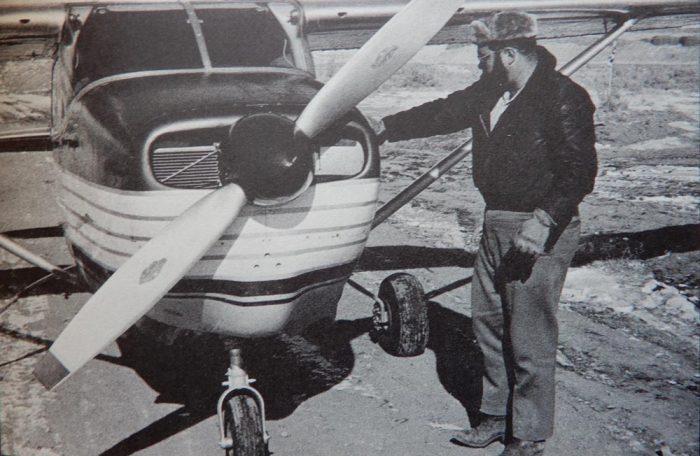 Dick couldn't speak a word of Spanish. That didn't seem to slow him down. While we were out in the field, Dick stayed in the city and toured the area. When we came back to town, Dick had been out shopping and bartering with locals. He enjoyed his time there and I am sure the natives enjoyed being with this mountain of a man as well.
As I mentioned, the trip down was uneventful. The return flight was just the opposite. We spent our first night in a Texas town just over the border. We left early the next morning and planned to fly at least as far as Farmington, New Mexico. The following day's trip would then be just a short one to Monticello and on to Provo.
It was nearing late afternoon when we passed Albuquerque, New Mexico and headed for Farmington. We had been flying for a while when it started to snow, lightly in the beginning and then much heavier. It got bad enough that Dick turned back toward Albuquerque.
But now it was snowing even harder and we were flying right on the deck. I remember passing over Navajo hogans and seeing the people come out and watch us fly right past them. Dick was looking for a good place to land. By this time, Dick knew we could never make it all the way back to Albuquerque. He had turned and headed us back toward Farmington. We knew we were close but we couldn't see much of anything. Dick found a dirt road and decided to land and sit out the storm. We made one approach to see if the road appeared good enough to land on. We made a very good landing.
Dick always seemed to be calm and in control of the situation. When we taxied to a stop, Dick told us the landing had been a bit touchy because one of the brakes locked up as we touched down. But he handled the situation without a hint of outward emotion of excitement.
After we had come to a stop I mentioned that I was shaking and attributed it to being cold. Dr. Matheny suggested that I wasn't cold, I was scared. Looking back on the situation, he was probably right. It is not every day that you land a small plane on a muddy dirt road in a snow storm. Yeah, I guess I was scared.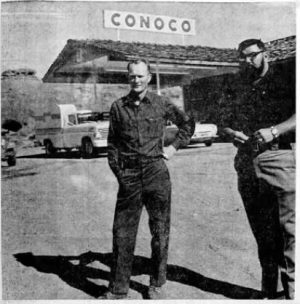 Beginning in the summer of 1963 and continuing for a number of summers when I was in school, I worked as a boatman on the Yampa, Green, and Colorado rivers. In the Spring of 1970 I was approached by Dr. Matheny and asked if I would be willing to act as one of the boatmen for a trip through Cataract Canyon. I jumped at the chance. The trip was sponsored by the National Park Service, its purpose to show the Canyonlands National Park Advisory Council a portion of Canyonlands firsthand.
I was to be paid by the National Park Service and would be working for them while I was on the river. The group split up and one group started just south of Moab. The group I was with started on the Green River at Mineral Bottom. After a couple of days on the river we met the other group at the confluence and camped just down stream at Spanish Bottom. While camped there, we experienced one of Dick Smith's "fly-by's."
We had made camp and were preparing supper when a plane flew right past us and followed the canyon downstream until it made a sharp bend to the right. I was standing with Dr. Matheny at the time, and we recognized Dick as he flew past us. The plane looked as if it were going to run into the wall. Dr. Matheny said, "Okay, now he'll turn hard right and slip stall and make the turn and come back past us."
That is just what happened. Dick flew past us and waved on his way up-river. He was just checking up on us.
After Dick's fly-by a number of the gentlemen on the trip said they wouldn't fly with "that crazy fool." Little did they realize that when we finished the river trip, Dick would be flying one of the planes that would take us back to Moab.
After finishing the trip at Hite, we were taken to Bullfrog Marina where we were supposed to catch our flight to Moab. The wind was blowing very hard and we were told that planes couldn't land at Bullfrog and we would have to go to Hanksville. The planes would be waiting for us there. When we arrived at the Hanksville Airport the planes had just landed, but the wind was still howling. We were told that we would have to wait until the wind died down for the planes to take off. Dr. Matheny and I put our gear on Dick's plane. None of the other people wanted to ride with us after witnessing the fly-by in Cataract Canyon. That was okay with us because we figured that we were flying with the best. They could fly with the rest.
Dick began to turn his plane around so that it faced into the wind. One of the other pilots came over and told us that we couldn't take off in such high winds. Dick told him that if he could land in this wind, then he could certainly take off in it. We started the engine and after everything had been checked we took off. It was the shortest take-off I have ever experienced. After we were airborne we asked Dick when the other planes would take off. He grinned and told us that the others would follow him. Sure enough, as we looked back, the other planes were following Dick's lead.
As we approached the Moab Airport, Dr. Matheny commented that he was going to get a lesson on cross-wind landings. Because the runway runs North/South and the wind was blowing from the West, it would make a normal landing quite difficult. Dr. Matheny and I were both anxious to see what was going to happen. Dick informed us that he wouldn't do a cross-wind landing; he was going to land on the taxi strip between the terminal building and the runway. The airport terminal was located on the east side of of the runway, with a short taxi strip connecting the two. I thought to myself that this was going to be another one of those landings with a high pucker factor.
We circled around and approached from the east. We came in just over the terminal building, dropped down, landed on the taxi strip and came to a stop just on the west edge of the runway. Dick turned the plane around and taxied over to the hanger area. As he shut down the plane, each of the other planes in our group, in turn, made the same landing that Dick had made. This was just a matter-of-fact landing, just as the take-off at Hanksville had been. Flying with Dick was always an adventure, but for some reason it always seemed like a comfortable adventure.
I remember telling Dick about a message that had been dropped to us while we were on a trip down Cataract Canyon. The pilot wouldn't fly in the canyon and when he dropped the message, it fell so far from us that we couldn't find it. The pilot had to finally drop a second message. We were able, with some difficulty, to find the second one. Upon hearing the story, Dick simply smiled and said, "When I drop a message, all you have to do is stoop over and pick it up." Somehow I believed him.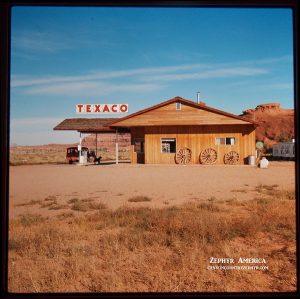 The last time I flew with Dick was in the summer of 1972. I was doing an archaeological survey for my Master's thesis in North Cottonwood Canyon just out from the Dugout Ranch. I had my wife, our two-year-old daughter, and my parents with me. I figured that while we were in the area it would be a good time to drive down to Dick's lodge near the east border of Canyonlands and have him take us for a flight over a portion of the Park. When we arrived at the lodge, Dick's partner informed us that Dick was flying as a spotter for the Forest Service on a fire and that he would be back in a short while.
By the time Dick arrived at the lodge landing strip it was late afternoon. He gave me his usual, "Hey, what's happening" greeting and consented to take us for a flight. After checking his plane we climbed aboard and took off. After Dick got in the air and trimmed the planed he began to talk to us about the country we were flying over and the country we were about to see. By the way he talked about Canyonlands country, you could sense Dick's feelings of love, reverence, respect and maybe even a sense of ownership, or at least stewardship, for the country that we were flying over.
We passed over the Needles, the Confluence, and the Maze. Such wonderful country, and to be able to see it from the air with no traffic or people distractions was a wonderful experience. And to share the experience with someone who had such a feeling for the land just added to the trip. As we prepared to return to the lodge, Dick said he wanted to show me some Indian ruins that no one had been in. As an archaeologist, I was excited to see a ruin that hadn't been vandalized by pot-hunters. I asked Dick how he knew no one had been in the ruin, and he replied that the doorways were sealed with flat sandstone slabs.
We dropped down into the canyon and flew past the ruins. It was beautiful, a nice 10-12 room ruin tucked under an overhang, and sure enough, most of the doorways were still sealed with stone slabs. Dick said that people hadn't been into the canyon because there wasn't a good way into it. He told me that he thought he knew of a route into the ruins. We halfway planned to go into the canyon sometime, perhaps in a year or so. How was I to know that within a year's time Dick would be gone and the memory of the location of the ruins would be gone as well?
I hope they are still there and intact. It would be nice to know that somewhere a ruin hasn't been plundered and all of the information that could have been learned from such a place destroyed. Sadly, though, I know that the professional pot-hunters are using helicopters nowadays to reach previously inaccessible ruins. I hope that is not the case with Dick's ruin.
Dick is gone now. I feel that I am a better person for having known him. I will always remember his "Hey, what's happening" greeting, the twinkle in his eyes, and his sincere friendship. When I shook his hand and he said that it was good to see me, I felt like he meant it. He was a good person, generous to the bone. He was a big man. He must have weighed close to three hundred pounds when I knew him. He had a bushy beard that couldn't hide the mischievous grin that he flashed from time to time. He had a heart that matched his size. Although there were a few people he didn't care for, he got along well with most folks.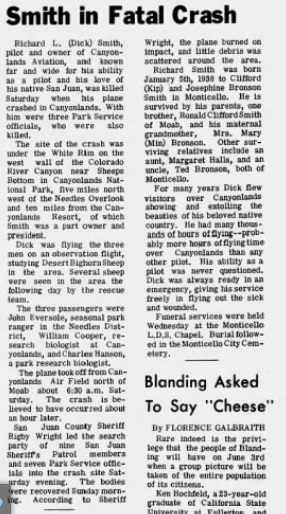 It has been twenty-four years since Dick died. He was killed in a plane crash on May 19, 1973. He and three Park Service employees were flying in Canyonlands looking for desert bighorn sheep. I have asked different people about the cause of the crash. They all have different ideas or opinions. Some suggest that it was pilot error. They say that Dick finally got himself into a situation that he couldn't get himself out of. I don't know what happened. Maybe it doesn't matter. A good friend is gone. I will always remember his friendly generosity and his contagious smile.
The last time I saw Dick was in the spring of 1973, just a short time before he was killed. He had called to tell me about his new plane. He had gone back to the Cessna factory and ordered a special plane to fly the canyon country. The plane had a supercharged engine and was equipped with a STOL (short take off and landing) kit. He told me that he had to fly a friend to Escalante and wondered if I could meet him at the Escalante Airport. I jumped at the chance. I was anxious to see his new plane.
It was after dark when he landed at the airport but we spent some good time together as he proudly showed off the new plane. It was beautiful. Little did I know that I would not see him again.
I was working outside that day in May when my wife came over to see me. She said that she had some bad news. Your stomach always tightens when someone tells you that. When she told me that my friend Dick Smith had been killed in a plane crash in Canyonlands, something left me. I hoped that maybe he had just gone down and was missing, and that they would find Dick and he and his passengers would all be okay.
But my wife said no, that the plane had been found and that all on board had been killed. I remember it was a stormy day and it was raining lightly and a stiff breeze was blowing. I looked to the east, toward those Canyonlands that Dick so loved and I felt a void.
In 1997, Larry Davis was the retired Director of Anasazi Village State Park in Boulder, Utah and a sensitive and passionate (if not lonely) voice for wildlands in Garfield County.
To comment, scroll to the bottom of the page.
Zephyr Policy: REAL NAMES ONLY on Comments!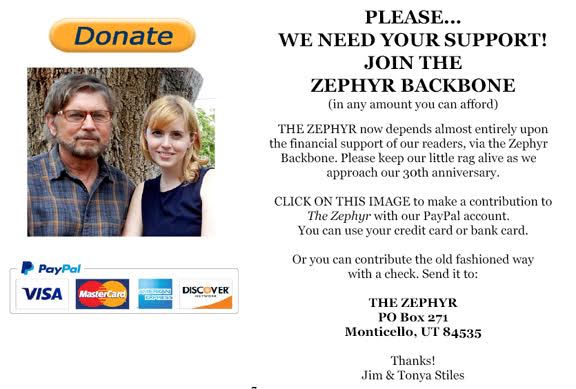 Don't forget the Zephyr ads! All links are hot!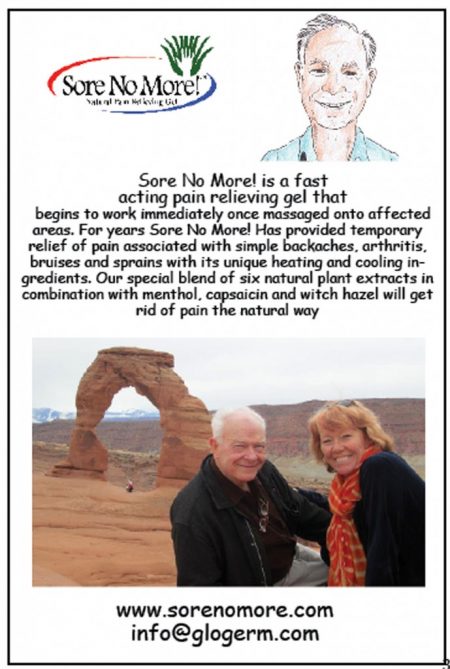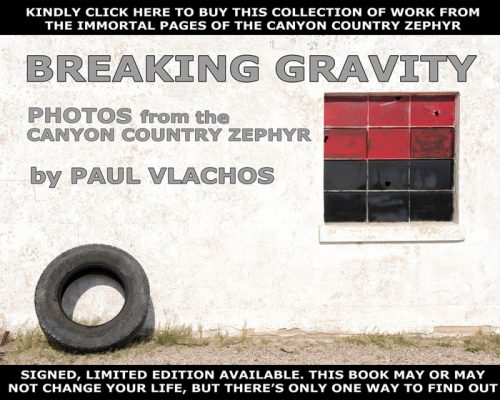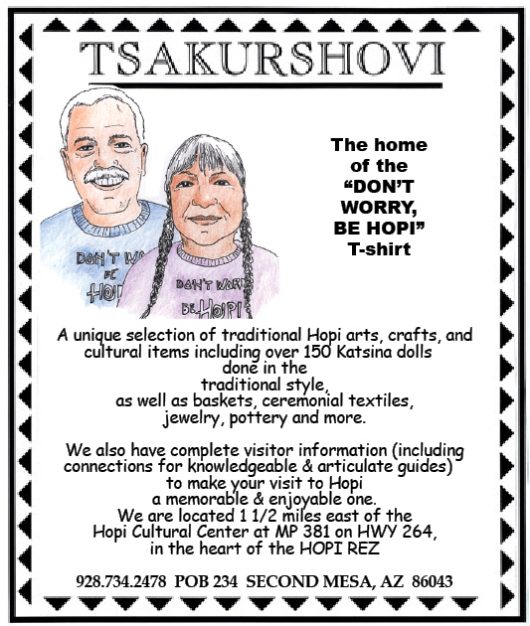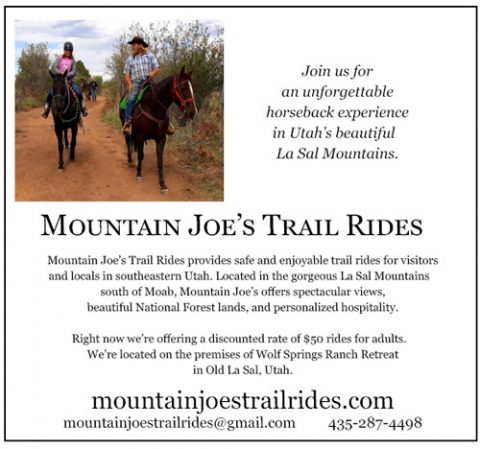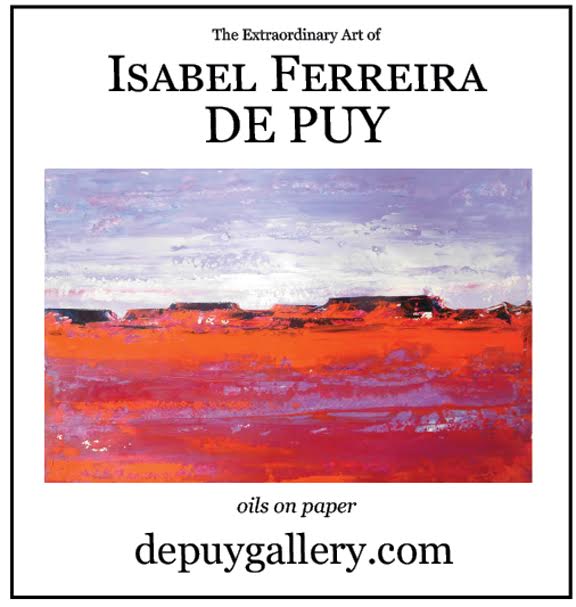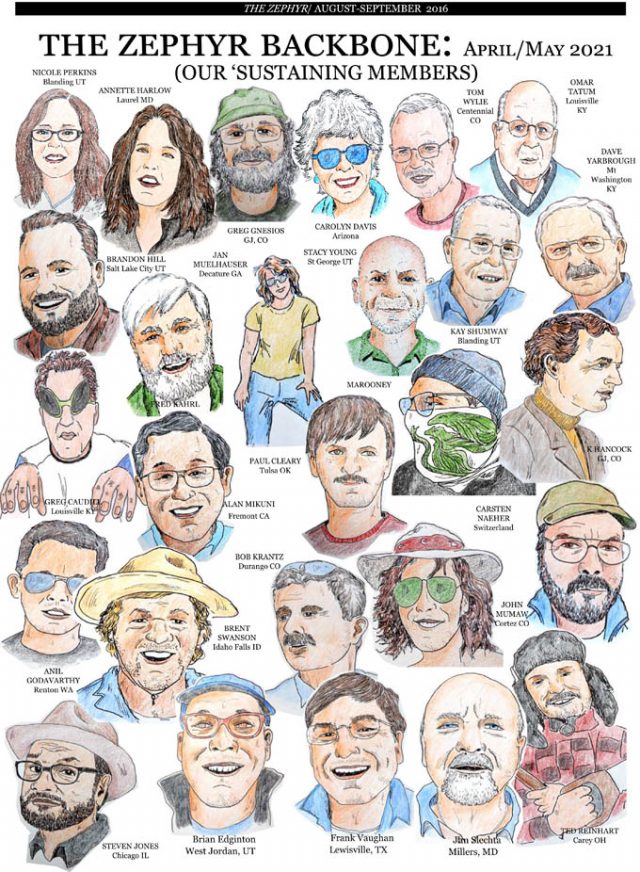 Zephyr Policy: REAL NAMES ONLY on Comments!