RE: David Bonderman…Facts or 'Fluff?'   You Decide…
About 15 years ago, I became aware that some of the world's wealthiest bankers, financiers, and industrialists were throwing huge amounts of money at this country's mainstream environmental organizations. The 'contributions' trickled all the way all the way down to the grass roots; in exchange, many of these mega-wealthy benefactors acquired positions of influence, often as members of the groups' boards of directors.
One day, I was in Salt Lake City, visiting a "prominent Utah environmentalist," and I asked for his thoughts. How seriously had Utah's 'green' organizations been affected by this kind of financial support?  While there were many to consider, the most disturbing to him was a venture capitalist named David Bonderman. Bonderman was (and is) the founding partner and the real power at TPG Capital, a private equity firm with more than $65 billion in assets; TPG is invested across the country and around the world. To get an idea of just how vast the TPG empire is, click here and here to see their portfolios: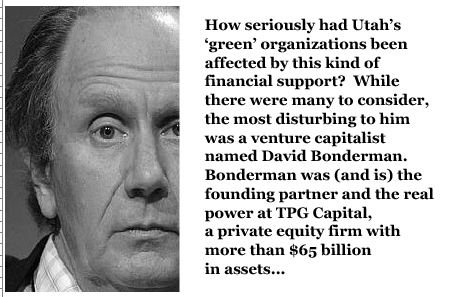 Since then, I've written maybe half a dozen articles about Bonderman and posted dozens of links from publications like Forbes, the Wall Street Journal and the New York Times, about his activities and their effect and influence to the environment and the economy. But once, four years ago, I wrote, in frustration as much as an effort to be funny, a satirical piece. It ran under this title and link:
Moab Affordable Housing? A Zephyr Solution— 'McBonderman House'…15,000 square feet for the homeless, & acres and acres of bottom land for the biggest community veggie garden in the Four Corners!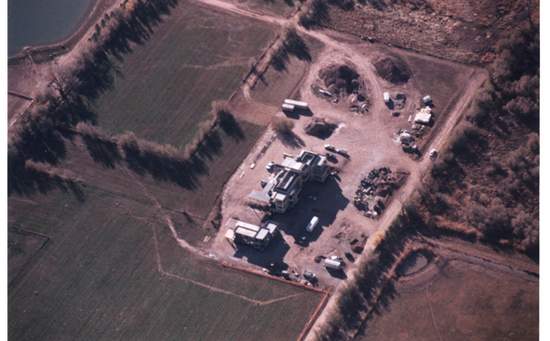 My story proposed that Bonderman open up his 10,000+ square foot palace to the homeless.  I'd heard that he rarely visits his Moab digs and spends much of the year up at 30,000 feet, in his Gulfstream, cutting deals in exotic places around the globe (He also owns a 12,000 square foot mansion in Aspen). So I argued, "A lot of Moabites in need of affordable housing could be accommodated at Bonderman's palace. He's not there…what the hell does Dave care? I'm sure he has some caretakers in residence who can keep an eye on the place and make sure everyone is picking up after themselves."
The story was posted in 2011, but was linked on a facebook page again, last month. It created a small furor. One Moabite complained, "Jim Stiles once again fails to say anything relevant. In all my years of reading his paper I certainly laugh but nothing real is actually in it. There are a lot of real solutions to the housing situation in Moab but they don't sell ads in the Zephyr."And he wrote that he "actually has facts and Jim has a handful of fluff."  He complained that all The Zephyr had done for the local economy was to "prop up a bitter writer."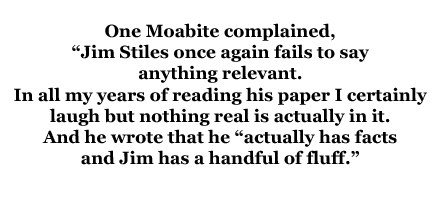 I admit to being frustrated and disappointed by the comments. The idea that this man has been faithfully reading The Zephyr for years and could find nothing but 'fluff' was disheartening to me. Either he'd missed many, many issues, was a victim of selective amnesia, or  had a problem comprehending the information or retaining it.
I later learned that the critic was, in fact, the caretaker of Bonderman's Moab McMansion, so I at least understood his motivation to complain. But I also knew that despite his own vested self-interests, there are many other 'progressives' like him in the Moab community who fail to see the problem with Mr. Bonderman—many of them, of course, have been recipients of his donations as well.
Maybe it's time to re-visit at the "rich benefactor" debate. When is it appropriate to accept financial support from persons or entities we may not feel completely in sync with? Years ago, I considered this very point, in my long essay, 'The Greening of Wilderne$$, part 2'…
Environmentalists face extraordinary and persistent opposition from well-funded lobbyists and corporations who have unlimited amounts of money. The argument made, over and over again by the green community is that it must have the financial  resources to fight the "bad guys," and that the generous contributions of the mega-wealthy are an indispensable aspect of that strategy.
And it is true that philanthropy by the very wealthy has greatly enriched and improved American Life. Colleges and universities, museums, art galleries, libraries, medical research—all of these institutions have flourished in part at least to the generosity of a limited few. Humanitarian aid by the wealthy to provide food and shelter and medical assistance to disaster victims around the world is universally praised.
But when it comes to social and political issues, where opinions vary and philosophies clash, the line between charitable giving and undue influence becomes a blur. Can a social activist accept money from an individual or company, whose goals and strategies stand in direct contradiction to those of the recipient? For example, years ago, Harvard University was forced to divest itself of stock investments with Exxon Oil because the company operated in South Africa and many critics believed the company contributed to apartheid there. Harvard eventually sold its stock to avoid any suggestion of impropriety or charges of hypocrisy. It is a frequent dilemma.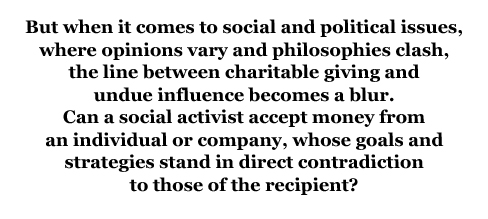 Should environmentalists have the same concerns? And do these wealthy benefactors offer their financial resources out of genuine fears for the planet's well-being and a desire to improve the quality of our environment, or is it simply one more public relations enhancement for their global corporate portfolios? Or even worse, is it a way of controlling and diverting policy decisions that might well impact their own financial interests?
In 2006,  Harold Shepherd, then the Issues Director of the Moab, Utah based Redrock Forests has noted, "…perhaps in the 21st Century, idealism is no longer applicable."Is this what we expected? Was this our plan to save the planet?
THE ISSUES…& THE CONTRADICTIONS?
What are the issues and crises that are most critical to progressive/environmentalists in 2015? And can the financial support of  mega-billionaires like David Bonderman be justified? Can the ends justify the means?  Consider these issues that are of importance to environmentalists in Utah and Mr. Bonderman's connection to them, from both sides of the issue..
WILDERNESS:
Environmentalists in Utah, led by the Southern Utah Wilderness Alliance (SUWA), support the Red Rock Wilderness Bill, that calls for the protection of 9.2 million acres of public lands administered by the Bureau of Land Management (BLM). The Grand Canyon Trust, with offices in Moab and home to its executive director and Utah staff also support RRWA. Bonderman sits on the Board of Directors of the GCT and is a major financial supporter of both.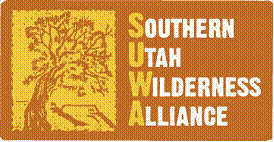 BUT...Within its vast portfolio, TPG has invested heavily in the energy sector. Previous commitments by the firm in the energy sector include Alinta Energy, Amyris, Beta Renewables, Belden & Blake Corporation, China Renewable Energy, Copano Energy, Delta Dunia, Denbury Resources, Elevance Renewable Sciences, Energy Future Holdings (formerly TXU Corp.), Greenko, Maverick American Natural Gas, MI Energy, Northern Tier Energy, Texas Genco and Valerus Compression Services.
In October 2010, TPG Capital announced that, "it has formed a new venture, Petro Harvester Oil & Gas, LLC, to invest in oil and gas producing properties in North America. TPG expects the company will acquire substantial exploration and production ("E&P") assets over the next several years."
In March 2011, Petro Harvester gained membership in the Western Energy Alliance. The WEA was "founded in 1974 as the Independent Petroleum Association of Mountain States, (and) is a non-profit trade association representing more than 400 companies engaged in all aspects of environmentally responsible exploration and production of oil and natural gas in the West."

Two years ago, they expressed their opposition to SUWA's wilderness bill: "The Red Rocks Wilderness Act has failed over two decades because politicians outside the West propose huge areas without consideration of conditions on the ground, such as whether the lands even meet wilderness criteria, or the impacts on jobs, economic activity, and local recreation."Whose side is Bonderman on?
OIL AND GAS EXTRACTION & HYDRAULIC FRACTURING
Progressives and environmentalists in southeast Utah vigorously oppose hydraulic fracturing.
BUT... in 2010, TPG's  Petro Harvester announced that it had,  "acquired a package of producing properties in the Williston Basin of North Dakota. The assets include production and acreage in over 20 fields with most of the current value in four concentrated areas where we have high working interests and operational controls. The acquisition includes interest in 145 wells that produce from depths of 3,000 feet to 6,000 feet…Additional upside potential includes deeper tests, enhanced fracturing techniques, and field extension through 3-D seismic."
Does Bonderman oppose fracking in Utah but support it in North Dakota? And elsewhere? Likewise, do environmentalists' concerns about fracking stop at the Utah state border?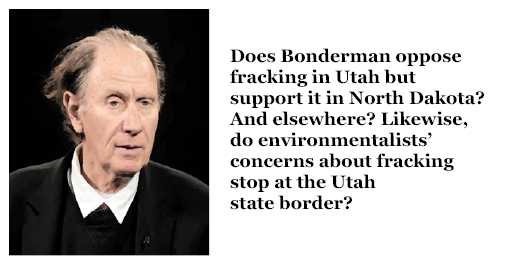 EPA REGULATIONS
New EPA regulations that would apply serious restrictions on oil and gas development, and a consortium of environmental groups, including SUWA wrote to the EPA, complaining that the new rules didn't go far enough. In part, they complained:"Oil and gas development threatens local communities by emitting smog-forming compounds that can lead to serious respiratory illness as well as toxic chemicals that cause cancer. Drilling and development also pose a threat nationally and globally by emitting substantial amounts of methane, a potent greenhouse gas that causes global warming."
BUT...the Western Energy Alliance, supported by Petro Harvester/TPG Capital, opposes the new EPA regulations.Does Bonderman support SUWA or WEA ?
ENDANGERED SPECIES PROTECTION…THE SAGE GROUSE
Environmentalists have expressed their strong support for the protection of the Sage Grouse. SUWA recently wrote: "The USFWS has a chance to save the Gunnison sage grouse from extinction by protecting this bird under the Endangered Species Act and designating the habitat that the birds need to survive as 'critical habitat.'  In Utah, roughly 3,000 acres of redrock wilderness overlaps with the proposed critical habitat designation…Decisive actions like these could put these birds on the road to recovery."
BUT...In Wyoming, the greater sage grouse faces similar habitat threats, particularly from oil and gas expansion near Pinedale. But Jonah Energy, which was acquired by TPG Capital in 2014 for $1.8 billion, has fought efforts to extend "core area protection" to more than 173,000 acres. For WyoFile, Angus Theurmer writes, "Jonah Energy's Paul Ulrich, director of government affairs and regulatory issues, has argued against extending state protections to cover NPL. But he said lease ownership itself doesn't guarantee unbridled development. 'An existing lease does not ensure your acreage is not in core area,' he said recently."
GMOs
Environmentalists oppose the use of GMOs (Genetically Manipulated Organisms) in the production of food in the United States. Monsanto, for years, has been one of the most despised–and often with good reason—corporations on the planet.
BUT... included in TPG's investment portfolio is AgraQuest, " a biotechnology company focused on
discovering, manufacturing and marketing highly effective pest management products for agricultural, institutional and home markets."  Monanto recently announced a new partnership with the TPG company. It is " a collaboration to evaluate the potential use of AgraQuest's pipeline of biopesticide leads to develop seed treatments for Monsanto's core crops and vegetables."
GMOs…Yes? Or No?
COAL
Environmentalists support efforts to reduce fossil-fuel emissions and have advocated for the complete elimination of coal as a source of energy.
BUT...In 2007, TPG and other private equity companies bought TXU utilities in Texas, creating Energy Future Holdings (EFH) in the process.  It was the largest leveraged buyout in history. It was also claimed as a great victory for environmentalists when the new owners reduced the number of proposed new coal-fired plants, though it still operated and maintained some of the dirtiest lignite-fired power stations in the country.
Andrew Ross Sorkin, the respected reporter for the New York Times, had a more realistic view of the buyout. In a February 2007 story called, "Many Shades of Green," Sorkin noted that it was the collapse of TXU stock, driven down by worried investors who feared what eleven new power plants would do to the financial stability of the company, that caught TPG's eye in the first place. Private equity firms are always on the lookout for undervalued companies and this was one of them. The revenues from the utility that would have gone to the construction of the power plants would now be used to pay off the cost of the acquisition. And it continued to operate (and defend) the dirtiest lignite-fueled power stations in the nation.
In 2014, EFH filed for bankruptcy.
POLLUTION  LITIGATION AT EFH…CONFLICTED LOYALTIES?
Environmental groups have, for decades, used litigation and the courts to block or restrict corporate polluters. According to Wikipedia, "EFH and its Luminant subsidiary are the subject of litigation by the Sierra Club for alleged violations of the Clean Air Act at the Big Brown Plant, and in 2013 a federal district court judge ruled in favor of Sierra Club on a motion by EFH to stop or slow the case from coming to trial."
BUT…two years later, EFH announced that, "a federal district judge in Waco ruled for Luminant in a lawsuit brought by the Sierra Club alleging Clean Air Act violations at the Big Brown Power Plant in Freestone County…Following a three-day non-jury trial, Judge Walter S. Smith, Jr. ruled that no violations had occurred at the plant and denied all of the Sierra Club's requested relief."
The question might be asked, where do Utah environmentalists' loyalties lie? Do they mourn the Sierra Club's defeat? (The judge called their lawsuit 'frivolous.') Or do they congratulate their benefactor? Would groups like SUWA and the Grand Canyon Trust agree that the Sierra Club's lawsuit was 'frivolous,' or would they believe that once again the courts have ruled in favor of corporate giants?
It's a unique position for environmentalists anywhere to find themselves in.
HUMAN RIGHTS ABUSES, RUSSIA & VLADIMIR PUTIN
Most progressives abhor the recent human rights abuses waged by Russia's Vladimir Putin. President Obama addressed those concerns last year. He said, "Russia's leadership is challenging truths that only a few weeks ago seemed self-evident: that in the 21st century, the borders of Europe cannot be redrawn with force, that international law matters; and that people and nations can make their own decisions about their future," Obama said.
BUT...David Bonderman sees it differently. According to the Wall Street Journal, "David Bonderman, who has contributed millions of dollars to Democratic candidates and groups, remains on the advisory board of a Russian state-owned investment firm despite the economic sanctions placed by the United States on Russia this week."
And why does Bonderman stand by Mr. Putin? This is from the Official Website of the Government of the Russian Federation…"Prime Minister Vladimir Putin held a meeting with Texas Pacific Group Investment Fund President David Bonderman":
Bonderman to Putin:  "Thank you very much for your nice words. First of all, I would like to say that we were all very impressed with your speech at the forum today….In my opinion, you have laid out all important issues directly, openly, and candidly, which is not often the case with government officials."
Do Progressives share Bonderman's views on Putin and human rights?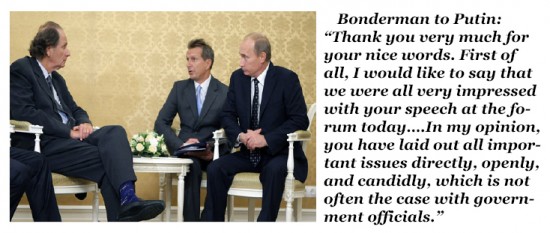 LIVING SIMPLY OR…HIGH CONSUMPTION vs LOW CONSUMPTION LIVES?
There was a time, in the not too distant past, when our obscene consumption of the planet's resources was a concern to all environmentalists. Living simply, avoiding an extravagant lifestyle, was as vital and necessary a way to protect our land as fighting the extraction of the resources. There was an acknowledged connection between consumption and production.
BUT…David Bonderman is one of the most extravagant environmentalists on the planet. He owns palaces in Moab, Utah and Aspen, Colorado; he resides frequently in his Gulfstream jet. For his 60th birthday, he celebrated in style, at the Bellagio in Vegas, with the Rolling Stones for entertainment. For his 70th, he  hired Paul McCartney and John Fogarty. Each party cost between $6 and $10 million. To secure the Pavlovian loyalty of  his adoring guests, he gave each of them $1000 to contribute to their 'favorite cause.'
CLIMATE CHANGE
Environmentalists, without exception, believe that Climate Change is real, that the science proves it, and that unless efforts are made to deal with the threat, the planet faces a crisis on an unprecedented scale.
BUT...David Bonderman is chairman of the board of directors of Ryanair, a discount airline in Great Britain that has recently come under attack from Green groups and even the Environment Minister of the British government.
His handpicked CEO, Michael O'Leary, has worked furiously to make Ryanair the largest airline in Europe. In 2005, he and Bonderman moved forward with plans to buy 70 new Boeing 737-800 aircraft. He has also steadfastly and loudly opposed efforts to place environmental restrictions on the airline industry. According to the UK newspaper, The Guardian, "Mr O'Leary said: 'Most of this environmental hysteria is an excuse for the government to raise tax revenues. People are being scammed here.'
Ian Pearson, the UK Environment Minister said, "When it comes to climate change, Ryanair are not just the unacceptable face of capitalism, they are the irresponsible face of capitalism. O'Leary just seems to take pride in refusing to recognize that climate change is a genuine problem."
Later O'Leary made his sentiments clearer, when he simply called climate change, "Bullshit." And so, Ryanair continues to maintain that calls for carbon taxes are "scams" and that much of the global warming fears are nothing but "environmental hysteria." In so doing, Mr. O'Leary sets a tone far different than the one Bonderman plays in the U.S.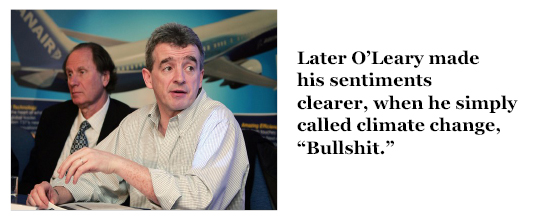 So…those are some requested facts (part 2 will come later) and I hope that at least a few of The Zephyr's critics will be honest enough to have read them. I'm hoping, but I'm not optimistic, because it doesn't fit their preconceived notions about Bonderman, about this publication, and most notably, about themselves.  If someone had told me, twenty years ago, that Moab's liberal/progressive constituents would embrace and defend a billionaire, known globally as the "King of the leveraged buyout," who's deeply invested in polluting coal-fired utilities in Texas and in oil and gas extraction across the country and the world, and who buddies up to Vladimir Putin, I would never have believed it.
Finally, the progressives may want to consider one last wrinkle: what does Bonderman (and other wealthy benefactors) get from them? Why, after all, would a man give this much money to environmentalist groups, when his lifelong dedication to private equity, wherever it may lead,  often pursues environmentally destructive business decisions?
By taking Bonderman's money, and granting him a seat on their Boards of Directors, environmentalist groups give him credibility. Despite a lifetime of the worst sort of capitalist excesses, he can call himself a "philanthropist" and progressives willingly nod in agreement. He's been given a good name in circles where he deserves the sternest criticism.


And he's been given access. As a member of these environmentalist boards, he is privy to the planning of the very people who are, fundamentally, his adversary. And, while none of the groups would admit to it, Bonderman (and others)  almost certainly has some influence in the decisions made by those boards. Anyone who knows politics knows that money buys influence–and big money buys control. Now that these groups, even at the Utah grassroots, are dependent on Bonderman's sizable donations, what principles would they sacrifice to keep that cash flowing? So far, we know they will ignore his behavior in other parts of America and around the globe. What if he finally sets his sights on Utah?
If Colorado Plateau environmentalists don't already feel the grip of a moral dilemma, let's hope they'd finally discover their sense of moral outrage…and a long-denied time of introspection.
For even more facts, follow the links below:
THE 'NEW WEST/PROGRESSIVE' PARADOX: Can 'Liberal/Greens' Still Possess an Honest Social Conscience in New Moab, Utah?'…By Jim Stiles
Zephyr Chronicles #4: 'IT'S MONEY THAT MATTERS'…BUT AT WHAT COST? THE GREENING OF WILDERNE$$…by Jim Stiles
MOAB IS ASSIMILATED. BIKE BORG MOVES SOUTH. Is Resistance Futile in San Juan County? …by Jim Stiles
The 'GREEN' Circle that Eats Its Own…by Jim Stiles
DAVID BONDERMAN'S PALS #1: VLADIMIR PUTIN!!!
(from YouTube) David Bonderman on how to save the Euro
Venture Capitalist/Environmentalist DAVID BONDERMAN says MITT ROMNEY has failed to defend private equity.
LOOKING for GREEN HEROES in a COAL-FIRED WORLD —Jim Stiles
(WyoFile) Sage Grouse Protections Face Gas-Field Test
(from Insideclimatenews.org) 'North Dakota Turns Blind Eye to Dumping of Fracking Waste in Waterways and Farmland'
(WashPost) 'US APPEALS COURT STRIKES DOWN EPA RULES'
(from NYTimes) "(The Sierra Club) Answering for Taking a Driller's Cash'. RELATED LINK: Chesapeake Energy Sells $2.6 Billion Worth of Assets
Jim Stiles is Founder and Co-Publisher of the Canyon Country Zephyr.
To read the PDF version of this article, click here and here.
To comment, scroll to the bottom of the page.
Don't forget the Zephyr ads! All links are hot!